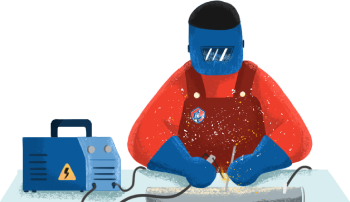 So… What Does a Welder Do?
Welders are trained professionals who join metal parts together and fix broken pieces using hand-held or sophisticated remote equipment.
Although job responsibilities vary depending on the place of employment and the size of the establishment, welders usually do the following:
Study blueprints and specifications
Inspect the materials that will be welded
Start power supplies
Monitor the welding process
Perform maintenance tasks on the equipment
To be able to perform all of the above tasks welders need some personal skills, such as:
The ability to read blueprints
Knowledge of different types of metals and their properties
Knowledge of various welding techniques
Communication skills
Dexterity
The ability to follow strict safety procedures
Attention to detail
Welding Schools, Salary, and Career Guide by State
Salary
According to the Bureau of Labor Statistics(BLS), the median annual wage reported by welders in the United States was $44,190 as of May 2020, which means that half of all workers in this profession earned less than this amount while half earned more.
The BLS reports that the lowest 10 percent of all welders earned less than $30,640 while the highest 10 percent made more than $66,250 per year.
As an entry-level employee, your salary will be closer to the minimum for this profession but will most likely increase after earning a few years of experience in the field.
One way of improving your chances of earning a higher-than-average starting salary is by becoming certified by the American Welding Society- you will find out more about this credential in the next section.
Salaries for workers in this profession vary widely also depending on the region of employment and the industry.
According to the above-mentioned report welders who work for manufacturers of metal products earned $41,290 per year, on average, while those who work for manufacturers of petroleum and coal products earned $62,980 annually.
The top-paying states for this profession are Alaska, Wyoming, and the District of Columbia with reported wages of $67,330, $60,960, and $60,780 respectively- significantly higher than the national median wage.
If you're willing to relocate or to specialize in an industry that offers higher salaries you can improve your earning prospects.
You can also improve your earning potential by learning advanced skills such as underwater welding or by gaining experience in multiple welding techniques.
How to Become a Welder
Although educational requirements vary depending on the region, employer, and the specifics of the job you are applying for, if you want to become a welder, there are usually a few steps that you have to follow.
Step 1: Finish High School
Most employers and trade schools require candidates to possess a high school diploma before hire or admission to a post-secondary program.
You can start learning skills that will be useful for this profession in high school by focusing on the following topics:
Mathematics
Physics
Metal shop and other shop classes
Blueprint reading
Mechanical drawing
Step 2: Finish Post-Secondary Training
There are many trade schools and community colleges that offer welding classes.
Welding training usually covers a variety of topics, such as mathematics, metallurgy, blueprint reading, pipe layout, and most programs also include a welding practicum.
The main welding techniques used in this profession are:
Stick/Arc welding (SMAW)
Metal Inert Gas (MIG) welding
Tungsten Inert Gas (TIG) welding
Flux-Cored Arc Welding
Depending on the school and the program you may learn only one basic technique or several advanced welding techniques.
Costs also vary depending on the school you choose but usually range between $5,000 and $15,000.
However, programs that offer only a basic training curriculum can cost less than $4,000.
This trade may also be learned through an apprenticeship and before signing up for a training class is best to check if any experienced welders in your area are willing to teach you on-the-job the ins and outs of this profession.
Apprenticeships are often sponsored by Unions or employers in the region which means that trainees can earn an entry-level salary for the work they do during training.
There are many good welding schools all across the United States so it shouldn't be hard to find one near you.
Below we have compiled a list of reputable schools that offer welding training in the United States.
Tulsa Welding School – Tulsa, OK
This school offers two-year programs for students who want a career as a welder or welding inspector.
Tuition costs are usually between a little over $27,000 and more than $30,000, depending on the household income.
San Jacinto College: Pasadena, TX
With campuses in Pasadena and Houston, San Jacinto College offers certificates for students who want to prepare for a welding career but also an Associate of Applied Science Degree in the field.
The average in-state tuition at San Jacinto College is a little over $3,200 but costs vary depending on the type of program you choose.
SWIC Southwestern Illinois College
A public community college with campuses in Belleville, Granite City, and Red Bud, SWIC Southwestern Illinois College offers training programs in a variety of fields, including a Welding technology/welder program.
The average in-state tuition cost at SWIC is approximately $6,400 but costs vary depending on the program.
Ohio Technical College: Cleveland, OH
A private automotive technical college, OTC offers programs for those who want a career in the automotive sector, restoration, and welding.
The Welding Technology program can be completed in 12 months.
The average tuition at Ohio Technical College is between $21,000-$24,000, depending on the household income.
Ferris State University: Big Rapids, MI
A career-oriented public university, Ferris State offers more than 180-degree programs, including an Associate's Degree Program in Welding Technology.
The average in-state tuition is close to $6,400.
Central Louisiana Technical Community College
CLTCC offers a variety of career and technical education programs at its nine campuses, including a two-year welding program.
According to their website, the estimated cost for this program is approximately $2,400 per semester.
Northeast Wisconsin Technical: Green Bay, WI
Located in Green Bay, Northeast Wisconsin Technical offers certificate and associate's degree programs in many areas of study, including welding technology.
The average annual cost for in-state students is approximately $9,100 after aid.
Pennsylvania College of Technology: Williamsport, PA
A public college located in Williamsport, Pennsylvania College of Technology offers certificate, associate, and baccalaureate degree programs in over 100 areas of study.
Their catalog includes a four-semester Welding Technology certificate program.
Tuition costs vary depending on the program and several other factors, but the average annual in-state cost at Pennsylvania College of Technology is approximately $23,400 after aid.
Ashland Community and Technical College: Ashland, KY
A public community college, Ashland Community and Technical College offer associate degrees, certificates, and diplomas in various areas of study, including Welding Technology.
The average after-aid annual cost is a little over $5,600 for in-state students.
American River College: North Highlands, CA
A public community college located just outside of Sacramento, American River College offers Associate Degrees and a variety of Certificates for those who want to start a career in welding.
Their catalog includes a 180 hours Gas Tungsten Arc Plate and Pipe Welding Certificate, a 234-hours Welding Equipment Maintenance and Blueprint Interpretation Certificate, and a 270-hours Welding Metallurgy and Inspection Certificate.
California students pay in-state tuition of $46 per unit.
Step 3: Become Certified
The American Welding Society provides different types and levels of certification.
Certified Welder- this is the basic certification
Certified Associate Welding Inspector
Certified Welding Inspector
Senior Certified Welding Inspector
Certified Welding Educator
Certified Resistance Welding Technician
Certified Radiographic Interpreter
Certified Welding Supervisor
Certified Welding Sales Representative
Certified Welding Engineer
Certified Robotic Arc Welding
The type of certification employers usually required is Certified Welder.
To earn this credential you will have to prove that you know the procedures used in welding across different industries: structural steel, sheet metal, chemical refinery welding, and petroleum pipelines.
The way to prove these skills is through tests performed at a facility accredited by the AWS.
According to their website, the application fee for the Certified Welder exam is $50.
Employment Opportunities
The overall employment for welders, cutters, brazers, and solderers is projected to grow 3 percent from 2019 to 2029, according to the United States Bureau of Labor Statistics.
The industry with the highest level of employment for this profession is the field of fabricated metal product manufacturing.
Factories in this sector transform metal into a variety of intermediate or end products, from metal hinges to shipping containers.
Another industry with a high level of employment for this profession is machinery manufacturers.
This sector is responsible for manufacturing machinery that is used in a variety of industries, from agriculture to HVAC.
According to the same report, welders also work for vehicle manufacturers or foundation, structure, and building exterior contractors.
As a welder, you can also find work in the field of railroad rolling stock manufacturing.
BLS reports that approximately 5 percent of all welders are self-employed so if you have business skills and you want to be your boss you can start your own welding business after earning a few years of experience.
However, it is important to mention that additional certifications may be required for those who want to venture on their own.
Conclusion
If you're a person who enjoys working with metals, learning how to weld can help you start a lucrative and rewarding career.
We hope this article helped give you an idea about what this profession entails, and we invite you to continue your research before deciding if this is the path you want to pursue