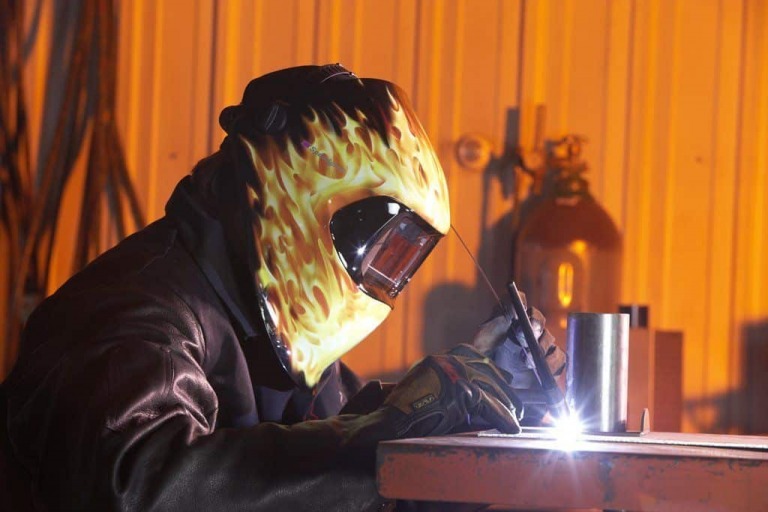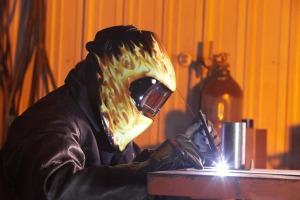 The Swedish manufacturer Hornell International first introduced the Speedglas auto-darkening filter in 1981. It would be the first LCD electronic shutter to automatically darken when a bright arc is detected. It would be an innovation that would change how we approach welding, eliminating the need to lift or lower the helmet over the face. These means positioning is consistent, saving welders time and reducing their risk of exposure to a harmful arc.
Since 2004, 3M has been the rights holder to Speedglas products. 3M sell all Speedglas welding helmets.
Here Are the Best Speedglas Welding Helmets in One Chart

With decades of experience, Speedglas is one of the most reliable welding helmets that you can purchase today. From the Series 100 helmets to the varying lines of the Series 9100 helmets, there is something that will help every welder of every skill level today.
The Benefits of Owning a Speedglas Welding Helmet

Through the Speedglas brand, 3M is able to provide welders with a great helmet that can meet virtually any need. Within the Series 9100 helmets, there is the option to include respiratory support in addition to the visual supports a high-quality helmet must provide.
Each option provides a specific benefit that is worth considering today.
Standard 9100 Series Helmet. This is an excellent total solution for professional welders or high capacity home welders.
9100 Air Welding Helmet. This design provides welders with a respiratory helmet without a flip-up requirement.
9100FX Welding Helmet. This option offers one of the widest and fullest designs that are available in the industry today. It also features a flip-up for grinding and cutting that does not require extensive shading.
9100FX Air Helmet. This is the solution for welders that need full protection for their projects.
9100MP Welding/Safety Helmet. This is an all-in-one helmet that is able to take on the most demanding of jobs that hobbyists and professionals alike.
One of the unique features that can be found in the modern Speedglas welding helmet is its focus on comfort. The helmets are designed to fit head sizes of 50-64, but also provides multiple adjustment combinations for a better overall fit. This allows pressure to be kept off your most sensitive areas, providing an improved balance for the helmet while it is on the head.
Each auto-darkening helmet by Speedglas also offers 7 dark shades for added eye support, with each shade capable of being locked. This provides a solid low-amp TIG performance and offers a better tack welding experience.
Pricing Options for the Best Speedglas Welding Helmets

The Series 100 welding helmets by Speedglas are the most affordable, with many options priced below $100. These are basic helmets that provide an entry-level support that is good for beginners.
The Series 9100 helmets can range in price from $200-$500, depending on the total number of features that you're looking to have in the helmet.
Real Life Reviews of the Best Speedglas Welding Helmets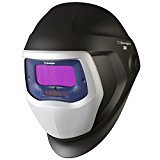 The exhaust vents for the helmet are positioned quite well. You don't have the same fogging problems with this helmet as you do with other models of a similar design. It also has an extended battery life compared to other high capacity welding helmets. The battery life is rated at 2,800 hours, but it also uses CR2030 batteries, which is different than most other helmets. The batteries are easy to access and replace as well, allowing operators to extend the life of their helmet with ease. It's a great value buy.
Here's more detailed information about this helmet: Speedglas Standard 9100 Review
Click here to view the price on Amazon and get the best deal.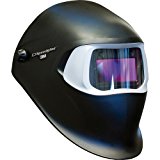 As for the headband on this helmet, it is somewhat basic. You're going to want to set it once and then leave it on that setting. Adjust it on the occasions where you need to tighten or loosen it for your personal needs. If you have multiple people using the same helmet and each person adjusts the headband, it will break prematurely on you. There is a bit of a fogging issue that may come into play for some users. Although it isn't overly bothersome, you can sometimes see your breath appear on the inside of the window momentarily.
Learn more about the Standard 100 here: 3M Speedglass 100 Black Welding Helmet Review. Take note that it can be made darker by 8 – 12 shades.
Click here to view the price on Amazon and get the best deal.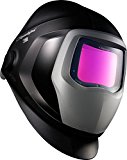 The side panels are nice on this helmet because it lets you keep an eye on the surrounding environment as you are working. There isn't the feeling like you're working in a tunnel when you're wearing this helmet. The clarity of the viewing window when the shading is not available is quite good. You have a very good capacity to see your project, especially with the suspension that helps to keep the helmet in place. It's comfortable, is consistent, and will meet most welding needs today.
Click here to view the price on Amazon and get the best deal.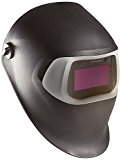 If you like having a fixed shade helmet, but you need something that's a little darker than what most manufacturers provide, then this is the one you'll want. It offers a Shade #11 fixed lens in a helmet that comes fully assembled and ready to use right out of the box. There's also a grinding shade equipped as well, adding to the versatility of its design. We found it to be useful for MIG, TIG, and Stick welding applications under most settings. The optical clarity is excellent, though the 3.66- x 1.73-inch viewing area is a little underwhelming. It does its job well.
Click here to view the price on Amazon and get the best deal.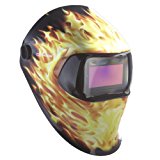 If you want to add a little color and creativity to your welding experience, don't try to manipulate your pool in a strange way. Grab this fantastic helmet instead. You can save a little money because it offers three sensitivity ratings with an ADF viewing lens, letting you work on most types of welding without having the full variability of shading that other models provide. The optical quality of the lens is excellent and there are plenty of self-adjustment options available to help get the most out of this helmet. It will make an improvement in your welding work.
Click here to view the price on Amazon and get the best deal.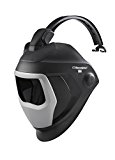 If you want a helmet that is lightweight from this brand and need improved agility with its design, then this is the model we'd recommend. It's one of the few that weighs less than 2 pounds and offers a quick release around the back of the head so you can quickly move from task to task. It has been designed to fix many of the hard hats that are used by welders and the rail used for the release doesn't interfere with what you're doing. We found it to be a well-designed product that provides consistent results.
Click here to view the price on Amazon and get the best deal.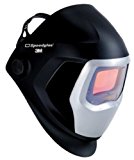 Although the ADF feature for this helmet has a reaction time of 1/10,000 of a second that is still suitable for most home and learning situations. The side windows on this helmet give you a better peripheral view, but they are a standard dark shade that can be bothersome to some operators. It does provide UV and IR protection effectively and the viewing lens offers optics that help to keep you focused on the project. With 3 arc sensors and a comfortable fit, you can create a personalized experience with this helmet that will keep you productive.
Click here to view the price on Amazon and get the best deal.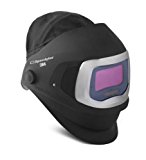 With a larger viewing area, user-selectable dark shades of 3, 5, and 8-13, and an improved field of view, there's a lot to like about this welding helmet. Convenience is probably its main attribute, allowing the eyes and face to be completely protected from project or worksite debris. The flip-up feature of the helmet is stable and removes the need for an additional face shield. The response of the ADF is a little slower than other premium helmets, but the amount of protection is better for spatter and sparking issues. We found it to be useful and would highly recommend it.
Click here to view the price on Amazon and get the best deal.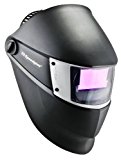 If you want one of the lightest helmets in the industry today that can still provide you flash protection on a consistent basis, then get this helmet. It's one of the lightest ADF helmets of any brand, weighing just 13 ounces. The shading is #8-12, but there is a grinding option available on this helmet as well. It's also a narrow helmet, allowing you to weld in several different positions with relative ease. It's strong and non-absorbent, though it may feel a little thin compared to other models with similar features. It worked for us and we think it will work for you too.
Click here to view the price on Amazon and get the best deal.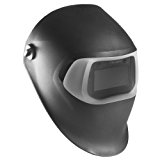 If you're looking for an affordable welding helmet that gives you neck protection and variable shading, then it's hard to argue against the benefits of this welding helmet. It does provide a fixed shade of #10, but can also transition to a grinding shade as well. Eye strain is eliminated with affordable ease and neck fatigue becomes a thing of the past with this helmet. Keep in mind that it is listed as a full ADF, but only offers 2-shade variation, so you get the right helmet to meet your needs.
Click here to view the price on Amazon and get the best deal.
The best Speedglas welding helmet reviews will help you pick out the right protective gear to meet your needs. Find your new helmet today and fall in love with welding all over again.