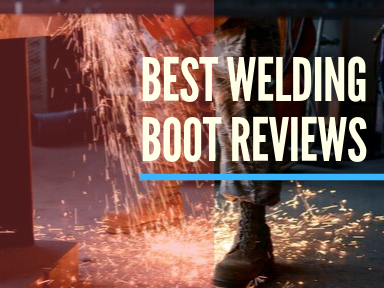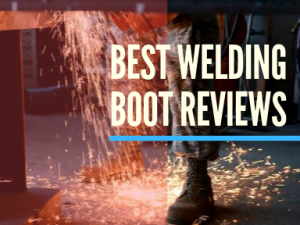 After you've figured out your welding helmet, your welding gloves, and all the other safety gear you need, it can be easy to forget about your feet and the guards they need. This is especially true for welders who may work in recessed areas with overhead welding responsibilities. Yet splatter can go almost anywhere and if you don't have the best work boots for welding to guard your feet, you could find yourself limping around uncomfortably for some time if an accident occurs. Industrial professionals know it's important to invest in high-quality work boots while welding.
Many professional work boots are already suited for welding and are highly affordable. In fact, many are tested against the industrial standards created by the American Society for Testing and Materials (ASTM), which means they are safe and can protect feet from objects like acid, falling debris, and even sparks and sometimes electrical surges. Grab a pair today so that your feet can be happy and guarded as you weld by checking out each review below.
Best Welding Boots Reviews
1. Dr. Martens Ironbridge MG ST Steel-Toe Boot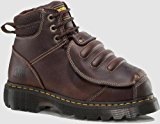 These heavy duty steel-toe boots offer one of the best fits that we had the opportunity to try. The leather upper is complemented by a synthetic sole, with a ballistic mesh padded collar that helps to provide comfort and safety without causing sweat, even in a situation involving molten metal. Check it out yourself to feel the airflow and how well the boots handle heat and cool temperatures. The insole was extremely comfortable but is also removable if you have a specific orthotic that needs to be worn, making it highly rated among individuals with foot issues. It is a slip-resistant boot as well, rated for fuel, fats, and oil. You can check the individual ratings, but each one is reliable. The metal toe guards your own toes from harm, breaks, and daily hazards. If you weld full-time, these boots should be your first choice. The company sells men's and women's sizes.
Click here to view the price on Amazon and get the best deal.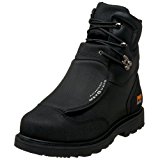 This is another Metguard steel-toe boot design, though it offers more of a high-top fit than comparable boots from other brands. These boots are
contoured and rated as highly
waterproof, which is a definite plus for some welding environments.
As a Timberland product, the boots meet ASTM standards. These boots are
leather upper with a standard synthetic sole that stays comfortable on your foot for all-day wear.
We checked and found it fits without chafing or uncomfortable squeezing
. The boots do tend to run a little hot because of the design, but it's nothing that a good pair of
perfect
socks can't fix. If you need a welding boot that gives your foot a full amount of support,
the Timberland PRO Metguard Steel-Toe Boot
is the one that you'll want.
Our review is:
They're outstanding
even without a metatarsal guard. The company sells men's and women's sizes.
If you're tired of dealing with laces and guards that just don't stay fastened, then this
brand of
boot offers an affordable alternative. It features a Velcro-fastened metatarsal flap, allowing you to slip on the boots and get to work
without the hazard of loose laces.
The sole is lightly cleated and offers a slip-resistant wearing experience, with Kevlar sewn into the seams so that the boot won't fall apart on you prematurely.
We checked, and Kevlar is one of the strongest materials for the work boots.
It also has a steel toe cap that provides a certain level of crush resistance, while the shock resistance along the foot and up to the knee is improved so you don't feel fatigued while standing and welding for a long period of time.
Our review: check out these shoes if you want something durable but lightweight. The company sells men's and women's sizes.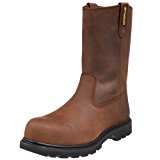 If you're looking for a welding boot that can g
uard your shin better
than a high-top boot, then
check out
this pull-on steel-toe boot. It's made with a full-grain leather, giving you durability that other
shoes
just can't provide today. The design incorporates a dual-pull zone so you equalize the pressure that is placed on the boot while putting it on, preventing premature wear
or the shoe coming apart.
The outsole is rated to be slip-resistant and the construction is tough. Give them some time to get them broken in and you'll
be high on your
love
for
wearing them when it's time to weld.
The company sells men's sizes, although women can try to fit the men's since comments indicate the shoes run slim.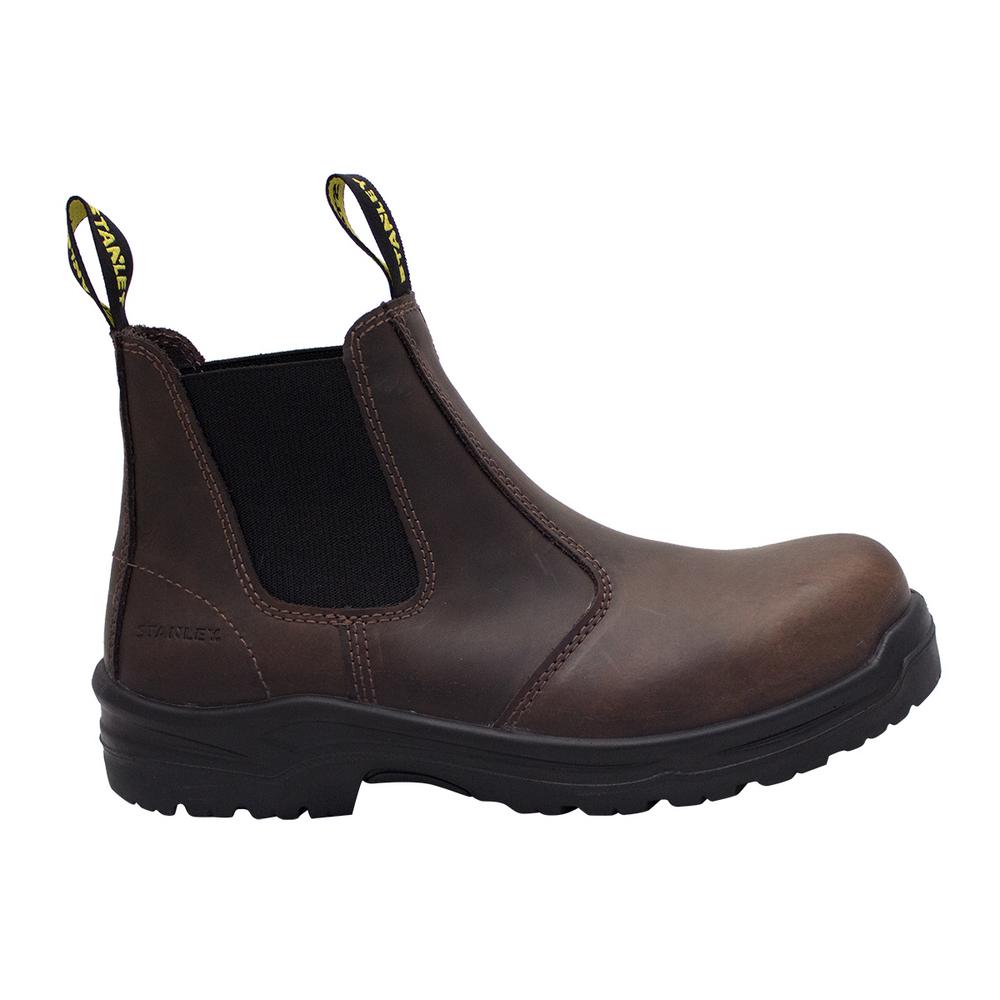 This brand offers a low-top full-grain leather work boot that gives you a different feel for long-term wear. Created in the Chelsea style, we checked and the fit is about mid-ankle and there are front and rear pull straps so you can slip this boot on with ease. There's a removable EVA insole and an additional cavity available so you can structure the right amount of cushioning with your foot without tearing apart your tendons. Equipped with a sturdy heel and a slip-resistant outsole, the lining of the shoe also guards against sweat build-up when you're on your feet all day. It's a solid buy, even for slippery surfaces. The company sells men's and women's sizes, although multiple comments mention that there are few options for small-footed women.
6. Kingshow GW Steel Toe Work Boots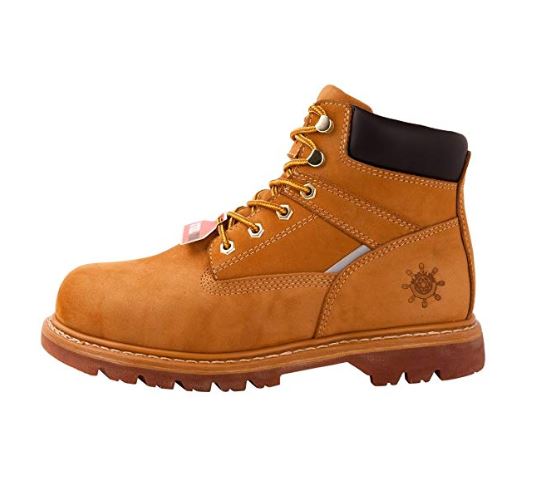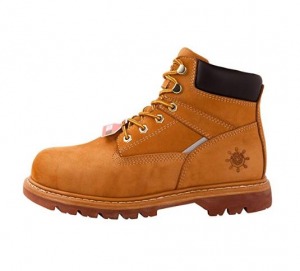 For their price, these boots have good quality. It is comfortable enough to wear these shoes all day even when doing lots of walking or standing. You might not even want to take them off when you go home. They do hold up well against abuse, but they just aren't as heavy duty as other footwear. It takes a few years of regular use before the boots start showing signs of wear and tear. Made from full-grain nubuck leather with a metal steel toe and a rubber sole, this pair of work boots is well-made and designed to last for a long time. The welt is slip resistant and has upper materials that boast of water-resistant properties. We like the wheat color, but we checked and found you can also choose from other colors such as 2 shades of black, brown and another shade of wheat. The shoes will keep your feet protected when doing welding work. This is also a good pair of work boots to get if you are on a budget. The price is accessible, but not perfect or ideal. The company sells men's and women's sizes.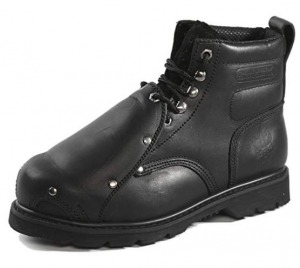 The Rhino 6MS01 Steel Toe Metatarsal Work Boot meets ASTM standards and is comfortable right from the moment you slip your feet in it. The inside has so much substantial padding that you might no longer need an extra thick pair of socks to feel comfortable in the boot. Despite the padding, though, the boot is breathable. It has an initial overall stiffness but nothing that a good break-in wouldn't handle. The design is also a standout and has a good enough height and sole thickness for a more stylish appeal. It also provides the protection and guarding of your feet that you need during welding work. The company sells men's and women's sizes.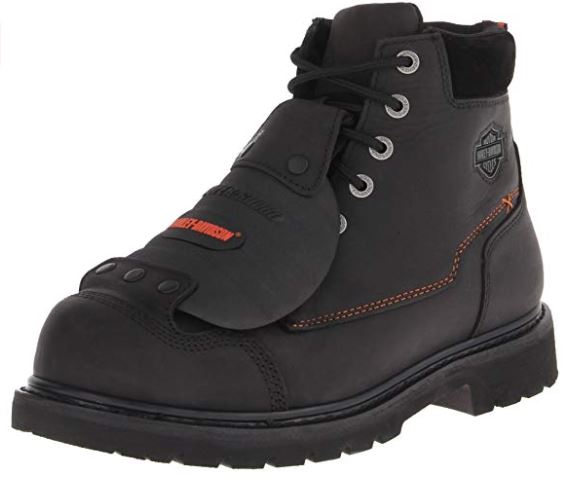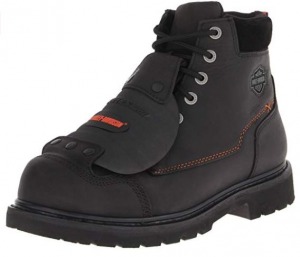 You wouldn't be able to peel your eyes away from the boot's rugged appearance. It has a nice design that should work even when you are not wearing your work clothes, and the material is breathable. The price is a bit steep, but we consider this an excellent investment if you want durability, style, heat resistance, and comfort in your work boots. This pair of heavy duty shoes feature genuine leather materials, steel toes and rubber soles. It gives you a good amount of protection with its 1.5-inch heel thickness. The interior features a full-length cushioned sock lining for optimum comfort, so check it out if you want some extra foot cushioning. The company sells men's and women's sizes.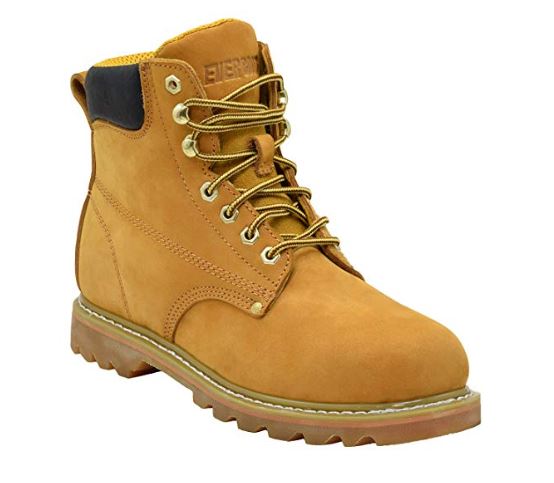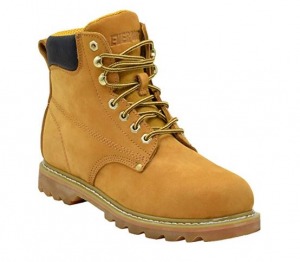 It is hard to find a pair of heavy duty work boots with the affordability and the reliability of this one from Ever Boots. Size down if you are going to buy this because it runs half a size bigger than its competitor such as Caterpillar and Timberland shoes. The inside has excellent insulation properties and comfortable features. The cushion insole prevents the hard materials from chafing your skin. It also features a removable rubber outsole. This also has slip-resistant properties. Get in and out of the boots with its easy-to- connect hooks and back loop. The company sells men's sizes and does not include a metatarsal guard with the shoes, so you might need to invest in more foot protection.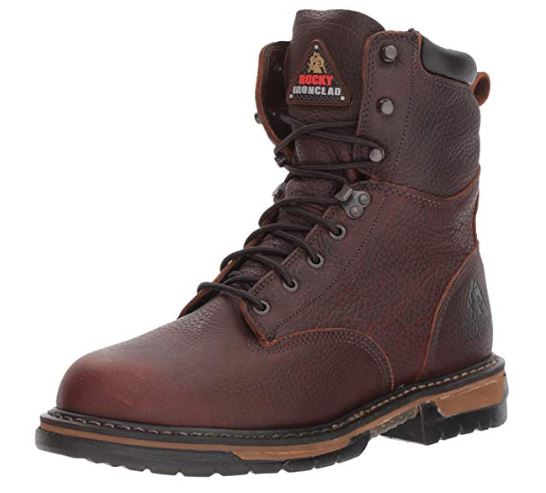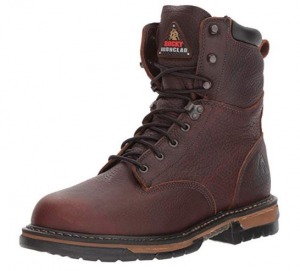 These work boots are stylish enough to be worn after work. The multicolored leather material and the rubber soles are tough enough to deflect any damage inflicted to it. This boot also features extra water-proof properties, so you don't have to worry about getting your toes wet. It keeps your feet nice and dry no matter what the external conditions are. With its cushioned footbed and the ample padding in the collar, this will provide you with the comfort you need to stay on your feet all day long. The stability these shoes offer is also exemplary, bordering on perfect. You can rely on this to prevent slipping even when on unstable surfaces. The company sells men's and women's sizes.
Products Reviewed Here: Our List of Suggested Best Welding Boots that You Can Buy
Our Suggested Best Welding Boot that You can Buy
Read on to the list of reviews and check out why these welding boots made our cut and to find out why! While Goodyear does make decent work boots, no Goodyear products made this list simply because there were other shoes that were more practical and reliable.
Here Are the Best Work Boots for Welding in One Chart

Good work boots should have a supportive insole, a durable upper and sides, be heavy-duty, have some protection against molten metal, and have high-quality stitching to prevent them from falling apart prematurely. Most are going to be made of leather and many of them will have a steel toe built into them as well to guard and protect the toes in case of falling metal, objects, or tools. Here are the top-rated options currently on the market now and that meet the ASTM standards. Wearing these can improve work safety and help you get home in one piece.
Safety Issues and the Best Work Boots for Welding

Your environment must be considered when buying the best work boots for welding. Whether you're welding metal indoors, outdoors, or both, the conditions can change at a moment's notice and your work boots must be able to respond.
One key safety issue for work boots today is slip-resistance. Work boots see heavy use and wear down quickly, so you need to pick a shoe with thick, slip-resistant soles. Virtually every boot has some sort of slip-resistance built into it with the traction of the outsole. Look at where you plan to weld. Are there liquids on the floor? Is there slippery concrete or metal? What about stray objects? You must always be on-guard when performing physical labor, so think about what the worst-case scenario in that environment could be. Then, purchase the work boots that can stand up to that problematic situation so you can weld with a greater peace of mind.
You'll also want to look at the overall height of the work boot for your welding needs so that you are adequately protected. If you are welding in unusual positions, then having an added level of ankle support will often be necessary. Look for a boot that is at least 9 inches in height with a snug, but not tight, fit for the best results.
If you are going to be welding at different levels or heights, then your work boot must be able to accommodate your up and down movement on scaffolds or ladders for your own safety. In this instance, the best work boot for welding will have a heel on the outsole of at least 0.75 inches and a 45-degree bevel so that you have the footing needed while ascending or descending with your equipment.
If you purchase a work boot with too much bevel, then it can cause the foot to slip off of a rung or catch a metal stair improperly, pushing you off-balance. The same can happen when tripping over objects on the floor or hitting the sides of the boot up against something. Workers face a lot of safety hazards, so situational awareness and a decent boot are important.
As a final safety issue, you may wish to look for a work boot that has incorporated some level of water-resistance to the upper. Most work boots are made from leather, so there is already a natural level of water-resistance to the materials. Some offer an added component, such as a specific coating, so that the boot can stand up to your worst-case scenario with ease. Waterproofing or water-resistance is extra important in damp situations, where you need to guard against wear, tear, and mold.
Just make sure that the water-resistance of the boot doesn't compromise the heat-resistance that you also need to have with this footwear option.
How to Pick the Best Work Boots for Welding

Choosing the best work boots for welding workers means having a product that is enjoyable, comfortable, and protective. Choosing the wrong boots will create misery. With the modern welding boot, you'll be able to take advantage of today's best features, including additions for guarding your toes that don't rely solely on steel and other metals.
Construction of the boot is the #1 issue that must be examined. The best work boots for welding are given a "welt" construction. The Goodyear welt is the most common and is a strip of leather that goes between the upper and the sole where both parts attach to one another. It is attached with simple thread. With double-stitching, you'll receive a rugged yet flexible boot that can take on a heavy-duty welding job in virtually every welding condition. This Goodyear welt is an essential part of the construction for durability.
You'll also see many welding boots tend to be directly attached. Check the bottom and sides of the boot to see how the sole is attached. A mold is attached to the boot and then injected with hot rubber to create the sole. These boots are usually comfortable and a bit cheaper, but not necessarily as durable. Rubber is important in boots for welding to protect against electrical hazards.
There are some additional features worth considering when buying the best work boots for welding as well.
Steel Toe.

Although not mandatory for welding, this

metal

feature does help to protect the foot from an impact

and is considered one of the greatest safeguards against losing digits

. Composite toes are lighter and more comfortable while still achieving the

OSHA standards

you may need for your welding work.

Remember, whether or not you keep your toes and their tips is often hinged on proper foot protection.

Shock Resistance.

Welding

produces sparks and has you working around electrical equipment while also handling metal, which is highly conductive.

There may be statistic discharges, other conductive materials

or objects

, and

additional

threats around your welding project. The best work boots will resist electrical conductivity, allowing any shock to dissipate.

This is essential to prevent electrocution and other electrical hazards.

Boots will dissipate static or be shock-resistant, but not usually both.

Padding and Support.

Some work boots add some padding around the ankle, calf, and insole to create more user comfort

and guard against twists and sprains. Sometimes, individuals also look for boots that can keep the feet somewhat cool while working. Because of all of the additional features work boots have, a cool shoe can be difficult to find. However, make sure the padding still leaves room for the boot to be flexible. Another form of support is the shank. A shank is a piece of hard, inflexible material that goes underneath the arch of the boot. The shank evenly distributes pressure and prevents puncture damage while providing support.

Heat Resistance.

Almost all work boots are designed to be heat resistant, but remember to double check what temperatures the boots are safe to use in. If you know your job generates a lot of heat, sparks, molten metal, and hot surfaces, consider investing in more expensive shoes. It's essential to be comfortable and secure while welding.

Compression.

Compression refers to how much the shoe clasps around the foot. Some people refer to the sensation as squeezing. The purpose of compression is to provide extra support, contour to the shape of the foot, and to also keep the blood flowing so feet do not fall asleep while working. If you're unsure of how much compression is in a work boot, check the tips of your toes when sampling the shoe. The tips should feel secure but not squeezed.

Weight.

You're going to be wearing your work boots a lot, so it's essential to find a pair that allows you to walk without weighing you down. This means you should find boots that feel lightweight to you without skimping on necessary protection. Naturally, people in better shape with well-developed leg muscles might find it easier to wear heavy boots.
Pricing Options for the Best Work Boots for Welding

Work boots for welders are generally priced around $100. Some are a little more than that and some are a little less, depending on the total number of features that you want to see with the boot.
If you're looking for a heavy work boot that can also resist caustic materials, have added slip-resistance, and can protect your foot from splatter without being ruined, then these premium boots tend to be priced around $150-$200. Additional materials designed to safeguard injury will also raise the price, so check what the toes are made of as well as whether there is a coating on the boot. Having a metatarsal guard included can increase cost but also improve protection.
For a basic work boot for welders with zero features and basic protection, you might be able to find an option that is priced for about $50. In this category, the work boots are more like duty boots than actual work boots, so it is important to keep that in mind.
The Verdict
The best work boots for welding must do more than guard and protect your feet. The shoes must also provide you with a comfortable all-day wearing experience and be perfect in most regards. Choose one of these boots today and that's exactly what you'll get. If you want added protection, you can also invest in toe caps. Toe caps are separate items that can be placed over the toes of work boots, almost like putting a cap on a soda bottle. Most work boots do not come with toe caps or even met guards, but the products reviewed here are still amazing.
After our review, we noticed there are some excellent welding boots out there. But, we believe that the title of best welding boots on this list should go to the Doc Martins for their heavy duty, non-slip design, and extra features. They are the best choice for individuals who want an all-around reliable boot.
There are several other products that can help make welding a safer activity — check this out for more information.