A good wire cutter is one that makes clean and precise cuts all the time. There are also wire cutters that offer multiple functions. There is no shortage of wire cutters out there, so there is a dizzying array of choices. But don't worry because we simplified the process and made it easier for you to choose with our recommendations below:
Best Wire Cutters Reviews
We think the following are the best wire cutters you can get today:
Here are the things you should know about these wire cutters:
1. Dowell 10-22 AWG Wire Stripper, Crimper and Multi-Function Hand Tool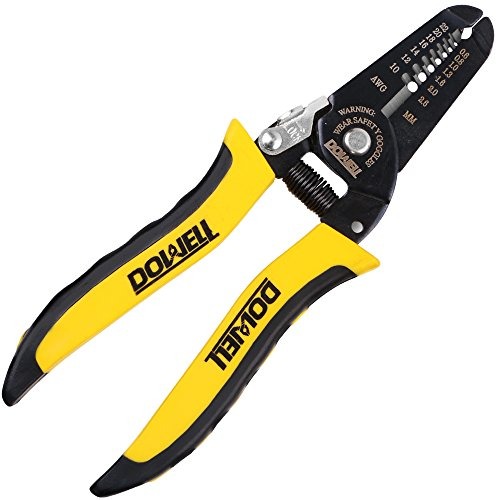 This a multi-tool that lets you do a variety of tasks aside from cutting wires. It can do crimping and wire stripping work as well. For its wire stripping function, it is best used for aluminum and copper cables with 10-22 AWG type.
This is one of the easiest cutters to use out there. You can even operate it with just one hand. The manufacturer also makes use of PP+TPR material for the handles, so you can grip it comfortably. The ergonomic handle makes this easy to use even when you have oily or wet hands.
Pros:
The grip is ergonomic. It also has a non-slip property that makes this easy to use even when you have wet hands. This is a good choice if you are working with wires in a humid setting or the summer season when palms tend to get wet.
It is easy to use. Even with just the use of one hand, you can easily cut or strip wires.
The power saving spring is a nifty addition. It makes it easier to cut through wires without using too much force. It can save your hands from unnecessary strain.
The knife edge is precise. It cuts through wires cleanly, so you won't have to deal with scratches on the wires.
This product will surely last you for a long time because it is made from high-quality and corrosion-resistant materials.
You can cut through 10-22 AWG copper and aluminum cables without cutting through the wire core.
The springs have a good quality. They can last for a long time.
Many people said it doesn't just cut wires cleanly, it also does a great job stripping wires neatly.
Cons:
If you also need its crimping functionality, you might be disappointed. Its crimping functionality isn't the best.
2. Irwin Vise-Grip Multi-Tool Wire Stripper/Crimper/Cutter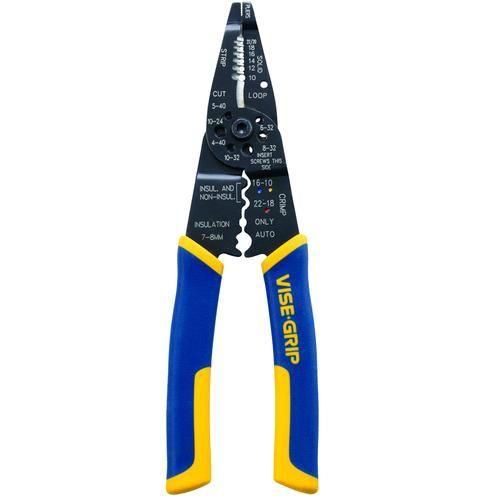 This multi-purpose wire stripper and cutter can handle all sorts of heavy-duty work. It is packed with a lot of features you can't find elsewhere such as the AWG selection dials, built-in crimpers and spring-assisted jaw openings. It has an excellent build that you know will last for a long time. The dual metal construction can resist impact and isn't as predisposed to corrosion as others.
The cutting edge of this wire cutter is induction hardened. That means it will cut with precision and will likely to remain sharp for a long time without the need to re-sharpen it. It comes with 10-20 AWG selection dial that allows you to adjust the gauge to get the best stripping capacity.
Pros:
This is a well-built wire cutter. Construction-wise, it is solid and has a good heft to it that will make you think it is made to last.
It is comfortable to use as well. It features the ProTouch Grip, which also boasts of non-slip and anti-pinch features. You can use this minus the hand fatigue. If you frequently work with wire cutters for hours, this is a good choice.
The cutting edge remains sharp even when used frequently. The cutting edge also ensures you can cut precisely and without damaging the wire.
This is also capable of cutting and stripping 10-22 AWG.
It has a bolt cutter. It effectively cuts the bolts to the size you prefer.
You can use this for crimping both non-insulated and insulated terminals.
This comes with a full lifetime guarantee.
The spring has a good tension. It isn't too difficult to press even for those with hand issues.
Cons:
Some said it has a long nose, which might be a bit difficult to maneuver when loading wires.
3. IGAN-170 Wire Cutters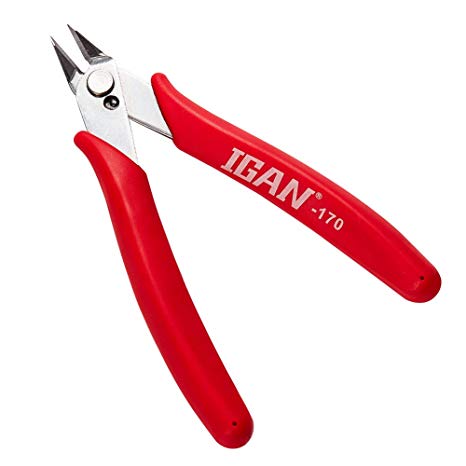 This wire cutter features a carbon steel jaw that has been heat-treated. It is 11mm in length and has an angled head design that will allow you to cut at an angle. This is an excellent choice when working with more delicate projects such as jewelry making but should also be great for more heavy-duty jobs such as metalworking or electrical work. You can also strip copper wires of 18 AWG.
Pros:
It can cut through a variety of wires. Whether you are working with small and delicate wires or big beading wires, this will work.
It is built to last. The carbon steel jaw can work with stiffer wires without getting damaged.
It feels ergonomic as well. It has a comfortable grip thanks to its rubber-like handle. This handle is actually made from TPE material that boasts of non-toxic and eco-friendly properties.
You will like how affordable this is. It is a good tool that can be used by even people on a tight budget.
It can be used for flush cutting as well.
Your purchase is backed by an 18-month warranty. In case you have issues with it, the company has a technical support you can reach.
The narrow nose makes this a more flexible wire cutter to work with.
It takes very little effort to cut wires, thereby reducing hand fatigue.
Cons:
Because of its shorter nose, it might not be the best for heavy gauge wires.
4. WGGE WG-015 Professional Crimping Tool, Wire Stripper and Cutter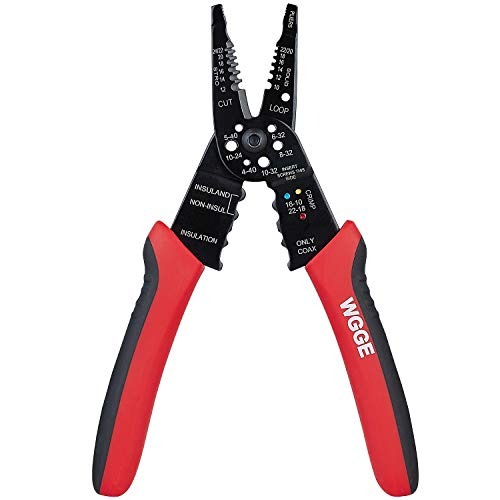 This tool does not just cut, it also strips away the coating of wires and can be used to make loops. It accommodates 10-22 AWG solid copper wire. It even comes with a built-in screw shearer and can be used on different sizes of screws.
It has a serrated nose for easier bending and shaping. You can also use the serrated edge to pull out the coating of wires neatly. Its high carbon alloy steel material ensures you can strip the wires with ease. This can also be used to cut bolts.
Pros:
We think this is an excellent choice when it comes to doing craft projects. It has a serrated nose that makes it easier to bend and shape wires. It also works in pulling wires and separating them from the coating.
It is easier to use because of the curved handle. It reduces hand fatigue as the wire cutter fits in your hands well.
It cuts cleanly and precisely. You don't need to go through it a second time to get the precise cut you want.
This tool has an affordable price tag. Many people are surprised that for its quality, it actually has a very affordable price.
This holds up well against abuse. It doesn't bend easily.
It is user-friendly, so you can use it for craft projects and jewelry-making.
The wire stripping function is excellent. It lifts off coating without issues.
Cons:
Some said for higher gauge wires, you need to cut or strip them at an angle to get desired results.
Which Is the Best Choice?
Easy to Use: Dowell 10-22 AWG Wire Stripper, Crimper and Multi-Function Hand Tool. This is a great tool to get if you want one that is a cinch to use. It cuts evenly and precisely. You don't even need to put in too much effort for cutting. The spring is also heavy duty, so you can rely on this for a long time.
Packed with Features: Irwin Vise-Grip Multi-Tool Wire Stripper/Crimper/Cutter. This wire cutter does not disappoint when it comes to features. It has everything you might be looking for in a wire cutter and more. It does a good job in cutting wires precisely without the cutting edge dulling overtime.
Sharp Cutting Feature: IGAN-170 Wire Cutters. This tool cuts through wires like butter. It is really sharp and easy to use. It also does not require too much effort to cut through wires. If you are looking for something that won't cause hand fatigue when you use it, this should be a great choice. It is also compact, so you can stow it away in your bag with ease.
Great for Small Projects: WGGE WG-015 Professional Crimping Tool, Wire Stripper and Cutter. Do you do small metal projects that involve cutting and shaping wires? Get this one then. It is easy to use and has a handle that won't strain the hands. It cuts precisely. Best of all, it is affordable.
What to Consider When Buying a Wire Cutter
When it comes to the best wire cutters, you need to consider your personal preferences first. If you are metal workers and you need something for heavier jobs, you need something more heavy-duty. That means you should consider spending a bit more money on those more expensive models with a better cutting quality. However, for the occasional metal workers or hobbyists, a smaller one with a cheaper price tag might suffice. There are actually a lot of less expensive wire cutters that still have the durability to boast of.
You should also consider the following things when buying a wire cutter:
What types of wires it can accommodate
If there is a specific type of wire you work with, find out first if the wire cutter can accommodate that. You don't want to buy a cheap wire cutter only to find out it can't cut the thicker wires you work with. This is also true for stripping wires. Make sure it can accommodate specific sizes of AWG.
Material and construction
Wire cutters are usually a one-time purchase for most people, so it is important that you should look for one with a solid build. Make sure it is made from materials that are resistant to corrosion and rusting. It should also not chip easily, especially the blade part. Once it chips, you might not be able to restore it anymore.
Check how sharp the blade is. Is it capable of cutting through the wires you are working with? How much force does it require to cut through thicker wires? If it isn't sharp enough, you might need to use more force just to cut the wire.
Look for a wire cutter that you will be able to hold with ease even for a prolonged period of time. If you work with wire cutters all day such as in the case of jewelry makers and metal workers, it should have a nice rubber coating at the handles to protect your hands from unnecessary fatigue.
While you don't want it to be too lightweight, you should consider getting one with a nice heft to it. Just make sure it isn't too heavy as this can be difficult to work with, especially when working all day.
It should also have a good spring tension that makes it easier to press the handles and cut through the wires with ease.
Set aside a reasonable budget for it. If you want more features and more durability, a good budget for wire cutters is important as usually get what you pay for.
Here are the things you would want to keep in mind when finding a good wire cutter.
Conclusion
Need more help in finding the best metal working tools? We can help you choose the best products for welding. Also check out our buying tips and suggestions to know which of the products out there are worth adding to your metalworking arsenal.