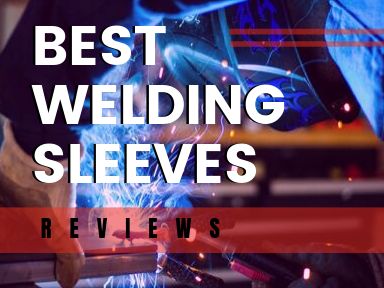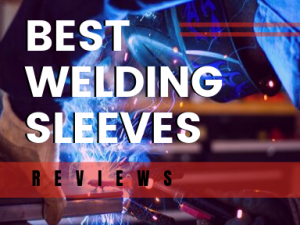 Complete your safety arsenal for welding and get yourself a pair of good quality welding sleeves. We will help you find welding sleeves with the heat resistance capacity that you can rely on for those welding jobs. Find out below which of the products out there we think are the best.
Best Welding Sleeves Reviews
1. BC Precision 22-inch Black Kevlar Protective Arm Sleeves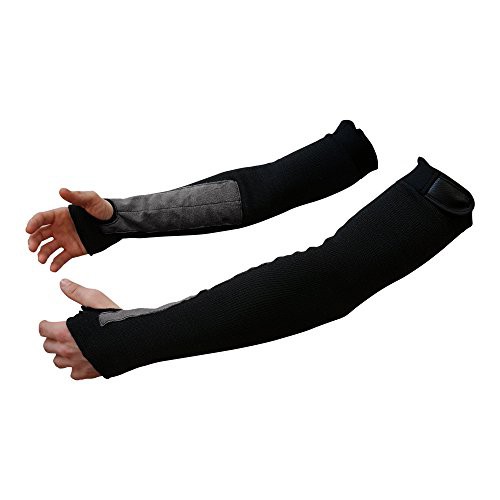 If you want more arm coverage, get this one from BC Precision. It is 22 inches long, so it covers more skin and provides more protection against heat and sparks from the welded materials. The inside part has a leather patch for further protection. It stays in place, thanks to the elastic Velcro strap found at the top of the sleeve. This is what prevents the sleeves from rolling down.
Made from 100% woven material and 2-ply Kevlar, this is one of the most comfortable welding sleeves out there. It has superior flame resistant properties, so you can use it for a variety of purposes including doing welding work. It is also cut resistant, great for those working with sharp tools. Where there is superior arm protection needed, this should be chosen.
Pros:
This is one of the most wear-resistant welding sleeves out there. It is made from two-ply Kevlar, so you get excellent durability. The Kevlar material makes this impervious to heat and sparks from welding.
It is longer than many of the ones you can find out there. If you have longer hands or you just prefer more protection, you should choose this one.
The elastic strap prevents this from riding up your arm. This ensures a more comfortable usage. You don't have to stop every now and then just to fix the sleeves.
The protection extends right up to the knuckles of your hands.
It provides protection against the elements as well. You can use this even in the winter season to protect your hands from the elements.
This pair of sleeves has a great price. If you want something affordable that will not compromise quality, this should be a good choice.
These sleeves are cut-resistant as well, great for pruning sharp plants or doing all-around maintenance work at home.
Cons:
This might not be ideal for overhead MIG. Some said the heat resistant properties could use some improvement.
2. Mechanix Wear Heat Resistant Kevlar Heat Sleeves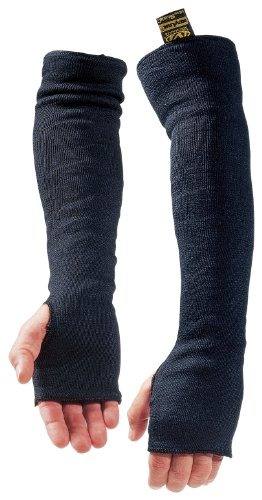 This pair of 18-inch sleeves provide coverage and protection, so you can do welding work with ease. It has thumbholes for easier usage. It is completely made from Kevlar, thereby providing maximum heat resistance. It can also be used for various jobs that will require cutting. It has CE Level 2 Cut resistance that makes this a versatile choice for all-around home improvement work.
It can also protect you from oil splatters or any kind of hot liquid because of its fibreshield treatment. One size fits all for this pair of welding sleeves and it can be washed in your washing machine.
Pros:
This does a great job in preventing burns. It prevents slags and sparks from hurting your skin.
This actually has a good scent to it. It has a scent similar to bubble gum, which is good if you don't like the factory chemical smell of many welding sleeves out there.
Because of the Kevlar components, this is truly cut-resistant. You can also use this to protect your hands when dealing with sharp tools.
It does fend off the cold. It can double as a protective sleeve during those extremely cold days.
Many people said this is the most comfortable welding sleeves they have tried. They have a great fit and the ends stay tight enough to prevent the sleeve from riding up.
It is easy to keep clean. You can wash it in your washing machine.
The quality is evident. It won't loosen up or get fray easily. That means you can get more wear out of this.
Cons:
It might not be the most breathable material. Some said, their arms get a bit sweaty, especially when working in hot room conditions.
3. Lincoln Electric Black One Size Flame-Resistant Welding Sleeves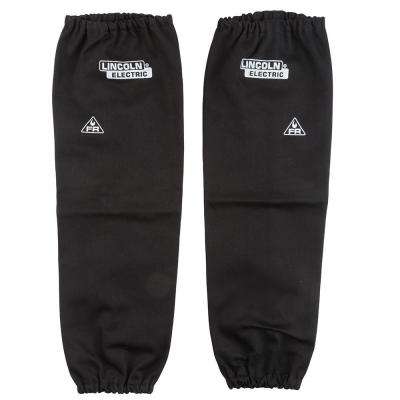 These 100% flame-resistant sleeves can protect you from heat and spatter when doing welding work. It has a length of 21 inches for maximum arm coverage. This Personal Protective Equipment is also lightweights, so it should be comfortable to use even for prolonged hours. The elastic cuffs of this material also ensure it stays in place.
Pros:
For its price, it really has a good quality. It is hard to find anything wrong with its heat and spark-resistant properties. It will provide ample protection against heat and spatters.
It has a substantial length. It provides more coverage than many other standard welding sleeves out there.
It fits under a welding jacket easily. If you have a welding jacket but that doesn't provide sufficient protection against slags and spatters, you can use this as an added protection.
It stays in place, which adds up to your comfort. The elastic top secures it in place and prevents it from sagging down or riding up.
This pair of welding sleeves is the cheapest among this list.
Cons:
The material is a bit stiff, almost like burlap, so some might find it scratchy.
4. Tillman 5218E Heavyweight 18-inch Sleeves Cowhide Side Split Leather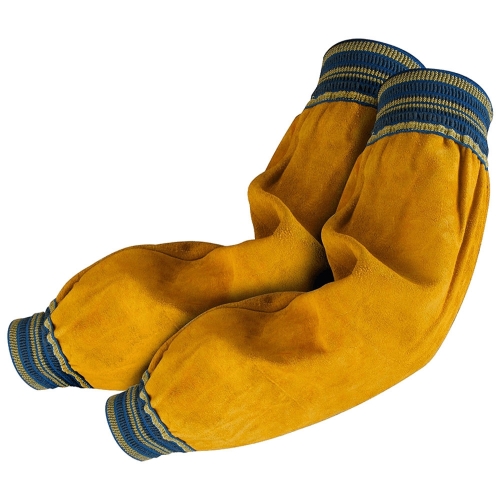 These brown welding sleeves are made from side split Cowhide material for excellent heat protecting properties. It provides 18 inches of coverage and protection against spatters. These sleeves stay in place, thanks to the thick 2 ¼-inch elastic that hold the sleeves in place. They should last you for a long time because they won't rip easily. The edges are held together by Kevlar thread.
Pros:
This has a good thickness to it that can protect your arms from burns. It also offers good protection against cuts if you work with sharp objects.
You can wear it under your welding jacket with ease. It is also easy to put in and take off.
If you do a lot of overhead welding work, you definitely need to get this one. It can withstand the spatters from the overhead welding. It can even protect you from big spatters.
It is more breathable than others. Some said they were able to use this without the uncomfortable sweating.
This pair of sleeves can also protect your arms from scratches when doing gardening work.
Many people also said this one holds up well against abuse. They have used this for over a year and it is still as strong as they first used it.
Cons:
It has a yellow dye that tends to rub off on the skin when you sweat.
5. QeeLink Leather Welding Work Sleeves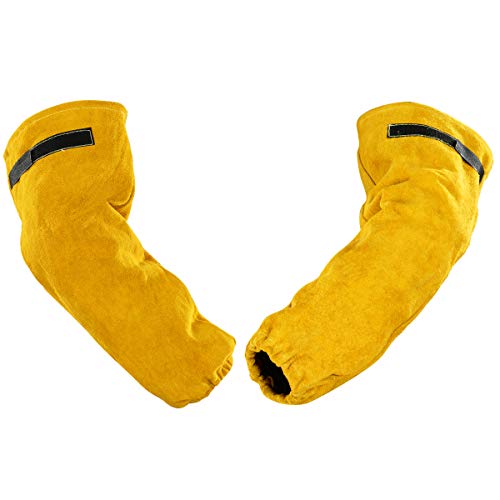 There are just so many welding work sleeves out there that do not have the comfort that many workers need in order to weld for hours. If you have such a problem, you will most likely find this a great choice. It is made from durable split cowhide leather material but has a double layer design that provides extra comfort. There is an inner lining that prevents the stiff material from chafing your skin. It doesn't compromise when it comes to its heat and spark resistant properties.
Pros:
The double layers keep your arms protected from spatters but without causing discomforts. There is a comfortable inner lining that ensures you can wear this for hours and not worry about itchiness or chafing.
It is made to last. The cowhide leather is naturally resistant to damages. It is also sewn together using US Kevlar thread, so you know that this is resistant to damages.
This can fit different arm sizes easily because of the adjustable Velcro sleeves. The other side has an elastic cuff, so this stays in place no matter what you do. This can fit even those with slender arms.
The manufacturer backs up their purchase with a 100% complete refund if you are not satisfied with your purchase.
This is also a good product to get for overhead welding.
They are long enough to provide ample coverage.
The price is affordable.
Cons:
One customer said he got one with a lining that feels like plastic.
Which is the Best Choice for You?
Even with your choices narrowed down, you might still wonder which of the above-mentioned products is the best fit for you. Let us help you out even further: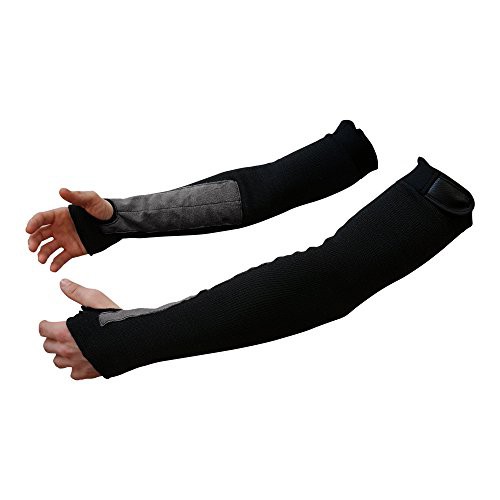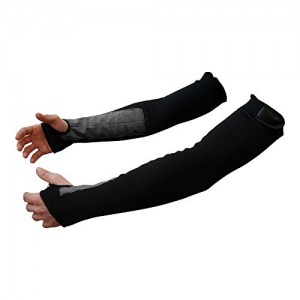 Longest Choice: BC Precision 22-inch Black Kevlar Protective Arm Sleeves. This is what you should look for if you want more arm coverage. Since it is longer than other welding sleeves out there, it should provide more protection against burns. You do feel the sparks and slugs, so it might not be the best for heavy-duty and even overhead MIG work but for regular and small welding jobs, this can be a good choice.
Excellent Heat Protectant: Mechanix Wear Heat Resistant Kevlar Heat Sleeves. You will not find this lacking when it comes to its ability to protect your arms from the heat of sparks from welding materials. Because of its Kevlar material, it can also protect you against sharp objects. It is comfortable to use and can even provide extra warmth in the winter season.
Cheapest Choice: Lincoln Electric Black One Size Flame-Resistant Welding Sleeves. For people who don't like to spend so much money, this is the best option for you. It is very affordable, but it still provides excellent heat protecting abilities. It also has a good length and thickness that provides more coverage and protection.
Great for Overhead Welding: Tillman 5218E Heavyweight 18-inch Sleeves Cowhide Side Split Leather. If you are looking for more protection for your arms when doing overhead work, this is definitely an excellent choice. It has reliable flame and spatter-resistant properties. It even protects the arms from bigger spatters. Best of all, it is comfortable because of its breathable material.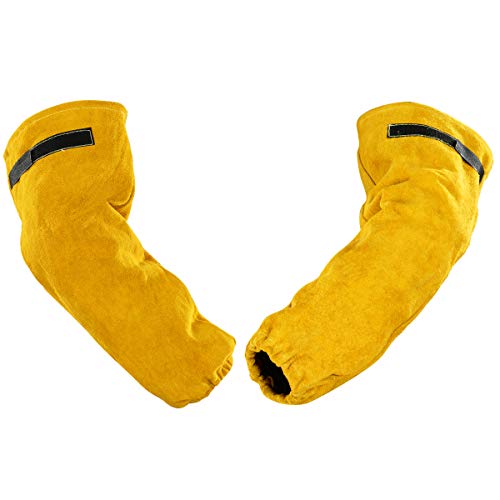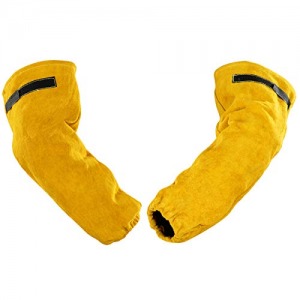 Most Comfortable to Use: QeeLink Leather Welding Work Sleeves. The comfort of this pair of welding sleeves is unparalleled. It has an inner lining that prevents the leather from chafing the skin. Get this if you need welding sleeves that you can comfortably use for hours.
More Tips in Buying Welding Sleeves
Need more help in finding the right welding sleeves? Take these tips into account:
Consider the material used.
Get down to the materials used. Look for materials that are naturally resistant to heat and are more likely to protect you from slags. Cowhide is a very popular material because it is thick enough to prevent heat and spatter from reaching your skin.
Take into consideration your welding needs.
If you do overhead MIG or TIG, go for those with thicker materials that can withstand the sparks that will surely go down your arms when you do overhead work.
It should be comfortable enough to use for an extended period of time.
A breathable liner is important if you need to use it for hours. Sweating is often a big issue with these welding sleeves.
Make sure you will be able to use it under your welding jacket.
If you already have a welding jacket and you plan on layering it over the sleeves, the sleeves should have a good fit so you can wear the jacket over it with ease.
Conclusion
Out of all the products out there, here are the welding sleeves that stood out:
Make sure you are completely protected when doing welding work. Go to our homepage and read more reviews about the best products you can get in order to protect yourself from heat, sparks and slags. Go here if you want to learn more about different welding accessories.