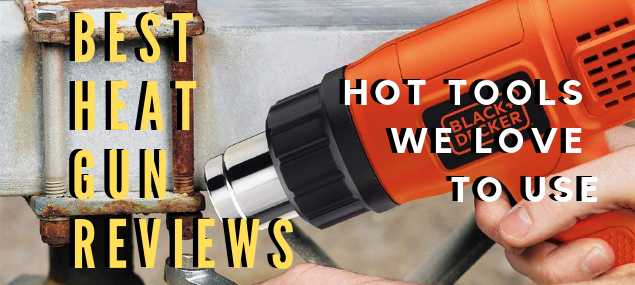 Whether you are trying to remove old paint or softening adhesive, the heat gun is a versatile and highly useful tool.
With this, you never have to be reminded of your bad choices when it comes to bumper stickers ever again.
We looked for the best heat guns today and found the ones that have variable heat capacity, ergonomics, good price point, and durability you will surely find handy in your house.
Best Heat Gun Reviews
Now let's find out why these heat guns are the best:
1. Wagner Spraytech 0503008 Heat Gun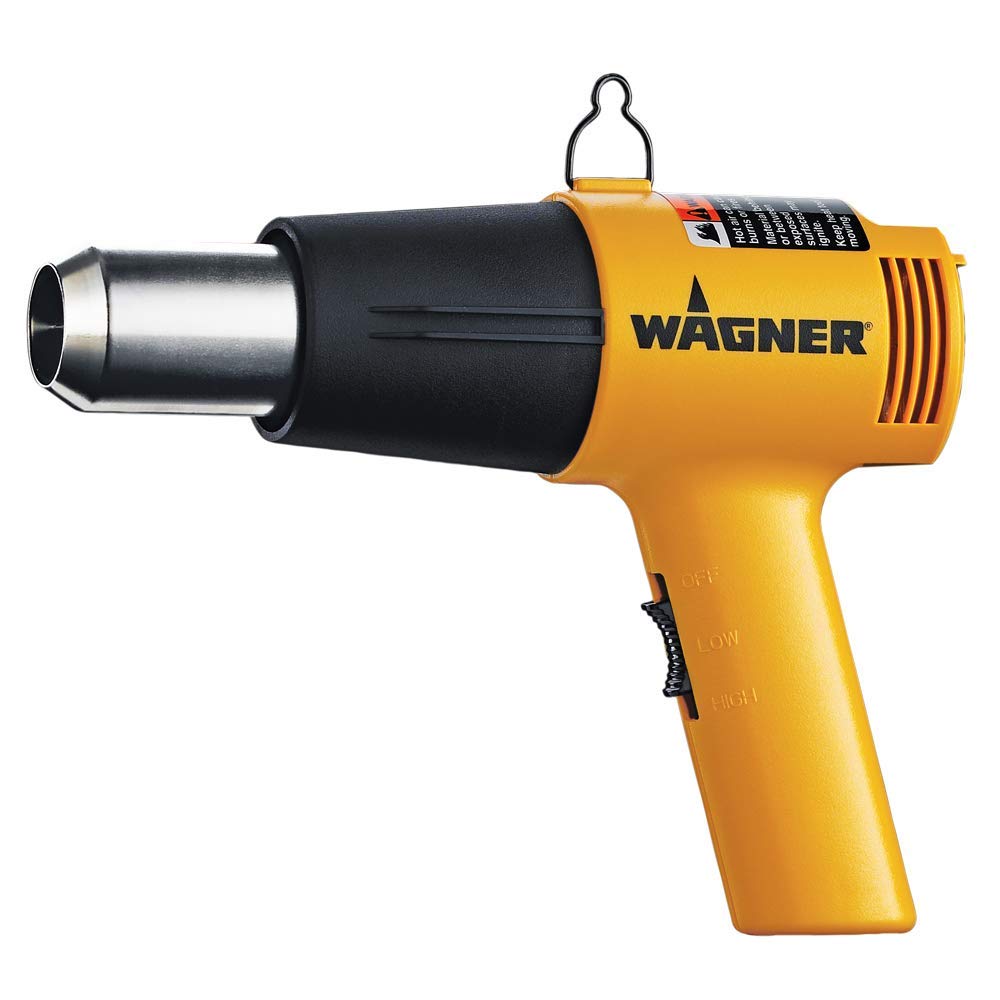 Whether you are a professional contractor or a handyman at home, the SprayTech from Wagner is an indispensable tool. From removing old and stubborn paint with ease to removing bolts that have turned rusty, you will never experience frustration again because this handy tool will get the job done faster. It can also be relied on for a multitude of things such as thaw pipes that have been frozen in the winter or remove baseboards or flooring. With its heating capacity and ability to melt adhesive, you can protect internal materials from damages.
It has two-speed settings: 750 degrees F and 1000 degrees F, which can cater to your various projects. If you are working on more delicate materials, set it up to a lower temperature. That can be easily done with its temperature switch that has been built in the handle of the heat gun.
Pros:
This heat gun has a rugged design that enables it to withstand constant abuse. The nozzle has a material resistant to corrosion. The materials used for the body are easy to grip and lightweight for easier usage.
It does a lot of work. Many people have used this not just for peeling off paint or softening adhesive, they have also used this for their various craft projects. It is even strong enough to bend tubing. That is how versatile it is.
It generates a lot of power. It uses 1200 watts of heating power, hence the ability to produce a lot of heat.  
It is easy to use. You won't experience hand strain even when using it for a long time. The handle is ergonomic, and the nozzle is easy to direct to wherever you want to direct it.
It won't break the bank. The price is lower than many of its competitors.
Your purchase is protected by its 2 year home use warranty.
It seems to hold up really well even against constant use. There were those who used this for their craft projects every day and have had this for months and did not experience any issues.
Some people can attest to how good Wagner's customer service is.
Cons:
The switch is turned upside down. You need to flip it down if you want to turn it on or flip it up if you want to turn it off. Some people might accidentally turn it on.
2. ProTect 1500W Dual Temperature 9-Piece 2-Speed Heat Gun Kit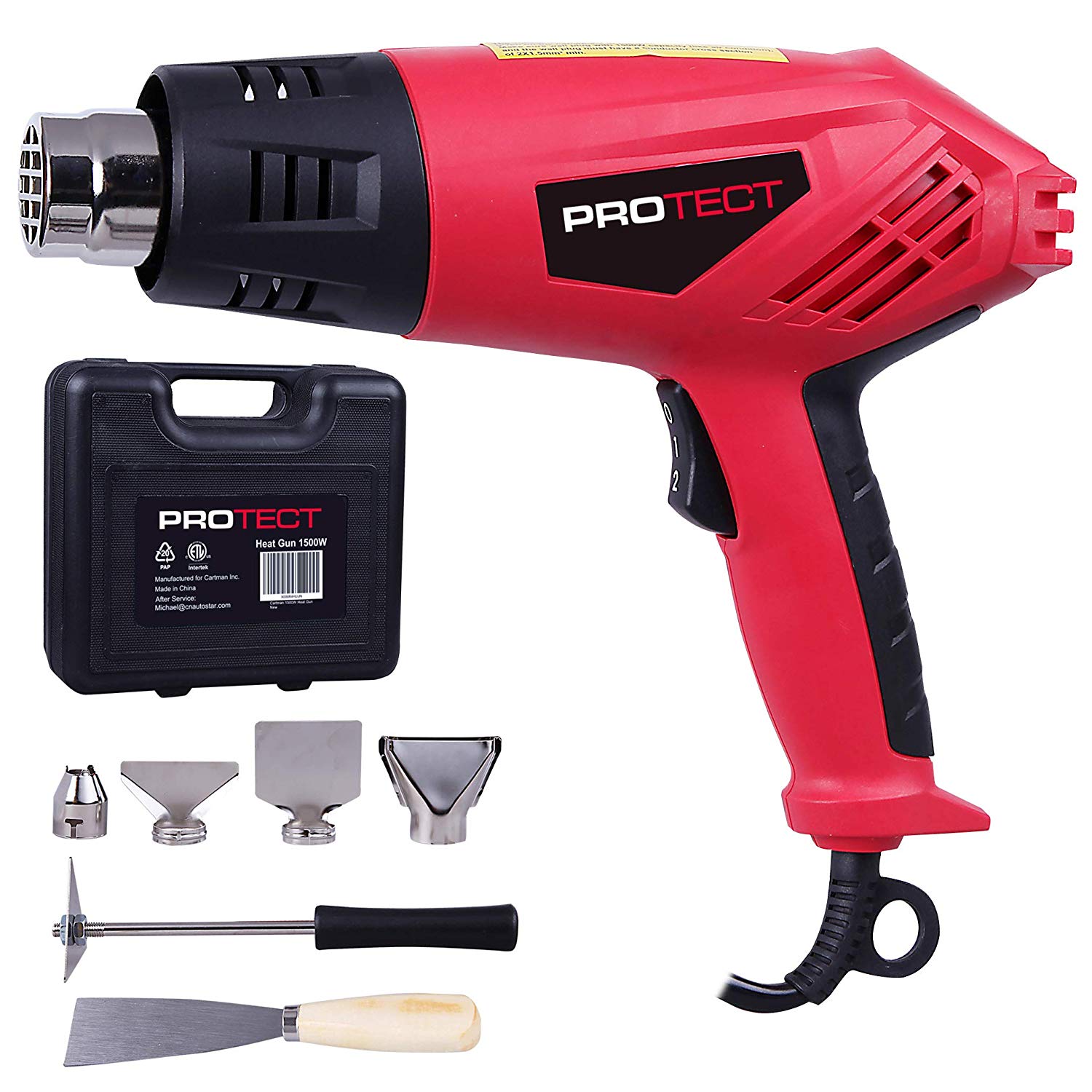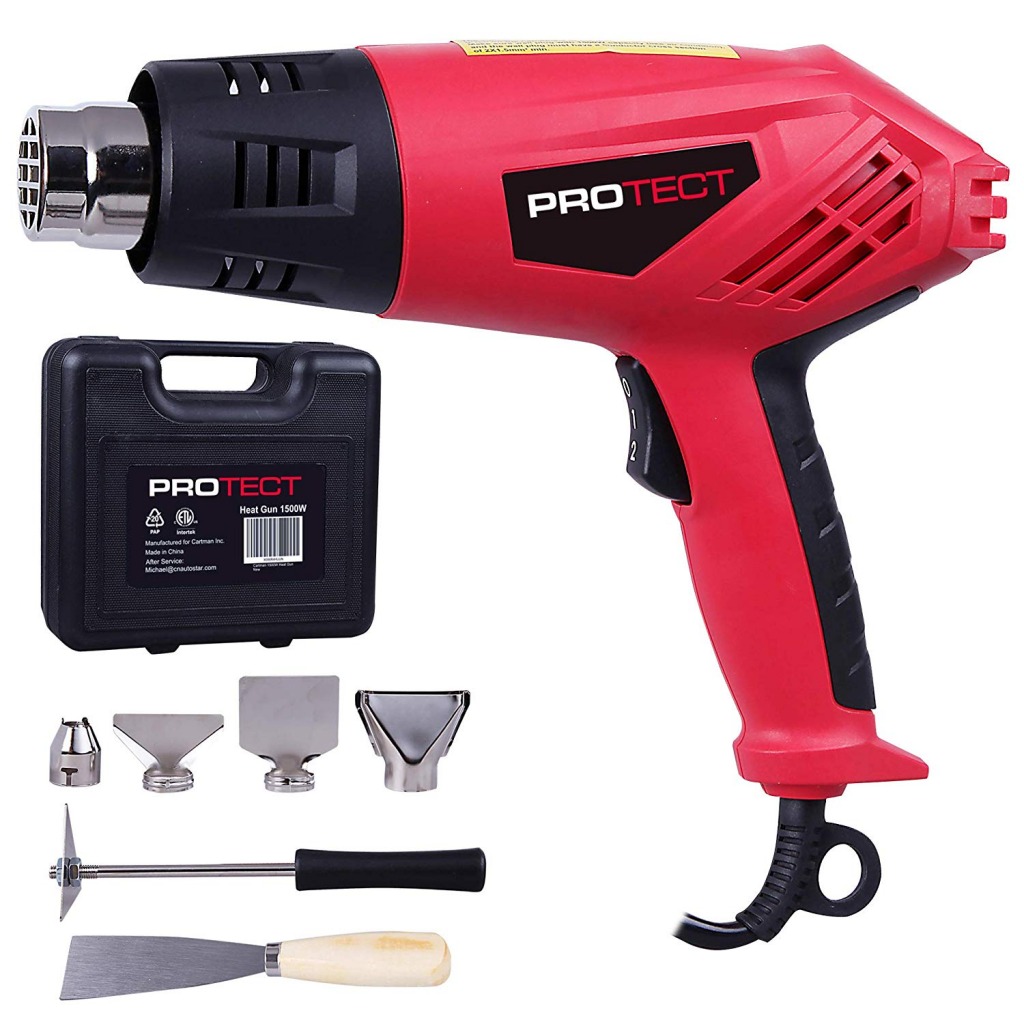 For its price, it comes with a lot of things. This heat gun kit comes with a lot of accessories that can all be kept in the carry case included in your purchase. It comes with different sizes and shapes of nozzles, so you can apply heat in the most ideal way possible. There is even a scraping tool included, so there is no need to buy this extra.
The black and red color of this heat gun makes this sterling choice if you are looking for a heat gun that can stand out from the rest. It uses 1500 watts of heating power and has 2 temperature settings. The 750 degrees F one is ideal for slowly producing heat such as when gradually thawing pipes or attempting to defrost the freezer. Switch to the higher 1000 degree Fahrenheit setting if you are working with tight bolts and nuts held by corrosion, shaping plumbing pipes, or removing old paint from your furniture.
Pros:
This is easy to work with. You can select the temperature you want. It even comes with fan speed settings to easily adjust it to the setting you prefer.
It is very easy to use. Just plug it in an outlet, choose the temperature you want, and direct the nozzle to what you are working on. In just a few seconds, you should be able to get results.
What is great about this is that it works even on multiple layers of paint. It has 4,100 Btu that has a wide heat coverage. Coupled with the 2 temperature settings, you can choose the one that will truly provide you with the heat-generating capacity you are looking for.
It weighs only 1.9 pounds. You can easily use this because it is lightweight.
It comes with a lot of accessories. You can use different shapes of nozzles to get your desired heat output. It also comes with scraping tools that you can use when getting rid of paint.
The price of this heat gun is also very accessible. Among the ones listed here, this is the cheapest choice.
It has a fast heating time according to users. They did not have to wait for a long time for it to expel heat.
Cons:
Some said the accessories that came with it aren't that useful because they bend easily.
3. Black + Decker HG1300 Dual Temperature Heat Gun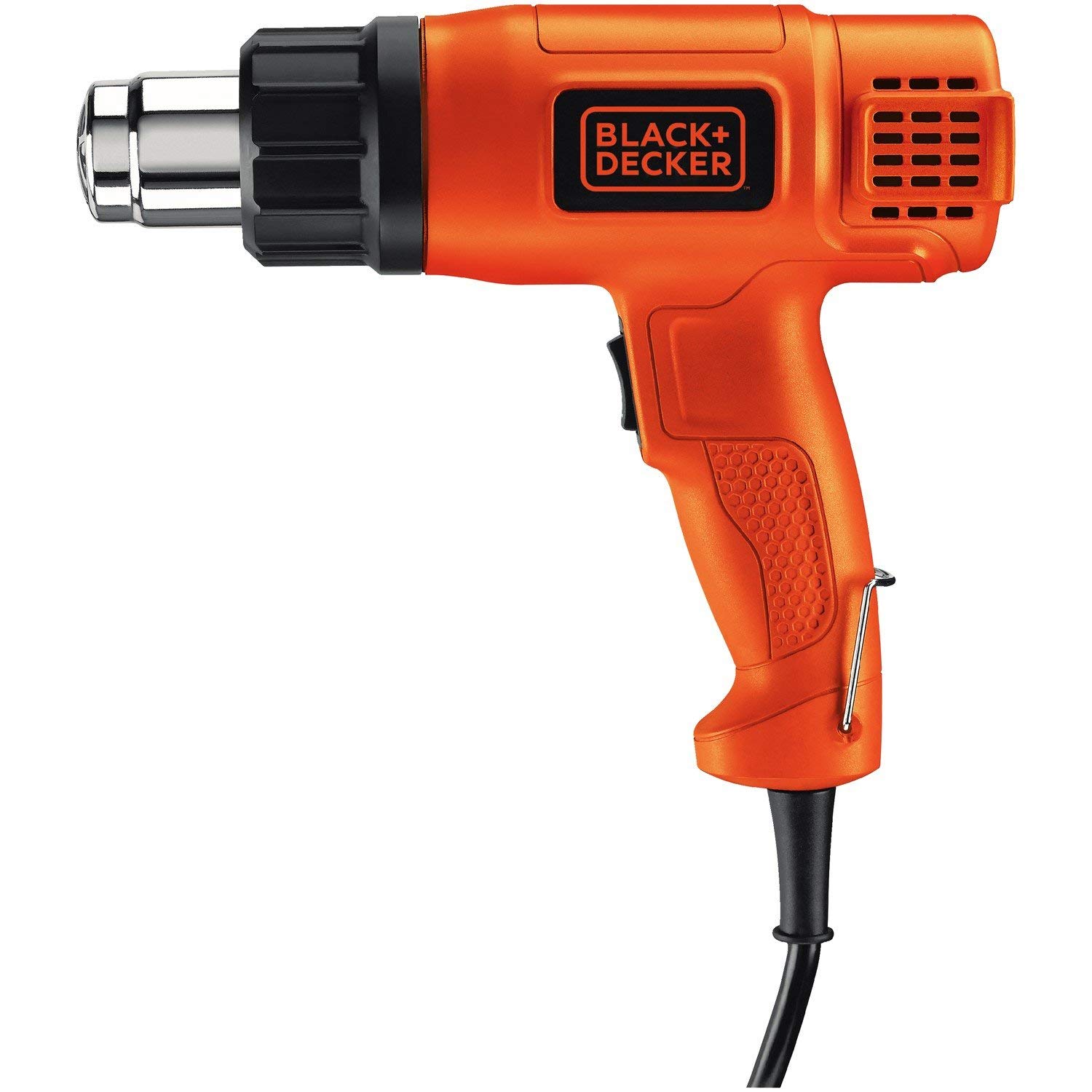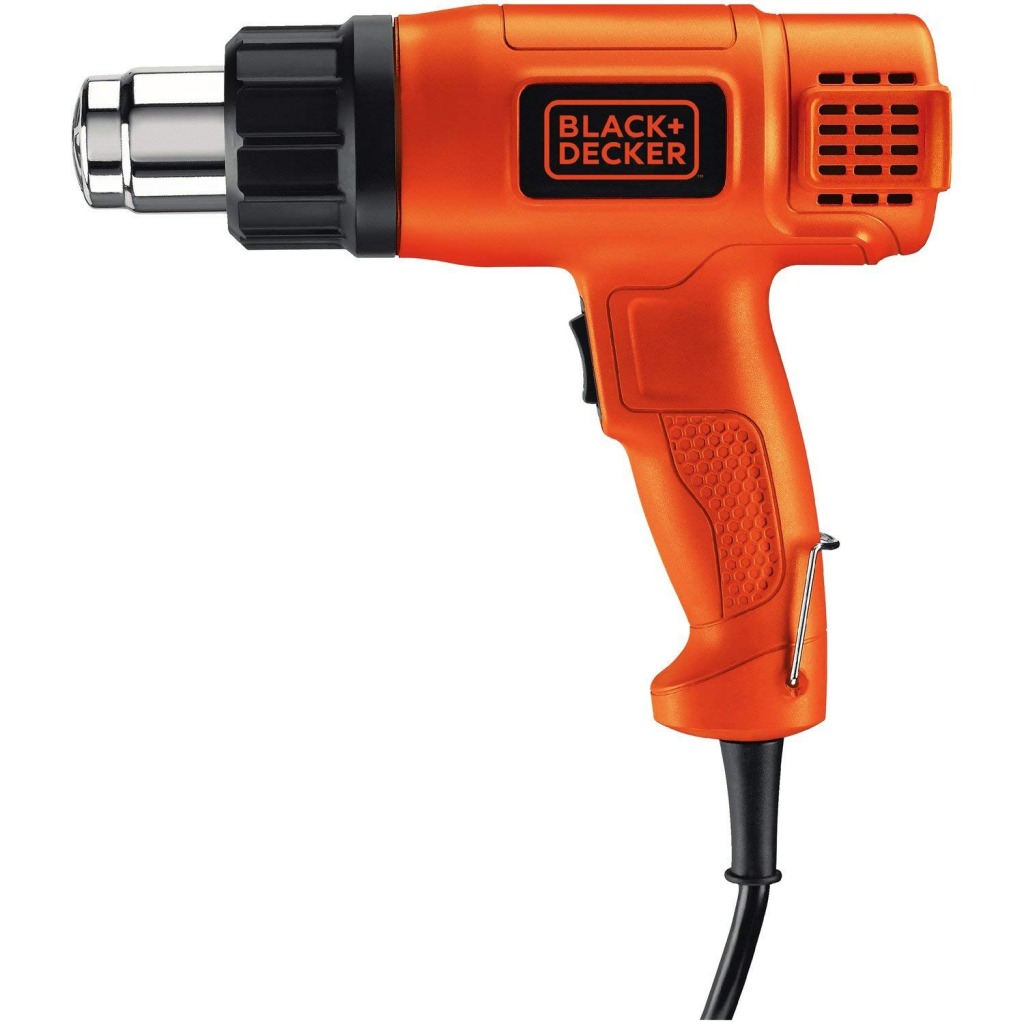 This is a powerful heat gun that uses 1350 watts of power. With its capacity to generate heat, you can strip old paint, loosen up those rusty nuts and bolts, thaw pipes and do many other things at home with the help of this tool. The two heat settings, which are 500 degrees Fahrenheit and 1000 degrees Fahrenheit allow you to get the right settings for your specific project.
The heat gun has a length of 9.37 inches and has a weight of only 1.9 pounds. It is lightweight and compact, making this ideal as an all-around tool in your home.
Pros:
Black + Decker is a trusted brand when it comes to household tools. You can be assured that your purchase is backed by great manufacturing methods and good customer service. You can easily reach them if you find something wrong with your purchase.
What makes this different from all others is its built-in stand. When you are done using it, just prop it on its built-in stand to cool down. You don't have to worry about putting it on a surface and damaging that surface because of its hot nozzle.
The dual temperature setting can be operated through a switch that is found on the handle. You can easily reach it with your finger, making changing temperature a cinch. The 3-way trigger isn't confusing to use, according to many users.
It produces heat fast. Even in  "low" setting, it still produces a good amount of heat.
This heat gun comes with a 2-year warranty.
Cons:
Some said the nozzle of their unit is starting to melt. There were those who said it tends to produce a rattling sound when it is set in a high-temperature setting.
4. TackLife Professional Heat Gun with 3 Temp Settings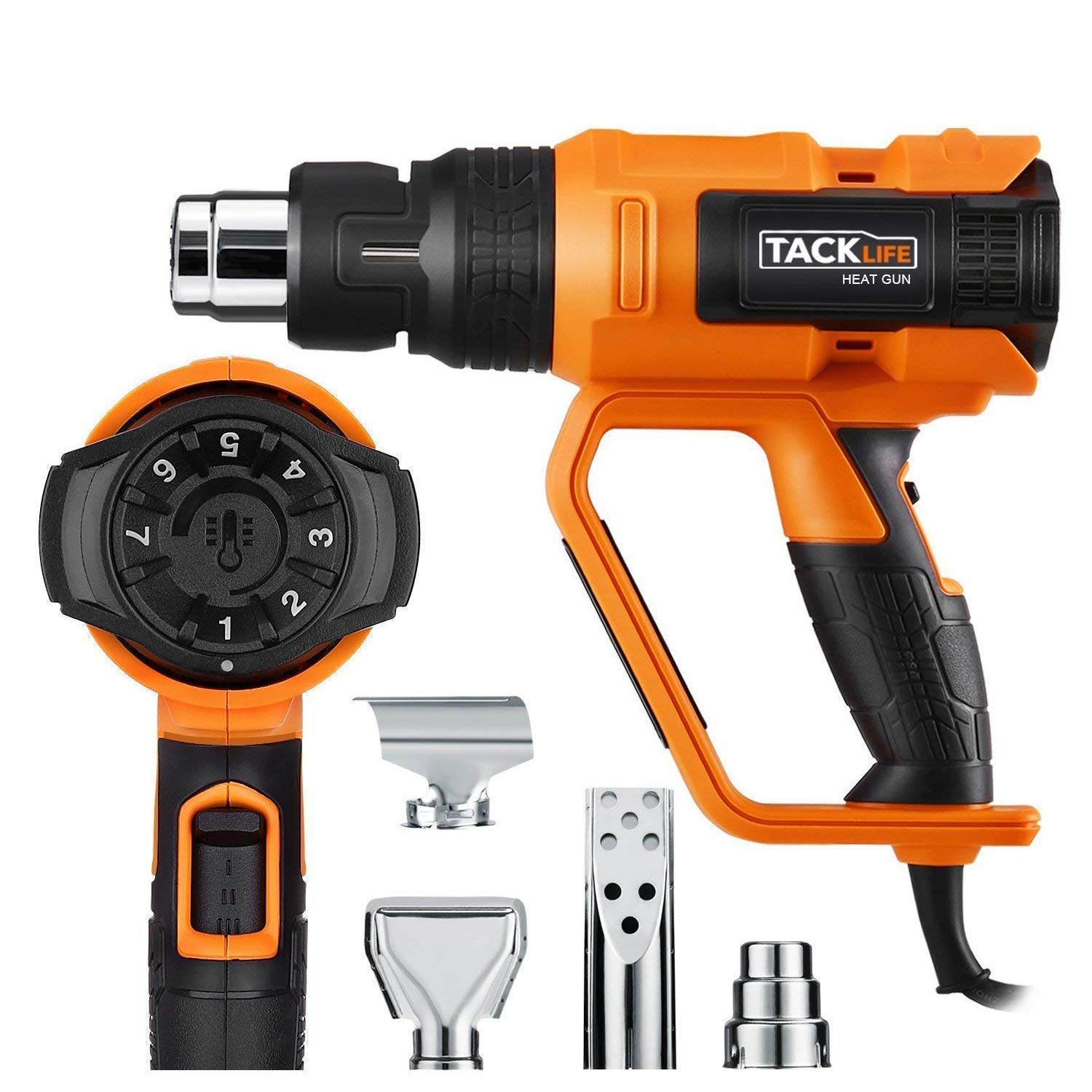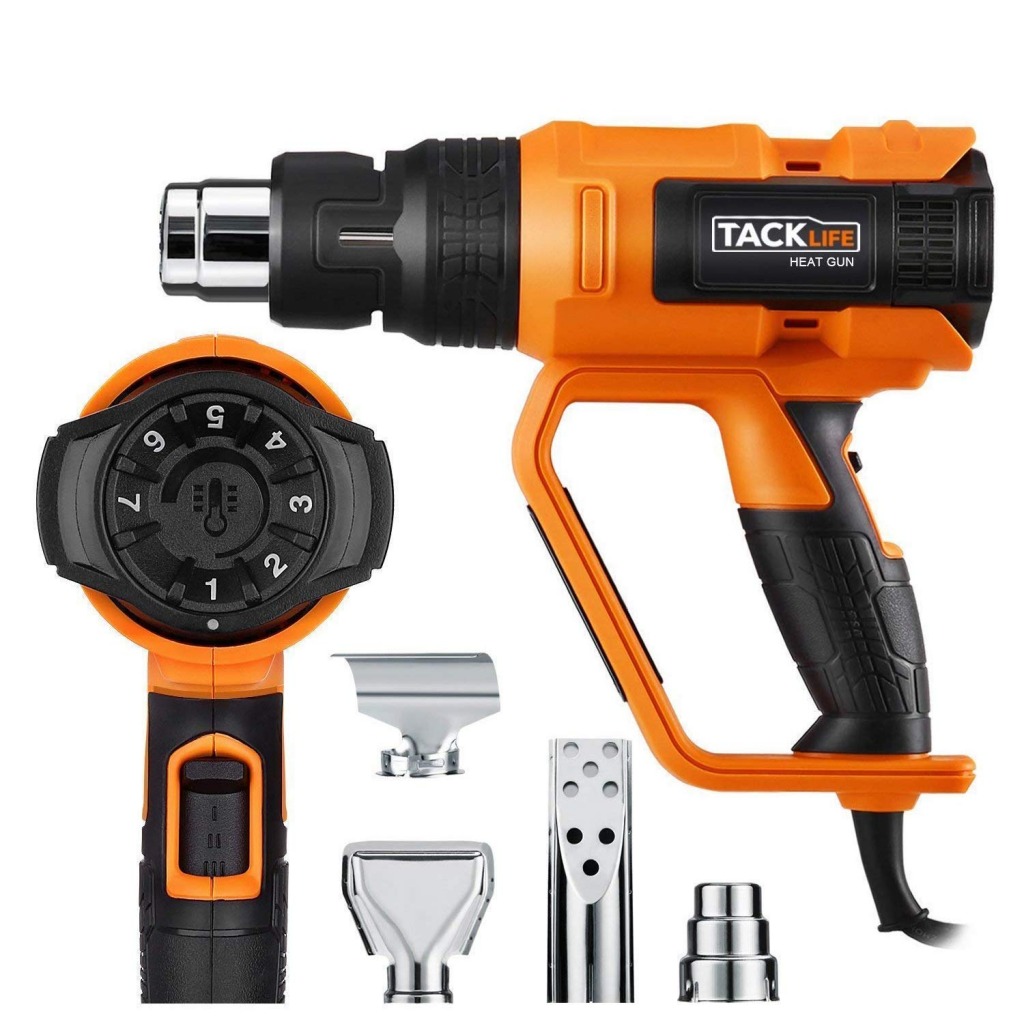 This unit is loaded with a powerhouse of features. The kit comes with 4 different nozzle attachments that come in handy when tackling various tasks at home such as getting rid of rust on surfaces, softening adhesive, and making plumbing pipes more pliable. It even comes with 7 temperature gears, so you can truly get the setting you want.
It is one of the most comfortable heat guns to use as well, thanks to its handle encased in soft rubber material. You can rely on this heat gun for many more projects to come. It can withstand up to 500 hours of usage.
Pros:
The 7 temperature settings are nifty features because it allows you to choose the most ideal temperature for the kind of project you have. If you are working on more delicate jobs, you can set it up to a lower temperature. For those harder-to-remove adhesive, putty, or rust, use higher temperature settings. There really is a big difference to the low temperature, unlike other heat guns where the lower temperature is just as strong as the higher one.
The cooling down function is very convenient. Not all heat guns out there have this feature. It adds up to the safety of using this unit.
Another notable feature of this unit is its annular air outlet. It allows heat to be dispersed consistently.
It comes with four nozzle accessories. You get a cone, fishtail surface, spoon reflector, and barbecue lighter nozzle.
It can last for a long time. It is made from high-quality materials that can resist wear and tear.
It is backed by a warranty.
Cons:
Some said it takes a bit of time to generate heat.
Which One Should You Get?
Durable Construction: Wagner Spraytech 0503008 Heat Gun. The Spraytech is a rigidly-built heat gun that can take whatever abuse you will subject it to. You can use it not just for your home improvement projects but for your many crafting projects as well.
Cheaper and Comes with a Kit: ProTect 1500W Dual Temperature 9-Piece 2-Speed Heat Gun Kit. If you get this, you are getting an entire kit. It comes with some useful accessories that can help you in accomplishing various tasks at home. The carry case also comes in handy when it comes to transporting the heat gun.
Excellent Heat Output: Black + Decker HG1300 Dual Temperature Heat Gun. This one truly delivers when it comes to heat capacity. If you are looking for a more powerful heat gun that can get even tougher jobs done, this should be an ideal choice.
Chock Full of Features: TackLife Professional Heat Gun with 3 Temp Settings. The most feature-packed among the bunch is this one from Tacklife. It doesn't have just 2 heat settings like all the others. It offers seven. There are also a lot of convenient safety features integrated into this unit that will make it easier to use.
Tips When Buying a Heat Gun
By now, you should already have an idea of which one to buy. But if you need more help, here are some tips that you should keep in mind:
1. Look for a heat gun that has a durable casing and can withstand a high level of heat.
You don't want the nozzle to melt easily when subjected to high heat. Since you are working with heat constantly, it should be made from materials that are resistant to damages.
2. It should have variable heat settings.
The more heat settings, the better. You will actually find the heat gun more useful at home than you initially thought. A high-speed setting is not always ideal, especially when working on surfaces like wood. You would want something that can truly deliver a lower heat setting, so you can work on more delicate materials.
3. It should be safe to use.
Does it have a cooling function? Can it produce heat evenly? Be wary of heat guns that increase in heat gradually as they can be dangerous to use. A cooling function comes in handy so that you can set it down and not worry that the nozzle will burn the surface you placed the unit on.
4. Look for ergonomically designed heat guns.
The switch should be easy to reach when your hand is gripping the handle. Sometimes, the switch is too high up and has confusing functions that are a pain to use. Make sure the handle is also ergonomic.
Conclusion
Have you found the right heat gun for your needs? We have more reviews that can help you in finding the best tools for your home. Do check them out!