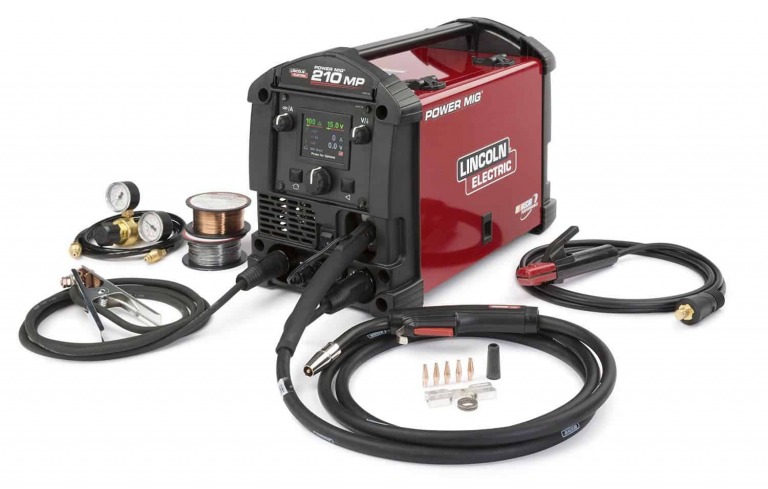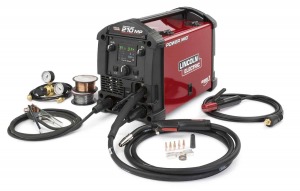 Lincoln Electric is a world leader when it comes to the manufacturing of a high-quality welder. You'll find MIG welders, TIG welders, Stick welders, and multi-process welders within this brand and often for surprisingly affordable prices. Specific welding disciplines, including advanced process welders, submerged arc equipment, and multi-operator welders are also available.
If you want the best, then Lincoln Electric is a brand that you'll want to consider. The Lincoln welder reviews will help you do just that.
Here Are the Best Lincoln Welders in One Chart

One of the strengths of the Lincoln Electric brand is the quality of the welding guns and torches that are offered. You'll find everything from robotic to semi-automatic guns for a variety of disciplines. These are the specific models that have proven to stand up to the tests of time.
Why Choose a Lincoln Welder Today?

Lincoln Electric isn't a brand that will work hard to sell you a welder, and then leave you on your own to figure things out. They support welders of every skill level in a wide variety of ways.
Easy Access to Consumables. You'll be able to find the wire you need for flux-core welding, a replacement gun, or any other consumable that is regularly used for your welding projects. Each consumable is guaranteed to work with your branded welder.
Support Availability. You have full access to your operator's manual thanks to the structure of the Lincoln Electric website. Just search by your product name or code number and you can get the documentation that is needed.
Helpful Knowledge. Lincoln Electric has a full range of how-tos and useful welding tips that can be accessed 24/7. You can also take a look at owner-submitted welding projects, watch instructional videos, and find out the latest in welding safety tips with one-click convenience.
The performance of the welder is something that also stands above and beyond what many other brands are able to provide. You receive an arc that is consistent with this series of welders, no matter what the discipline may be. Duty cycles are available in virtually every category as well, allowing you to weld for long periods every day or be the welding weekend warrior.
It's all in your hands when you choose Lincoln Electric.
Pricing Options for Lincoln Electric Welders

Prices for Lincoln Electric welders are based on the amperage it can produce if it is a multi-function process and the amount of portability that is available. Entry-level welders from Lincoln are typically priced in the $100-$200 range. If you want a multi-process welder, expect a price of $300-$500 for your new equipment. Industrial-level welders and cutting equipment are also available, with pricing topping out at $2,000 for models that can be purchased online.
There is also a complete series of Lincoln Electric Welding Helmets that are competitively priced to complement your new welder as well.
Real Life Reviews of Lincoln Welders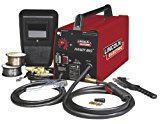 If you have the need to weld up to 1/8-inch mild steel on a single pass, then this is the MIG welder for you. It's handy because it will weld flux corded in addition to the shielded gas and plugs into any household outlet. In return, you'll receive up to 70 amps of welding power. This product is sold as part of a kit, so you'll receive everything needed to get started. Great for beginners or hobbyists, you'll want to upgrade the mask if you pursue serious welding opportunities in the future.
Get more information by viewing: Lincoln K2185-1 MIG Review.
Click here to view the price on Amazon and get the best deal.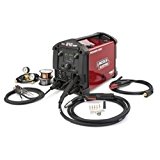 This is a superb lightweight welder that gives you dual voltage inputs. You can plug it into virtually any common power supply and get to work. What stands out about this welder is the push-and-turn digital controls, making it a lot easier to set up your equipment so that you can begin welding. You can also see the large color display even underneath the hood, allowing you to change settings or be guided toward the correct setting. All of the features are easy to access and understand, making it a great option for beginners, hobbyists, and entrepreneurs.
View our buying guide: Lincoln PowerMig 210 Review.
Click here to view the price on Amazon and get the best deal.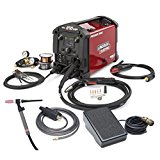 If you've been MIG welding for some time and are looking for a new welder, then give this multi-process option some consideration today. You'll receive all of the benefits that the PowerMig 210 provides from Lincoln, but with the added benefit of being able to TIG weld or Stick weld at your convenience. It comes with everything you need to get started in one pack, including the foot pedal for TIG amperage control. If you're ready to see what your A-game can be in the welding world, this is the equipment that can make that happen.
Click here to view the price on Amazon and get the best deal.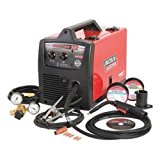 What stands out on this MIG welder is the wire feed speed control, giving you options between 50-500 IPM. You also receive a fully adjustable drive system that reduces the amount of tangling and crushing that happens with your wire on other models or brands. The brass-to-brass gun connection is another nice upgrade to have. You can set up the welder for flux core welding or gas-shielding welding, tackling steel, stainless, or aluminum with ease. It's a little heavy at 60+ pounds for what it can produce, but it also has a performance that is second-to-none in its category. This is a solid purchase that shouldn't be ignored.
Click here to view the price on Amazon and get the best deal.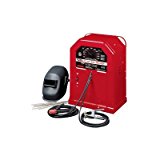 This stick welder offers operators a broad range of welding amperage, from 40-225. This gives it an incredibly versatile number of uses, welding 16-gauge or heavier materials with a single pass. Cast iron, steel, and stainless projects are handled with efficient ease. The AC arc is nice and smooth, giving the operator the control needed for whatever project they happen to be working on. The welding chord is 15 feet, while the ground cord is 10 feet, giving you enough room to work in the average garage.
Click here to view the price on Amazon and get the best deal.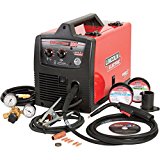 If you're a beginner, but want an upgrade from the best cheap welders that are in our industry today, then this is one of our top suggestions. It can be set up for flux core, offers 50-500 IPM wire feed speed control, and a fully adjustable drive system. The connections are forgiving, allowing you to single-pass 3/16-inch with consistency. Flux core welding can handle ½-inch materials. You'll receive everything you need to get started straight from the box.
Note: Negative public reviews involve pricing, not performance, and that issue has been corrected with this product.

Click here to view the price on Amazon and get the best deal.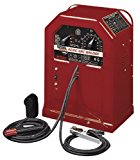 This AC/DC welder produces smooth, consistent arcs that have a broad output range so that you can tackle many different jobs around the house or shop. It's strong enough that you can use the welder for fabrication or construction, but precise enough that maintenance and repair work is solid. With AC welding, you have up to 225 amps of power, while the DC output range is 30-125 amps. You can weld 16-gauge metals or greater and handle cast iron in addition to steel. You really can't go wrong with your welding with this model from Lincoln Electric in your shop or garage.
Click here to view the price on Amazon and get the best deal.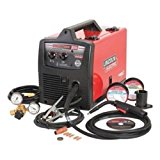 If your welding projects take you out and about, then you need a strong, but portable, a welder by your side. This is that welder. It can be used for flux core welding and offers all of the advanced features that Lincoln puts on its best MIG welders. It holds up to a 10-pound spool and tends to work best with .030 wire, but you can change that out for what you need. Setting it up is fast and simple and you can get to work in under an hour. Good for ½-inch materials are thinner, it is a 220V machine.
Click here to view the price on Amazon and get the best deal.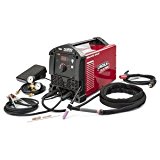 If you need to weld aluminum within the TIG discipline, you already know that your options are limited. We prefer this model for that need to other brands. It offers several advanced features but is still easy enough to use that anyone with MIG familiarity can get the hang of this equipment. You also have Stick welding capabilities and it all comes from the same power source. Light enough to be portable, it has dual input voltage options so you can weld up to ¼-inch on a single pass. It works like a champ, provides a consistent result, and does well with the HF start.
Click here to view the price on Amazon and get the best deal.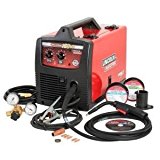 This MIG welder is a good mid-range option to consider for advanced students or welders that tackle projects at home. It offers flux core capabilities, operating from a 230v input, to provide a 180-amp output. Operators can one-pass ½-inch once they get used to the machine, though shielded gas welding tends to top out at 3/16-inch. Flux core wires of .025-.045 are supported, letting you effectively weld 24-gauge metals cleanly and effectively. No outboard modules are required.
Click here to view the price on Amazon and get the best deal.
The best Lincoln welder reviews will help you find a durable, consistent welder that will meet your needs with relative ease. Choose this brand and you'll be making an investment into your welding future.