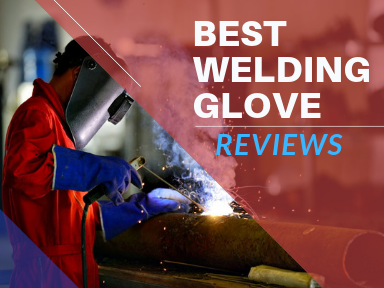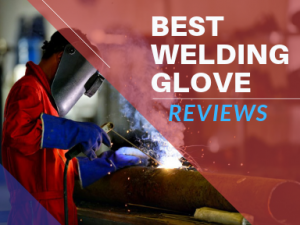 The process of welding produces a lot of heat. There are also plenty of sparks that can be created when grinding out a bead. With the best welding gloves, you'll be able to weld safely, effectively, and while maximizing your skill.
Choosing the right pair means more than finding the most comfortable fit. The first thing to consider is the material of the welding gloves.
Most say that they are made from "top grain" leather. This means the leather used comes from the very top of the animal hide being used, providing a material that is smooth and tough. Other forms of leather are less expensive and heavy, but equally protective.
Here are the best top-rated options that are available right now.
Best Welding Gloves Reviews
Product
Details

#1 NKTM Heat/Wear Resistant Welding Gloves

Heat Resistant

Star Rating: 4.8
Material: Leather/Wool
Price: $

Check Price

#2 US Forge 400 Welding Gloves

High Quality

Star Rating: 4.6
Material: Lined Leather
Price: $

Check Price

#3 Miller Electric Arc Armor MIG/Stick Welding Gloves

Great Protective Features

Star Rating: 4.2
Material: Leather
Price: $$$

Check Price

#4 John Tillman & Company Welding Gloves

Heat Protection & Insulation

Star Rating: 4.4
Material: Split Leather
Price: $

Check Price

#5 Caiman 21-inch OSFA Welding Gloves

Excellent Contour & Fit

Star Rating: 4.2
Material Deer Skin
Price: $$$

Check Price

#6 Steiner 21923-L Welding Gloves

All Around Glove

Star Rating: 4.6
Material: Split Leather
Price: $$

Check Price

#7 Olson Deepak Handing Workshop Welding Gloves

Excellent Features

Star Rating: 4.5
Material: Leather
Price: $

Check Price

#8 BSX Vulcan Stick/MIG Gloves

Not Very Heat Resistant & Less Arm Coverage

Star Rating: 4.0
Material: Faux Leather
Price: $$

Check Price
Made from high-quality cowhide leather material, these gloves provide more adequate protection against hot metal, sparks, abrasive and sharp materials and flames. Whatever your welding discipline is, this pair of welding gloves will serve you well with its durability and heat-resistant properties.
Pros:
The insulation of these gloves can provide excellent protection for your hands. Despite that, it still has a good breathable property and wicks sweat away, so you can comfortably use it during warmer days.
It is one of the most comfortable welding gloves to use due to its cotton liner that is gentle on the hands. It doesn't feel abrasive, making it easier to wear for extended hours.
The thumb area has a reinforced wing design, which is good in enhancing flexibility. It allows full hand dexterity. You can pick up small objects with minimal effort.
The palms are reinforced with leather for further heat protection.
Putting it on and taking it off is not difficult. The opening is big enough to insert your hands in.
The 16 inches of length provides a decent coverage for your hands.
Cons:
It can still get hot when exposed to high heat but many noticed that when it gets hot, the heat tends to stay. You might have to wait for a bit of time for the heat to dissipate.
This is a better option for MIG welders because of its suppleness and fairly good heat protection. There is no complete heat shield for this, so if you are a TIG welder, it might not give you the full heat protection you need. On the other hand, it offers good hand dexterity, great for those who need to do intricate welding work.
Pros:
These have good insulation properties. Although not for higher temperature and heat, it does a good job protecting the hands from small spatters.
The inside feels soft, so you can wear these all day without feeling hand fatigue.
These gloves fit bigger hands.
It is longer than standard gloves, so it does provide a better amount of coverage.
They are affordable, so you can buy more extra pairs.
Cons:
It doesn't have the best heat-resistant properties. If you are handling extremely hot metal, the heat might still come through.
Professional welders who want top quality for their gloves can set their sights on this pair. These are expensive but well worth it because of all the protective features you are getting. These gloves are excellent for MIG welders because other than its heat protection, the dexterity is superb as well.
Pros:
The double insulated layers provide the best heat protection for people exposed to high heat levels such as MIG welders. The palm has excellent heat protection because of its extra reinforcement.
It is made from premium quality cow split leather, so it should last for a long time, even when you use it every day.
It is quite flexible. You can move your thumbs easily, thanks to its wing thumb design.
The inside is comfortable. It is lined with wool, so it doesn't just provide heat protection but comfort as well.
The seams are held together by Kevlar threads that are also heat-resistant.
Cons:
Quite pricey. As a beginner or a hobbyist, you might not want to spend that much money on it.
These might not also fit people with bigger hands.
When you have to work outdoors in the cold, get this pair of welding gloves. It has a fleece layer, which gives this good heat protection but also provides good protection for your hands against the cold. We recommend this for professionals and hobbyists who work outdoors all year round.
Pros:
This pair of welding gloves is made from cowhide all over. From the palms to the back, you can be assured that you are getting the best quality.
Because it is lined with fleece, it offers excellent heat protection and insulation. It is also an excellent choice when working in the cold. The fleece material is soft to the touch as well, thereby providing excellent comfort.
The cuffs extend 4 inches up the arms, so there is more coverage and protection.
It is durable because it is sewn together with Kevlar threads.
The wrist area is elastic, which provides a better fit.
Cons:
This pair isn't ideal for overhead welding.
Some said the inside of the sleeves were not long-lasting.
If you do a lot of overhead welding, this is your best option. With its deerskin material, it provides the most protection from spatters when doing overhead welding. Many of the overhead welding gloves out there are not quite flexible, so if you prefer something with a lot more flexibility, this should be an excellent choice.
Pros:
These welding gloves are made from high quality and genuine American Deer skin material that already provides ample protection for the hands. Couple that up with heat shield patch made from Boarhide and you get a welding glove with the best heat-resistant properties.
It has 21 inches of length, so it is longer than the previous welding gloves. It can provide better coverage for overhead welding.
These gloves have excellent contour and fit. They are designed to follow the natural curve and shape of the hands, so although it is thicker, it can still provide a good amount of hand dexterity.
These are also durable. They have taken all sorts of beating and they still held up quite well and retained their new shape for a long time.
Most people will find these gloves perfect-fitting. Even those with large hands will find them comfortable to use.
Cons:
The tips are a weak point, according to some users. They might not provide ample protection when in direct contact with hot slags.
Looking for extra coverage? This one is 23 inches in length – longer than the previous brands of gloves. The split cowhide leather material provides just the right amount of protection against moderate levels of heat, slags and spatter. It is versatile enough to go beyond a pair of welding gloves. Whenever you need protection from heat, this should be a great choice.
Pros:
The coverage is excellent. It goes right up to the forearms, so you can get as much protection for your hands and arms as you want.
It offers a good fit. It also accommodates larger hands.
It can withstand scratches, so it can be an all-around work gloves at home.
The heat protection is excellent. Some said they picked up hot logs in the fireplace with this and the heat didn't come through.
Cons:
It might not be the most comfortable pair of gloves. The inside is made from a stiff canvas material.
Some said it is quite heavy, so if you are working for extended periods of time, this might be a little cumbersome to use.
Hobbyists and professional metal workers alike will like the heat resistance of this pair of gloves. It can resist up to 350C of heat, which basically provides protection for most welding work conditions. If you are looking for an all-around pair of gloves, this should be it.
Pros:
It should be good for most TIG and MIG welding needs.
Aside from its excellent heat-protectant properties, this can also be relied on when it comes to its water-resistant properties.
The palm area is thicker than the rest, which means you can work with sharper and heavier materials without worrying that you will inflict injury to your hands.
It is resistant to oil as well, making this easier to keep clean.
It has anti-skid properties. You can get excellent grip with this pair.
Despite its excellent features, the price is great. It is more affordable than similar heat resistant welding gloves.
The manufacturer offers a 90-day satisfaction guarantee.
Cons:
Reduce hand fatigue and wear these comfortable welding gloves made from pigskin leather. It is the most comfortable choice, ideal for welders who work all day. We recommend this for professionals who spend most of their day doing welding work. They are comfortable enough to wear for hours.
Pros:
These gloves feature a CushionCore technology, which is basically a liner that has more padding to give you excellent comfort.
It is made from pigskin leather and incorporated with cowhide leather to reinforce the areas prone to wear and tear.
It provides welders with good hand dexterity.
It is more ideal for horizontal and vertical welding needs.
Cons:
It isn't ideal for overhead welding.
Because the material is thinner, it is not as resistant to heat as the other welding gloves.
These are also a bit short. You won't get a lot of coverage for your arms.
Leather Options Available Today in the Best Welding Gloves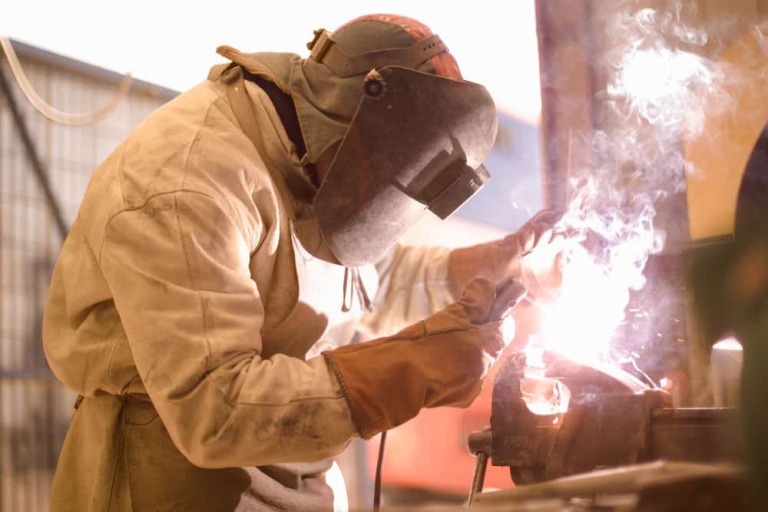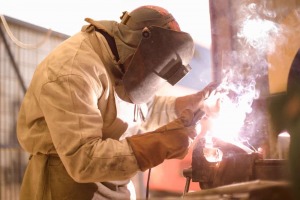 Whether you prefer top grain leather or you're just looking for a highly affordable pair of welding gloves, it is important to consider each leather type that is available today. Different types of leather will offer you different strengths during your welding experience.
That means it is possible to wear the wrong type of welding gloves for your next project if you don't match the materials of the glove to the work being performed.
There are 5 basic types of leather welding gloves that are available on the market today.
This is considered the "standard" leather for welding gloves and many other products. It is flame-resistant and provides a layer of insulation for the hands against the heat of the welding processes effectively. Most MIG welding gloves are made from cowhide because of the dexterity and durability of this material.
This material is good for high-temperature welding. It also tends to form around the hand as you wear the gloves over time, providing a better overall grip than other welding gloves typically provide. That conformation also improves the amount of comfort that welders experience when wearing the gloves.
Elk Skin. These welding gloves are typically the best option for those who need durable welding gloves. They are incredibly resistant to abrasions, allowing you to make heavy cuts or tough welds. Their heat and flame resistance is also at or near the top of the charts in virtually every category.
These welding gloves are good for outdoor welding projects. They have a particularly high resistance to oils. They work well for TIG projects since they are light and comfortable, giving you more flexibility than other types of leather.
Most are made from a thin leather, however, so the amount of heat protection provided by them is somewhat minimal. They are primarily an outdoor welding glove only.
If you are TIG welding, then the lighter materials of goatskin or pigskin will be enough to satisfy your needs. The gloves may be thinner, but that allows you to create the precision welds that need to be done for your next project. If you do need a little more heat protection, look for TIG welding gloves that have padded palms and fingers for the best results.
MIG welding tends to produce more splatter, which means you need to have a welding glove with more overall insulation and protection. For beginners especially, having a thick cowhide welding glove is a good protective option to have lying around.
Some Welding Gloves Have Kidskin… What Is That?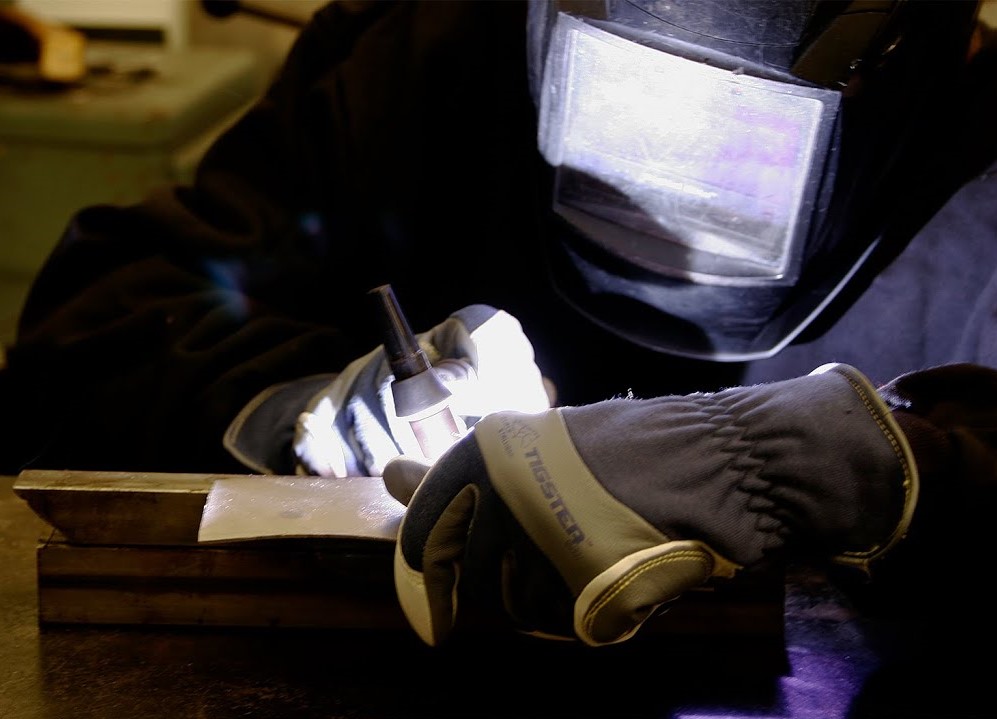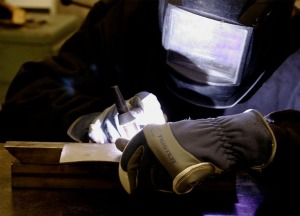 Kidskin is just another form of goatskin. It is taken from younger goats, creating a softer and smoother leather that is used for welding gloves.
Kidskin offers the same heat resistance as goatskin, but the top grain leather tends to be a little more comfortable than what other gloves can provide.
Because kidskin can be somewhat thin, it is not unusual to find Kevlar fibers interwoven with the leather to "toughen up" the welding glove.
What you'll want to avoid are the certain types of general use gloves that are sometimes sold as a welding glove. The best welding gloves should not contain any nylon in them whatsoever, even if that nylon has been given a good flame-resistance rating. Nylon-infused gloves are good for when you're working around the shop and not welding so you don't damage your welding gloves.
I'm Going to Be Stick Welding: What Gloves Should I Use?

If you are stick welding, then you're going to need a heavy welding glove. This is because this welding discipline produces high heat levels. You're going to want to look at welding gloves that are described as "heavy duty" in either elk skin or cowhide for your best results.
Pigskin or goatskin gloves may give you better overall flexibility, but your hands will get hot after a few minutes of stick welding with them.
What about deerskin gloves for stick welding? You'll want to look through the best welding glove reviews here and in various publications to determine if a deerskin glove can meet your needs.
Some are extremely heat resistant and flexible, which is what you want to have when you're stick welding. Others are rigid and clumsy in the fingers, forcing you to use the wrist more. Gloves like that are more for MIG welding than stick welding.
Pricing Options for the Best Welding Gloves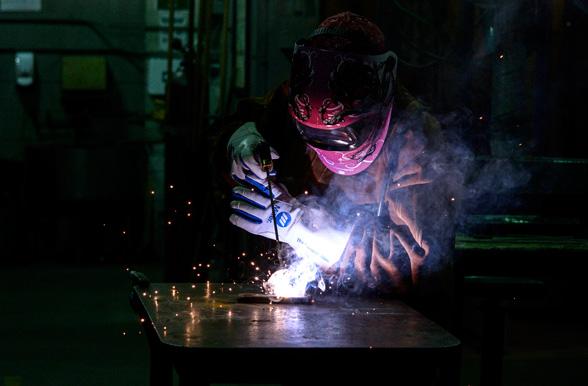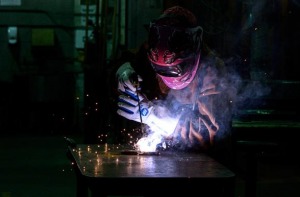 Most welding gloves are priced below $50. Because this is an essential safety product that should be used during every welding project, it is a cost that cannot be ignored.
Heavy duty welding gloves are usually priced below $75, though some Kevlar-infused models can sometimes top $100 if they meet a specialty need.
Sometimes there are used welding gloves for sale that are priced for less than $20. If you do decide to pursue used gloves over new ones, look for scorch marks on the leather and any wear patterns along the palm or fingertips. If you see any present, don't buy those gloves. The amount of protection they'll provide is likely to be quite minimal.
Our Buying Guide for the Best Welding Glove
Conclusion
Affordable, comfortable and protective, the NKTM Heat/Wear Resistant Welding Gloves are a good choice for all kinds of welders. That should be your best choice if you are looking for a good heat protection for your hands while welding but without breaking the bank.
A good alternative is the Miller Electric Arc Armor MIG/Stick Welding. It offers superior heat protection, so if you are willing to pay extra for the best quality, get this one.
There are other best welding accessories on the market featured on our site that'll help both beginner and expert welders alike.