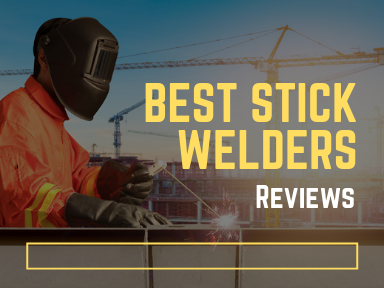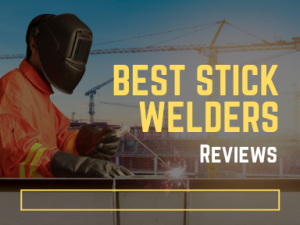 With so many options on the market, finding the best stick welder (also known as arc welder) takes time and effort. Plus, choosing a technical tool that you may not be so familiar with can be especially hard and frustrating.
That's why we have scoured the market and come back with the best stick welders out there. Whether you're a newbie looking to get into welding, or a professional looking for a better new welder, you've come to the right place.
The best stick welders are durable, powerful, and smooth – and we have them all here! We reviewed our favorite products on the market which vary in price, electric output (AC/DC), and power, so that you can decide which stick welder best suits your unique needs and preferences. To help you find the most suitable stick welder for you, we also prepared a buying guide, where we share some tips on how to make a choice. Keeping our tips in mind can help you save time and money!
Read on to discover the best stick welders on the market today!
Best Stick Welder 2019 Reviews
Product
Details

#1 LINCOLN ELECTRIC K1170 AC225

User Friendly & Versatile

Star Rating: 4.2
Highlight: Smooth Operation
Price: $$$

Check Price

#2 Hobart 500571 Stickmate 210i

Reliable & Rugged

Star Rating: 4.0
Highlight: Easy to Transport/Store
Price: $$

Check Price

#3 Amico ARC-160D

For Lighter Projects

Star Rating: 4.5
Highlight: Advanced IGBT Inverter Tech
Price: $

Check Price
"This is the best model for most people as it's user-friendly and versatile!"
The Lincoln Electric K1170 is our top pick for the majority of people as it offers excellent performance, versatility, and user-friendliness – at an affordable price. This stick welder is a great choice for use at home and on the farm, for general maintenance and repair, as well as for light fabrication projects. As it's quite user-friendly, we especially recommend the Lincoln Electric to arc-welding newbies.
Pros:
The Lincoln Electric is the most powerful welder on this list. It offers a wide welding amperage range from 40 to 225 amps AC, so that you can use it on a variety of metals with different melting points, including low alloy, steel, carbon steel, stainless steel, and cast iron. In fact, this model is designed to operate with metals which are 16-gauge (thickness of the metal) and above, but the lower end of the amp range will allow you to use it on thinner metal sheets as well.
The design of the product makes it easy to use and easy to set up. The user-friendly features and smooth AC arc make it a great choice for beginners as well as for various small home projects, like repairs or hobby welding. The attached input power cable and plug that come with the Lincoln make it super easy to install.
The Lincoln Electric offers good value for the money; thanks to its performance and durability. The simple, smooth operation paired with the 3-year parts and labor warranty make this product an affordable investment of about $400 that will be worth your while.
Cons:
One of the possible drawbacks of the Lincoln is that it features only AC (alternating current) operation. Generally, DC (direct current) operation is preferred for welding, as it offers better and smoother overall performance (check out our buying guide for more details).
Another possible issue with the Lincoln is that it may arrive with dents from transportation, but you can always claim the warranty in such a case.
The amp settings on the Lincoln are limited, even though the range is wide. For instance, you can go from 40 amps to 60, but you can't set the welder to any value in between. This may make it difficult to find the perfect temperature for welding some types of metals.
"The Hobart is our top quality pick, as it offers the smoothest performance and a durable build!"
The Hobart Stickmate 210i combines powerful and smooth performance with a high-quality build. The Hobart's smooth operation makes it a great choice for DIY projects and metal art, as well as work on the farm, maintenance, and repair. If you need a welder that you can easily move around, you'll love the Hobart – as it's lightweight and portable. We recommend this model for people who've had some experience in welding, and would like to take it to the next level!
Pros:
The Hobart Stickmate comes with one of the best warranties on the market, which is a testament to its durability. It comes with a 5/3/1-year industrial warranty, where different parts are ensured for a different number of years (you can get the details on the Hobart website).
This welder runs quite smoothly, as it employs DC operation. In general, DC (or AC/DC) options are better than only AC-compatible units, as they feature quicker starts (which ensure clean beads), less spatter, easier welding thanks to the superior arc control, better results with thinner metal sheets, as well as fewer arc outages. As the Lincoln is an AC-only compatible unit, it doesn't provide as much accuracy as the Hobart.
The Hobart is also quite powerful. It provides up to 210 amps and can weld up to 5.32-inch thick mild steel.
This model also offers some of the best versatility on the market in terms of amperage and additional features. It has infinite amp control so that you can adjust and fine-tune the heat output to any value up to 210 amps, for optimal results with each different metal. One of our favorite added features is the Hot Start technology, which ensures that you get simple and reliable arc starts.
This model is also quite easy to transport and store. As it's more lightweight than other options in its category, the Hobart is easily portable. If you need a welder that you can move around without a hassle, you'll really like the Hobart. The compact design makes it easy to store in your home or garage.
Cons:
This model is not the most budget-friendly pick, as it's priced at about $650.
"The Arc-160D is the best cheap option for lighter projects."
With a price below $170, the Arc-160D is our top budget-friendly pick. You'll like this option if you need a light and portable stick welder for smaller home projects. The Arc also offers versatile functions and smooth performance despite its low price point.
Pros:
This welder is very easy to carry and maneuver. It weighs below 16 lbs, and measures 16.6 x 7.5 x 11.8 inches, which makes it easy to store.
The Arc is a great choice for lighter projects, DIY, and work around the home. The amperage range of 20-160 amps is sufficient for work with most metals that aren't too thick or hard.
The various functions featured in this model really add value for your money. The Arc comes with a number of protection and safety features, such as a fan that activates when the machine exceeds 100 degrees Fahrenheit to cool the components (thus expanding the product's lifespan) and reduce airborne contaminants which come from the power source.
Additionally, the Arc offers power protections which make it a smart choice for sketchy hookups, such as over-voltage protection, under-voltage protection, over-current protection, and overload protection. These added features will keep you safe in places with inconsistent power outputs.
The Arc also offers excellent performance. It features DC operation and ensures good arc stability along with a quick start. These features will help you get a smooth weld and will reduce spatter and cleanup!
Cons:
The Arc is not as powerful as our other recommendations, so it's not a great choice for thicker metal sheets, harder metals, or more demanding projects.
Another issue is that while the Arc is easy to use on metals 10 gauges and above, it's difficult to adjust the amperage for metal sheets thinner than 10 gauges.
How to Choose the Best Welder
"Which welder is the best for you depends on your unique needs and preferences."
If you still aren't sure which model is the best choice for you, don't worry! We go over the details of what factors to consider when choosing your new stick welder in our buying guide.
Pick a Current: AC/DC
"AC is more affordable, DC runs smoother."
Welders run on either AC (Alternating Current) or DC (Direct Current) electricity. AC reverses the direction within a circuit at regular intervals, while DC electric currents flow in only one direction. DC options are more popular for welding because they offer quick hot starts, run smoother, and produce less spatter when working.
However, AC outputs work well enough for most projects at home, and hobbyists can accomplish just as much with AC welders (1). There are also options on the market which include both AC and DC, but they are quite pricey. In general, AC welders are more affordable than DC welders. So, if you're a hobbyist, an AC welder that's more affordable will probably be sufficient for your needs. If you are more experienced or a professional, you already know that you prefer a DC welder!
Consider the Utility
"If you use the welder for lighter jobs, you can choose a more affordable, less powerful option."
Different welders come with different amperage ranges. The higher the top limit is, the harder and thicker metal sheets you can use the welder on. However, if you need the welder for simpler, lighter projects, you don't need an option with a high amperage capacity. Also, consider if you will be playing with many different kinds of metal. Make sure that the model you choose can be adjusted to the perfect amp value required for each metal.
Size
If you need to transport your welder frequently to different locations, try to choose one that is light, portable, and compact, so that you can carry it with ease and store it away at any time.
Conclusion
The best choice for most people is the Lincoln Electric K1170, as it's easy to use, powerful, and durable. This model will allow you to weld just about any type of metal thanks to the broad range of amperage, and it comes at a decent price.
If you're new to welding, the user-friendly design of the Lincoln makes it a great choice for you. You can use it for home and farm repairs and maintenance, as well as DIY projects. Although the Lincoln is an AC welder, most home-welders for hobbyists don't really need a DC welder to get the job done anyway.
The best quality option on the market is the Hobart Stickmate 210i. Although it's pricier, if you're no stranger to welding and are looking for something that offers smooth, accurate, and versatile performance, you're sure to love the Hobart.
The infinite adjustability of the amperage range (which lacks in the Lincoln) will allow you to fine-tune this welder to the needs of any metal. The Hobart is a great choice for professionals, as it operates on DC and produces almost no spatter. If you're looking for a portable welder for work on multiple locations, the Hobart is a good choice for you as it's lightweight.
However, the Hobart is on the pricey side. If you're looking for an affordable DC welder, go for the Arc-160D by Amico. This model is quite cheap, but does offer good performance for lighter welding jobs. Keep in mind that this model's amperage doesn't go as high as our other two recommendations, but can be a great option for softer, thinner metal sheets, DIY projects, metal art, and simpler home repairs.
What's Next?
Hopefully, you found our review and buying guide for the best stick welders on the market helpful in finding the best new model for your welding projects. If you want to get more information about each of our recommended products, just follow the title links to learn their price, in-depth specifications, and customer reviews.
In the meantime, make sure to visit our main buying guide for even more recommendations and reviews! You can also check our homepage to find links to our latest buying guides, featured reviews, and fun blog posts. You can also swing by our contact page to drop us a line if you have questions, comments, or any other feedback for us.