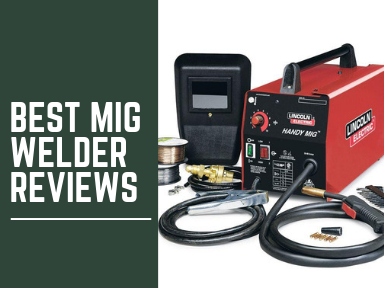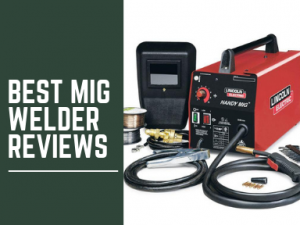 You're ready to purchase your first welder. Awesome! No matter what your motivation or need may be, this is an investment that you want to get right the first time around.
Whether you're just getting started with welding or you've been a welder for years, the best MIG welder reviews will help you to make sure you're getting the right welder to meet the needs your upcoming project happens to have.
If you're looking for MIG welders, then it is important to distinguish between GMAW and FCAW welding. GMAW welders provide a shielding gas for the arc, while FCAW welders use a flux-cored wire to shield the arc instead. Here are the top-rated options that are available right now.
Best Mig Welder 2019 Reviews
Product
Details

#1 Hobart 500536 Ironman MIG Welder w/ Wheel Kit

Outstanding Welds

Star Rating: 4.1
Amps: 250
Price: $$$$$+

Check Price

#2 Hobart 500559 Handler Wire Welder

Versatile

Star Rating: 4.7
Amps: 140
Price: $$$$$

Check Price

#3 Forney 299 Flux Core Welder

Gasless Flux Core Welding Only

Star Rating: 4.2
Amps: 125
Price: $$

Check Price

#4 Lincoln Electric K2185-1 Handy MIG Welder

Simple Controls

Star Rating: 4.4
Amps: 70
Price: $$$$

Check Price

#5 Goplus Flux Core Automatic Feed Welding Machine

Lightweight

Star Rating: 4.3
Amps: 130
Price: $$

Check Price

#6 Lotos Mig 175 Welder with Accessories

Comfortable & Adaptable

Star Rating: 4.1
Amps: 70
Price: $$$$

Check Price

#7 Super Deal Black Commercial MIG Flux Core Welder

Compact & Powerful

Star Rating: 4.1
Amps: 130
Price: $

Check Price

#8 Pro Series MIG Flux Core Welder

Consistent

Star Rating: 4.0
Amps: 125
Price: $$

Check Price

#9 Lotos MIG Wire Flux Core Welder

Reliable & Durable

Star Rating: 4.2
Amps: 140
Price: $$$$

Check Price

#10 Lincoln Electric Handheld MIG Welder

Expensive

Star Rating: 4.1
Amps: 130
Price: $$$$$+

Check Price
If you've got a tough job to do, then you need a tough welder to help you get it done. That's what you'll receive with this excellent welder. Best of its class in our opinion, you'll receive a variable 30-250 amps of power, based on your settings, and it's all contained within a heavy-duty cabinet. The weld that can be achieved with this equipment is outstanding, with spatter virtually non-existent. You'll spend less time on post-weld cleanup on every project. Make the investment and you won't be disappointed.
With the 10-foot MIG gun, dual gauge regulator, and 10-foot work cable and clamp, this welder is about as straightforward as it gets. Your power cord is also 10 feet in length. The MIG gun comes with a liner. You will want to use .030 wire with this welder, however, as that tends to provide the best overall performance. If you're doing long and continuous beads on a steel plate, you're going to need to take your time with this welder. Using an interrupted stitching technique is a better option, especially on thicker materials.
This is truly one of the best mig welding machine that's small yet able to meet your needs when mig welding.
We found the beads that are produced by this welder tend to be a bit on the cold side. Welds are easier to produce if you tack your joints, then alternate back and forth with further tacking. Then fill in the missing spots, grind it clean, and bevel the edges. Take your time when using this welder as well. We found the penetration tends to be a little iffy if you're trying to move too quickly. For the thicker pieces that you're welding, you may wish to pre-heat them just a little for better results, even though this welder is rated to handle them on its own.
The controls are pretty simple for this welder, but we would recommend referencing the instruction manual that comes with it. There are a few little tweaks to the design that you'll want to be aware of before you get to work. We found it to be a very forgiving welder, however, and it works consistently. We weren't really a fan of the hood that comes with this set. You'll want to purchase one of the best welding helmets to meet your needs instead of relying on the included product. The chipping hammer was only slightly better than the hood. As a welder, however, this is an excellent piece of craftsmanship.
Because it is lightweight, the amount of welding power is somewhat minimal with this particular welder. Think of this welding machine today as a tool to use when you need to have a professional finish. It does well on many thin steel-welding processes, including car bodywork, so that you can work quickly and effectively on task after task. It offers 4 different settings for the user. You have a minimum, a maximum, and a 1 or 2 setting in which to use. The "2" setting is just below the maximum amperage the welder is able to produce.
More details found on this page: GoPlus MIG 130 Welder Review.
We found the torch on this particular welder to be comfortable and fairly adaptable. With a 4-prong end connection and more than 8 feet in length, we found that it works for most applications. Our only struggle with this model is in terms of portability. The gas hose is just 5 feet long, so combined with the short cable, you're not able to move around much or weld in anything but a standard position.
Find more information here: Lotos Mig 175 Welder Review.
This commercial-style MIG welder offers you a flux core experience with an automatic feed. It operates off of a standard 110V outlet, providing up to 130 amps of AC welding power. The duty cycle is somewhat reduced on this welder compared to others, at just 10% for 105 amps, but it still gets the job done for light welding jobs. As long as you stay aware of the heating issue and keep the welder in a well-ventilated area, it will give you the tools you need to complete your next project.
This flux core welding kit gives you up to 125 amps of welding power that is consistent and useful. It's perfect for the DIY specialist who has jobs to complete around the house or small jobs to do at their shop. You'll receive the ground cable and clamp, welding gun, and a small spool of wire to get started. Thermal overload protections are included with this welder, which is also useful considering the 20% at 80-amp duty cycle. With two voltage settings, you can work on metals up to 18 gauge with this MIG welder.
This is a 140-amp MIG welder that does an excellent job for most small and medium jobs in any setting. It offers a 2T/4T switch, with a 110V experience. You have flux core or gas shielded welding options with this equipment. It works best on metals that are up to ¼-inch thick, though mild steel can be a little thicker if you pre-heat the metal just a bit. We felt the flux core process worked best with .030 wire, while the traditional MIG welding did better with .025. Setup is fast – you'll be welding in less than 10 minutes once this welder is delivered.
If you're ready to take your MIG welding skills to the next level, then this is the welder that you're going to want. You can set it up for flux core welding or traditional MIG welding, with 50-500 IPM wire feed speed control. What we really liked about this little welder is the brass-to-brass gun connection, which gives operators a better overall conductivity experience. It's rigid, strong, but still lightweight for a welder of this size, coming in at 66 pounds. Run the 10-pound spools for the best welding experience for your preferred wire.
What Are the Advantages of MIG Welding?

If you're just getting into the welding world, then MIG welding is likely your best option. It has the easiest processes to learn. You'll find most collegiate learning classes, union apprenticeships, and other training options all begin with the basics of MIG welding. That's because you gain these specific advantages with this discipline.
You can weld at a higher speed than in the other disciplines.
You receive better overall control when welding thinner metals.
Cleaner welds are easier to achieve, with lower levels of slag to clean up.
The same equipment can often be used for GMAW and FCAW welding.
If you plan to be welding steel, stainless steel, or aluminum alloys on a regular basis, then a MIG welder is going to be right for you. These best welder for beginner reviews will help you decide which welder to buy.
MIG welders do not handle exotic metals, such as titanium, very well. They do not weld cast iron, copper, or brass well either.
How to Find the Right MIG Welder for Me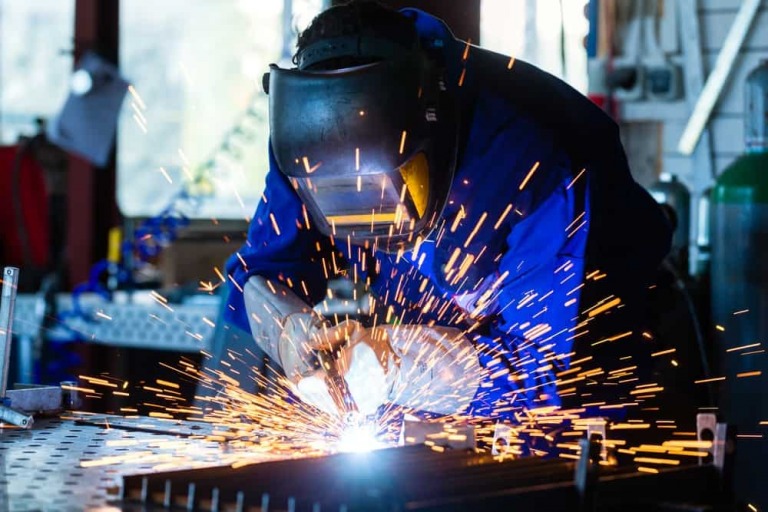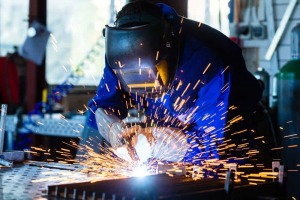 One of the primary ways to determine which MIG welder is right for you is to look at the duty cycle of the welder. Duty cycle in this instance is defined by the amount of time you can weld during any given 10-minute period of time.
The amount of time is expressed in a percentage of those 10 minutes. That means if you have a 20% duty cycle, then you'll be able to weld for 2 minutes. The welder will then need the other 8 minutes to cool down so that it doesn't overheat.
You'll often find MIG welders have a 60% duty cycle, so you can weld for 6 minutes and then rest for 4 minutes. The duty cycle is also given an amperage rating. If your MIG welder is rated at 150 amps, then that is its max output. The duty cycle output for any given 10-minute period will be different.
If your welder is rated at 60% for 100 amps, then you can use 67% of the welder's maximum power for up to 6 continuous minutes before reaching a point where you need to stop to allow the welder to cool down.
By looking at the duty cycle of the welder, you can determine its strength classification.
Light industrial welders will typically have a 20% duty cycle with a rated output of 230 amps or lower. These are the welders that are used from home projects, DIY needs, or light shop work.
Heavy industrial welders have a 40%-60% duty cycle and a rated output that is generally 300 amps or more.
Powering Up Your New MIG Welder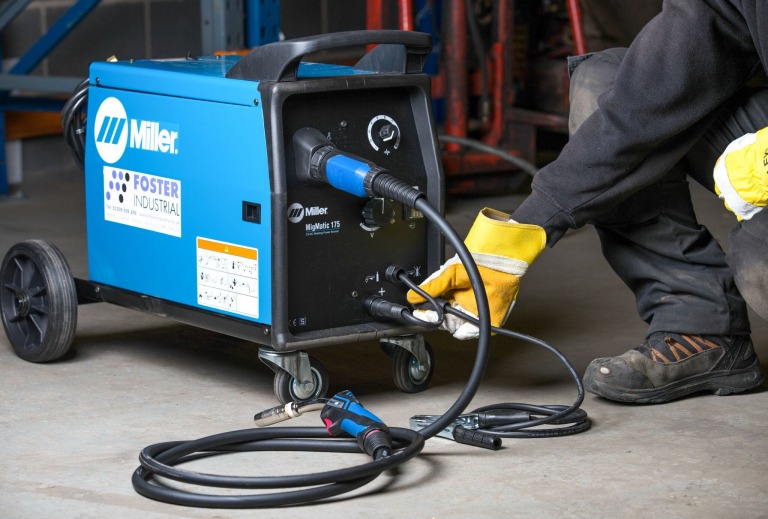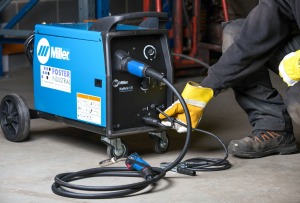 Many MIG welders are designed to work with 220/240v outlets. They will also have a minimum 15-amp circuit requirement for all but the most portable of options in this category. Because of this requirement, you may find that your outlet options at home may be somewhat limited.
You have three options available to you if you have limited outlet space for your new MIG welder.
You can install a new circuit or upgrade an existing one to support the voltage requirements of the welder.
You can run one of the best welding extension cords from your existing outlet to the welder. Most extension cords come in lengths of 25-75 feet.
You can shop for a welder that offers multi-volt plug technology so that you can connect to a common 110v outlet.
As you're getting your welder powered up, there are certain features that you may wish to consider as you go through the best MIG welder reviews. New designs have made it a lot easier to start welding quickly and consistently with less startup time.
Having a MIG welder with the solid-state contactor circuit is an investment that is definitely worth considering. This feature makes the wire being used remain cold until you pull the trigger. It's easier and safer to position your torch so that you can begin your weld.
Thermal overload protection is also a must-have feature. There's a good chance that you're not going to put counting off the seconds for your duty cycle as you are welding. Setting a timer is unreasonable. This feature will activate once the welder reaches a specific temperature so that you don't burn out the equipment. It will then automatically rest when the unit has cooled down enough to operate once again.
Automatic setting is the final feature to consider. You just set the wire diameter and material thickness on the welder and your equipment does the rest of the work for you. This takes a lot of the guesswork out of entry-level welding.
Pricing Options for the Best MIG Welders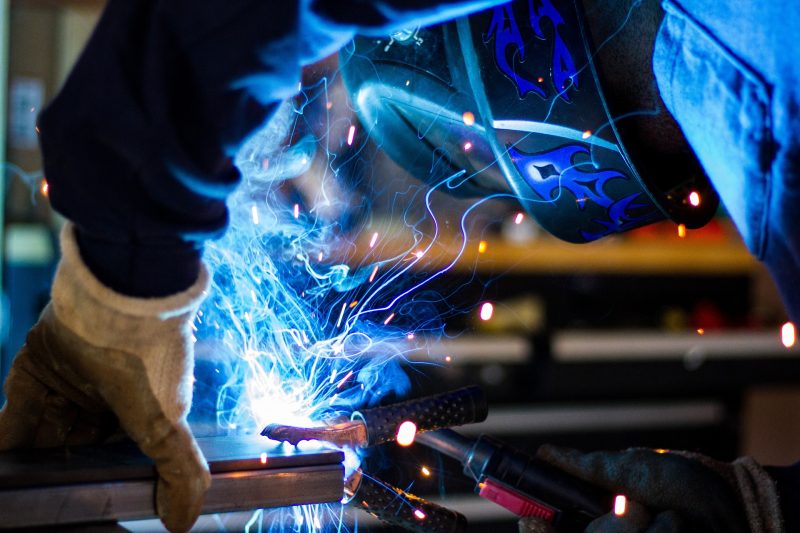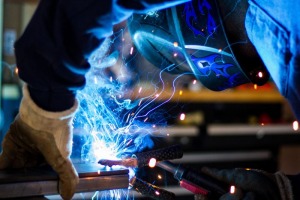 MIG welders are priced based on their duty cycle, overall amperage, and the number of features that have been equipped. Basic MIG welders can often be found for less than $200, with some portable welders in the $100 range.
Most of the welders in this category are in the $300 range. This is a welder that is suitable for most DIY and shop needs.
If you are a professional welder who must supply their own equipment, then you're looking at a price of $500 or more for your new MIG.
The Best MIG Welders that we Recommend
Conclusion
The best MIG welder reviews will help you find the equipment you need for a project of any size. For maximum versatility, get a welder that can support flux core and shielded welding. If you want a great value purchase, grab one of the flux core only welders at an affordable price. Either way, your welding skills will thank you.
Finding the best MIG welder isn't always easy, but we've decided that of all the models we've recommended, the Pro Series tips the scales in its favor due to its consistency of performance and excellent safety precautions.