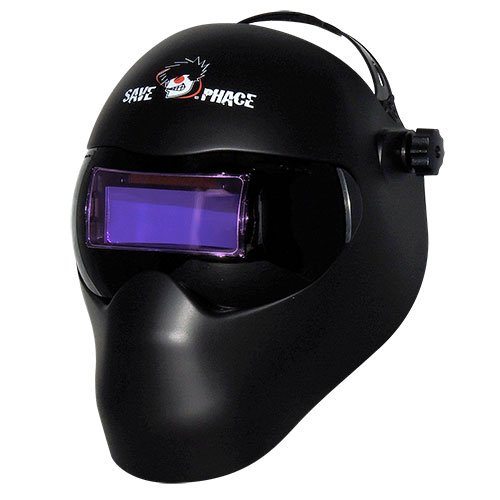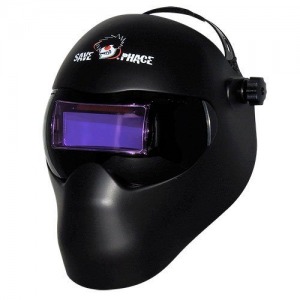 If you like to take your welding projects to extreme levels, then your personal protective equipment must also go to the extreme. That is what you'll receive when you own a Save Phace welding helmet. These helmets offer you what the manufacturer calls EFP technology. It's an Extreme Face Protector that allows you to use the helmet as a grinding mask, a splashguard, and as a welding helmet while receiving perfect peripheral vision.
Here are the Best Save Phace Welding Helmets in One Chart

Save Phace promotes itself as a brand that is an "adrenaline junkie." With more than 5 years of research and development taking place before the introduction of their product lines, you can rest assured that your new helmet will help to protect you in a way that is comfortable and pain free. Here are the best options that are currently available.
What Are the Benefits of Choosing a Save Phace Helmet?

Save Phace is one of the few welding helmets that gives you a full 180 degrees of vision while wearing the product. This allows you to have better vision for the joints and beads that you are creating.
You'll also receive these specific benefits if you make the investment into a welding helmet from this manufacturer.
Full ADF Technology. Save Phace is the only manufacturer that combines auto-darkening technologies with a 180-degree viewing lens. This allows you to see vertically and horizontally with the same protection available at all times.
Face Forming Profile. Each welding helmet offered by this manufacturer has a profile that forms to the face, allowing you to get into tighter spaces with greater ease. The hood feels more like a full helmet instead of a facial shield in many circumstances.
Incredible Graphics. Save Phace offers some of the most unique artwork that is available in our industry today. Custom-painted helmets range from Marvel Characters to airbrushed helmets in the Imposter series that are based on your own design.
There are 6 series of helmets available for purchase from Save Phace, from the "good" Elementary series helmets which offer a clear lens and basic protection to the "ultimate bad ass" helmets in the 40VizI4 series which offer variable shade 9-13 auto darkening lenses, 1/1/1/2 clarity and four sensors that are complimented with sensitivity and delay time controls.
Pricing Options for the Best Save Phace Welding Helmets

Save Phace offers one of the most unique and supportive welding helmets in our industry today. This means the price of these helmets are also one of the highest in the industry today. Excluding the entry-level options, a majority of the welding helmets by this manufacturer are in the $350-$450 range.
In return, you'll receive military-grade anti-fog and anti-scratch coatings. The helmets have a good airflow, an easy-change lens system, and areforward compatible with upcoming forced air systems.
Real Life Reviews of the Best Save Phace Welding Helmets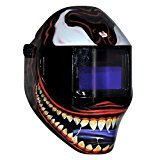 The amount of air movement which occurs around the head and face of the operator with this welding helmet is better than average. You'll still get sweaty on a hot day or in an enclosed space, but it takes longer to reach the point of needing to stop to change out your bandana. From a regular welding perspective, the view is about what every other helmet is able to provide. There are added optics, faintly there, which could be beneficial to some operators. We loved using this and we feel that this is one of the best Save Phace helmets and believe it will meet your needs today.
Check here for more details: Kannibal 40-Vizl2 Welding Helmet Review.
Click here to view the price on Amazon and get the best deal.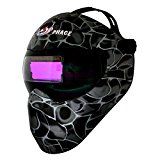 The weight of the helmet is listed at 2 pounds, which is a little heavy for a protective product that is a mask instead of a complete helmet. The headgear comes around your head in such a way that the weight is supported effectively, however, so you won't feel the weight much unless you wear the mask for an extended period. We found the tightening knobs do tend to loosen a bit if you are moving your mask up and down throughout the day. We solved the problem by adding a little tape to the mix and would recommend anyone who welds on a regular basis do the same thing.
Anyone looking for the best welding mask or helmet today should go through this Save Phace Black ASP welding helmet review.
Click here to view the price on Amazon and get the best deal.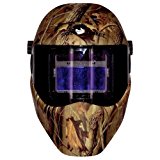 We found that this is one of the best welding helmets by Save Phace that is great for operators who may be concerned about receiving a total protection experience. The narrow design helps the helmet fit close around the face, but still providing a superior level of comfort. The headgear design offers numerous adjustment points so that virtually anyone can experience a fit that almost feels customized to their specific needs. With 40 square inches of viewing area to enjoy, there's a lot to love at first glance with this fantastic welding helmet. Take a look and see for yourself: Warpig 40-Vizl4 ADF Welding Helmet Review.
Click here to view the price on Amazon and get the best deal.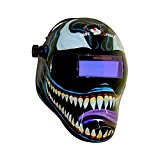 Taken straight from the pages of Marvel Comics, this Gen Y model welding helmet gives you ear-to-ear vision. At 23 square inches, the viewing area opens up complete optics for your next welding project. It still weighs less than 24 ounces while offering this unique lens, giving you one of the best ADF experiences that are available today. With shading protection of 9-13 and a standard shade of 4, you can also utilize a fixed shade of 10 lens if you prefer with this helmet. It might not be for those who weld upside down or in non-traditional positions, but it will still get the job done. Take care with the head harness for best results.
Click here to view the price on Amazon and get the best deal.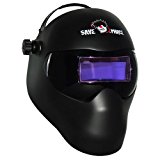 This Gen-X series welding mask offers a 180-degree ADF holder lens that offers a fixed-shade experience. Use the grinding mode at Shade #3 or the welding mode at Shade #10. What stands out about this design is the 9-point adjustable headgear that is created in the halo style. It fits snuggly and the sweat-absorbent band actually does what it is supposed to do. Backed by a 2-year warranty and featuring a 23-square inch viewing area, this is a comfortable and highly affordable welding helmet that can take on a lot of jobs.
Click here to view the price on Amazon and get the best deal.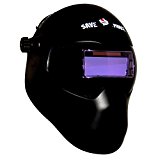 This is a Gen-Y series welding helmet that doesn't place a lot of pressure on your neck as you're trying to work. It offers comprehensive protection for the face, some throat protection, and fits like a standard helmet. Like most of the helmets in this series, it isn't a nod-down design, so it will stay in place wherever you position it. The controls on the outside are useful and help to make the shade changes that you may need. Just make sure the lens is clean before you work so you get the flash protection you need.
Click here to view the price on Amazon and get the best deal.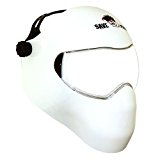 If you love Save Phace products, but you don't want to spend hundreds of dollars on a welding helmet because the budget is tight, then this is a solid option to consider. It still features the large viewing area, but is made from a high-impact nylon instead to keep the weight and price down. The lens is also a fixed shade #3, so you'll need to purchase the darkened shade that your next welding project requires. The face-forming profile is nice for welding in tight spaces. It meets or exceeds ANSI, CE, and CSA standards.
Click here to view the price on Amazon and get the best deal.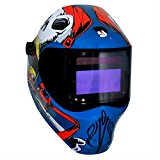 This Vizl4 series helmet offers up to 40 square inches of viewing space, making it one of the largest lens options in the industry today. The changing system for the lenses is also surprisingly rapid and the helmet is cheater lens compatible as well. We found the hood to be comfortable to wear with its design and it functions without hesitation. The ADF feature isn't set off by the sun either, which is a definite advantage. It stays clear, didn't fog up, and we would highly recommend it for TIG welding.
Click here to view the price on Amazon and get the best deal.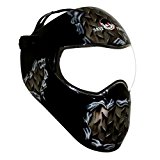 This is another basic helmet from the Elementary series, but one that features graphics that are the trademark for this brand. Equipped with a clear lens, you'll want to swap it out for a fixed shade that you prefer… or you could take this helmet out to the paintball range if you wished as-is. Weight is less than two pounds and the headgear is relatively comfortable, though it does tend to shift just a little. Our one issue involves eyewear. If you wear glasses, the helmet will come into contact with them.
Click here to view the price on Amazon and get the best deal.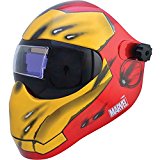 If you're in love with the superhero surge that has hit TV and movies over the past few years, especially if you're a fan of the Marvel Movie Universe, then this helmet is for you. It gets all the basics right and it is lightweight enough to wear throughout most of the day. We found the graphics on this model do tend to fade with heavy-duty welding and the lens can get somewhat hazy. It works very well for TIG work and maybe some light MIG work.
Click here to view the price on Amazon and get the best deal.
The best Save Phace welding helmet reviews will help you find the features and design that you want for your next welding project. Make the investment and you'll be ready to fire up your welder right away.