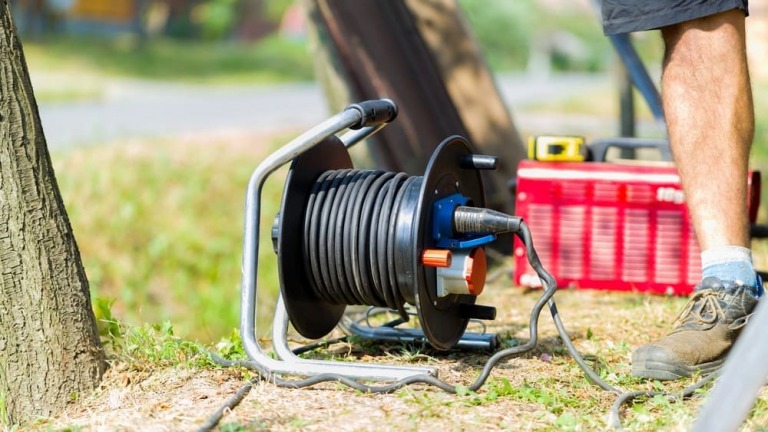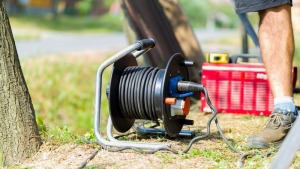 You'll find numerous videos and forums offering welders advice on how to make their own heavy-duty extension cords. These DIY projects might work in an emergency or save a few bucks, but it may also not meet the current industry or customer standards that are in place.
If you aren't using a welding extension cord while working at home and something happens, there is the possibility that your insurance may not cover any losses.
For this reason, the best welder extension cords are a product that should be strongly considered. With length options ranging from 25-75 feet in most instances, a small extra investment now could help to protect you should the unthinkable happen.
Here Are the Best Welder Extension Cords in One Chart
Product
Details

#1 Southwire Heavy-Duty STW 40-Amp Welder Extension Cord

Superior Performance & Flexibility

Star Rating: 4.9
Highlight: Lighted Receptacle End
Price: $$$

Check Price

#2 MaxWorks 80703 Heavy Duty 40 Foot Lighted Welding Cord

Commercial & Industrial Welding

Star Rating: 4.7
Highlight: Heavy-duty 8 AWG
Price: $$$$

Check Price

#3 Vevor Welding Extension Cord 50 Ft MIG TIG Plasma Welding Cord

Indoor & Outdoor Use

Star Rating: 4.8
Highlight: Cord Resists Abrasion & Water
Price: $$$$

Check Price

#4 Parkworld 885323 Welder

Molded with Electroplated Copper Terminals

Star Rating: 4.9
Highlight: 3 Different Length Choices
Price: $$$

Check Price

#5 Happybuy Heavy Duty Welding Extension Cord

Remains Flexible in Temps Below Freezing

Star Rating: 3.6
Highlight: STW Jacket
Price: $$$$

Check Price

#6 Kosmo Supply Heavy Duty Welder Extension Cord

Super Expensive

Star Rating: 4.4
Highlight: Rugged Jacket
Price: $$$$$

Check Price
Real Life Reviews of the Best Welder Extension Cords
Welder extension cords come in a variety of lengths, features, and even voltage options. You'll need to match up the needs of your welder with what the extension cord is able to provide. Here are the top-rated extension cords that have consistently proven that they can get the job done.
A mid-priced welder extension cord that will not break the bank, this brings a lot of useful features to the table. We think you can rely on this for extra durability because of its high-quality jackets, so for everyday welding use, this won't disappoint. The 25-feet cord length is just half of the length of some of the welder extension cords out in the market, but it should be a good choice for portability in small to medium-sized work spaces. But for bigger and more industrial purposes, you might want to look for something longer.
Pros:
It can accommodate different welding sizes and power with its rating of 40 amps, 10,000 watts and 250 volts.
This welder extension cord features 8-gauge STW jacket, a material known for its heavy-duty performance, so you know this will last for a long time.
The receptacle end lights up when it is turned on, which gives a visibly clear indication when it is working.
It can handle heavier loads.
The ends are molded, making sure you can use it safely on your job site.
Cons:
The cable is durable but is quite stiff. Users had trouble keeping it flat. If you prefer a more flexible cord, this might not be it.
It is not ideal for 115-volt welders.
Professional welders in need of an extension cord that can accommodate commercial and industrial welding applications should go for this one from MaxWorks. It comes equipped with the features that professionals can rely on for heavy-duty purposes. It is affordable and easy to use.
Pros:
Featuring 8 AWG and 3C all-copper wires, you can rely on this extension cord for heavy-duty welding tasks. It should last for a long time even with rugged use.
Equipped with 6-50 NEMA plug, this extension cord can work with a variety of portable welding machines out there.
A neon light turns on and flashes as an indicator that the welding cord is live.
This is safe to use as the STW jacket used to insulate it is high-grade and able to prevent grounds.
It is less expensive than competing brands with similar features.
The cable itself is flexible, so you can arrange it to suit your needs and preferences.
Cons:
There were those who complained that the connectors tend to be too tight and can be difficult to disconnect.
If you are looking for an extension cord that is suitable for different welding disciplines, this can be a good option. It is good for both TIG and MIG welding purposes. This is also highly recommended for people with bigger workspace and can be useful for professional or industrial purposes.
Pros:
The 50-ft cord is longer than standard, which makes this more ideal for bigger work spaces or those who need to work outdoors but don't have an outlet available.
It also features 3 conductors to make this safer to use for high-power purposed such as welding.
The materials used are all high-grade. You should be able to use this for many more years to come.
It can be easily rolled up for frustration-free storage.
It doesn't become warm even when used for extended periods of time.
Cons:
The female end holes, some said, were quite small, so there were those who got bigger ones.
An affordable and reliable welder extension cord, this one from Parkworld can be a good choice for hobbyists and professionals alike. The length options give users the freedom to choose the one that will work best for them.
Pros:
You can choose from 3 different lengths to suit your needs.
The conductor features 100% copper material and the jacket is made from 100% PVC material.
It can accommodate a maximum load of 40 amps, which means it will accommodate different brands of welder.
It is heavy-duty as well.
The receiving end features an LED light to let you know it is working.
Cons:
Shipping might take time since it is manufactured in China.
If you are using welding machines with 30 amps of power or less, this can be a good choice for you. Anyone can use this and rely on it for a long time because of its rugged construction.
Pros:
The quality is top-notch. It should be able to withstand some form abuse without affecting its performance.
The 50-feet length is just right for most welder's needs.
The cord does not stiffen up when exposed to extremely cold temperature.
It is resistant to abrasion and cuts because it is made from 10-gauge cord and has STW jacket insulation.
Cons:
For its features, it is quite pricey. You can get the same features for a cheaper cost with the other products.
With its ability to accommodate 50 amps of load, this should be a good choice for anyone who wants a stable source of electricity for their high-powered welding machine. It is compatible with a variety of brands of welders including the MIG series from Lincoln, the Millermatic Welders from Miller, the Hobart Handler, the welders from Century and many other brands.
Pros:
With its ability to accommodate 50 amps of load, this should be a good choice for anyone who wants a stable source of electricity for their high-powered welding machine.
It is compatible with a variety of brands of welders including the MIG series from Lincoln, the Millermatic Welders from Miller, the Hobart Handler, the welders from Century and many other brands.
This product is made in the USA, so you know that you are getting the best quality of materials.
Like the previous models, this one has a lighted end, making it easier to see when it is working or not.
The molded-on connectors are resistant to damages as well.
It has good grounding properties and can resist water.
Cons:
There aren't a lot of negative reviews about this product.
7.

ABN Welding Cable 20 Ft 8 WG Welding Cord

Here is another hobbyist-friendly welding extension cord to get. It isn't very long, making this a better option for home use. It does have a rugged construction that will allow this to be used even for heavy-duty applications.
Pros:
Its 40 Amps and 250 volts of capacity can accommodate different kinds of welders.
It comes with a 1-year warranty.
This is as durable as the others with its 8-gauge cord construction.
The molded ends ante up safety in the workplace.
The STW jacket is durable enough to withstand cuts and abrasions but flexible enough to make rolling it easy.
Cons:
Some said the female end is a tad tight. They had to pry it loose.
There were also those who said this tends to get stiff when the weather is cold.
8. Century Pro Grip 8 Gauge STW 20 Foot Welding Extension Cord

On a budget? Choose this one. We also recommend this for those with smaller workspace who don't need an extra long extension cord. Beginners or hobbyists will like the low price tag. Even professionals will find it feature-packed and convenient to use for heavy-duty purposes.
Pros:
This 20-ft welding cord is made from 8-gauge wire, similar to the more expensive ones in the market.
It is less expensive, ideal for beginners, hobbyists and occasional handyman at home.
This 40A and 250V welder extension cord is compatible for welders with 400 amps of power or less. It is grounded, so it is safe to use for high-power applications like welding.
It also has 600V STW jackets, which is more flexible and is more capable of handling heavier loads.
The jacket also ensures the wires do not become brittle or do not crack when exposed to extremely cold temperatures.
The Pro Grip handle makes quick work of disconnecting it from the outlet.
It is flexible, so you can easily stow it away when not in use.
Voltage drops are nonexistent or negligible.
Cons:
It is big and thicker than others, so if you prefer something a lot more compact, you might find this bulky and difficult to put in storage
What Should the Best Welder Extension Cords Have?
If you're looking for a heavy-duty welding extension cord that can meet all current customer and industry standards, then here are the key features that should be present.
A 6-gauge copper cable with copper conductors for consistent energy transfer.
A NEMA 6-50 plug and receptacle as these are an industry standard.
Insulation that is resistant to both abrasions and chemical exposure.
It must be UL-listed.
Assuming your welder or your plasma cutter has a 6-50 NEMA plug, then you'll be able to make use of the extension cord with your equipment. Unless you are planning on extensive outdoor welding or cutting work, most home users can get away with a 25-foot extension cord. This allows you to bring your welding machine to your project.
It is important to note that having the "heavy-duty" description on the extension cord does not automatically guarantee that it will work with your welder. Many indoor/outdoor extension cords say that they are heavy duty, but their 125V rating is only 15 amps, using a 12/3 gauge/conductor. In comparison, most welder extension cords have a 220/240V rating of 50 amps, allowing you to safely use your equipment even though it hasn't been directly plugged into an outlet.
What Happens If I Use a Standard Extension Cord?

If you use an underrated extension cord to power your equipment, then you are creating a dangerous situation. The result will be an excessive voltage drop, which can cause your welder to overheat and potentially catch on fire. You must not exceed the marked amperage on the cord. Assuming that you do not, then you can plug in multiple extension cords to reach your welding project if need be.
If your outlet is more than 150 feet away, however, you may wish to consider an alternative to your welding arrangement. One single extension cord of 75 feet will carry the current effectively. Connecting a second equal extension cord should still provide an adequate power source for your welder. It is possible to ruin a motor with an extended distance because the length of the circuit creates an amperage drop.
Concerns to Be Addressed with Welder Extension Cords

When you have an extension cord in use with your welding equipment, there are specific safety precautions that must be taken in order to prevent an injury.
The most common type of injury that occurs when using an extension cord is a tripping injury. If possible, you will want to secure the extension cord to the ground in some way. Although duct tape is a common solution, as is placing a rug over the tripping obstacle, these are also potential fire hazards that should be avoided. Look for plastic risers with fire-resistance that you can secure to the ground for the best possible solution.
If an extension cord is covered, then any heat that is being produced cannot escape. This increases the risks of a fire being created.
You will also want to seal any extension cord connections that may need to be made. This set can help to protect the connection on a temporary basis for a pretty affordable price: Click here to view the price on Amazon and get the best deal.
Extension cords should not be run through doorways, ceilings, walls, or floors either.
Although it may seem like common sense, the extension cord should not be modified in any way. Some older cords have four prongs on them, but newer outlets only offer three prongs. Cutting one off so the outlet can fit will likely damage the cord, the outlet, and your welder.
Does Your Electrical Network Support Your Welding?

It is common to have a welder purchase their equipment, including an extension cord, only to find that the circuits of their home do not support the amperage that is required. A standard outlet is typically rated for 15 amps. You will likely need to have a 20-amp rated outlet if you're running a welding extension cord of 110v.
Most homes do have one 220v outlet that can support your welding equipment. It will either be near where the dryer installation will be. Some dedicated HVAC systems or air conditioning units will also have a dedicated 220v outlet that can be used. Run the extension cord from there to your welder to prevent circuits from tripping on you while you're trying to weld.
Pricing Options for the Best Welder Extension Cords

You'll find that the price of an extension cord for welding increases based on the length that you require. The best value in this category is the 25-foot cord, which often retails for $30-$50, depending on the manufacturer.
The 50-foot extension cords for welding tend to be priced in the $45-$75 range. If you need more length, a 75-foot cord is usually priced at $100 or more.
As a rule of thumb, it is a good idea to purchase the largest gauge and length that you can afford.
Conclusion
So, which of these extension cords is the best choice? We think all of them are worth buying but the Southwire Heavy-Duty STW 40-Amp Welder Extension Cord trumps the rest when it comes to portability, durability and safety features. It isn't as long as the others, but if you don't need a longer cord, this heavy-duty extension cord will serve you well for a longer time. It is also loaded with features and has cold weather-resistant properties. Whether you are an occasional welder or a professional one, this will surely serve you well.