Reducing manual labor is what staple guns are designed to do. With this tool, you can reduce hand fatigue that often comes with driving staples to metal or wood. They are relatively inexpensive, and they come with different ranges of power. Whether you are looking for a heavy-duty staple gun or one that you can rely on for average DIY housework, we can show you which products to get.
Best Staple Gun Reviews
Stop your search and go for these staple guns instead:
Now find out which of these products will work better for your needs:
1. FPC Corporation Surebonder 9600 Pneumatic Heavy Duty Stapler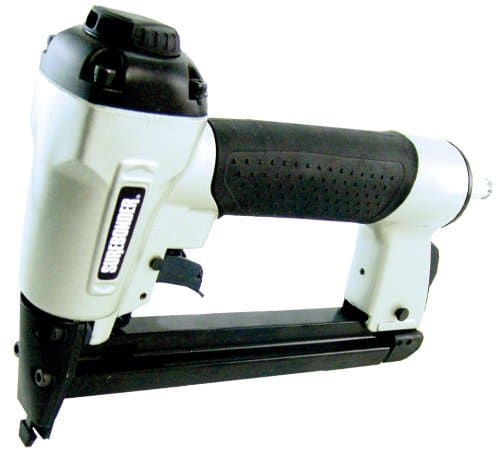 The Surebonder 9600 is one of the top upholstery staplers back in 2016 for a reason. Even now, it still delivers a lot of power, making this a versatile tool that will be heavily used in your DIY and woodworking arsenal. It accepts #4 staples or the Arrow T50 staples. With its power, you will be able to do a host of heavy-duty things like installing home insulation or putting down felt for roofing. You can also do simple tasks like making picture frames or finishing the backs of your cabinets.
The magazine has a quick release function and can accommodate up to 100 staples. It has a window that lets you see when you are running low on staples. It comes complete with a safety mechanism that prevents you from misfiring it.
Pros:
This is a good heavy-duty staple gun designed for more rigorous usage. It has a good build that you know will make this last for a long time. The high-impact carrying case that is included with your purchase ensures that you will be able to take it anywhere without worrying that it will get damaged. There were those who have had this for years and it is still working for them.
Set it up is a cinch. The factor-equipped connector makes quick work of setting this up. The quick release magazine also ensures you can load it up with staples easily.
You can safely use it. It prevents you from accidentally firing it.
Your purchase also includes an Allen wrench and a tool oil that will help you keep this in good shape.
It is not prone to jamming unlike other staple guns out there.
It is more compact and lightweight compared to others. You won't have a hard time storing it because of its small size. It also has a nice weight that will prevent you from experiencing hand fatigue when using this.
Because it is a pneumatic staple gun, it packs a lot of power. It doesn't miss and has accurate results all the time. The air exhaust is also adjustable, so you can get the power you prefer.
Cons:
This product is a little bit more expensive than others. It also needs an air compressor, which you will have to buy separately.
2. Stanley TR150HL SharpShooter Heavy Duty Staple Gun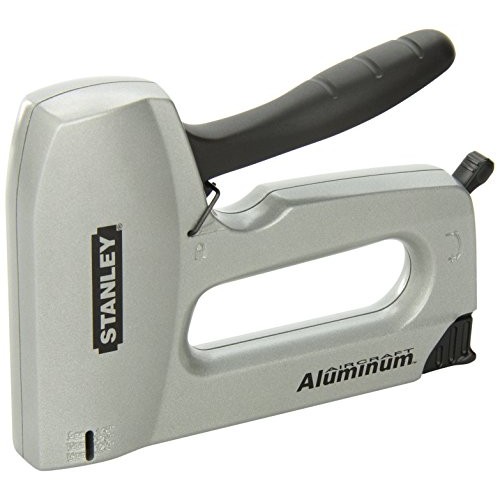 Get a wide range of projects done with this reliable and durable staple gun from Stanley. You can choose from its Hi/Lo power function to provide you with the power you need. When working with soft materials, the Lo power function should suffice while hard materials will require the power needed by the Hi-power function.
With its aircraft-aluminum housing, you can subject this to impact and all sorts of abuse without worrying it will get damaged easily. This staple gun accepts Stanley SharpShooter TRA700 series staples. You can also use Arrow T50 heavy duty staples in this.
Pros:
You can adjust its power. With this feature, you should be able to get the right power for the projects you have. That way, you can avoid inflicting too much power on more delicate materials and also avoid running short on power on stronger materials.
The aluminum casing is tough and built to last. You will be able to get more uses out of this.
This has frustration-free features. The anti-jam functions mean you can continuously do your projects.
The handles are easy to squeeze, preventing hand fatigue.
Loading it with more staples is also easier with its easy-slide full-stick loading function.
The bright color and finish of this product make this easier to spot in your work area.
It is backed by a lifetime limited warranty.
The price is affordable and easy on the budget. If you are looking for a product that is durable but won't cause you a lot of money, this should be an ideal choice.
This is lightweight. It only weighs 1.57 pounds, so it shouldn't be difficult to use even when you are working on bigger projects.
Cons:
Some said they didn't like the plastic handle.
3. Swpeet 3-in-1 Staple Gun Kit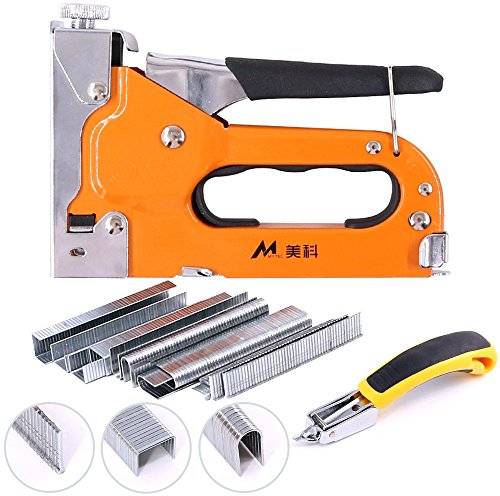 This affordable staple gun kit comes with everything you need to get the job done. The kit includes a staple gun, a staple remover and 600 staples all in a price anyone can afford. Use staples with 1.2 mm for this staple gun.
This is one of the most ergonomically-designed staple guns because of the steel handle that features molded rubber grip. You can easily hold the lock without putting too much pressure on it. It is small enough to fit in a carry case and bring with you anywhere. Construction-wise, it is one of the most ideal choices out there. The case is made from metal and is sturdy enough to withstand impact.
Pros:
This staple gun is cheaper than many other staple guns out there but isn't lacking in features. It even has a metal build that is a far cry from the cheaply-made plastic ones out there.
The chrome-plated all-steel construction makes this a great choice for heavy-duty construction work. Even if you expose this to dust and dirt, it will still hold up well.
The trigger lock can be used by both left-handed and right-handed people. You can use it with either hand, so you won't have issues with the locking system when your hands are full.
There should be no problems reloading this staple gun. The staples also stayed in place.
It is incredibly lightweight. With just 1.5 lbs. of weight, you will be able to use it for a prolonged period of time without experiencing hand fatigue.
It is very easy to use. You can replace the upholstery of your furniture with ease.
It includes a staple remover.
Cons:
Some said they had to squeeze the trigger tightly to get it to work.
4. Topec Staple Gun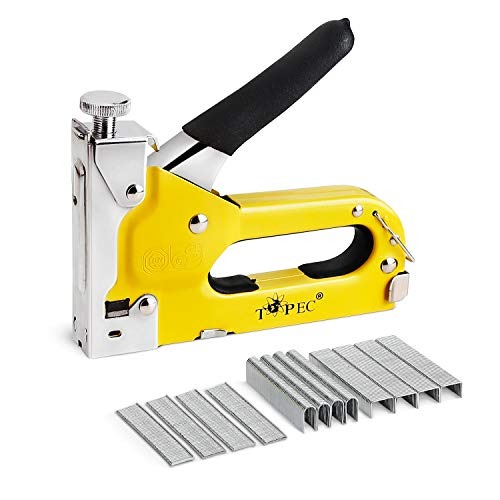 This is the product to look for if you want something that is a cinch to use. It is made from carbon steel material, so you should be able to get more use out of it. The Quick Jam clear function ensures that staples won't get stuck in this gun. It comes with a binding switch that you can simply pull down if the staples are stuck.
It accommodates more types of staples such as D-Type, T-Type and U-Type of staples, giving you more flexibility when using this. You can do a variety of jobs that require fastening.
Pros:
This product has a good price. If you are looking for an inexpensive staple gun but don't want to compromise on quality, this should be a good product to choose.
It features carbon steel construction, so you can be assured that it will last for a long time. It is impervious to regular dings and bumps.
It has a jam-clear function, so you won't have to be annoyed whenever a staple gets stuck in there. The jam-clear mechanism is also simple to use.
This staple gun accommodates more types of staples.
It is backed by a 100% warranty.
It is also easy to use, so even teenagers can use it for their school projects.
It is small and handy but packs a lot of power.
Cons:
There were those who said it isn't as strong as they wanted.
5. Konnig Heavy Duty Upholstery Staple Gun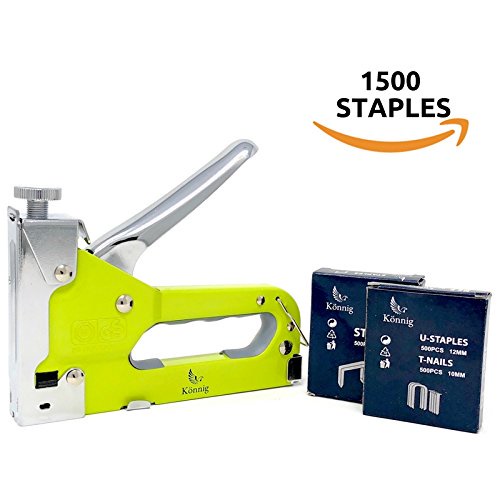 Built to last, this staple gun will be your ally in accomplishing various tasks at home such as doing minor home repairs, doing roofing work, woodworking and many more. The chrome-plated all-steel construction keeps this resistant to all sorts of damages. Unlike others where the handle is made from plastic, this one is made from the same steel materials.
You get 2000 staples of different sizes with this purchase. The reload indicator lets you know when you need to replenish.
Pros:
It is compact and lightweight but has a solid build and construction that makes this more durable than others.
The reload indicator is a nice feature. It makes it easier to know when you need to reload. Reloading is also easier.
It is very ergonomic. It has a soft rubber grip that minimizes hand fatigue.
It is affordable, great for people on a budget.
It comes with 2000 staples. This is more than what other brands supply.
Cons:
Some said it is difficult to clear up jams.
Which is the Best Choice?
Smoothest Operations: FPC Corporation Surebonder 9600 Pneumatic Heavy Duty Stapler. Don't you hate it when stapler guns jam up? You won't have such a problem with this product. It is a good choice for those heavy-duty jobs. It has a solid build that means it won't give up on you when you need it to run the most.
Most Flexibility: Stanley TR150HL SharpShooter Heavy Duty Staple Gun. Not all staple guns out there offer the flexibility that this one from Stanley does. It allows users to choose their preferred settings, high or low, in order to get the right power needed for the job.
Value For Your Money: Swpeet 3-in-1 Staple Gun Kit. You can't go wrong with this product. For its price, it is surprisingly well-made. The metal construction gives this added durability. It is also ergonomic and easy to reload.
Easy to Use: Topec Staple Gun. You won't have trouble using this tool. It is handy and has mechanisms that are easy to understand. It is a fail-proof tool, so even novice woodworkers or teenagers will be able to use this for their various projects.
Ergonomic Choice: Konnig Heavy Duty Upholstery Staple Gun. This one has a size and handle that makes it easier to work with. It is not as seamless as the others, but this should be a good choice for minor projects.
How to Find a Good Staple Gun – Some Tips to Remember
Here are more things you need to keep in mind if you want to find a good staple gun:
Look for a durable staple gun that can withstand abuse.
As much as possible, avoid the plastic ones as they are prone to damages. Go for the stainless steel ones as they are more resistant to impact.
Make sure it can accommodate the staples you need.
Not all the staple guns out there have flexibility when it comes to the kind of staples they accommodate. Some may only accommodate one size of staple while others are more flexible. Go for the more flexible ones if you want to use it for a wide range of projects.
It should not be prone to jams.
Jammed up staples are annoying to deal with. The staple gun should have a mechanism that allows users to seamlessly remove the jammed up staples.
It should be easy to reload.
A reload indicator will come handy. Make sure you can adjust the tightness of the load as well.
Conclusion
Now that you know more about staple guns, you may want to browse our site to find the best tools for woodworking and welding. Let us guide you in finding the best products that will make it easier to accomplish your projects and to get the best results.