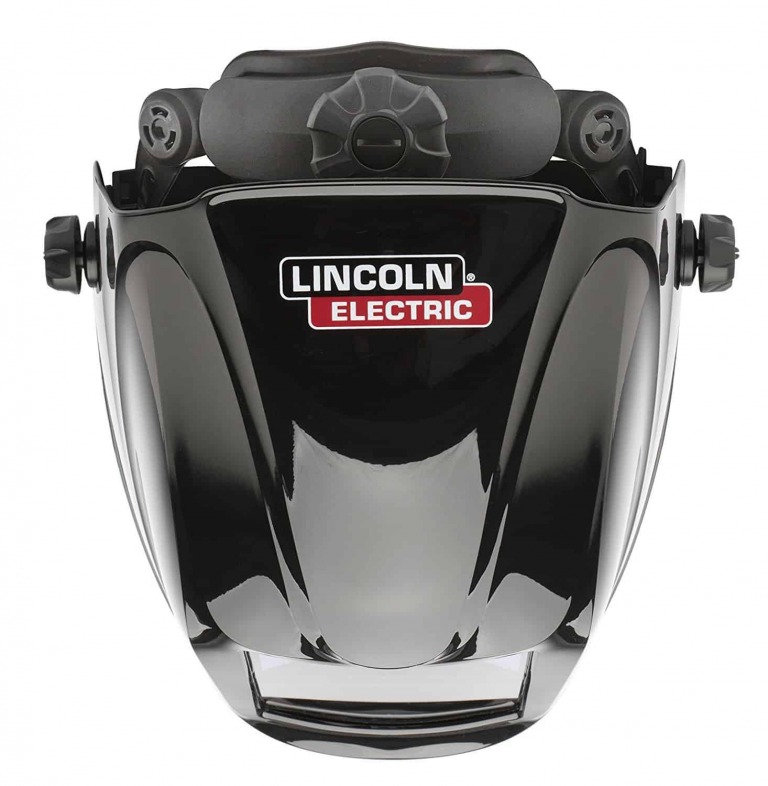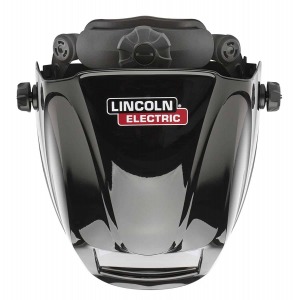 Lincoln Electric has provided the welding industry with over a century of excellence. Since the Lincoln Electric Welding School was founded in 1917, it has trained more than 100,000 welders. This experience has led to the development of the Viking series of welding helmets, which offers welders some of the best protective equipment options that are available in the industry today.
Here are the Best Lincoln Welding Helmets

Every model in the Viking series produced by Lincoln Electric offers a specific advantage to the user. From extended viewing windows to highly responsible auto-darkening models, there is something for every welder who needs a new helmet today.
What Are the Benefits of Choosing a Lincoln Welding Helmet?

The quality that is found in every Lincoln welding helmet is often considered to be the primary benefit. Although it is true that Lincoln Electric is a household name thanks to its influence in the welding industry, "quality" is a generalized term that doesn't mean much.
Clarity, however, offers the specificity welders need to know that they are purchasing the right helmet. The lens clarity of a Lincoln welding helmet is often rated as the best available in its category within the entire industry. Many models offer 1/1/1/1 optical clarity, referred to a 4C clarity.
This improves the visibility offered by the helmet by reducing the amount of lime-green tint that is experienced by the user.
Lincoln welding helmets also tend to have an increased battery life when compared to the competition. When you have longer periods of being able to see clearly, then you can weld consistently and have higher levels of productivity. The lithium batteries in many helmets offer long-lasting support for welders of any skill level.
Many Lincoln welding helmets come with a helmet bag, a bandana, and the lenses that are required for use.
Auto Darkening Helmets from Lincoln Electric

Lincoln Electric has produced one of the best lens switching speeds for auto-darkening helmets that is available today. Rated at 1/25,000 of a second, many models offer an internal variable shade control with a range of shades from 5-13.
Many models also feature a replaceable battery, allowing you to further extend the useful life of the helmet with relative ease. Light sensitivity controls are continuous and many models offer the capability of being outfitted with a cheater lens.
Lincoln Electric offers a limited 3-year warranty on many of their welding helmets, though splatter and other work-based damage are not covered by this protection.
Pricing Options for the Best Lincoln Welding Helmets

Most of the Lincoln welding helmets in the Viking series are priced above $200. Customized helmets within this series are priced above $300. You can also find a few entry-level models that are more of a flip helmet for $100 or less. It all depends on the features you need, the designs you want, and how much comfort you'd like to have when you put on your welding helmet to get to work.
Real Life Reviews of the Best Lincoln Welding Helmets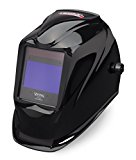 This is one of those welding helmets that gets all of the basics right. It isn't a feature-rich helmet, but it doesn't need to be with the 4C lens technology it contains. The clarity of this helmet is excellent in virtually all welding situations. It is comfortable and stable on the head and doesn't fog up on you, even with extended wear. It has 4 sensors instead of the standard two on other Miller helmets, which gives you a more effective lens transition, especially in confined areas. One of its strongest suits is its rounded shape, which makes it a more ideal option if you do overhead welding. It also has a low profile, so it fits better and provides more coverage. If you love this brand and want a great value purchase, this is the welding helmet you'll want.
Click here to view the price on Amazon and get the best deal.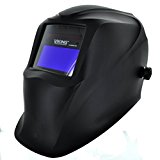 We loved the continuously variable controls that are offered on this welding helmet. It's also very lightweight, coming in at just over 1.2 pounds, so neck and shoulder fatigue don't happen unless you're welding for a long period of time. It offers an auto-darkening lens, but it operates on AAA batteries instead of lithium batteries, so you'll be changing them out every so often. We'd recommend grabbing a set of rechargeables for an easier experience, even with the solar power assist you're provided. It is a helmet that is also cheater lens compatible. You should also know this is one of the sturdiest welding helmets out there. There were those users who were not very gentle with this, even using it everyday, and it still holds up quite well and lasted for a long time.
Click here to view the price on Amazon and get the best deal.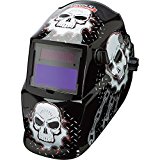 This is a fun little helmet that has a narrower profile than others from this manufacturer, which gives you more welding options. It has a 1/25,000 of a second reaction time, though there are only 2 arc sensors, so there can be a little interference here and there. The extended profile comes down to give the neck some added protection, which was really nice. The viewing area is somewhat limited at 3.81 x 1.75 inches, but you're also getting an industrial-grade reaction from a sub-$100 helmet. It is an excellent buy and quite affordable, too. It won't the break the bank, perfect for those who are looking for a more affordable helmet.
Click here to view the price on Amazon and get the best deal.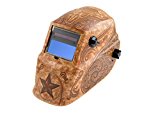 There's a lot to like about this welding helmet. The first impression with the Texas-themed artwork is definitely a positive one. It offers the dual-knob design like most entry-level helmets from this manufacturer, with a narrow profile and comfortable supports. This helmet feels a bit heavier than the others of a similar design, but it still gets the job done without too much extra fatigue. It also offers a grinding mode so that you can stay productive instead of switching protective equipment when it's time to clean your weld. It doesn't hurt that it has such an accessible price tag, easily one of the most affordable ones out there. It works great for hobbyists who don't want to spend too much money on their equipment but without resorting to buying cheap and poor-quality helmets. It works great, looks great, and we loved it. So will you.
Click here to view the price on Amazon and get the best deal.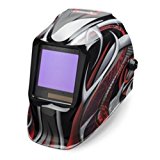 This Twisted Metal welding helmet with 4C lens technology gives you the extended viewing range that you need for your major projects. It features pivot-style headgear that works reasonably well. The auto-darkening feature is supported with solar power and uses a lithium battery as a backup that you can swap out pretty easily. You'll find the lens tinting is a little darker than some other helmets, especially in the green range, but the clarity is virtually beyond compare. The lens is replaceable but you don't have to do that right away because the lens it came with is quite long-lasting. This is easily one of the best Lincoln Electric welding helmets out there right now.
Learn more about the Viking 3350 here: Lincoln Electric Viking 3350 Review.
Click here to view the price on Amazon and get the best deal.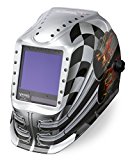 If you haven't experienced the 1/1/1/1 optical clarity yet from this manufacturer, then this helmet is a good example of what you'll receive. Supported with a 3-year warranty like most models, the pivot headgear fits more comfortably than other options we tried from this manufacturer. You receive a real color view instead of shadows and lime-green, which reduces your eyestrain and feelings of fatigue during extended welding sessions. The auto darkening settings worked as they should, though you do need to change out the clear lenses every so often because they tend to get banged up. It's light, strong, and gets the job done. It is also responsive and comfortable to wear even on extended periods of time. The quality is up there with more expensive models. It holds up well against abuse, so you will be able to enjoy using it for a long time.
Click here to view the price on Amazon and get the best deal.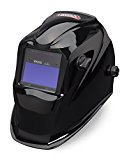 We felt that this helmet was lightweight and comfortable from the start. The arc sensors, of which there are 2, do an excellent job of providing an accurate shade of darkness for the operator. Although there is a small issue with shadows creating a window that is darker than necessary, there isn't a default grinding shade incorporated with this model. You're going to have at least a shade #9 on this best Lincoln welding helmet model, so eyestrain is reduced.
Click here to view the price on Amazon and get the best deal.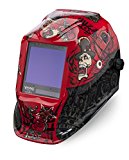 There is a real difference in the shading of this welding helmet compared to other ADF helmets. When you're cutting with the 3350 Mojo, you'll receive an even shade from any angle. There aren't the constant readjustments that happen with other helmets as the sensors attempt to adjust to starts, stops, and different angles during the project process. There is still a bit of a green tint with this helmet, even when the automatic shading isn't present, but there is a reduction of the lime-green tinting that has been problematic in the past. Eyestrain wasn't an issue with this helmet at all and there was room for a pair of safety or prescription glasses under the helmet.
This is the best Lincoln helmet for you if style is as important to you as product features and reliability.
Get complete details about this helmet here: Lincoln Viking 3350 Mojo Review.
Click here to view the price on Amazon and get the best deal.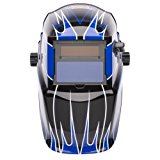 As an entry-level welding helmet, the first thing we noticed was the firmness of the headband. It grips quite well and stays firm throughout the welding process. After a full day of welding, there were no changes to the fit or comfort of the helmet. The lightweight nature of the helmet is perfect for those who struggle with the heavy-duty helmets and masks that are on the market. This helmet won't stand up to a good deal of splatter because of this design, but if you know what you're doing, this won't be much of an issue.

Read this K3064-1 ADF Review for complete information.
Click here to view the price on Amazon and get the best deal.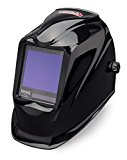 In our opinion, the helmet itself felt rather light – though some may also feel that 3+ pounds is too heavy. On this, it all depends on what you prefer to have. The plastic within the helmet has enough give to make it settle in and work with you. At first, however, the helmet was a bit stiff until we worked into it. The Viking 3350 grew more comfortable with use. It also offers the benefit of removing the green tinge from the viewing window that tends to occur on the entry-level helmets that offer some level of automatic shading.
Click here to view the price on Amazon and get the best deal.
The best Lincoln welding helmet reviews will help you find the best protective equipment for your cutting, welding, or grinding needs today. Find the model that suits your personality, get the features you need, and you'll be able to focus on your welding skills thanks to what these helmets are able to provide.