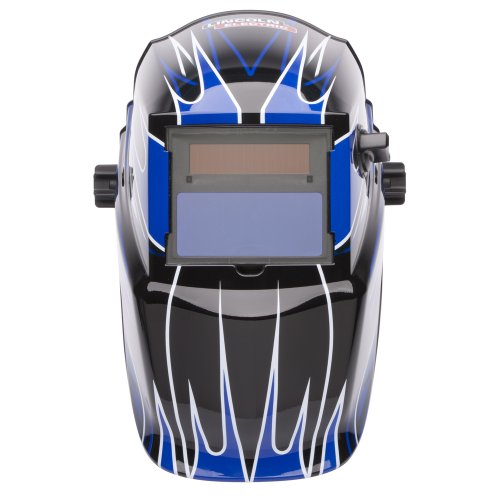 If you're looking for an affordable helmet with offers automatic shading, it can be a struggle to find something of a good quality product. Either the helmet is ridiculously heavy, the viewing window is small, or you get both negatives while being told it's a "great" helmet. The Lincoln Electric K3064-1 Variable Shade Welding Helmet really is a great helmet, with features that are actually useful for the modern operator.
It all starts with the lightweight design. This particular helmet weights just 1.5 pounds. Featuring a blue flame exterior design, the ADF has a variable shade range of 9-13 that will correctly adjust to the appropriate darkness based on the radiant energy that is being produced by your preferred welding discipline.
The lens switching speed is just 40 microseconds, supported by 2 arc sensors and a viewing field size of 3.82 x 1.73 inches. It is also compatible with magnification filters if you prefer.
Our Observations of the Lincoln Electric K3064-1

As an entry-level welding helmet, the first thing we noticed was the firmness of the headband. It grips quite well and stays firm throughout the welding process. After a full day of welding, there were no changes to the fit or comfort of the helmet.
The lightweight nature of the helmet is perfect for those who struggle with the heavy-duty helmets and masks that are on the market. This helmet won't stand up to a good deal of splatter because of this design, but if you know what you're doing, this won't be much of an issue.
Unlike some of the ADF helmets that are powered by a lithium or cadmium battery, the K3064-1 utilizes solar power to operate the auto-darkening feature. You're also able to adjust the lens on the outside of the helmet, allowing you to achieve the perfect shading effect so that your project becomes visible in virtually any light.
It does not have a grinding mode, so if you're looking for an all-in-one solution, this is not it. You're automatically given the #9 shade and then the helmet adjusts from there based on the amount of light being produced by you arc.
It is suitable for all welding applications, including plasma cutting.
This helmet does tend to let in a good bit of back lighting when you're working as well. It functions well as an indoor helmet, but as an outdoor helmet, some operators might find themselves struggling with their view. The limited size of the viewing window tries to contain this, but it doesn't alwaysdo a good job.
Our Grade: A-
As a lightweight ADF helmet, the Lincoln Electric K3064-1 Variable Shade Welding Helmet is a solid entry-level option to consider. It is rugged enough to withstand virtually any job at least once, though some may wish to use it as a backup option instead of their primary protective equipment because of the limited viewing window. It gets the job done and that's why it earns our recommendation.
Click here to view the price on Amazon and get the best deal.
More recommendations here: Best Lincoln Welding Helmets Today.