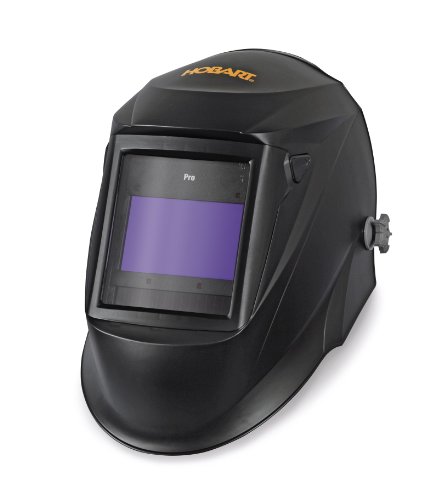 You're searching for an industrial-grade helmet. Your budget requires you to look for value options. That means you're looking for the Hobart 770753 Pro Variable Auto-Dark Helmet. Available for less than $200 online, it offers users a 1/30,000 of a second reaction time in its switching speed and variable shades from 8-13 with automatic responses.
When combined with the 9-square inch viewing area and the durability of the polyamide shell, this is a hat that you won't mind putting on every day.
Key Features of the Hobart 770753 Welding Helmet

It features an automatic on and an automatic off.
Grind mode is available with the light state of Shade #3.
Delay control is available between 0.1 and 1.0 second.
Sensitivity controls allow for infinite adjustments to any ambient light condition that a user may face.
It is certified to CSA/CD standards and is ANSI approved.
There is a 2-year limited warranty in place.

What we enjoyed the most about this great welding helmet was the design of the headgear. The adjustments are easy to make, allowing you to receive a stable and secure fit. There is patting around the forehead and knob adjustments around the back so that you receive a superior fit that doesn't bit or grind into your skull.
In return, you receive the flexibility needed to for any stick, MIG, or TIG welding applications. You can effectively weld in the 5-10 amp range while wearing the Hobart 770753 welding helmet.
What You Get in the Box

Besides the Hobart welding helmet with the ratcheting headgear, you'll also receive extra clear protective lenses and the owner's manual. Unlike other helmets, there is not a helmet bag or spare cushions include. Two lithium-ion batteries control the shading features of the helmet, which are already installed.
What to Expect with the Hobart 770753

The viewing area dims quickly with this helmet as promised. Even if you're used to a 1/20,000 helmet, you'll see a noticeable difference with the Pro Variable design from Hobart.
There are some issues with the ratcheting headgear when you first adjust it and because it is made from plastic, you do need to be careful with it. The teeth can bend over on you, making the helmet difficult to use. We also found that the helmet does have the tendency to be a little top heavy, so it will come down on its own if you leave it up long enough.
It retains adjustments very well. We did not get flashed, even when using low-amp TIG.
Our Grade: A
The only thing that is keeping the Hobart 770753 from a top rating is the overall weight of the product. It weighs about 3 pounds, which can be difficult for any welder to withstand over a long period of time. If you're used to wearing a heavy helmet, then you're going to love all the protective features that are built into this Hobart model. If not, then you'll want to take some time to get used to the weight before taking on a long welding project.
Click here to view the price on Amazon and get the best deal.
Here are the best Hobart welding helmet reviews online to help you with your decision making.