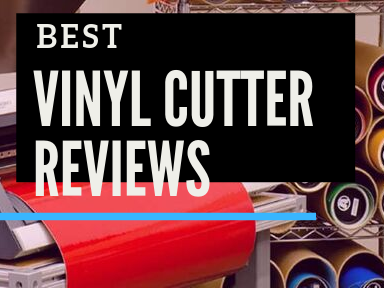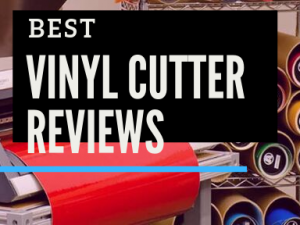 From making stickers to decals, you can rely on the vinyl cutter to do a wide range of cutting work for different custom projects. Not all vinyl cutters are created equal, so make sure you look for the ones that will suit your personal needs. We can narrow down your options to the ones with the best features, programmable functions, spiffy design and small footprint. Check out our recommendations below.
Best Vinyl Cutter Reviews
1. Cricut Explore Air 2

The Cricut Explore Air 2 is one sleek-looking machine. It's a great addition to your creative space because of its modern design. It even comes in different colors such as cherry blossom, matte black, mint and persimmon. This machine is capable of cutting vinyl stickers, greeting cards and many more thick materials. You can use this to create your own personal home décor, make custom apparel designs, stickers and a variety of arts and crafts projects.
Cricut has a library full of designs that have been pre-made for you. That means you can start working on your projects right away with these stock designs. Once you get the hang of it, you can upload your own designs and images. It has a smart set dial to make sure the machine creates precise cuts. It lets you use the right settings for the specific material you are using.
Pros:
This is a versatile cutting tool as it can cut through a variety of materials including vinyl, faux leather, foils, cardstock, poster board and even specialty paper. You can be as creative as you want with this as it allows you to use different materials. It can cut 100+ different materials.
It cuts sharply all thanks to its German carbide premium blade. You can get the most precise cuts on vinyl materials.
There are a lot of pre-made designs to choose from. You can choose from up to 3000 ready-made images and designs.
It lets you upload your own designs and images easily. You can use any kind of device – smartphone, computer or tablet to upload your designs.
It has a Bluetooth function, so there is no need to hook up your devices to this unit. Simply connect to its Bluetooth setting and you are great to go.
One of its remarkable features is its double tool holder. It allows you to cut and write or cut and score simultaneously without stopping to recalibrate the settings.
The cutting speed is remarkable. It cuts two times faster than other vinyl cutters out there. It even has a fast mode, great for those making cutting projects in bulk or for commercial purposes.
It accommodates different formats of images. It can cut even the most minute details on images.
It has 370 different fonts to choose from. You can design your own cards using this one.
This vinyl cutter has an attractive design. The different color options are all nice to look at.
Cons:
The Design Space app is only for iOS, so if you are using an android phone, you might not be able to use it.
2. Silhouette Cameo Wireless Cutting Machine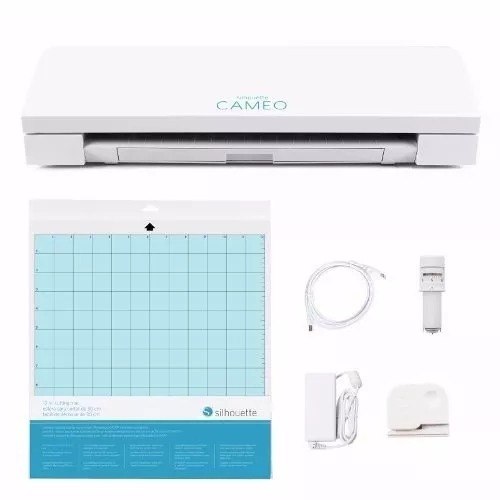 Be the ultimate arts and crafts or DIY master with the help of this cutting tool. Compared to other vinyl cutters, this has a thicker clearance, so it can accommodate more materials. The small blade can still cut through something as thin as paper to something as fickle as fabric.
It dispenses the need for a mat, which will come as good news to those who work with vinyl material. You don't need to get a cutting mat to be able to use this. It should be able to cut through vinyl on its own. This tool has a Bluetooth function and is compatible with PixScan technology as well as Print and Cut technology.
Pros:
The 12 x 12-inch cutting mat and increase of 2 mm clearance ensures you can work with a variety of materials. This tool is one of the best when it comes to cutting space and clearance.
The AutoBlade function is a unique function. It automatically adjusts the blade, so you don't have to keep on remembering to do so before cutting. You can also use a deep-cut blade in this machine.
You can do two things at once with its dual carriage function. Insert the right tools in their tool holders and let this simplify your creative project.
The Silhouette Design Store is one of the most expansive out there. You can choose from more than 100,000 downloadable art. Once you purchase and download the art or image you want, it is yours to keep and use as often or as much as you need. If you want to use other illustrators such as Adobe or Corel Draw, you can also do so. The software has a plug-in that you can use. The Silhouette Studio Software is easy to use, even for beginners.
Its PixScan Technology is the best when it comes to achieving precision in your designs. You can position the cut line easily using whatever tool you have.
Cons:
Some said the AutoBlade function doesn't really do anything. You still need to manually select the material you are working with.
3. Xyron Creative Station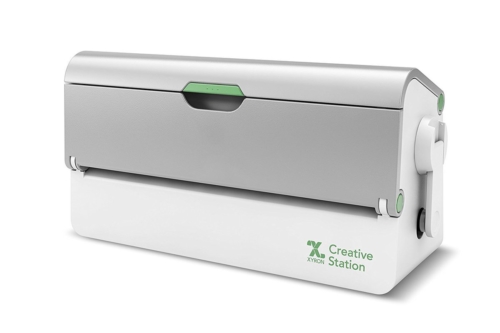 If you are on a tight budget, this manual cutting tool might be a good choice for you. You just turn the handle and it will let you put the adhesive you need for your vinyl stickers. It can accommodate 9 inches and 5 inches of cartridges, allowing you to be as creative as you want with your projects. Refill is also easier through its drop-in function.
You can use thicker types of paper and even other materials like vellum, vinyl and fabric. As long as it is no more than 1/8-inch thick, this will accommodate your cutting needs.
Pros:
This doesn't use electricity, so there is no need to preheat the machine before using it.
It is an affordable choice, great for the occasional DIY-er.
It is easy to use, even beginners will be able to use this with ease.
This tool allows you to use 2 sizes of cartridges, allowing you to do a wide range of projects. You can also change function easily by changing the cartridge. Drop it in place and you are good to go.
Unlike others that make use of heat, this one doesn't emit harmful fumes. The adhesive also sticks to it effectively. It doesn't peel or lift.
Cons:
It isn't as solidly-built as you might expect. The crank handle or lever has a flimsy feel to it.
4. Silhouette Portrait 2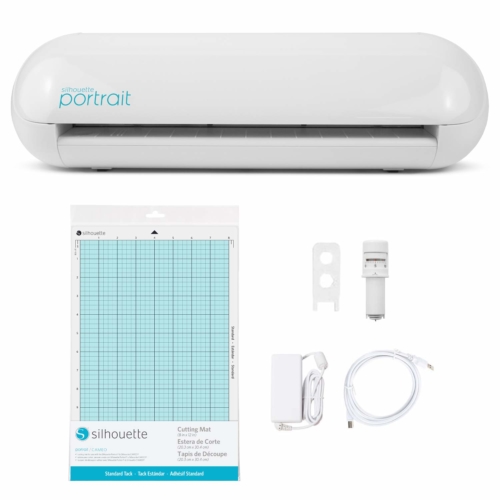 The Portrait is the more compact version of the Cameo. Although it is more compact and portable, it still has a comparatively large cutting space, so you can use just about any material with it including cardstock, vinyl and fabric. Since it is a more compact choice, the available digital designs are limited to just 50 as opposed to the expansive digital design options with the Cameo. However, it is compatible with both MAC and PC.
Pros:
You get the features of the Cameo but in a smaller package. This is more compact, so it doesn't take up a large space on your work desk.
It still allows you to cut a variety of materials. The cutting space of this tool is still wider than others.
You can hook it up to your computer via its Bluetooth function and download the designs you want.
The Silhouette Studio software is user-friendly. It is also very versatile. Those who tried it for the first time quickly got the hang of it.
Because this is smaller, it is also lighter. That means you can easily transport it anywhere you want.
It is less expensive than the full-sized Cameo.
Cons:
There were those who had trouble finding the right size of vinyl.
Which One Should You Go For?

Best Choice: Cricut Explore Air 2. This tool is the most user-friendly because it allows you to be as creative as you want. Whether you want to use the stock images, or you want to upload your own designs, this tool can accommodate your needs. it cuts fast and it can cut through even thicker materials like faux leather. It is a bit expensive, but it is definitely worth the price if you are looking for a vinyl cutter that you can rely on or one that you can use for commercial purposes.
Large Cutting Space: Silhouette Cameo Wireless Cutting Machine. This tool is what you should look for if you don't want to be limited to only a few designs. It offers a large cutting space, so it can accommodate different materials, even fabric. It also comes with all the software and tools needed to create the designs you want.
Most Affordable Option: Xyron Creative Station. This is the most affordable because it is a manual type of vinyl cutter. It already comes with 2 cartridges. This is more ideal for those who are new to vinyl cutting.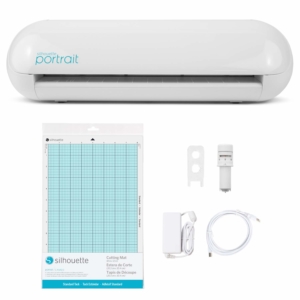 Most Compact Choice: Silhouette Portrait 2. Don't want to have the full-sized Cameo and only have space for a small vinyl cutter? Get this one instead. It is smaller and more compact. It is also lighter, so it is easier to bring with you no matter where you go. It does have some limitations but if you don't have a need for the full-sized ones, this should be a nice introduction to vinyl cutters.
Factors to Consider When Choosing a Good Vinyl Cutter
To make sure that you are getting only the best vinyl cutters out there, here are more factors you need to consider:
Cutting Capability. Check out the blade. It should have a sharp blade that can cut through even the thickest of material. Vinyl is usually not a problem with standard blades but if you are also going to use fabric or faux leather, you would want to make sure that the cutter accommodates that need. There are those that come with AutoBlade function that allows it to determine the pressure needed to cut through your material but make sure it does what it is supposed to do.
Speed. How long does it take for the machine to cut through the materials? If it only scours the material, you might have to re-do it. Make sure the blades are sharp enough to cut through thick and unforgiving materials and that the machine is able to follow your design with precision and ease. Fast speed is essential if you are using the tool for your business.
Design Options. Does it offer the ability to make and upload your own designs and images? What about its library of designs? How big is it? Are there are a lot of choices to choose from? When it comes to design options, it depends on your needs. If you run a design store or you sell vinyl stickers, you definitely would want to look for a cutter that will allow more flexibility. Look for one that has a software or program that you can use to edit your images.
Size and Weight. Decide on how big a vinyl cutter will work in your space. If you plan on bringing it everywhere, something more compact and portable is a good choice.
Connectivity. It would be nice to have Bluetooth connectivity function, so you can upload your designs and print them out easily.
You also need to consider your budget. If you want more features, don't hesitate to spend more because you will definitely like the additional features that go with these more expensive models.
Conclusion
You can put an end to your search because these are the best vinyl cutters you can get:
For your different DIY projects, make sure you have the best tools for your needs. Check out our homepage too for more suggestions and tips on the best products to buy.