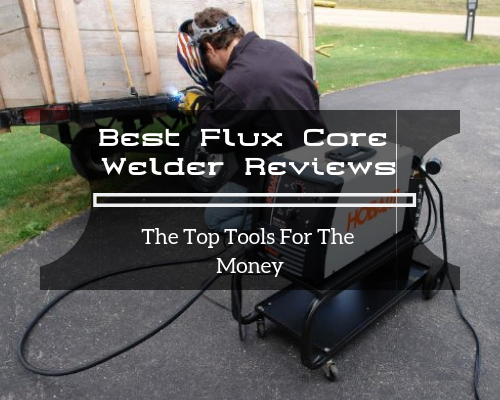 Whether you own a construction business, or you are an avid do-it-yourselfer, having a welding device to your building arsenal is good. A good welding device can come handy for a variety of projects. Thankfully, there is no shortage of welding equipment today.
Today, you are going to learn more about one type of welding device, the flux core welder. We picked the best ones out in the market today and found those that can get the job done fast but without compromising the quality of the end results. We don't want you to botch up the job or lose clients because of poor results. This is why we only recommend the best products. Read on to find out which products we highly recommend getting:
Best Flux Core Welder Reviews
Product
Details

1. Super Deal Black Commercial MIG 130 AC Flux Core Wire Automatic Feed

No Fuss. Functional & Affordable

Price: $
Highlight: Comes Ready For Use

Check Price

2. Forney Easy Weld 299 125FC Flux Core Welder

Powerful & Lightweight

Price: $$$
Highlight: Ideal For Beginners

Check Price

3. SUNCOO 130 MIG Welder Flux Core Wire Automatic Feed Welding Machine

Built To Last

Price: $$
Highlight: Stainless Steel Casing

Check Price

4. Hobart 500559 Handler 140 MIG Welder

Feature-packed But Too Expensive

Price: $$$$$
Highlight: Stable & Smooth Arc

Check Price
Look no further than this one if you are on a hunt for a powerful household welder. It mainly boasts of convenient and comfortable usage, thanks to its high-quality PVC casing and a welder that is easy to grip. Unlike other flux core welders that tend to be difficult to set-up, this one is a no-brainer. It has a user-friendly interface. In fact, you can weld right after unboxing it. Use the Variable Feed Speed Control setting to ensure that you can work as fast or as slow as you want. At only 38 lbs. of weight, you should have no problems carrying this around.
Pros:
This unit is easy to set-up. You can basically unbox it and then use it.
It comes with everything you might need for welding such as the 0.9mm reel, 0.5lbs of welding wire, a mask for safety, chipping hammer, additional 2 tips and 2.5M torch.
It is more affordable than many flux core welders out there.
The variable feed speed control setting ensures you can work at your preferred pace.
It has a compact size, so it should be easy to store or fit in your car.
Cons:
Some said at the slowest setting, the wire feed still goes a bit fast for their liking.
If you are looking for an entry-level flux core welder that still gets the job done, consider this one from Forney. Without the need for shielding gas, this should be one of the easiest to use, no matter where you are doing your work. Forney recommends this welder for beginners, but experts should have no trouble using this at home as well. If you are an avid DIY-er, you will find this a great ally in all of your welding projects. Forney even promises half an hour learning curve. That should be enough time for you to familiarize yourself with this flux core welder.
Pros:
This might not be as powerful as other welders out there, but it is definitely one of the most agile. Users said they recommend this on angled metals as it gets the job done with ease.
It is quick. You can weld in minutes.
Although it isn't advertised as a powerful machine, it does a good job welding heavier metals. You can still get satisfactory results with it.
It produces clean results. There is no need to clean it afterwards but there are no contamination effects you should worry about.
It is lightweight and easy to carry around.
Cons:
It is a small unit, so it is not for bigger projects.
Take this welding machine anywhere with you as it is compact and portable enough for easy transport. You don't have to worry about construction zone conditions because the exterior of this machine is made from heavy duty stainless steel that can be resistant to damages. It is built to last.
You can use this for small and minor repair work at home or for big projects. It makes use of convenient flux. This cored wire ensures the prevention of oxidation on the weld joints, allowing you to get the best results. Easily use this the first time with its adjustable current flow speed. You can also quickly adjust the wire feeding speed through a knob.
Pros:
This unit is one of the least expensive welders around, great for people on a tight budget.
It works fast, according to users, and doesn't emit a loud noise unlike other welding machines.
It is certainly built to last. A lot of people have had this for years and did not have issues with it.
This welder is also quite light in weight as there is no heavy transformer material inside. It also operates smoothly.
You can let it touch the tip of the metal since it is electrically isolated.
It produces consistent results every time.
You can use either 220V or 110V to run this.
Cons:
Set-up might be a bit challenging but there are instructional videos you can turn to. You might also need to get a separate plug to connect the welder to the regulator.
This might be the most expensive one in this list, but it definitely packs a punch when it comes to power. You can rely on this welder to weld up to 24 ga of steel. It also boasts of a wire feed speed range from 40 to 700 IPM, so you can choose the best option for your needs. One unique thing about this unit is its 5-position voltage control selector. This ensures that you will always get a stable and smooth arc no matter how thick the metal you are using.
Pros:
This unit has industrial performance. It is powerful, so it can get a variety of projects done.
It sets up in just a few minutes. It also comes with a guide that is easy to understand.
It comes complete with all the tools you need for getting started with your job.
This welder is backed by industrial warranty.
Cons:
The price might be too steep for many people.
Which is The Best Choice for You?
Now, all of these flux core welders are ideal but which of them will truly serve you well?
Affordable Choice: SUNCOO 130 MIG Welder Flux Core Wire Automatic Feed Welding Machine – We recommend this product for those who are on a budget. If you find all the fancy welders out there a little bit expensive for your budget preferences, get this one instead. It still has enough power to cut through normal-sized wires, so you can do a lot of projects at home with this. However, if you like something with more power for bigger uses, this might not be the best choice for you.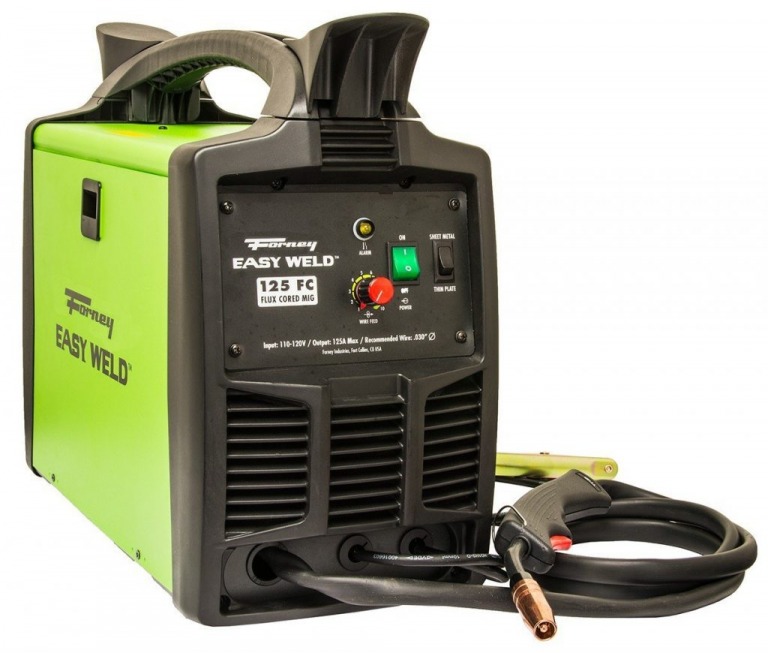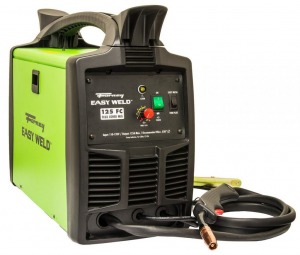 Easy to Use: Forney Easy Weld 299 125FC Flux Core Welder – Are you a beginner who is intimidated by the heavier welders out there? Consider going for this one. This is a small welder that is great for smaller projects but should have enough power to create decent results even with heavier metals. It is easy to learn how to use this unit.
Easy to Set-Up: Super Deal Black Commercial MIG 130 AC Flux Core Wire Automatic Feed Welding Machine – You won't be intimidated with this unit because of how easy it is to set up. In fact, you can just remove it from the box and use it straight away with minimal set up.
Industrial Performance: Hobart 500559 Handler 140 MIG Welder – If you are looking for something that has enough power to weld thicker metals, get this one. It has a power that is fitting for industrial purposes.
Tips in Buying the Best Flux Core Welder
Buying a flux core welder is just like buying any other kind of equipment. You need to sit down and think about what you want and then do a research on the products that are available out there. Let us help you out further with the following tips: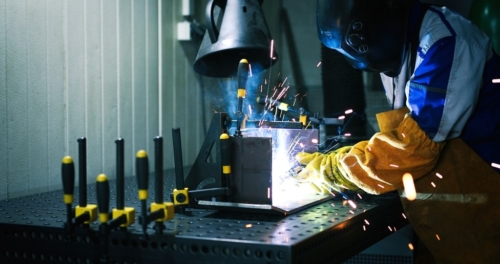 1. Determine your skill level:
Is this your first time using a flux core welder? While this is fairly easy to use, some machines may be geared more towards the more novice welder. By the way, you can read a lot more about those in this best rated welder for beginners (review)…
That means these machines are easier to handle and used even by beginners, so if you are a newbie, you should seek out these products to make it easier to use your welder. Otherwise, just go for the ones that can be used even by experts.
2. Assess the scale of your project:
Determine how big the project is. Will you be working with bigger metals? What kind of projects do you foresee yourself doing in the future? This can affect your buying decision. If you plan on working on bigger welding projects, make sure you look for a welder that is capable of accomplishing such tasks.
3. Set a reasonable budget for your first flux core welder:
Do your research and get an idea how of much flux core welders cost and start setting aside a reasonable budget for it. If you want to get more features from your welder, be willing to spend more money. It is also better to spend a bit more money on the features you know will be useful someday rather than buy a cheap welder that you will eventually replace once the scope of your projects increase.
4. Buy from a reputable brand:
Also make sure you do some sleuthing when it comes to the brands. It's not a cheap machine, so make sure the manufacturer can back it up with good after-sale service.
5. Make sure you get a warranty for your purchase:
Check if the unit comes with a warranty and for how long it will cover it. Find out what is included in the warranty, so you have an idea whether it is a competitive brand you can invest your money on.
What's Next?
Buying a welding machine can be tricky, what with the many choices you have. Make sure you learn more about welders by visiting our homepage and reading more product reviews and recommendations.
You can also find a review of one of our favorite flux core welders, the Lotos LTP500D here!