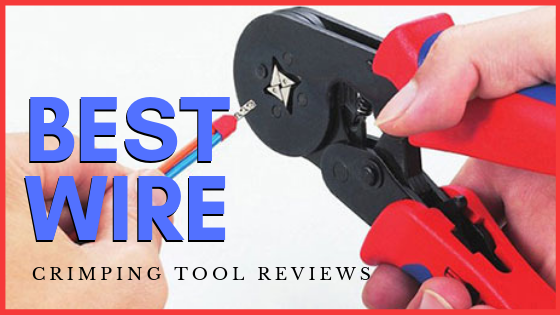 Don't underestimate what a good crimping tool can do. When it comes to fusing metal wires, this is the tool you should look for.
Not all crimping tools out there are created equal.
There are those that have better quality, more effective crimping functionality, and more ergonomic features. If you are searching for the best crimping tool, you came to the right place. This article will veer you in the right direction, so you can identify the right crimping tool that works perfectly for your needs.
Best Wire Crimping Tool 2019 Reviews
Product
Details

#1 IWISS Crimping Tools

Nice & Solid Crimps

Star Rating: 4.6
Highlight: Open Barrel Terminals
Price: $$

Check Price

#2 Titan Tools Ratcheting Wire Terminal Crimper

Strongest Crimps

Star Rating: 4.5
Highlight: Comes with a Release Lever
Price: $$

Check Price

#3 Hilitchi Professional Insulated Wire Terminals Connectors Ratcheting Crimper Tool

Durability & Ergonomics

Star Rating: 4.2
Highlight: Self-adjusting Functions
Price: $

Check Price

#4 Wirefy Crimping Tool for Insulated Electrical Connectors

Adjustable Pressure But Causes Hand Fatigue

Star Rating: 4.1
Highlight: Precise Ratcheting Mechanism
Price: $$

Check Price
1. IWISS Crimping Tools
"It might be slightly more expensive, but this tool is worth every dollar because of its excellent build and amazing results."
Three sizes of crimpers are built into its jaws, allowing users to use it to crimp different sizes of pins or wires. Alignment of each wire is easy, thanks to its "step" that puts the wire in place. This little feature has a big impact on the quality of your crimps as it ensures everything is aligned. There are no mispositioned wires.
Wires with #22 gauge can be crimped using the center bottom hole while the inner bottom one can accommodate #18 gauge wires. It brings versatility to the table as well because it can accommodate various types of connectors including JST, ATX and Molex IDE connectors.
Pros:
We recommend getting this crimping tool if you need something that will work with a multitude of wire materials. This is the most versatile in this list, making this a great option for all sorts of metal workers.
Aligning the wire in the slots is easier, thanks to the step included in its design. This prevents the wire from going out of place when you press the crimper.
This crimper has a good feel to it. The ratcheting function does not fail.
Cons:
Be careful not to use too much force or it could end up slicing the wires.
2. Titan Tools Ratcheting Wire Terminal Crimper
"This is a ratchet wire type of crimper that enables fast and convenient wire handling."
You can deliver the most consistent motions with this tool. From its jaw to its rubber-molded handles, this tool is sturdy and can hold up well against a lot of abuse. It weighs only 1.2 lbs. and offered at a competitive price.
Pros:
People have used this for a variety of purposes with minimal problems. It creates a solid crimp every time you use it. It creates this unique double crimp style that is more durable compared to the single ones. From automotive to home electrical wiring needs, this will work well.
It can handle one-handed operations. It is easy to hold even with just one hand, making this easier to use when you have your hands full.
It has a solid construction. Compared to others that feel flimsy, this has a sold feel to it through and through.
The rubberized grip is comfortable. You can crimp thicker materials without experiencing hand fatigue.
There were those who bought this for more professional usage, and they did not experience problems with it. It still catered to their needs without problems.
It has an affordable price tag, great for people on a budget.
This crimping tool also works with heat shrink butt connectors. It does not damage the connectors, which some crimping tools often do.
It comes with a release lever.
The joints remain solid even after a lot of usage. It doesn't become rusty overtime.
Cons:
Some people might find this a little bulky when working on tight areas.
3. Hilitchi Professional Insulated Wire Terminals Connectors Ratcheting Crimper Tool
"Don't let the low price fool you into thinking this is a cheap crimping tool with equally cheap parts."
This tool is reliable – so reliable that even professionals use it regularly. It has self-adjusting functions. It also boasts of special steel material that works on different types of tools, including semi-insulated terminals. This can also be relied on to work on butt terminal connectors. It can also accommodate 3 different sizes of wires.
Pros:
This is the cheapest crimping tool in this list.
It has a negligible weight – just 0.6 kgs. With its light weight, you can bring this with you anywhere and use it all day without working up a muscle.
This thing is built to last. With its solid steel material, this can be used for a long time without actually seeing any kind of damage.
It has an all-around application. It works in different types of wires but is especially beneficial to semi-insulated crimp terminals.
It is ergonomic. It makes way or the optimal hand grasping, so you won't feel hand fatigue.
It is lightweight, making this easier to work with for a long time.
This crimping tool has a compact structure as well. You can store it in your tool kit without it occupying such a big space.
The handles fit most hands perfectly.
It creates solid crimping connections all the time.
Cons:
This is only one-directional, so you will have to mind how you position the wires before crimping.
4. Wirefy Crimping Tool for Insulated Electrical Connectors
"This has one of the most efficient ratcheting mechanisms around."
In fact, it is so reliable, it can give the more professional-grade crimping tools a run for their money. It results in solid crimps all the time. Unlike other tools, this seems to accommodate insulated nylon terminals as well.
One unique feature of this is its adjustable crimping force. You can change the height of the star wheel in order to get the right crimping force that will correspond to the material you are working on. It also features a quick release lever function to make sure the crimper jaws open seamlessly no matter what the position is.
Pros:
It is a handy tool to have. It doesn't feel bulky, but it has a substantial size that can take care of more demanding tasks.
The end results are always solid and true. You never have to worry that the crimps will loosen up. Some said the crimps almost have a weld-like quality to them.
You can adjust the force of the crimp. With this, you never have to manually decide how much pressure to use.
It is ergonomic. The handles are comfortable and do not cause hand fatigue. The rubberized grip also prevents the hands from sliding off.
This product is backed by a lifetime warranty.
It is one of the more affordable crimping tools out there. For its quality, it is surprisingly affordable.
Cons:
There were those who said they still experienced hand fatigue with this.
When choosing a crimping tool, set your sights on these specific options:
Which Crimping Tool is the Best Choice for You?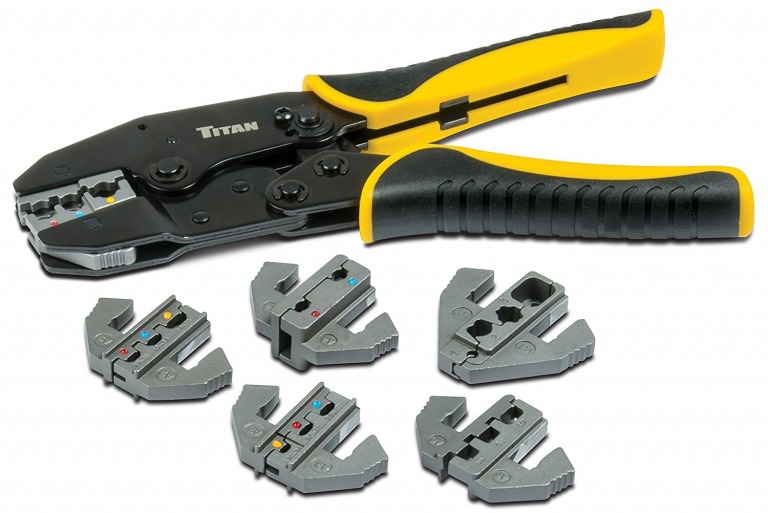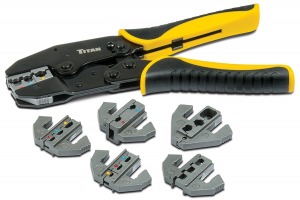 Stronger Crimps:Titan Tools Ratcheting Wire Terminal Crimper. You will be hard-pressed to find something more reliable and can yield stronger crimps at the same price range than this one from Titan Tools. It is capable of creating the strongest crimps without inflicting damage on the wire, especially when crimping heat shrink butt connectors.
Inexpensive Choice: Hilitchi Professional Insulated Wire Terminals Connectors Ratcheting Crimper Tool. Do yourself a favor and get this tool. It is not just affordable, it also has all the features you are looking for in a crimping tool – durability and ergonomics. It feels nice on the hand is neither too heavy nor too light. It has a good weight that can get the crimping job done but without tiring your hands out.
Versatile Crimping Tool: IWISS Crimping Tools. If you need something that can work on a variety of wires, this is a sterling choice for you. It does the work well and leaves behind nice and solid crimps. The tool itself is slightly more expensive than the rest of the tools in this list but still within an affordable and accessible price range.
Adjustable Pressure: Wirefy Crimping Tool for Insulated Electrical Connectors. This is the only crimping tool in this list with an adjustable pressure. With this feature, you can create a setting that will work on the specific wire you are working on. It eliminates the guessing game and prevents the tool from ruining the crimp.
Tips in Finding the Right Crimping Tool: Some Things to Consider
Finding the right crimping tool requires some considerations. Be more discriminating and use the following things to determine which crimping tool is the more ideal choice for your needs:
Operational volume
Generally, manual crimping tools are more ideal for low-volume work – the types of work that you just do occasionally. Heavier loads will require the use of automatic tools such as a pneumatic press. But it is still smart to make considerations on how large your operational volume is in order to determine whether the crimping tool you are using can work for the various applications you intend for it to do. An entry-level crimping tool might break down easily when used on tougher jobs.
Wire Gauge
You shouldn't buy a crimping tool without knowing what wire gauge you are working on. These tools differ when it comes to the wire sizes they can accommodate. You can end up buying a crimping tool that is too big for the wire gauge you are working on.
Another important factor to consider that is within the subject of crimping tool size is its profile. The crimping profile lets you know what die you are going to use. Generally, manufacturers include a cheat sheet on what crimper works with what dies.
Warranty
For your terminal, you would want to check the warranty specifications. There could be some specifications in the warranty that will dictate what brand and kind of crimper should be utilized. For instance, the specifications may be brand-specific. Not complying to this could end up voiding the warranty of the terminal.
Identify the types of crimping tools
When you begin your hunt for the best crimping tool, you will likely come across quite a variety of them. There are special crimping tools such as Crimper PK 95 that is specifically used to crimp overhead connectors. These crimping tools work with SK dies.
For uninsulated crimping tools, the ETA 66 crimper is used. This tool can also be used in crimping uninsulated cable terminals.
Tips in Getting the Best Crimped Joint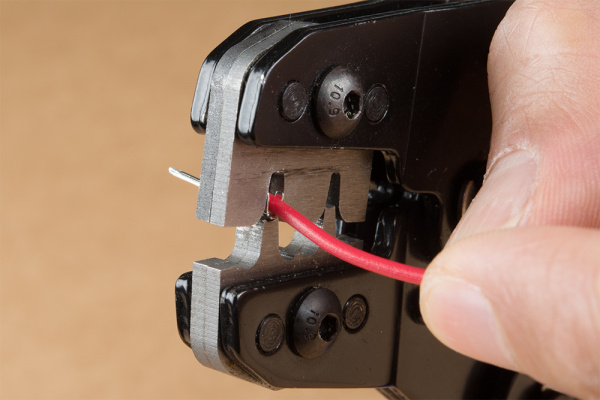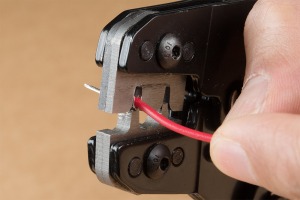 Aside from getting the best crimp, you also should follow a certain technique in crimping in order to get the best results. It also requires choosing the right terminals and wires.
Once you have arranged the wire, carefully place it in the tool. Make sure the wires are seated correctly. If you are using a ratchet tool, give it a little cycle before releasing it.
If you are using sleeving or a heat shrink, make sure the sleeve is fitted first and then has to be shrunk down. Use a hot air gun to accomplish this task. Once that has adhered, carefully place the wire in the tool.
Undercrimping is bad because it can lead to the appearance of gaps in between the wires. Excess moisture can get in between the wires and can then cause corrosion to appear. The wires can also loosen up overtime. On the other hand, you also would want to avoid over crimping. This can happen a lot and can be more dangerous because it is harder to detect. Only when the system actually fails will you see the effects of over crimping.
Conclusion
Now that you know all these, it is important to look for the best metal working tools that will work for your specific needs. We can help you find the tools that have the features that will work for your specific preferences.