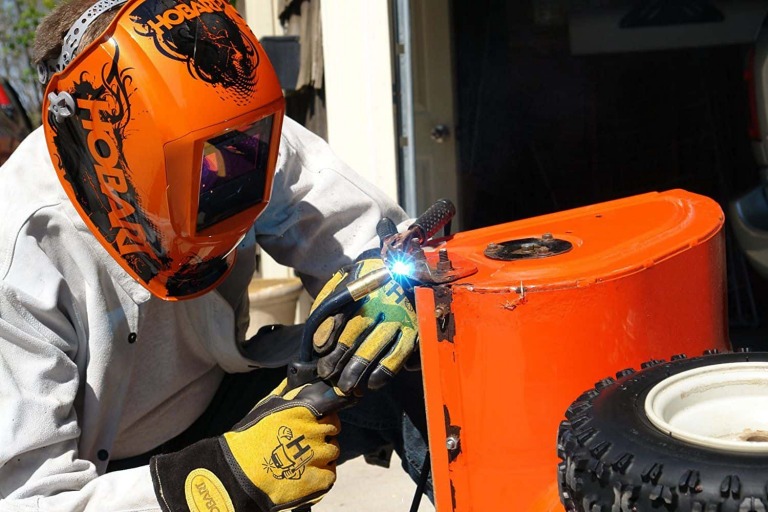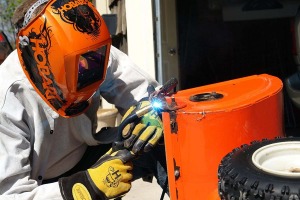 The best Hobart welding helmet reviews show that this is a manufacturer that combines value and style into one competitively affordable solution. Every skill-level is offered a solution with the various series that have been produced by Hobart. You will find the latest LCD technologies, eye protection that is often rated as the best-in-class, and comprehensive entry-level solutions that offer inexpensive safety.
Here Are the Best Hobart Welding Helmets in One Chart

It would be fair to say that the various series of helmets that are produced by Hobart can be rated as good, better, and outstanding. Each series offers some specific benefits that are worth considering. Here are the top-rated options that you'll want to consider if you're in the market for a new helmet.
Which Hobart Welding Helmet Is Right for You?

There are three series of helmets that are produced by Hobart. Each has specific advantages that are worth considering so that your specific needs can be met.
Discovery Series. This helmet series offers users a standardized viewing area lens. Dual arc sensors are provided for reliable light detection. There is also a grinding mode included to shield the wearer during prep or finishing. An external shade control allows for specific adjustments in all welding disciplines.
Impact Series. This welding helmet offers a larger viewing area and an additional arc sensor. It is a helmet that is designed to be supportive for every phase of the fabrication process, offering professional features that will help you to become more productive with each welding project.
PRO Series. This is the premium helmet that is offered by Hobart. It has the largest viewing area of any class, has 4 arc sensors for consistent arc detection, and a shade setting of 8-13 to offer an expanded level of support.
These three series of helmets are all auto darkening helmets. They feature a 2-year warranty and protect users thanks to a lightweight polyamide shell.
Hobart also products a series of passive welding helmets that are worth consideration. These feature a #10 fixed shade and are built from polypropylene to offer a lightweight experience. The headgear offers a fully adjustable ratchet headgear that provides a comfortable fit and is reasonably easy to adjust.
The passive welding helmets by Hobart feature a 1-year warranty.
Pricing Options for the Best Hobart Welding Helmets

For the auto darkening helmets made by Hobart, the Discovery Series tends to be the value purchase of choice. These helmets begin at $100 and go upward from there, based on the features that each helmet offers.
The Impact series is priced from $140. For an industrial-grade helmet with a 1/25,000 of a second reaction time, it is the most affordable option for professional welders to consider.
And if you demand to have the very best, the PRO series by Hobart begins at $210. It offers a reaction time of 1/30,000 of a second.
Real Life Reviews of the Best Hobart Welding Helmets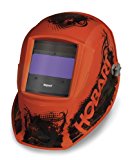 Priced as more of an entry-level helmet, it is one of the few in its class that offers a completely variable lens shading experience. You can use it for grinding in its light state of Shade #3. It also offers users a variable shade of 8-13 based on the arc that it senses from your welding project. Combined with the 7 square inches of viewing space that operators receive and you'll have a tool that will be effective and protective all day long. Check this Agent Orange Welding helmet by Hobart Review and find out why it can make you a happy welder.
Click here to view the price on Amazon and get the best deal.
What we enjoyed the most about this great welding helmet was the design of the headgear. The adjustments are easy to make, allowing you to receive a stable and secure fit. There is padding around the forehead and knob adjustments around the back so that you receive a superior fit that doesn't bit or grind into your skull. In return, you receive the flexibility needed to for any stick, MIG, or TIG welding applications. You can effectively weld in the 5-10 amp range while wearing the Hobart 770753 welding helmet.
Read this Hobart 770753 Auto Darkening Welding Helmet Review to know more about why it's one of the best industrial grade helmets today.
Click here to view the price on Amazon and get the best deal.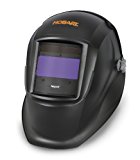 The power supply of this helmet comes from a CR2450 lithium battery. It's included with the helmet, but the variability and consistent switching does tend to wear it out rather quickly. We had to change the battery out in less than a week of part-time welding. We really like the ratcheting headgear that comes with this helmet, though there is a certain learning process to it so you can get the right fit. The gel pad is comfortable on the headgear, but it does seem to promote some extra sweat. TIG welding is also possible with this helmet.
Learn more: Hobart 770756 Impact Variable Auto Darkening Welding Helmet Review.
Click here to view the price on Amazon and get the best deal.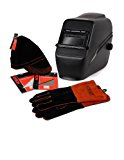 This is the kit to get if you need everything to protect yourself. It's more of a student kit than a professional kit, but there are some DIY specialist opportunities to be found with this equipment. You'll be receiving a welding cap, gloves, and a standard welding helmet that has a fixed lens with #10 shading. The gloves are form-fitted and of excellent quality, handling high temperatures with ease. They take a lot of abuse and work great. If you're just getting started in the world of welding, this is an affordable option that you'll want to have.
Click here to view the price on Amazon and get the best deal.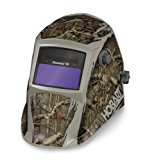 If you're a weekend warrior welder who doesn't want to spend hundreds of dollars on protective equipment, then give this helmet a good look. The camo artwork on the shell looks fantastic and the helmet itself is surprisingly lightweight. It offers variable shading in the 9-13 range and a light state of shade #4. The viewing area is a little small at 6.9 square inches, but is suitable for most projects that you'd want to tackle. There's also a grinding mode and a shut-off you can control on your own. With a reaction time of 1/12,000 of a second, you'll protect yourself from a flash without purchasing industrial-grade equipment.
Click here to view the price on Amazon and get the best deal.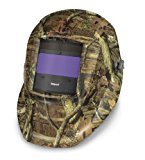 But if you love the look of the camo helmet from Hobart and you do need industrial-grade equipment, then this is the helmet you'll want to purchase today. Made from a durable polyamide, the helmet sits nicely and has the adjustments you'd expect to have a comfortable wearing experience. You get ADF protections in shades #8-13, with a light state of shade #3 for grinding support. The viewing area is 7.05 square inches, but the neck and side protection you receive makes up for the slightly small lens. Compared to the entry-level camo helmet, it's only $30-$50 more as well.
Click here to view the price on Amazon and get the best deal.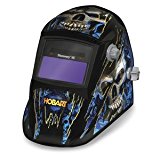 This is another solid Hobart welding helmet that gets all the basics right for a fantastic price. The artwork alone on this helmet is comparable to models from other brands that sell for 3x the price of this helmet. You'll receive variable shade protections, between 9-13, and can take advantage of the grind mode that is on so many of this brand's helmets. The knobs are easily accessible, but the shell is just a bit thinner than on other models. Perfect for the student or occasional DIY welder.
Click here to view the price on Amazon and get the best deal.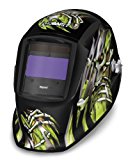 This is another of the industrial-grade helmets that are available from Hobart in the Impact series. It offers the 7.05-square inch viewing area, a polyamide shell, and a shade protection range of 8-13. Powered by a lithium-ion battery, you'll be able to take care of out-of-position welds with relative ease on this helmet. We also appreciated having the grinder setting on the inside of the helmet instead of as a knob on the outside, so you don't have to worry about catching it when working in an enclosed area.
Click here to view the price on Amazon and get the best deal.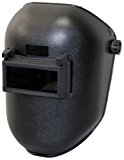 This is your basic lid that can work on a wide variety of basic welding jobs. It's been approved by ANSI, so it is suitable for some professional applications. The viewing area is just 4.5 x 2 inches and the adjustable fit isn't always adjustable, but you're also purchasing an entry-level, very basic welding helmet. It's a good option for students who might be thinking about welding, but not sure if it is right for them. It can also be a handy backup in case something happens to your primary rig.
Click here to view the price on Amazon and get the best deal.
The best Hobart welding helmet reviews will help you to find a great helmet at an affordable price. Grab yours today and you'll find that your next welding project might just be a little easier to complete.