If you find yourself dealing with harder metal materials more often, you should consider getting a metal lathe. It helps you do wood and metal shaping a LOT easier than doing it manually.
I found that out the hard way…
There are a lot of good options out there, but we are here to help you find the one that truly works for your needs. Check out which of the metal lathes out there we recommend.
Best Home Workshop Metal Lathe 2019 Reviews
Product
Details

#1 Shop Fox M1015 6-Inch by 10-Inch Micro Lathe

Compact but Powerful

Star Rating: 3.4
Highlight: Convenient Control Panel
Price: $$$

Check Price

#2 Erie Tools Precision Bench Top Mini Metal Milling Lathe

Comes with Many Inclusions

Star Rating: 3.2
Highlight: Digital Read-out
Price: $$$$

Check Price

#3 Grizzly Industrial G8688-7" x 12" Mini Metal Lathe

Great for Hobbyists

Star Rating: 3.4
Highlight: Solid Little Machine
Price: $$$$

Check Price

#4 Central Machinery 7 x 10 Precision Mini Lathe

Easy to Use

Star Rating: 3.2
Highlight: Chuck Guard with Micro Switch
Price: $$$

Check Price
1. Shop Fox M1015 Micro Lathe
This bench-sized lathe has the perfect size and power to do a wide range of applications. It is capable of accommodating small to large-sized projects, thanks to its compact design but powerful operations. Fully equipped with the features you can get in more expensive models, this more affordable metal lathe is just the thing budget-conscious individuals will find an ideal option.
Its dimensions are 40-1/2-inch x 23-1/2-inch x 15-inch. It is small enough for easy handling but big enough to handle more rigorous loads and applications such as faceplate and chuck mountain, 4 jaw chuck lathing, dead center lathing, tailstock lathing and faceplate lathing.
Pros:
Perhaps its best feature is its control panel. It has a convenient location, so you can set it up to the operations you prefer. Make adjustments to the setting using its speed dial, clutch knob and rotation selector knob.
It has manual operations if this is needed in your project.
Seamlessly switch from automatic to manual feed using the clutch.
It has a good range of thread cutting ability. It is capable of cutting 16 to 24 per inch of thread.
You can refer to the threading chart to determine which gear to use to correspond to you thread per inch needs.
The compound slide is easy to use. You can set the position for cutting you want. The hex nuts integrated in it work well in achieving the angle you want.
The longitudinal hand wheel has a dual purpose. Aside from using it to move the carriage from left to right, this can also be used to set the machine to your preferred operations. When doing threading work, you can rely on this feature to achieve the right angle.
This might be small but it is heavy-duty. It can accommodate more serious workloads with ease.
This is a less expensive option, great for those looking for a metal lathe that can work with them as they go from a beginner to an expert metal worker.
Cons:
Some said it is too fast for them. If the speed is slowed down, it also takes away some of its power.
2. Erie Tools Precision Bench Top Mini Metal Milling Lathe
This variable-speed metal lathe has a lot of power. With its 400 watts of power, t is capable of delivering 0.53 horsepower, great for those more difficult lathing work. It has 7 inches of swing over bed and makes use of MT3 spindle taper and MT2 tailstock taper. The cross slide has 2.56 inches of travel while when used for top slide work, it can accommodate up to 1.38 inches of length.
This meal lathe has the lowest longitudinal feed rate of 0.0039 inches but can go as high as 0.00787. With its speed of 50 RPM that can go as high up as 2500 RPM, it cuts through metals like bigger milling lathes out there. Included in your purchase are change gears made from plastic material, a cutter kit with carbide tip, some sliders and adapters.
Pros:
It has a digital readout that is a cinch to read. You can easily adjust your RPMs because of how easy the digital readout is to use.
Using the thread indicator is easy. It allows you to turn the screw threads from a TPI of 12 to up to 52. You can use either imperial or metric pitches.
The chuck has multiple jaws, making it easier to hold different sizes of chucks.
It comes with an auto feed function, which is completely adjustable.
The tool post accommodates up to 4 different cutting tools.
If you need a different cutting tool in the middle of a project, switching to a different tool can be done easily.
It comes with a comprehensive manual that should show you how to easily assemble this metal lathe.
Many people also commended the packaging. It was well-packed, so no parts were damaged during the process.
Quality-wise, you won't have anything bad to say about this metal lathe.
Cons:
It comes with a lot of rust-proofing, so buyers had to take those all out before they were able to use it.
3. Grizzly G8688 Mini Metal Lathe
Don't be daunted by its small size. It might be small, but its 3/4 HP of motor does a variety of work, making this a flexible option for those doing a wide range of metalworking applications. Just like the previous one, this one also has a variable speed setting. It starts at 0 and can go as high as 2500 RPM. It is easy to control and set, thanks to its metric reading dial.
This also has a turret tool post and a splash guard. It comes with a chip tray as well. It features 7 inches of swing over bed and 12 inches of distance between centers. It has 12-52 TPI thread range, allowing you more flexibility in what you can do with it.
Pros:
This is a small and compact metal lathe. It can fit better in smaller spaces.
The variable speed setting is a useful feature. It allows you to set its speed to the one that works best for the project you are working on. You can also do reverse work in all speed settings.
It has a lot of accessories and parts.
Your purchase comes complete with a backsplash guard, a chip pan, a jaw chuck and some service tools.
Many people said they like the customer service that the manufacturer offers.
All the gears are quite durable, so they shouldn't break easily. Even though it is designed for smaller projects, it might also work for the bigger ones.
Cons:
There were complaints about the compound slide. There were those who said if they worked on something more solid, it has a tendency to wobble.
4. Central Machinery Precision Mini Lathe
This mini lathe can do a lot of work. It can be relied on to do bushing designs, create prototypes and make spindles. It comes complete with a chuck guard for its micro switch and 18 threads for more versatility.
You can switch from the automatic feed to the manual one with little to no issues. It even has a variable control knob to make this easier to operate. You can use this mini lathe to work on projects that tend to last for hours. Its power output is high, but it does not overheat easily.
Pros:
This is one of the most affordable metal lathes out there, so if you are looking for one that will not break the bank, get this.
It has a lot of power. The motor has a 250-260 watts rating and delivers 4 amps of power, thereby accomplishing those small to medium tasks with ease.
The power switch has a light, which indicates if the motor is turned on. This makes it easier to determine if the lathe is working or not. It also eliminates accidentally operating it.
It has a forward, off and reverse function.
The forward function is its basic spindle chick operation but can be reversed to do a counterclockwise turn. This feature change should be done while the lathe is turned off.
It has a variable speed setting. You can set it from 0 to 2500 RPM using its easy-to-use speed control knob.
Many said it is easy to use. They also did not have issues with slippage.
Cons:
This is lacking in cutting tools, so if you need one for your project, you need to get it as an additional tool.
Which of These Metal Lathes is the Perfect Choice for You?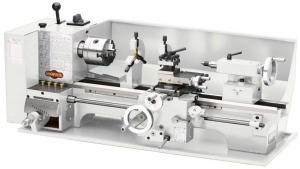 Ideal Entry Level Metal Lathe: Shop Fox M1015 Micro Lathe
This metal lathe might be small, but it can give the bigger ones out there a run for their money. It can do a wide range of metal lathing work. It has sufficient power to accomplish more difficult tasks. For its price, you definitely are getting plenty of features. Even professionals will like this compact lathe for those small and medium-sized lathing jobs.
Variable Speed Setting: Erie Tools Precision Bench Top Mini Metal Milling Lathe
This is the metal lathe you should look for if you prefer something with a variable speed setting. Aside from that, it also has a lot of features that will allow you to customize its settings to your preferences, so you can work with minimal restrictions. This has a good power to it as well, making this an ideal choice to both hobbyists and professionals.
Perfect for Hobbyists: Grizzly G8688 Mini Metal Lathe
As a hobbyist, you can do a multitude of projects with this metal lathe. It is capable of accomplishing different tasks even in a small package. It is packed with a lot of useful features and has a good build and quality that will make you think this is a more expensive metal lathe.
Great for Longer Operations: Central Machinery Precision Mini Lathe
This is the tool you should look for if you often use metal lathes for a long time. It runs efficiently and has a sturdy build that will allow this to withstand long hours of operations.
Benefits of Using a Metal Lathe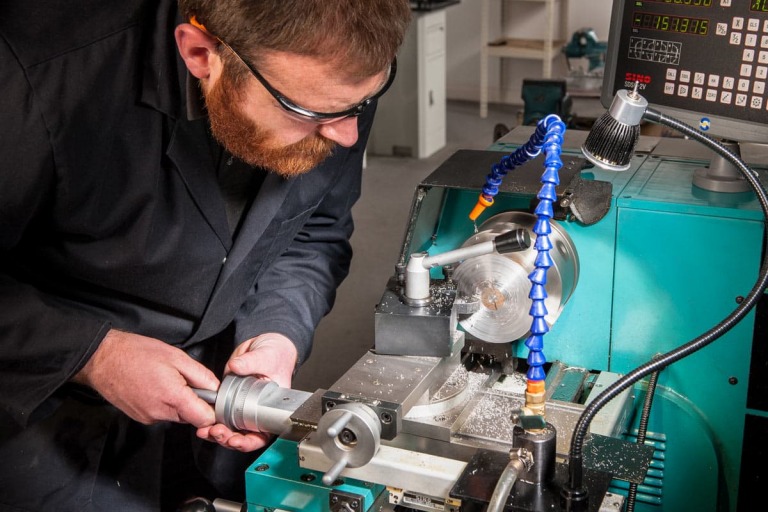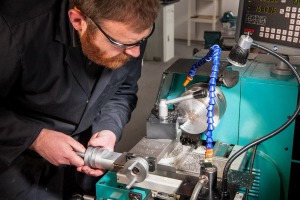 The primary reason why you should be using a metal lathe is to save time. It is a versatile tool that can do the work of different machines. With just one tool, you can do a variety of tasks without spending so much time doing it manually. What usually takes days to complete only takes a few hours with this tool.
Metal lathes are also more ideal for creating rounded parts. With this machine, the actual work piece does the turning instead of the tool. If you are making rounded or cylindrical parts, this is definitely a good tool to get. It creates more precise cuts compared to manual operations. This is also an ideal machine to use if you are creating custom tools.
If you are working with parts that have limited surface quality, having a lathe comes handy as it effectively leaves a better finish.
Some More Tips in Buying a Metal Lathe
When buying a lathe, you might find the cornucopia of features integrated in it a bit difficult to sift through. What you can do is list down all the features of your ideal options and then compare them in chart form. That way, you can determine what the differences are in terms of features and it is easier to see if there are some features missing in the other metal lathe options.
The most important thing to consider when buying a metal lathe is to determine which one would work best for your specific needs. A mini metal lathe might not accommodate your bigger metalworking needs.
Consider what your work preferences are first, so you know which one is the best choice for you for your next project.
Conclusion
Look no further because these are the best metal lathes that your money can buy:
Need more help in finding the best tools to buy? We have everything you need on this site. Our reviews and buying guides can help you narrow down your various choices to the ones that can produce the best results.