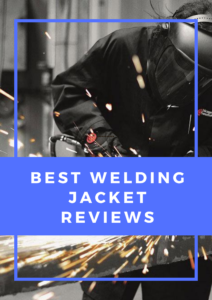 The sparks are flying everywhere. A little splatter starts flying your way. You can't move because you're in the middle of the weld. You brace for the impact.
What happens next depends on the quality of the best welding jacket that you've purchased for your personal safety. If you have a top-rated welding jacket that can handle heat and splatter, then you can ignore what is coming your way and focus on the task at-hand.
If you're wearing a thin shirt, a low-quality jacket, or you're not wearing any protective equipment at all, then your next move is to dodge the splatter if you can. You might succeed, but you might also create a terrible bead or joint in the process.
You don't need that, which is why finding the right welding jacket for your needs should be a top priority.
The Best Welding Jackets Reviews

Product
Details

1. Carhartt Flame Resistant Twill Shirt

Stylish & Lightweight

Price: $$$
Material: FR Twill & Nylon

Check Price

2. Chicago Protective Apparel Jacket

Got All The Basics Right

Price: $$
Material: Cowhide

Check Price

3. Hobart 770569 Flame Retardant Welding Jacket

Durable & Affordable

Check Price

4. Ironcat Heat-Resistant Welding Jacket

Comfort Fit

Price: $$$$
Material: Cowhide

Check Price

5. Lincoln Electric One-Size Flame-Resistant Welding Apron

Full-body But One-size Only

Price: $
Material: Cowhide

Check Price
If it's warm outside or you're welding in an enclosed environment, wearing a thick jacket or apron just isn't an option. You'd get hot and sweaty and that could affect your focus. This lightweight Twill shirt is a solid option to consider so that you can keep the heat down. It looks like a traditional button-down business casual shirt, but the 6-ounce FR Twill of 88% cotton and 12% nylon is flame-resistant so you don't have to worry about sparks. It also has anti-odor components and takes the sweat away so you don't feel wet and soggy while working.
We like this welding jacket because it gets all of the basics right. Made from cowhide leather, it features a fold-over collar and a snap front closure so you can protect your neck against sparks in a meaningful way. There's also an inside pocket and one soapstone pocket on the arm. The snap wrists are adjustable, which is another nice feature, and the jacket is unlined so it won't make you feel overly hot. The fit is about a size smaller than normal, so take that into consideration when you place your order.
If you're looking for a durable welding jacket that is also affordable, then this is your best value option right now. It features a cowhide split leather that is flame-retardant, but still feels like you're wearing a 100% cotton shirt instead of a heavy coat. You can pop the collar to give yourself some added neck protection. It's unlined, so it's perfect for working in warmer temperatures. The snaps on the coat can be a little touchy, so take care of them and the coat will take care of you.
This heat-resistant jacket deflects sparks with relative ease. Made from leather, there is a Kevlar thread that has been woven into the material so that it has a higher level of durability and strength. We also like the fact that there is an outside pocket at the hip of the coat, as well as a soapstone pocket on each sleeve, so you can keep your accessories close. If you work in a high capacity facility or want the best protection for your home projects, you'll want to give this welding jacket a closer look.
This welding apron gives you a full-body benefit when it comes to the debris that a welding project can throw your way. Made from a durable cowhide that has been treated to be flame-resistant, it is a comfortable one-size solution that will fit most. It's a little small for those who would be classified as Big & Tall and could be a little large if you're under 5'5", but otherwise it is a highly effective protective solution.
Pricing Options for the Best Welding Jackets

Most welding jackets are priced in the $100 range. Depending on the quality of the leather that is used, you might see prices in the $200 range – or sometimes greater. Synthetics tend to be a little cheaper, but they also limit the uses of the jacket.
Our Suggested Best Welding Jackets that You can Buy
Welding jackets come in varying levels of insulation, composition, and structure. Each option has some unique strengths to consider, but all of the jackets in this review have the ability to give you the protection you need when welding. Which option is the best jacket you find for you?
Should I Purchase Welding Chaps or a Welding Jacket?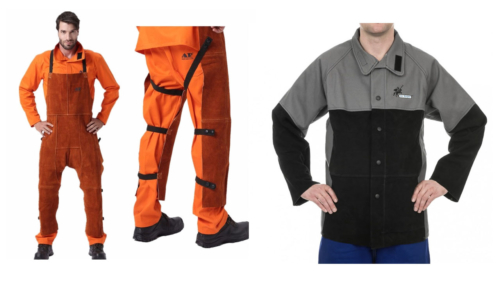 In a perfect world, you should own a pair of welding chaps and a welding jacket. That will afford you the best possible protection. That isn't always a cost-effective solution, however, especially if you're just getting into welding or are an occasional welder at most. That's why investing in a high-quality welding jacket is often the best option.
Welding jackets are an item of personal protective equipment, so it must protect you from high heat and metal splatter. It does this by using fire-resistant materials which have some level of thermal insulation.
Welding jackets are often recommended for cold weather environments, but they are an all-year solution for personal protection. The amount of heat that is generated by a welding jacket depends on the materials that are being used. Most jackets are made from leather, providing good durability and resistance properties. They require some care to maintain, but are a solid material for a welding jacket.
You'll find these additional material options are available in the modern welding jacket as well, with each having specific strengths that are worth considering.
Welding jackets or shirts made from cotton are chemically altered to provide a greater resistance to heat and flame. The durability is lower than leather, but there is better flexibility, a softer feel, and lower heat retention.
Made from two synthetic fibers, this is a solid option for welders who expect heavy amounts of splatter. It is a comfortable jacket, but one that does not offer any heat retention. If it is cold in your project area, you'll be cold wearing this jacket.
Carbon Fiber. These jackets tend to be stiffer than other materials, but they also offer a high-temperature utility that is second-to-none. Many cotton-based welding jackets include carbon fibers within the weave to give it a better resistance factor.
If you are an occasional welder who doesn't experience a lot of splash, then a denim jacket could help you out in a pinch. Its protection level is very low.
You'll also find that some jackets and chaps will infuse vulcanized rubber into the materials as well. It is not a typical material that you'll find available, but it could have some useful properties for heavy splatter situations.
How Long Will My Welding Jacket Last?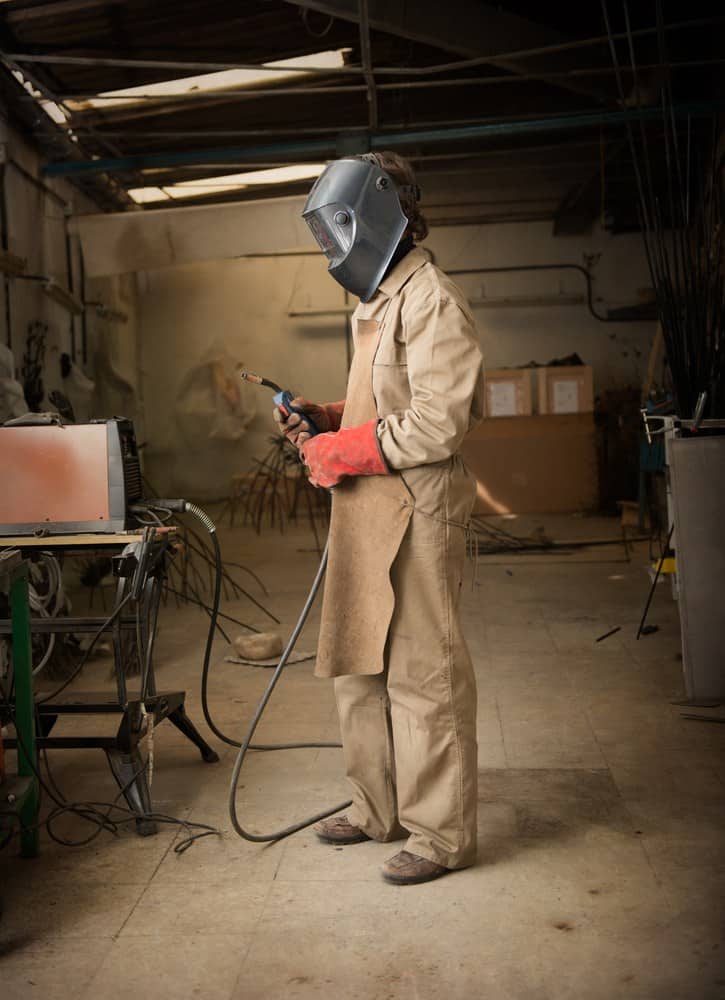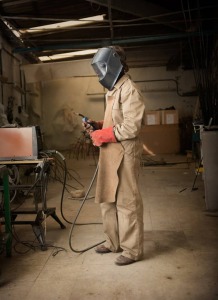 Like any product, there is a certain window of depreciation that a welding jacket has, which is based on the amount of wear it receives. Over time, the features of the jacket are going to wear down. With enough time, the flame and heat resistance of the personal protective equipment will wear out and leave you vulnerable.
Most welding jackets are designed to last about 3-5 years with regular wear. That means you'd be welding 2-3 times per week. If you are wearing your welding jacket every day, then you may only get 2-3 years of life out of it. On the other hand, if you're only an occasional welder, the jacket you choose today could protect you for more than a decade.
How to Find the Right Size of Welding Jacket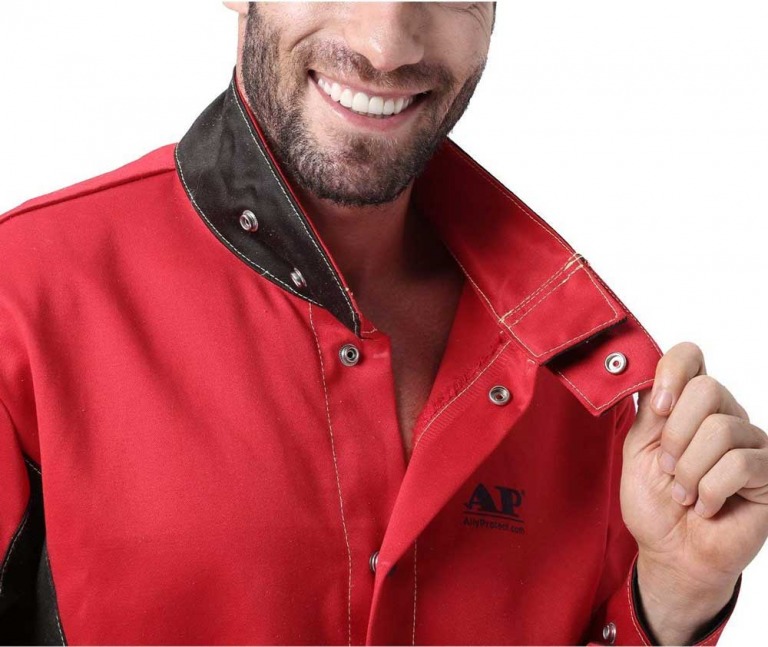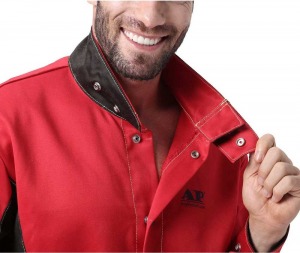 Most welding jackets are given a standard size (S, M, L, XL, etc.) that is based on the chest measurement. To obtain an accurate chest measurement, you'll need to wrap the tape measure under your armpits, around the fullest part of the chest.
You want the tape measure to be snug, but not so tight that it is leaving red marks on your skin or constricting your breathing.
Some guys tend to puff out their chest or stand awkwardly during the measurement. This will throw off the accuracy, so just stand normally.
Take the reading and then compare it to the sizing chart of your preferred welding jacket so that you order the correct size for your needs.
The Belly Exception: If you haven't seen a six-pack since forever and your belly is a bit larger than your chest, then you'll want to substitute a belly measurement for the chest measurement. Otherwise, you may find it a little difficult to zip or button up your jacket when it comes time to weld.
To obtain the belly measurement, follow the same steps as the chest measurement. The only difference is that you'll run the tape across the belly button instead.
Do not measure at the hip bones. Men tend to carry more weight in the belly than the hip, which will throw the measurement off. The belly button sits just above the hips.
Conclusion
The best welding jacket will keep you comfortable while protecting you as you work. These are the best options on the market today. Grab your jacket, apron, or shirt and you'll be ready to complete that next project.
Choosing the best welding jacket is vital for your safety and although all the jackets we've reviewed offer good protection, overall we'd suggest the Carhartt is the best option for both home and professional welders.
Learn more about the best welding accessories featured here that'll meet every welder's needs.