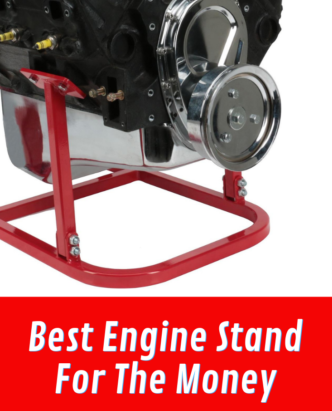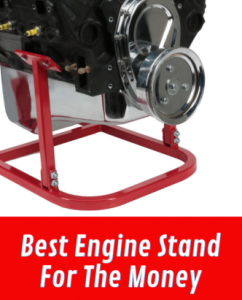 Repairing an engine is easier if you can see all parts of it. Since engines weigh a lot, that can be hard to accomplish manually. This is where a nice and handy engine stand comes in. The best engine stand is capable of holding a variety of engine sizes and weight. It should also resist damage and corrosion. If you need one, make sure you stick around to find out which of the engine stands out there we recommend buying.
Best Engine Stand Reviews
1. Torin Big Red Steel Rotating Engine Stand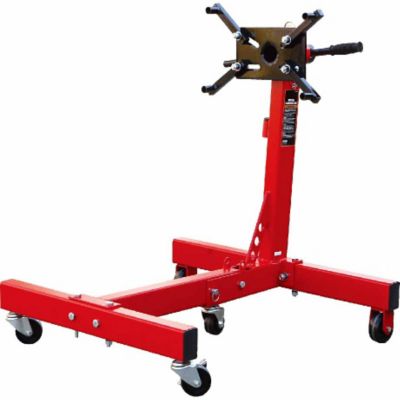 An engine stand that can accommodate up to 1500 pounds of load, this is one of the best out there today. It has an excellent design that stays upright and prevents tipping over even when holding a heavy load. Compared to the engine stands with similar features, the price is more attractive. It is a balance between quality and affordability.
It is easy to move around, thanks to the fluid-moving swivel castors that allow you to place the engine in the exact area you want it to go. The engine is ensconced in its four arms, all of which are completely adjustable. It is also capable of doing a 360 degree rotation, perfect for allowing seamless mounting and for better adjustability to access all sides of the engine.
Pros:
This is sturdy and well-made. You won't have problems with it breaking down due to engine weight.
It is sold at a good price range. It is definitely great for people who are looking for both affordability and quality.
The castors are true. The entire engine stand rolls seamlessly, even on more unstable surfaces. This is a great choice if you are transporting engines.
We like how you can fold this up easily. It takes up very little space when placed in storage. The foldable joints are also durable.
It really is built to last. There were those who said they used for months without taking out the engine and it still remained like it was when they first got it.
The weight capacity seems to be accurate. Users were able to put engines just right below its maximum capacity and did not have issues with it.
This tool is a cinch to assemble. It comes with complete parts, so all you need is to assemble it and you are good to go.
Cons:
Some just said turning the engine over with it can take some time to get the hang of.
2. Goplus Engine Stand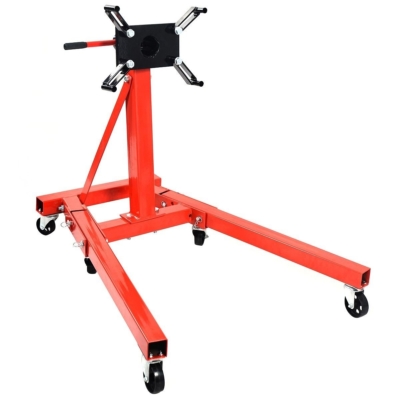 Do you work on heavier engines? Get this one then. It can accommodate up to 2000 lbs. of engine weight. It does not buckle under the weight, thanks to the reinforced steel neck. This added reinforcement prevents the entire stand from flexing when loaded with something heavier.
Aside from its sturdy build, this engine stand has also been treated with a coating to resist rust and corrosion. This helps prolong its life and keeps its red and black coating vibrant for a long time. The casters are also made from durable materials, so you can be assured that it remains stable even when subjected to a lot of load. The 360-degree rotation feature found in the first product can also be found in this one.
Pros:
The maximum capacity of this engine stand is higher compared to the previous one. If you frequently work with heavier engines, this is definitely a great buy.
It offers better neck support compared to the others. The neck area is made from a solid material that prevents flexing.
The anti-corrosion feature ensures you can subject this to different weather conditions and not worry that rust will settle in. There are instances when rust can form more on metal parts. If you live in an area near the beach, for instance, the salt in the air can speed up the corrosion process.
That won't happen with this engine stand.
It is a flexible tool and one that can be easily adjusted. The 360 degree rotation makes it easier to see all parts of the engine without lifting it manually.
The casters seem to be as durable as the rest of the construction. Even under heavy loads, it still holds up well.
It folds down easily. You can carry it anywhere you want and also store it neatly in a convenient location.
It comes with instructions on how to assemble it. Most buyers did not encounter problems with assembly and said it only took them a short time to put it together.
Cons:
Some recommend replacing the adjustable leg bolts with something that is more substantial as this might not be enough to accommodate heavier loads. There were also those who said there were a few washers missing in their purchase, but it is nothing that a quick trip to the hardware store can't solve.
3. Performance Tool Engine Stand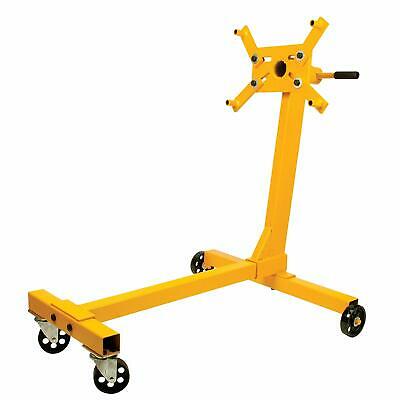 Be able to mount up to 1000 lbs. of engine with this entry-level tool that has a more affordable price tag. While it is not the cheapest one in this list, the price might come as an advantage to people looking for something that won't break the bank. It comes complete with all the features you can find in the previous products including a 360 degree rotating function and 6 locking positions. The mounting head is also completely adjustable. Made from heavy-duty tubular steel material, you can expect this engine stand to last or a long time.
Pros:
As an entry-level engine stand, we think this is one of the best. Its performance is top-notch, and it is capable of holding up to 1000 lbs. of engine even when perched on it for a long time.
It has excellent stability. There were no issues about this engine stand tipping over when subjected to a lot of weight. It comes with a balancer, but many people did not find the need to use it.
The length of it also fits many standard engines.
It is easy to maintain. Some said this required the occasionally oiling but other than that, it is pretty low-maintenance.
Users did not have issues rotating this contraption.
This has a good price, great for those on a tight budget.
It is backed by good customer service as well. There were those who had issues with missing parts, but the seller responded promptly.
Cons:
Some said the welds leave a little something to be desired.
4. Chevy V8 LSx Engine Storage Stand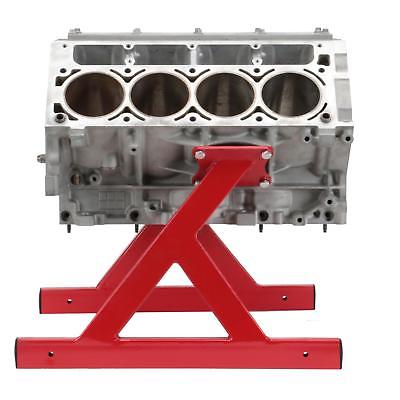 The design of this engine stand is diffident from the previous ones because it doesn't have casters and a mounting bracket. This is made from high quality tubing material. The engine can be mounted on a plate that has been crafted from ¼-inch steel. It comes complete with the bolts you need to mount the engine.
There are advantages to not having casters. The most important one is that it has more clearance, which will allow you to fit it with deep oil pans. If you don't want to detach the transmission, that can be done as well with its design.
Pros:
This is an affordable choice. Anyone can buy this. It can serve as your primary stand or even as a back up stand.
It is lightweight and has a compact design that makes this easier to bring with you anywhere you go. It has a 2-piece design that you can take apart when you need to store or transport it.
You can fit deep oil pans and not have to detach the transmission.
Mounting engines isn't very complicated. Even novice workers will find this easy to use.
The solid steel construction is reliable. It doesn't corrode easily.
It isn't as limiting as other engine stands because of the design. It may also work with heavier engines.
The powder coating is durable as well, according to users.
Cons:
Doesn't come with casters. If you want to move it, you might have to push it or lift it.
5. JEGS Engine Cradle with Wheels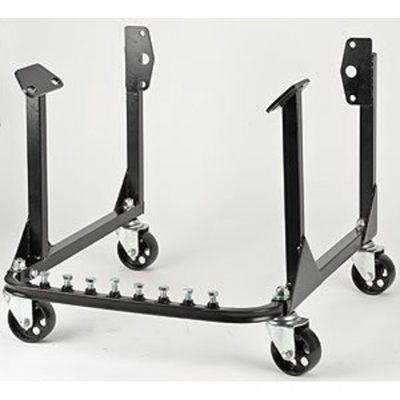 It might not be all the time that you need an engine stand that accommodates bigger loads. You might also need one that is more like a cradle such as this JEGs stand. Its sturdy all-steel design and construction works in carrying block chevy engines of up to 750 lbs. With its fine powder coating, you can be assured that it will look new for a long time.
Pros:
It stays true to its promise to accommodate 750 lbs. of weight.
It is the cheapest one in this list.
It doesn't work on LS motors, but some people made it work by simply cutting off the bolt holes in front.
This product might be cheap, but it definitely does not skimp on quality. Everything about this feels solid. Even the wheels are heavy duty.
There were those who said that it feels slightly wobbly, but once they placed the engine, it is as solid as the other ones.
It leaves a lot of room for customization. Some people replaced the included bolts with stronger ones while the others placed different casters.
Cons:
It can take up some storage space since it can't be folded down. However, you can alternatively use this as a bolts storage when this is not in use.
Which Engine Stand is the Best For You?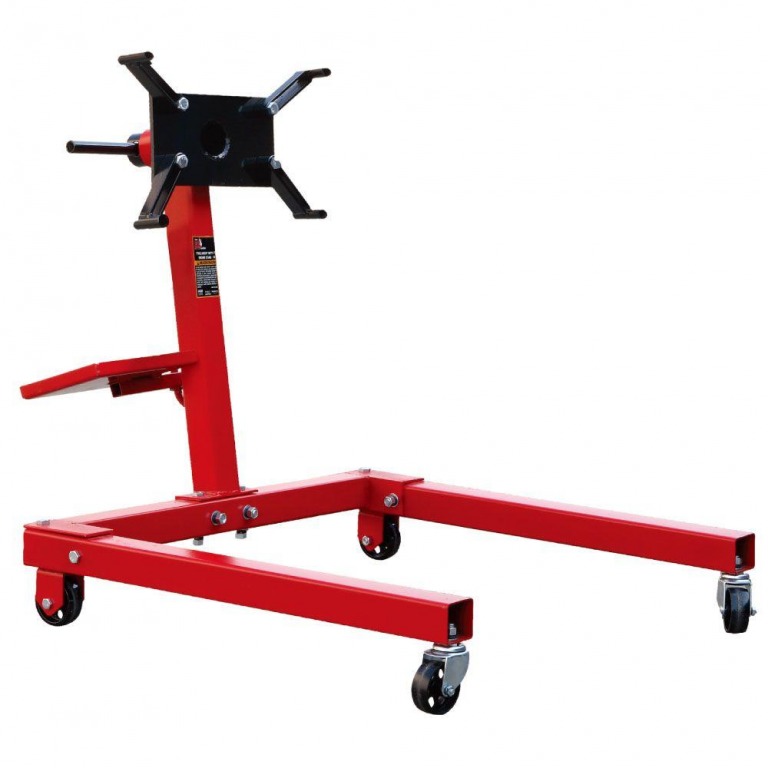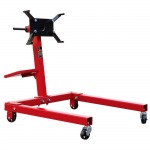 Great for Heavy-Duty Uses: Torin Big Red Steel Rotating Engine Stand. This engine stand from Torin will not fail you if you are working on engines or other materials no heavier than 1500 lbs. It does a great job accommodating that load for weeks and months without showing signs of wear and tear. At its reasonable price range, this can't be beaten.
Best Choice: Goplus Engine Stand. Whether you are working with small or large engines, you will find this engine stand a great choice. We think it is the best not just because of its ability to accommodate heavier loads but also because it is resistant to corrosion. All the parts are also reliable, especially the casters that remain mobile even when subjected to a heavy load. It is slightly more expensive than the previous one but with its higher capacity and better reinforcement, we think springing more money to buy it is worth it.
Great Stability: Performance Tool Engine Stand. There are definitely far better engine stands in this list. But for its price range, it is hard to say something bad about it. It does what it is supposed to do and performs well, even when tested on its maximum capacity. We think this is a good choice if you are looking for something a bit more mid-range.
Fits Dressed Engines: Chevy V8 LSx Engine Storage Stand. No need to strip your engine bare with this tool as its design can accommodate engines that still has a transmission attached. It is a 2-piece design as well, which means you can position it any way you want. Both pieces are well-made and can accommodate more difficult loads. This is a good option if you don't like the previous ones with casters.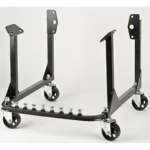 Ideal or Smaller Loads: JEGS Engine Cradle with Wheels. You should have no issues using this engine stand for smaller loads. The design is more of a cradle style, but it performs well in accommodating 750 lbs. of engine. It is easily customizable, so you can change its settings to work with your specific needs and preferences.
Conclusion
You don't need to look further because these are the engine stands that you won't regret buying:
Do you have complete accessories for metal working in tow? We can help you complete your arsenal. Check out our website to find more tools and accessories that will make metalworking a lot easier.