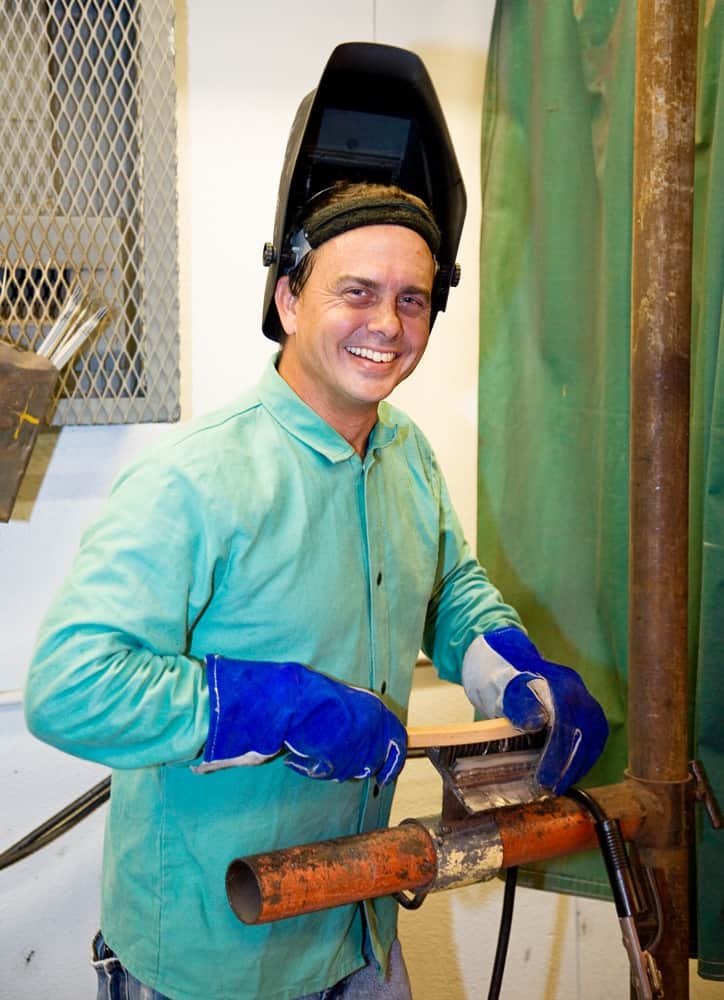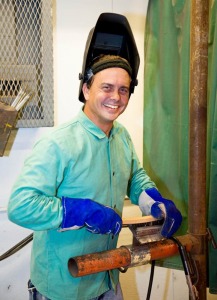 Welding can be a lot of fun. It can also help you improve the value of your home by allowing you to make essential repairs without the need to hire a specialized repair professional. It can become a relaxing hobby.
It can also be a great side hustle if you are looking to supplement your income.
Here are some of the best welding project ideas that can help you accomplish your goals, perhaps as soon as today.
Welding Projects for Beginners

#1. DIY Welding Table. This simple table uses a handful of straight metal pieces that are welded together into a frame. Metal slats on top provide spaces for clamping, providing a sturdy space for heavy projects that is still light enough to move.
http://www.instructables.com/id/DIY-Welding-Table/
#2. Shed Antler Trap. This is another basic frame project that allows for antler harvesting without hunting. When the season is right, the deer will feed out of this project. Their antlers then get stuck and pull off. If not, the deer leaves with a full belly.
For more see the project at http://www.lincolnelectric.com/en-us/support/welding-projects/Pages/shed-antler-trap.aspx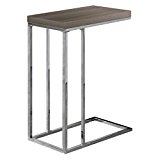 #3. TV Tray Tables. It could also be used as a side table, a laptop stand, and much more. The C-table design requires minimal welding and is very forgiving to beginners. Dozens of ideas that follow this frame give you the options you need.
http://foter.com/explore/modern-tv-tray-tables
#4. Doorbell. All it took to complete this project was a small argon cylinder and some scrap steel. You can mount it directly onto your home exterior or attach it to your preferred material to add a unique look to your property.
http://www.instructables.com/id/Easy-Doorbell-From-Scrap-Steel/
#5. Firepit. All it took to make this unique firepit was a half-sheet of steel. Textured steel was used for this project, but any steel plate of 2.1 mm thickness will get the job done. You can also adjust the size of the design to meet your specific needs.
http://www.instructables.com/id/How-to-Make-a-Cool-and-Compact-Fire-Pit-from-Half-/
#6. Serving Bar. Using a Power MIG welder, this serving bar features a 1×1 inch steel tube that was wrapped on 3 sides using corrugated metal. The top is made from stainless steel with a 1-inch rolled edge. Wooden shelving inside offers storage space.
http://www.lincolnelectric.com/en-us/support/welding-projects/Pages/serving-bar.aspx
#7. Firewood Rack. This simple design allows you to create a rack for your firewood and fire-starting materials with relative ease. Two U-shaped metal pieces have bracing welded to them to create supports. An optional kindling attachment is also included.
https://www.pinterest.com/pin/547187423451210980/
#8. Horseshoe Coat Rack. Grab some horseshoes, clamp them down, and then weld them together. Then you just need to add the holders to what you've created so that it can hold coats. It can be put together in just minutes.
#9. Horseshoe Bookends. For this welding project, you just need to weld two horseshoes together at the right angle. Then repeat so you've created a pair. You can even weld a small steel sheet to the horseshoe if you can only get your hands on a couple of them and still pull off this project.
https://es.pinterest.com/pin/79164905919823007/
#10. Mudroom Bench. This project requires 1-inch square tubing. Other than that, you can build it to your own preferred dimensions. It does require some metal cutting as a skill, but otherwise, this little bench will add a nice touch to any home.
http://www.lincolnelectric.com/en-us/support/welding-projects/Pages/mudroom-bench.aspx
#11. Metal Trellis. If you have vines growing around your home or you grow climbing vegetables in your garden, then this is the beginner project for you. It features an open-frame design that will stronger to support your gardening or landscaping hobby.
http://www.instructables.com/id/Metal-Trellis-for-Garden-VInes/
#12. Portable Work Station. We all need a place to store our stuff. Whether you are a professional welder or a professional writer, this workstation provides an ingenious way to use materials that most garages already have. The best part is that the rim still rolls nicely, making it easy to move the workstation to a new location.
http://www.lincolnelectric.com/en-us/support/welding-projects/Pages/portable-work-station.aspx

Easy and Simple Welding Projects

#13. Pencil Holder. Taking just four hollow steel tubes, all you need to do is tack them onto a single flat piece of steel. You can create a holder in any size that will make for a useful addition to any desk or table in just minutes.
http://www.instructables.com/id/Simple-Industrial-Pencil-Holder/
#14. Jewelry Holder. This simple project requires you to weld small, straight steel pieces together into the shape of a tree. You then weld the tree to a square piece of steel so that it can be set on a table or dresser. You can choose to decorate the project to make it look realistic or allow the rustic steel look to stand.
https://www.pinterest.com/pin/268597565247828669/
#15. Patio Arbor. Using an open frame design, you can create a lot of customized looks by using basic steel tubing. For this project, the legs from an old trampoline were used to create the top rails. The fence top rail was used for the crossbars and legs. Then self-tapping screws secured the lattice.
http://www.lincolnelectric.com/en-us/support/welding-projects/Pages/patio-arbor.aspx
#16. Dutch Oven Holder. If you love to go camping, then this Dutch oven holder will come in very handy. It welds three horseshoes together, and then each point is given a single support bar to create a tripod stand. You could also use it for outdoor barbecue parties, as a serving tray, and a wide variety of additional uses.
http://www.instructables.com/id/Horseshoe-Dutchoven-Holder/
#17. Tricycle Planter. This simple little planter makes for an excellent addition to any porch, garden, or windowsill. Because it is made from wrought iron, the welding is fast and simple. The only challenge is to find the tools to shape the iron into its proper shape.
http://www.craftsmanspace.com/free-projects/rustic-tricycle-planter-plan.html
#18. Grasshopper Holder. To be fair, it would be more accurate to call it a "third hand." Using a solid chunk of metal, you weld three metal points to it so that you have a heavy hand that can hold down small objects for you as you are welding. Don't forget to weld a handle to it so that you can carry it around with you.
http://www.lincolnelectric.com/en-us/support/welding-projects/Pages/grasshopper-holding-device.aspx
#19. Spoon Flower. This simple little metal flower utilizes spoons for the pedals. You can then use a bowl, a metal ball, or something of a similar shape. Weld them together and then you can either weld the item to a metal stake.
http://www.instructables.com/id/Weld-a-Spoon-Flower/
#20. Hanging Sign. A wrought iron sign holder gives an establishment an added level of sophistication for the first impression that it gives. It can also be a way to give a home a classier address number than large numbers nailed into the home.
http://www.craftsmanspace.com/free-projects/hanging-sign-plan.html
#21. Wall Clock. Using a ¼-inch mild steel rod for both circles of this clock and a 5/16-inch round rod for the numbers, this project requires many different small welds and precision alignment. Then add a support cross-bar vertically and horizontally so the actual clock timepiece can be added to the design.
http://www.lincolnelectric.com/en-us/support/welding-projects/Pages/wall-clock.aspx
#22. Metal Heart. If you have an old bike chain lying around, then you have all that you need for this simple project. You might be able to grab one at a local thrift shop if you don't have one. Cut the chain to size, and then form it into the shape of a heart. Then weld it so that it won't change its shape.
http://www.instructables.com/id/bicycle-chain-metal-heart/
#23. MIG Welder Gun Holder. If you use a MIG welder, then there are going to be times when you want to set your gun down to shift gears within a project. Rather than set the gun on its side at your workbench, this simple clamp attachment will allow you to safely put your gun down, no matter where you may be working.
https://www.pinterest.com/pin/322288917061348618/
#24. Shepherd's Hooks. The benefit of making Shepherd's hook with basic iron or steel is that it can be used in a wide variety of ways. It can hold a flag. It can become a plant hanger. It can even function as a unique trellis for a climbing plant. This option gives you a double hook, but a single hook will get the job done as well.
http://www.lincolnelectric.com/en-us/support/welding-projects/Pages/shepards-hook.aspx
DIY Welding Projects

#25. Hanging Steel Pan Rack. Taking square tubing of your preferred material, all you need to do is weld the bracket together. Then you drill through the tubing to place the hooks that will hold the pots and pans. You'll also need hooks drilled into the top of the frame so that your final project can be hung from the ceiling.
http://www.instructables.com/id/Modern-Industrial-Hanging-Steel-Pan-Rack/
#26. Animal Sculptures. This unique artwork is made from hand-hammered stainless steel that was welded together. You can choose to do the same thing with your preferred animal of choice.
http://www.lincolnelectric.com/en-us/support/welding-projects/Pages/shark-sculpture.aspx
#27. Homemade Firepit. This project uses an empty propane tank and welded framing in order to create a fire pit that can be used indoors or outdoors. One note of caution: make sure the propane tank is completely empty before cutting into it. Otherwise, you might find the tank exploding in your face.
#28. Wood Stove. If you purchase a brand new wood stove for your home, it could cost you upwards of $300. On the other hand, you could make one yourself for $60 or less. Grab a few supplies, get yourself a steel drum and a cast iron door, and you'll be ready to get to work.
#29. Garage Shelving. With a few basic metal tubes, you can create extensive shelving for your garage with relative ease. A simple wooden plank sits on top of your brace, which you'll connect to the overhead studs in the ceiling and your wall studs. The key to a successful DIY welding project here is taking the time to measure twice… or maybe three times.
http://www.instructables.com/id/Industrial-Shelving-Some-Welding-Required/
#30. Barbecue. If you have an old engine block that isn't being used for anything, then why not using your welding equipment to turn it into a backyard barbecue? Of course, fabrication and modification work on this project took more than 90 hours, but the results definitely prove that it was time well-spent.
http://www.lincolnelectric.com/en-us/support/welding-projects/Pages/engine-bbq.aspx
#31. Hammer. With a little TIG welding, all you need to do is mount a handle to a head so that you have a useful hammer. The same principle could be used to create a fireplace poker or other tools. That way you can create something that will be useful to you now and well into the future for those DIY projects lying around the house.
#32. Industrial Coffee Table. This unique DIY project features reclaimed metal for its entire frame. Then the wood is mounted to the top of the frame to create a usable coffee table that will look great in any home, made for a fraction of the price that one would pay for the exact same item at a furniture store.
http://www.instructables.com/id/Industrial-Coffee-Table-From-Reclaimed-Metal/
#33. Wheelchair Ramp. Life can change at any moment for someone. If a wheelchair is required in your home, accessing elevated doors can be a tricky proposition. This project makes simple work for home access or commercial access need.
http://www.lincolnelectric.com/en-us/support/welding-projects/Pages/wheelchair-ramp.aspx
#34. Tote Tray. This aluminum project features a 16-gauge diamond plate to create a tool tote tray. There are some great TIG welding tips that you'll find with this project as well, making it much easier to complete your next project.
#35. Smoker. If you love to grill outside, then at some point, you're going to need a smoker. Instead of running down to the local Walmart to drop $300 for one that might make it a season or two, try building one yourself. This quick and easy project looks great and gets the job done.
https://www.pinterest.com/pin/AWNZ-oMIgf03grDQ01F_eKEnGSm4pfChYGOTvRq1Rhh-BrGtzEvTHho/
#36. Fireguard. Whether it's a cast-iron stove or a fireplace, there are screens and guards that sell for hundreds of dollars that keep curious fingers away from hot surfaces. For less than $30, you can create the same thing.
http://www.instructables.com/id/Art-Deco-Fireguard-for-Log-Burner/

Cool Welding Projects

#37. Car Ramps. It's difficult to work on a car without having the right ramps in place. Although this project is costly and heavy, it will also be appealing to many who love a cool project.
http://chris-eigenheer.blogspot.co.uk/2011/04/building-my-car-ramp.html
#38. Targets. Competitive shooting is on the rise as a sport. Shooters need targets that they don't need to replace all the time whenever they get a hit. This project literally helps to hit the mark.
https://texags.com/forums/34/topics/2104438
#39. Horseshoe Wine Rack. If you've got a bunch of horseshoes and they're in multiple sizes, then this is a cool welding project to take on. Just make sure a bottle of wine can fit inside the horseshoes you use!
http://www.wcwelding.com/wine-rack.html
#40. Steel Washer Bowl. This is one of those cool projects that looks like it would take a long time to create, but in reality, it can be finished over the course of an afternoon. Just make sure your washers are all made from steel before you get to work.
#41. Aluminum Archangel Wings. This is for those welders who want to take their cosplay to a new level.
http://www.instructables.com/id/Arduino-controlled-Aluminum-Archangel-Costume-Win/
#42. Custom Off-Road Bumpers. If you live in a rural area, especially in the US West, then there are tempting gravel roads available everywhere. Any vehicle can go out there. So equip this bumper to your vehicle and go explore.
http://www.instructables.com/id/Custom-steel-bumper-for-off-road-truck/
#43. Metal Garden Art. Who doesn't like to have some great animal art out in their garden? Choose your favorite animal and get to work.
https://www.pinterest.com/pin/207587864055293699/
#44. Automobile Sculptures. Artwork and welding are a beautiful combination under the skilled and talented hands of many welders. This unique and customized metal craft is just one set of ideas that you can implement on your own. A word of caution: directly copying a design may violate copyrights, so use your own creativity.
http://www.browndogwelding.com/new/
#45. Gates. Donald Trump likes to build walls. To get through a wall, a gate is useful. Do you really want to drive through a tunnel if you have a fence or wall protecting your property? Of course not. Which is why an intricately welded gate is an artistic and cool project to take on.
http://www.bakersgas.com/weldmyworld/2011/05/03/how-to-weld-an-ornamental-gate/
#46. Pogo Stick of Insanity. Just the name of this welding project sounds cool. Put it together and the entire family will have a great time.
http://www.instructables.com/id/The-Pogo-Stick-of-Insanity/
#47. Trout Mobile. This is another steel washer design, except it's one for the fishes. Shape the washers so they look like fish, paint them the color of trout, and then hang them to create a wind chime or mobile.
http://www.lincolnelectric.com/en-us/support/welding-projects/Pages/trout-mobile.aspx
#48. Kitchen Turkey. The best part about this little project is that it uses old kitchen utensils. Although wood is used for the main part of the body, you could use aluminum to create a firmer base where you could then weld the colander pieces.
https://www.pinterest.com/pin/207587864053179495/

Profitable Welding Projects to Sell

#49. Metal Brackets. If you have a steel frame, then you have an easy way to begin making brackets for people. Brackets are useful as shelves, picture frames, and miscellaneous storage. You can often find used brackets at local thrift shops.
http://weldingweb.com/showthread.php?48525-Small-project-steel-brackets
#50. Steel Vases. If you have access to scrap steel, then you have access to cheap materials that can create beautiful ornamental objects. For this profitable project, you can turn steel plates into vases, coin banks, and a variety of other options for the home.
http://www.instructables.com/id/How-to-Make-a-Steel-Vase-Step-by-Step/
#51. Picture Frames. If you can cut metal tubing at a 45-degree angle and then connect that tubing with a clean weld, then you can make some awesome metal picture frames. Take custom orders and you can clear a pretty solid hourly wage doing something you love.
#52. Fireplace Log Crates. Whether it's a wood fireplace or a gas one, there is a need to hold logs in a high-heat environment. You can make them by using a simple flat bar. Instead of trying to sell them on Craigslist, however, you might consider Etsy.
(Picture Reference: http://weldingweb.com/showthread.php?271391-Simple-Money-Making-Welding-Project-Ideas)
#53. Tractor Forks. By attaching these forks to a tractor, you create an instant forklift for farmers, plowers, and others who have a bucket on the front of their equipment. This video uses wood forks. Make them from metal and you'll have profit potential.
#54. Architectural Brackets. People hang stuff on walls all the time. They also like to hang shelves for extra storage space. What makes it possible to do this? Brackets. Take orders for custom brackets and you could ship your work all over the world. Here's someone who has already made that happen.
http://www.cuttingedgemetals.com/custom-brackets/
#55. Flag Art. High-quality metal art can be hung inside or outside. Just check out this wood/metal combination for an interesting project that could be potentially profitable.
https://www.pinterest.com/pin/528821181228500819/
#56. Bicycle Chain Gecko. This unique piece of welded artwork is perfect for those who love geckos. Pick your own favorite animal and you could create a niche market for yourself.
https://www.pinterest.com/pin/217087644514740983/
#57. Keychain Holders. Everybody loses their keys from time to time. A keychain holder by the door helps to stop that from happening. This cute idea adds some flair to the home.
http://www.homedit.com/top-15-diy-key-holders-racks-for-your-home/hotel-inpired-key-holder/
#58. Candle Holders. If you want profitable welding projects from horseshoes, then this might be your best option. With different size options, you can target aromatherapy industries, emergency lighting, and interior designers with this project.
#59. Lamp Shades. With a little access to scrap steel, you can create a permanent lampshade that is easy to clean and maintain for the home. The best part is that these lampshades can be cost-competitive to the fabric shades in stores that only last for a few years.
#60. Lamps. And you can also create the lamp as a profitable welding project if you wish.
#61. Hot Water Heater Stands. Don't underestimate the profitability of this project. Hot water heaters are often installed on the floor, which creates the potential of having the bottom of it rust out prematurely. This project may have building code requirements that need to be followed, but that just means more money in the pocket.
http://ipscorp.com/plumbing/watertite/protectivesystem/whstands
The best welding project ideas will help you to create a side hustle, have some fun, or learn a new skill that you're passionate about. Find the best welder for beginners to meet your needs (specifically if you're new to welding), use these ideas to get busy, and you'll have a great time as you establish your reputation as the neighborhood welder.