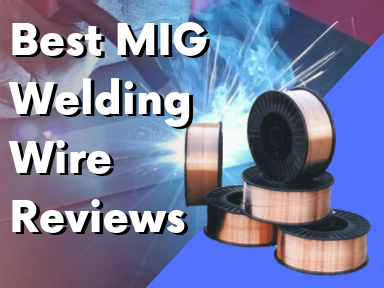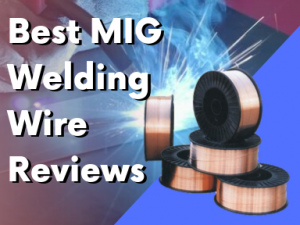 The short learning curve and multi-applications of the MIG welding process make this welding approach a great choice for all sorts of welders.
Whether you are new to welding or you are a pro, MIG welding or Metal Inert Gas welding can have a lot of uses. But before you can perform this function, you need the best MIG wire out there.
This article will help you find a good MIG wire that you can rely on for various purposes. We will show you which of the MIG wires out there have the flexibility and durability that will fit the projects you have in mind.
Best MIG Welding Wires 2019 Review
Product
Details

#1 WeldingCity ER70S-6 Mild Steel MIG Welding Wire

No Snagging Issues

Star Rating: 4.9
Highlight: Premium Quality
Price: $$

Check Price

#2 Inefil ER70S-6 Carbon Steel Mig Solid Welding Wire

Quality & Consistency

Star Rating: 4.5
Highlight: Low Spatter
Price: $$

Check Price

#3 TGB ER70S-6 MIG Mild & Low Alloy Steel Welding Wire

Comparable to High-end Wires

Star Rating: 4.5
Highlight: Holds Up Well
Price: $$$

Check Price

#4 Hobart H305406-R22 Carbon Steel Solid Welding Wire

Produces Lesser Spatter

Star Rating: 3.9
Highlight: Creates Clean Beads
Price: $$

Check Price

#5 Harris E70S6F8 ER70S-6 MS Spool with Welding Wire

Flat Bead Shape Results

Star Rating: 4.5
Highlight: Smooth Burn
Price: $$$

Check Price
Get premium results without the premium price. This copper-coated welding wire for MIG welding machines comes packed in a plastic film that is resistant to moisture. That means it will arrive to you in the best condition. Each 8-inch pool is 11 lbs. in weight and has a wire diameter of 0.030 inches.
Pros:
This wire works just as well as the more expensive ones out there.
It feeds smoothly. There aren't issues with snagging or jerking.
We like how the manufacturer has taken extra effort in making sure it is packed carefully. This makes sure that it is not contaminated by dirt or water. This is a big deal when welding as clean material means better weld results.
One pack comes with 2 rolls of welding wire. That means you are saving more money.
Cons:
There aren't a lot of negative reviews. There was only a customer who complained about a broken spool.
Are you welding carbon-manganese or pure carbon steels? Get this one then. It has 510 MPa tensile strength that is the ideal choice for single or multi-pass welding applications. Whatever your welding work may be, whether it be doing automobile repairs or construction projects, this welding wire should produce the best outcomes.
You can benefit from its low spatter properties. With this, you can weld easily and effortlessly with very minimal sparks. The bead appearance is also clean and seamless. This material is non-porous and affordable as well.
Pros:
A lot of people couldn't believe how affordable it is compared to other wires. Despite its low price, it can compete when it comes to performance. This is capable of accomplishing the work of more expensive wires.
There were those who said the quality of the wire lay down is much smoother than the ones they have tried in the past.
This wire created much less spatter. Also, many commented on how smoothly the wire is wound on the spool. There are no irregular areas that can cause jerking, which can be annoying when it happens while working. It is a frustration-free kind of wire that will leave you working continuously.
The diameter of the wire is very consistent as well. Consistency tends to be a problem with cheap wire brands.
The beads this brand of wire created is very smooth according to users. The texture, as well as the color, are spot-on.
For its quality and consistency, this MIG wire is much cheaper. Previous buyers are more than happy to buy it in bulk the next time.
Cons:
There were just those who got a pool with wire wound up pretty loosely.
One customer also said the copper coating isn't as much as he expected because he dealt with more soot.
TGB's ER70S-6 takes pride in having the most content of the combination of manganese and silicon deoxidizers. What this does is allow you to use higher current when welding with the use of 100% carbon dioxide shielding gas. This results in smoother beads and very minimal after-weld cleanup.
This is an all-around choice for welding but is especially useful for sheet metal applications as well as structural plate steels. If you are working with materials that don't have too much mill scale or rust oil, it should be a suitable choice. You can choose from different diameters and spool weight, whichever works better for you.
Pros:
This is comparable in quality to the more expensive welding wires out there.
This will hold up well against heavy usage. With its ideal combination of silicon deoxidizers and manganese, this will always give you a higher weld current.
It leaves you with smooth weld bead all the time. You don't need to do a lot of post-weld cleaning. This is perfect for those who want to save a lot of time and effort. You can also work continuously without stopping to clean the soot.
People also commented on the great customer service of the manufacturing company. They were able to reach customer service without issues.
Cons:
There aren't a lot of negative reviews about this, just some people saying they preferred the wooden spool rather than the plastic one because the latter tends to break during transit.
You can perform a variety of welding tasks with this wire that is made from carbon steel material. It is completely free from porosity and has deoxidizer that will work perfectly with welders with shielding gases. If you do a lot of construction work or you need some farm implement fabrication, you definitely should get yourself this MIG wire.
This guarantees smooth beads all the time. It leaves far cleaner surfaces as well, so you don't have to deal with soot a lot. The clean surfaces make way for more efficient and faster wire feeding.
Pros:
This is a great all-around wire for all sorts of welding applications. Better have a spool or two in your welding arsenal for those projects.
The feeding is very consistent. There are no snags that can be irritating to deal with. It just feeds smoothly because of how clean and consistent the wire is.
It produces less splatter. If you like your welding work to be easier and less of a hassle, this is the perfect choice for you.
Very little cleanup is done afterwards. Because it doesn't produce a lot of mess and it creates clean beads, you don't have to deal with so much waste material to remove.
Cons:
Most of the issues were delivery damages.
This is the welding wire you should get if you often use 75 argon and 25 c02 shielding gas or you work with higher levels of argon. It is also compatible with 100% carbon dioxide. Since it contains more deoxidizers, it creates more wetting, which leads to a bead shape that is flatter.
Pros:
Many people are impressed with how well this can be laid out. It lays out easily than many more expensive MIG wires out there.
It feeds smoothly. The burn is also smooth. You get clean results all the time.
One spool of this will last you three times longer than the standard ones you can find in the market.
It is quite an affordable choice. If you are on a tight budget and you want an inexpensive MIG wire that will last you for a long time, get this one instead.
Cons:
It is quite heavy.
There were those who received damaged spool.
Which One Should You Get?
Feeds Smoothly: WeldingCity ER70S-6 Mild Steel MIG Welding Wire. You won't have issues with the feed of this wire. It feeds smoothly and there are no issues about snagging. That means you can work continuously.
Easy to Feed: Inefil ER70S-6 Carbon Steel Mig Solid Welding Wire. If you have tried feeding cheap MIG Wire in your welder before, you know how annoying and tedious it can be when it will jerk due to inconsistent wires. This one doesn't have that problem. It feeds smoothly thanks to its very consistent size. It is also a high-quality wire that will give you the best results. It creates seamless beads with very little spatter.
Comparable to High-End Wires: TGB ER70S-6 MIG Mild & Low Alloy Steel Welding Wire. A lot of people compared this wire to the high-end ones out there. They said this one produced the same results as the high-end wires they were used to. If you want the same quality and consistency as the high-end wire you were using in the past but don't want to spend a lot of money anymore, this is a great choice for you.
Best for the Budget-Conscious: Hobart H305406-R22 Carbon Steel Solid Welding Wire. This might be a cheap choice, but it definitely doesn't have the features that will you think it's cheap. The quality is still on par with the more expensive brands out there and it still produces the best weld results. Very minimal clean-up is needed afterwards.
Flat Bead Shape Results: Harris E70S6F8 ER70S-6 MS Spool with Welding Wire. If you use this MIG wire, you can get flattered bead shape. It has consistent results and does not produce contaminated weld.
Selecting MIG Wires – Which is the Best Choice for You?
The MIG wires are going to be the most expensive part of welding. That said, it is important that you choose the wires that will really suit the project you have on hand. When working with mild steel, the wires you will most often use are the ER70S-3 and the ER70S-6. These are the wires more suitable for projects that meet the minimum tensile strength, which is 70,000 psi.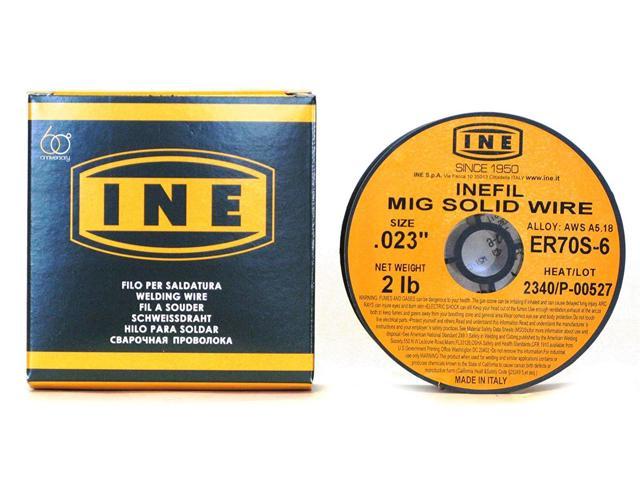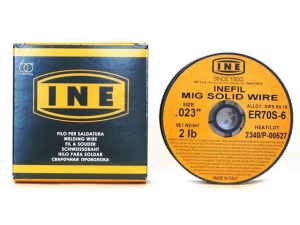 You should opt for the ER70S-3 if you are working with materials that are rust-free and oil-free. The material needs to be clean and free from these contaminants.
You can also opt for this wire if you want to sidestep the appearance of silicon island. This usually develops on top of the weld, which is responsible for giving the weld that glassy appearance. When painted over, the paint can look flaky.
If you are working with materials that have contaminants or mill scale, it is better to use the ER70S-6. Since these wires contain a lot of deoxidizers, the contamination can be avoided. More deoxidizers mean more capacity to absorb oxygen. This will then vaporize the contaminants in the arc or will develop as a scale oxide. This kind of MIG wire is also the best choice if you want a seamless transition of the weld to the metal base.
Check the Wire Diameter
The wire diameter plays an important role when it comes to the consistent passing of the wire in the welder to the contact tip. If you choose wires that are undersized, arcing could happen. This can cause erosion in the I.D. tip and will cause the tip to be fused to the wire. Be careful not to choose oversized wires as well. This can damage your welder as there is more force in feeding. You will also inevitably experience tip blockage. Wire can slip a lot and there is more downtime to fix these problems.
Buy Wires with the Right Chemical Composition
The chemical composition of the wires you choose should always be consistent. That equates to consistency in performance. If you have more consistent performance, you have more control over the weld results. That will allow welders to focus on their techniques and procedures.
Here are the MIG wires you would want to get your hands on:
Conclusion
Do you have the right MIG welding machine that will work with MIG wires? We have a lot of recommendations for you. Do check out our homepage for more suggestions on the best MIG welding machines and the best welding accessories to get.