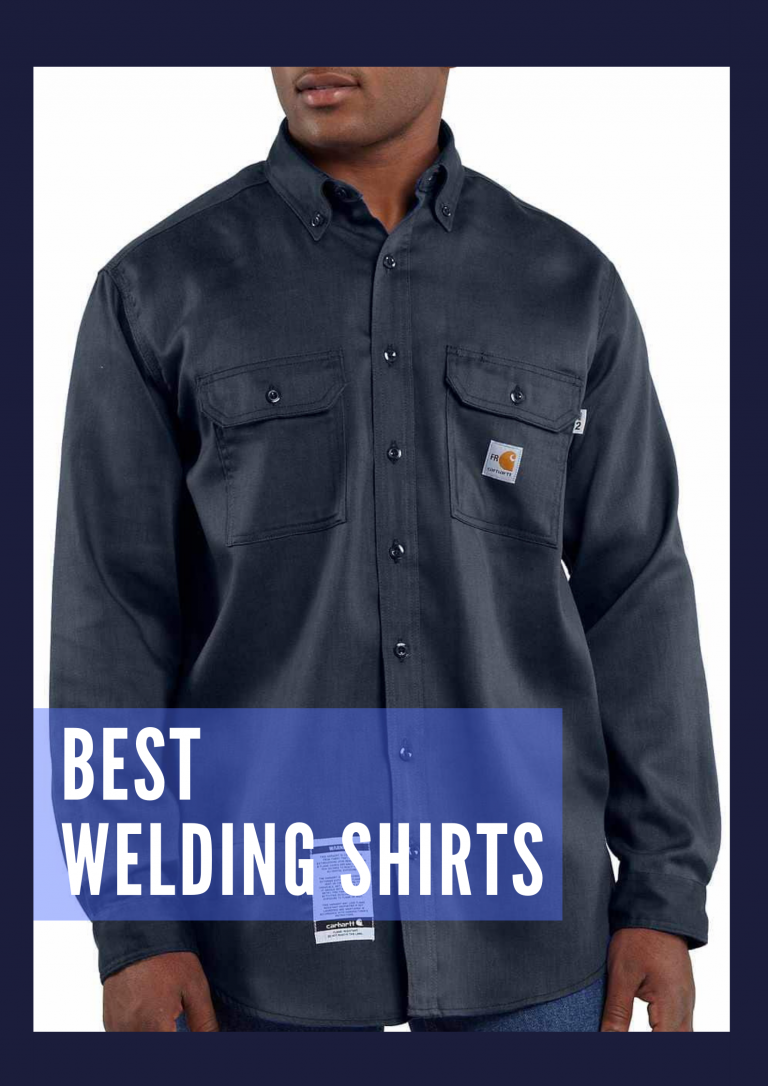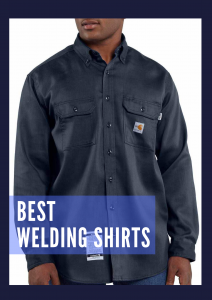 Welding is a naturally dangerous activity. You aren't just dealing with the harmful fumes and gases from the welded materials, but you are also subjecting yourself to potential injuries because of the sparks and heat from the welding equipment.
Make sure you arm yourself with the right safety gear to avoid getting injured while on the job or while working on a DIY project. One such safety gear you would want to add to your arsenal is a welding shirt or jacket.
In this article, you will learn about the proper way of protecting yourself from the potential dangers of this activity and determine which welding shirts and jackets out there are the most reliable when it comes to protecting yourself from injuries.
Make sure you read until the end of this article in order to find out which best welding shirts we recommend.
Best Welding Shirts for 2019 Reviews
Product
Details

#1 Bulwark Men's Flame Resistant Cotton Work Shirt with Sleeve Vent

Comfort & Safety

Star Rating: 4.3
Material: 100% Cotton
Price: $$

Check Price

#2 Carhartt Men's Flame Resistant Lightweight Twill Shirt

With Anti-odor Treatment

Star Rating: 4.1
Material: 88% Cotton, 12% Nylon
Price: $$$

Check Price

#3 Revco Black Stallion Flame Resistant Cotton Work Shirt

Comfortable Fit

Star Rating: 4.2
Material: Treated Cotton
Price: $

Check Price

#4 Wrangler Men's Fire-Resistant Work Shirt

Flame Resistant

Star Rating: 3.9
Material: 100% Cotton
Price: $$$

Check Price
This welding shirt is made from 100% cotton. It boasts of flame-resistant properties. The classic style makes this look like a regular shirt and not a working one. It is also durable and long-lasting. You can wash it repeatedly and not have to worry that it will look worn-out.
You can take advantage of the sleeve vents that are featured in this shirt. Air can still flow effortlessly in the short to keep your body cool. There are two chest pockets that you can use to store your smaller items. The front has been hemmed and closed by buttons.
Pros:
It is a good quality shirt. You can tell how well-made it is by the sewing and fabric quality.
Many said this is a comfortable shirt. It did not feel like a work shirt at all.
It is lightweight. It can be worn during the summer season with no issues.
The fit is just right for most people. They were able to put it on easily and move around without feeling constricted.
The material is also durable. It can withstand some abuse and repeated washing in the washing machine.
Cons:
Some just wished the sleeves were a bit longer as it can be a bit short for taller people.
This welding shirt is made from 12% nylon and 88% cotton material for superior comfort. You can use this all day and not worry about chafing or any other kind of discomfort. It features Work-Dry technology that ensures your shirt stays dry even though the weather is hot, and you are dealing with hot working tools. It is the kind of material that wicks moisture away, so sweat doesn't get absorbed and your skin doesn't dry up.
One other remarkable thing about this product is its anti-odor fabric treatment. This material keeps the odor at bay, so you can use it for a prolonged period of time without it requiring washing.
Pros:
Comfortable material. It is breathable and prevents moisture from sticking to your shirt.
It is machine-washable.
It comes in different color choices.
It has a nice and comfortable fit that will still allow you to move around a lot.
It comes with flame-resistant melamine buttons.
There are two chest pockets that you can use to store smaller items.
Flame-resistant materials were used to make this shirt. There were some who said they only felt the heat on the area where a small fire has started. It did not even leave a mark on the shirt.
Cons:
Some said it is not as lightweight as they would have preferred.
This shirt is made from 7 ounces of FR-treated cotton. This is what you should look for if you want something with a more comfortable fit. It features 2 chest pockets that have flaps on it for easy access to your smaller belongings. The metal snaps make this easy to put on and take off.
The material used is also flame-resistant. It is light enough that you can wear a jacket over it for additional protection.
Pros:
The metal buttons make this easier to wear.
It fits just right for most people. It comes in 3 different sizes.
The thickness of the shirt ensures protection from flames and heat.
The comfort level is just right. Many people were still able to move around while using it. Some also said they were also able to put a thin shirt under it with no issues.
This might have better quality than many thicker jackets out there.
Cons:
There were customers who said the textile material is more on the stiff side.
Give this work clothing a try that is made from 100% cotton material. The material is ASTM F1506 and NFPA-70e compliant. It can keep you protected from flame and external heat.
This work clothing has a good and relaxed fit. You can move around comfortably and not have to worry about feeling constricted. There are pockets for your smaller things and one of the pockets have a safety orange ID to increase visibility.
Pros:
Some said this shirt runs big but many like that because they can tuck the bottom under their pants and not worry about it coming off.
It can resist a lot of abuse. It's not just great for its fire-retardant benefits, it is also great when preventing grease, oil and many other work paraphernalia from sticking to it permanently.
The buttons hold up well. They stay buttoned even when the person using it is active
Users have worn this for hours and did not experience any discomforts.
It can be machine-washed.
Cons:
Some said they had difficulties finding the perfect size for them.
Safety Gear You Should Get for Welding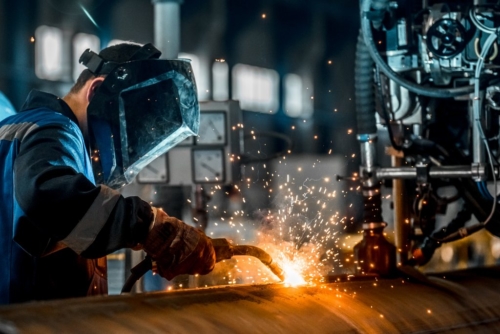 As mentioned earlier, welders always put themselves at risk. There are many threats to the safety and health of a welder including harmful fumes, sparks and heat. In a job site, it is the responsibility of the project owner or manager to ensure that all his/her workers are safe.
Head to toe protection is usually called for when doing welding work. Here is a break down of all the safety equipment and gears you should invest on if you are a welder:
1. Proper Footwear
This is often the most overlooked safety gear. However, since welding requires a lot of physical work, you need to wear proper footwear that allows you to bend down easily and can protect your feet from the sparks of the welded material. You also do not want to accidentally drop the welding equipment and then have it land on your bare feet. Wear proper work footwear. Also choose boots that have steep caps.
2. Welding Chaps
These are usually made from leather or suede materials. They come in either cover-all or pants. If you opt for the former, you don't need to get an apron anymore. But if you choose pants, make sure you still wear aprons for added protection.
3. Jackets or Shirts
These jackets provide superior protection when doing welding work. They are usually made from flame-resistant materials and they can cover most of the upper part of your body.
4. Gloves
When you wear jackets, also make sure you wear gloves. Your hands will be the closest ones to the welding materials, so it is only right that you keep them protected using gloves.
5. Welding Sleeves
If you don't want to wear jackets, you can get welding sleeves to protect your arms from the sparks of the welded materials.
6. Welding Helmet
This should protect your face and head from the damages that can be brought about by welding.
7. Glasses
Glasses protect your eyes. If any spark gets near your face, the glasses will repel them.
8. Respirators
These work in filtering out the harmful fumes that can be emitted by welding.
We highly recommend the following welding shirts for their useful functions and high reviews:
Which One Should You Choose?
Whatever you choose from these products, you are bound to get a good one. But here are some things you should know if you want to narrow down your choices even more: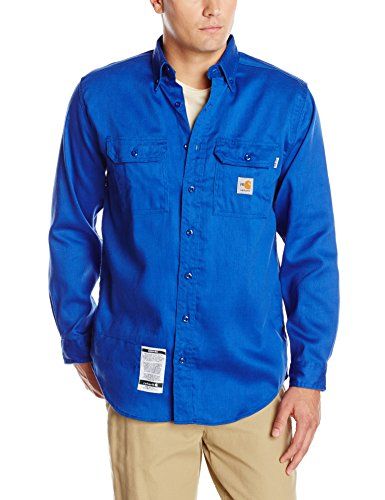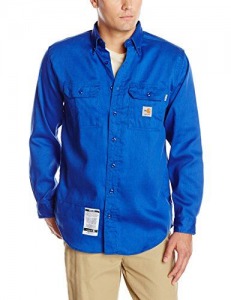 Comes with a Side Vent: Bulwark Men's Flame Resistant Cotton Work Shirt with Sleeve Vent. This shirt is good for summer use because of its material that still allows good circulation. There are also sleeve vents that can prevent heat from building up on your skin.
Good Flame-Resistant Properties: Carhartt Men's Flame Resistant Lightweight Twill Shirt. Although most welding shirts have flame-resistant properties, this one really stands out. Even when subjected to a small flame, it still did not catch fire and did not even leave a mark on the fabric material.
Thick Fabric Material: Revco Black Stallion Flame Resistant Cotton Work Shirt. This welding shirt will bring you a lot of peace of mind because it is thick enough to prevent a flame from reaching your skin in case of an accident. It has good flame-resistant properties. It is also inexpensive, and the comfort is just right.
Durable Material: Wrangler Men's Fire-Resistant Work Shirt. If you do a lot of heavy-duty work and you are exposed to not just flame but also dirt and grime, this should be a good shirt to invest on. It can withstand a high level of abuse and still maintains its fiber quality even when washed multiple times.
Features to Look for When Buying a Welding Shirt
A welding shirt needs to fit well and should be comfortable enough to wear for hours. But more than that, you need to look for the following features that will tell you the shirt is worth buying:
1. Flame-resistant Features
The shirt should be made from materials that are flame resistant. Since you are working with sparks and heat, it is important that when the spark lands on your clothes, your clothes won't catch fire. That can be a serious problem with everyday clothes, so make sure you look for a welding shirt that has flame-resistant properties.
2. Anti-odor Feature
Work clothes can get smelly easily because you sweat all day while working. Some of the odor can still stick to your clothes even after you have washed and dried them. Look for welding clothes that have been treated with an anti-odor material, so even if you can't wash your welding shirt right away, it will still smell fresh.
3. Wicks Moisture Away
It is important to look for a material that prevents moisture from being absorbed by the cloth. This will help you stay comfortable while working in a hot environment, especially during the summer when worksite temperatures can rise not just because of the weather condition but also because of the nature of the work.
4. Sleeve Vents
Not all welding shirts are equipped with this feature, but this comes handy in the summer when it can get hot fast. The sleeve vents can allow more air to circulate inside for better comfort.
5. Pockets
It would be nice to have a welding shirt with deep pockets. You can use these to store many smaller essentials such as keys, a small notepad or your welding glasses.
6. Machine Washable
You would want the welding shirt to be resilient enough that it can just be placed in the washer for cleaning and not get damaged or wrinkled up. Most welding shirts are durable enough to withstand machine washing, so that shouldn't be a big problem.
These are just some of the best features you should look for in the best welding shirts.
What's Next?
Welding is a tough job that can be made easier with the help of the right clothes and gear. Make sure you visit our homepage to get more suggestions on products that can make welding a lot easier and safer.