Wearing safety gear is paramount when doing welding work. Those splatters, sparks and molten slags have temperatures that can scorch clothes and get to your skin if you are not careful. One way to protect yourself from welding burns is by wearing gears like a welding apron. Today, we will help you find the best welding apron that can withstand high levels of temperature and can be used comfortably everyday for your welding duties.
Best Welding Apron Reviews
1. QeeLink Leather Welding Apron
The best welding aprons are the ones made from the most genuine of materials like this one from QeeLink. It is made from 100% genuine cowhide heavy duty 1.3 – 1.5 mm leather that by itself and without treatment is fireproof. The cross-back strap design allows the apron to fit your body comfortably. It eliminates that annoying hanging from the neck issue that often comes with aprons. You can work for long hours and not have to pause to adjust your welding apron.
The heat resistant quality of this apron is unmatched. Backed by US Kevlar thread stitching, this won't just protect you from those slags and sparks but will also remain sturdy for many more uses. The 6 pockets integrated are a nice feature that will help you hold on to your tools and accessories without lugging them around everywhere.
Pros:
You will like the style and look of this welding apron. It has a nice cross back design that is easy to fit the body. It won't come loose like other aprons with the standard design.
The heat resistant properties of this welding apron can't be beaten. It truly holds up well against high-temperature levels from sparks and slags. The leather material is thick enough to protect you naturally, so it is safer to use.
You would think it is heavy to use but it actually isn't. It weighs just about 1 pound. It won't cause unnecessary fatigue.
There are pockets that will help you organize your tools, so you don't have to go looking for them all the time.
A lot of customers were impressed about the overall build and quality of this product. They said this is the finest leather they have seen, and it even comes with well-crafted straps. This welding apron is strategically designed as there are hammer rings for your convenience and very good nylon webbing for the straps.
Cons:
The only thing that might look cheap about this welding apron is the buckle at the back. Some also said the harness can be a little bit complicated to set up. There were those who had to struggle to adjust the straps at the back.
2. Hobart 770548 Leather Welding Apron
Hobart is a popular name when it comes to the welding industry, so we have high expectations for this. Thankfully, it did not disappoint. Made from genuine cowhide split leather, this has natural fire resistant properties that require no chemical addition. It offers the best protection when doing those welding work.
This welding apron comes in just one size and unlined, but the manufacturer said it should be able to fit most sizes. Reinforced with snaps and heavy-duty stitching, this welding apron is guaranteed to protect you for all your welding works without costing you so much money.
Pros:
It is one of the most affordable welding aprons out there. If you are on a budget but you are concerned about the quality, this welding apron is your best choice. It has a good balance of affordability and quality.
The quality is superb. The genuine leather material really does its work in protecting wearers from scorchers and burns. The Kevlar stitching goes a long way in preventing common issues such as fraying or unraveling.
The waist and neck areas are completely adjustable. Although it is a one-size-fits-all, getting the right fit is easy with its adjustable features. Even taller customers who bought this were able to fit it well.
The apron does have a good coverage. It protects a wider area of your body. It has a good length that can cover the lower part of the body as well.
Cons:
Because of the style, the front of the apron might sag whenever you bend down. There were also those who said the waist strap is too long for them.
3. Waylander Leather Welding Apron
So many welding aprons out there have limited coverage but this one is an exception. It has an impressive coverage that spans the upper torso and way down to the knees. That provides an exceptional level of protection against slags, sparks and splatters from your welding work. Crafted from high-quality split cow leather material, you can rely on this welding apron to keep you safe no matter what project you are working on.
The strength of this welding apron is unmatched. With its Kevlar hemming, you can be assured that it will withstand wear and tear. It weighs just 1.43 lbs. and has a crossed back strap harness for effective weight displacement.

Pros:
This is one of the longest welding aprons out there. It goes right past your knees. With more coverage, you should feel safe while wearing this one.
It is well-made. The split cowhide leather material is resistant to damages and can protect you from splatters. Reinforced by Kevlar stitching, you will find this an ideal choice when doing rough welding work. It won't rip easily.
It doesn't weigh too much. You can wear it all day without feeling tired. There were even those who said it is the lightest leather welding apron they have worn. The design of the straps at the back also helps in distributing weight evenly.
There is a big double pocket in front. Use this to store your small items like a pen or your protective gear for the eyes.
For its quality, it is quite affordable. This is great for those who are looking for a long-lasting welding apron but don't want to overpay.
The fit is great. Even taller customers were able to fit it well without any issues.
Cons:
Some said the straps aren't even and they can get uncomfortable.
4. West Chester IRONCAT 7010 Heat Resistant Split Cowhide Leather
Stay safe from stray sparks and splatters with this cowhide leather welding apron that meets specifications and expectations when it comes to safety and durability. It won't just resist the heat from the splatters, it also has abrasion resistant properties that will make this a great choice for all your welding needs.
The construction is really great. From the Kevlar strength to the rivets that are corrosion resistant, everything is reinforced, so you can get more wear out of it.
Pros:
This is one of those products that you can't believe you got because it is well-made, has a good quality but sold at a cheaper price. It does a good job in protecting you from splatters and sparks and also works well in preventing abrasions.
It isn't too heavy, according to many users. They were able to wear it all day while working with issues.
It is comfortable to use. The straps cross at the back to distribute weight easily and allow a better fit. The neck strap won't chafe the skin. You can bend or walk without feeling constricted by it.
You can get in and out of this welding apron with ease. There were taller customers who said they did not have issues putting it on and taking it off.
The neck area doesn't hang low like some of the welding aprons out there.
It comes with front pockets that you can use to store your valuables.
Cons:
There were those who said the material is thinner than what they expected.
Which One Should You Get?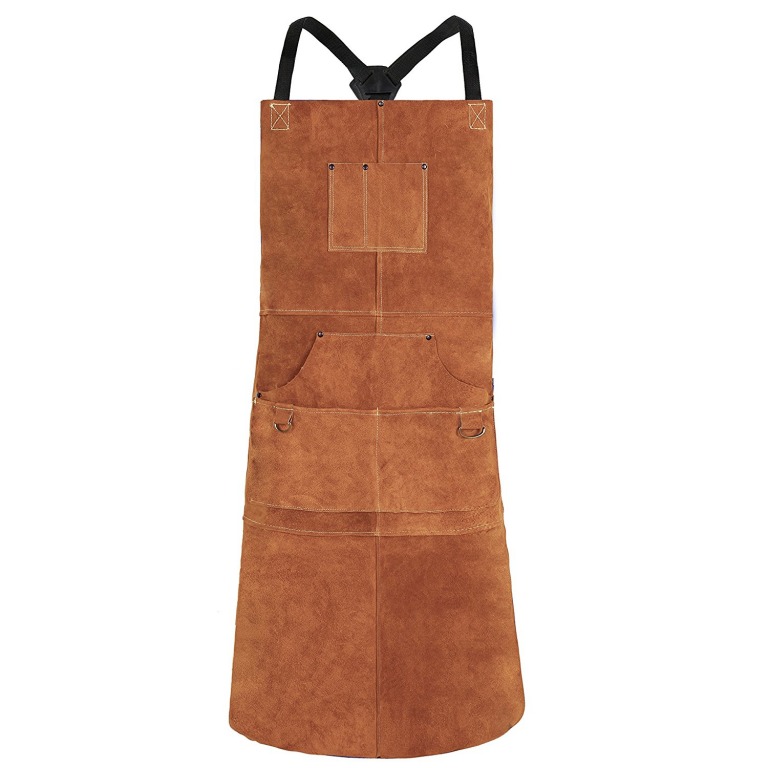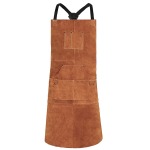 Great Value for Your Money: QeeLink Leather Welding Apron. If you are looking for the entire package – price, quality and material, this is a winning choice. It's hard to find something wrong with its material because it really is made from genuine leather that does what it says to do. The construction and stitching knock it out of the park. A great value-for-money welding apron that is not too cheap but not too expensive either.
Most Affordable Price: Hobart 770548 Leather Welding Apron. You can't beat the price of this welding apron. Those who are on a tight budget will find this the best choice for them because even though it is not expensive, it still has a good quality that can give those more expensive leather aprons a run for their money.
Has More Coverage: Waylander Leather Welding Apron. This welding apron is longer than the others, so you should be able to find this a great choice if you are looking for more coverage. It can protect even way past your knees. For its size, it is very lightweight. It is not hard to wear all day because of how light it is.
Great Comfort: West Chester IRONCAT 7010 Heat Resistant Split Cowhide Leather. A lot of the positive reviews about this welding apron is about how comfortable it is. The fit is great even for taller people. The straps don't chafe the skin and the length is just right that you can walk and bend with ease.
Tips in Buying the Best Welding Apron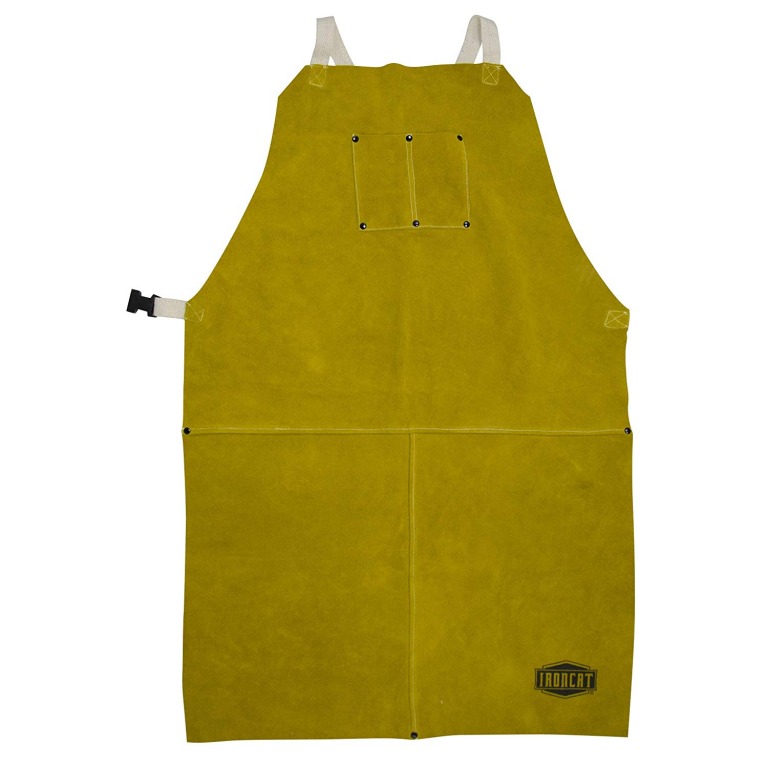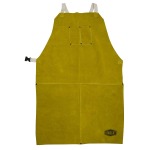 Although welding aprons are not designed to provide complete protection from sparks and splatters, they should provide you with a good amount of it for light to modern welding work. With the right welding apron, you should be able to avoid damaging your clothes and injuring yourself. Here are more tips you should keep in mind when buying the best welding apron:
1. Choose a thick genuine leather material.
If it is genuine leather, it can provide you with natural protection against splatters. Also check how thick the material is. The thicker it is, the better the protection it can give you.
2. Make sure it has a good coverage and is long enough to cover even the lower part of your body.
You still would want the apron to provide a good amount of protection. A longer one can cover the lower part of the body, which is good if you frequently weld on the ground. That should provide a lot of coverage and protection from splatters.
3. It should be lightweight for comfortable wear all day.
Leather can be heavy but surprisingly many leather aprons out there, even the longer ones are quite lightweight. Check the weight specifications, so you know just how heavy that welding apron is going to be.
4. The straps should be comfortable and easy to adjust.
The straps should be thick enough to hold the leather material and distribute the weight evenly. You would want something that is comfortable to wear and has straps that you can easily adjust to your personal preferences. Ideally, you would want to pick one with cross straps at the back to allow better weight distribution.
5. Make sure it is resistant to abrasions and scratches.
A good leather material should also be resistant to abrasions. Welding work can be harsh on your work clothes, so it is important that you look for a material that won't get damaged easily.
Just keep these tips in mind and you should be able to find a welding apron that will work for you.
Conclusion
After a thorough check at what welding aprons are out there, here are the ones that bring a lot of ideal features to the table:
We have more information on different welding safety clothes and work gear out there. If you want to buy the best ones, you can also head to our homepage and check out which of the products out in the market are worth buying.