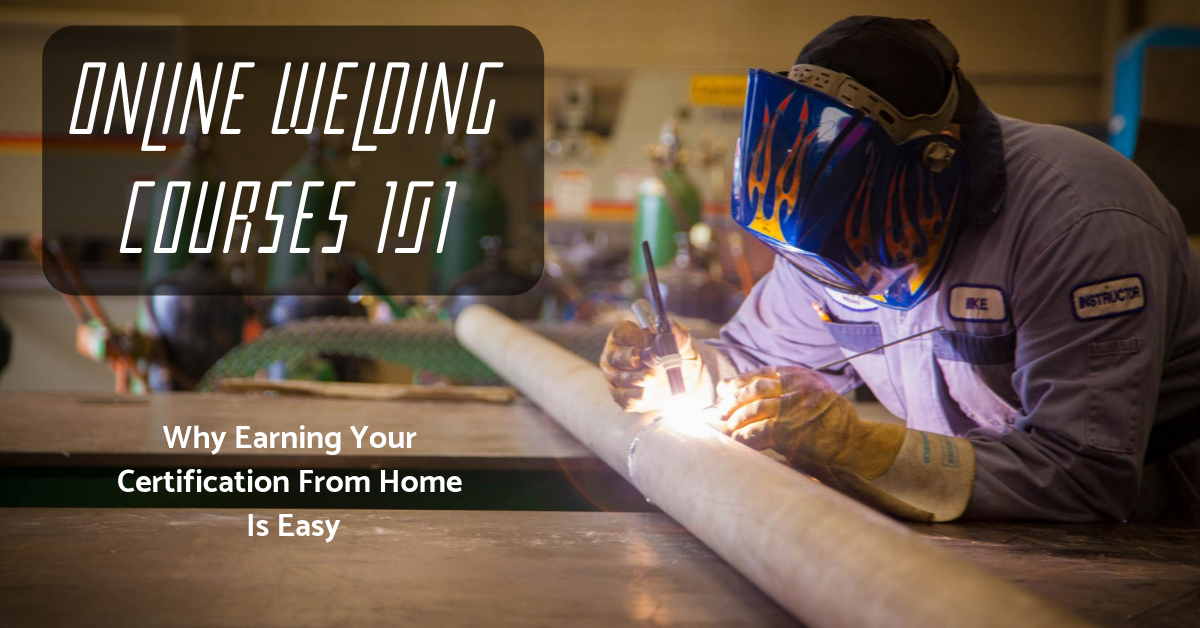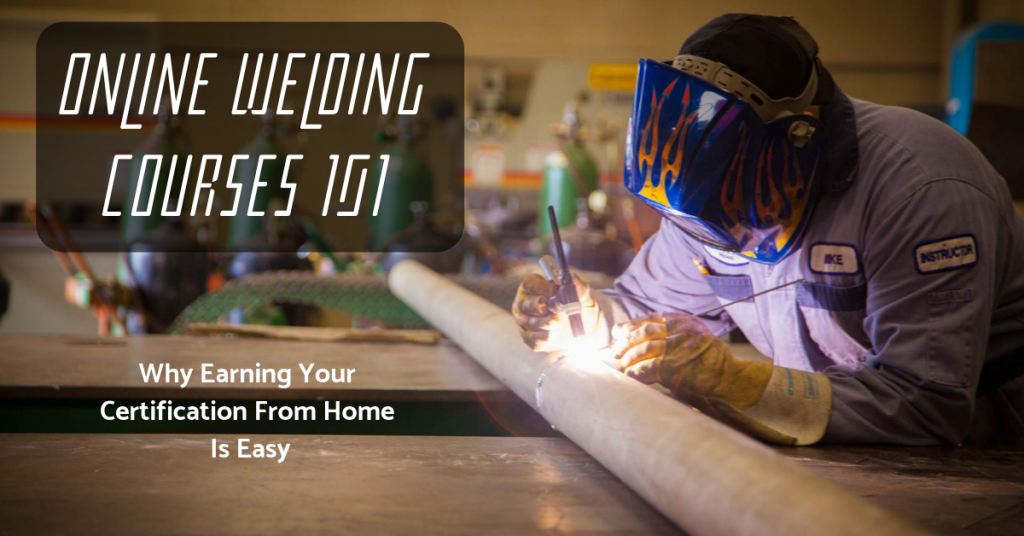 If you're planning to weld as a hobby or a small side hustle, then a welding certification may not be something that you require.
For those who are thinking about pursuing welding as a career, however, a welding certification can open up a lot of doors. Professional welders should always consider becoming an AWS Certified Welder because it provides evidence of your knowledge and skill.
AWS does not require any specific education credits or requirements to apply for the certification. You will be tested on your knowledge and welding skills instead, ensuring that you are able to produce work that meets the current local, national, and international standards for welding work.
For those who do not have an AWS location close, there are other ways to earn a welding certification online that may create new opportunities for you as well.
What Does It Mean to Be a Certified Welder?
If you are a certified welder, then you have earned a certificate from a college, welding school, union, or association that represents your knowledge and skills within the trade. There are definitive procedures and scores which must be achieved before the certification will be awarded to you.
To become a certified welder, your work and test scores are judged, then graded, based on what is considered an acceptable professional standard. If you pass the tests and skills requirement, then you earn your certification.
For those who do not pass the tests on their first try, most agencies will allow for retesting. The only exception to this would be employment-based testing where your job is based on the condition of your skills.
What Are the Benefits of Becoming a Certified Welder?
You have more opportunities as a certified welder to find work. Your certification provides evidence to a prospective employer that you're up-to-date on current trends and techniques in the welding community. It also means your work has been examined and verified to be of professional quality.
In the United States, most welding certifications are transferrable to new locations. As long as the certification remains active, you'll be able to apply for open positions without taking the test again.
You will have a greater variety of job opportunities to pursue as well. Welders are needed in a variety of industries and positions. If you love to travel, there are positions for you. There are stationary positions available too. You'll find welders working everywhere from an offshore oil and gas rig to a pipeline just down the street.
Another benefit is your time commitment. Even if this is Day #1 of your journey toward becoming a certified welder, there's a good chance that you can earn your certification in under a year. If you can latch on with a union apprenticeship, there are paid opportunities to learn this new career skill.
Steps to Follow to Become a Certified Welder
Although the path toward becoming a certified welder seems easy on paper, the actual experience can be lengthy, difficult, and sometimes expensive. If you're thinking about a career in welding, it may be better to speak with your local welding union about available apprenticeship programs.
These are the steps to follow in general terms when you're pursuing a welding certification online.
Step #1: Complete a training program.
To become a welder, you must know how to weld. There are several online welding programs which will get you started in the right direction. Your local technical college may offer online courses that allow you to practice at home and attend classes in-person for testing only. Fabrication shops, union halls, and private citizens may offer welding programs, tutoring, or practice opportunities as well. Every community offers a few different options that can be used in conjunction with online programs offered by AWS and other associations.
Step #2: Know what you need to do.
Every welding exam requires you to follow a specific set of procedures to pass. Most exams will give you a copy of the written procedures you'll be asked to follow. Spend some time in practice creating the welds that will be judged for the certification process. Each step of certification is based on the practical skills you have, so more knowledge is always a good thing to have.
Step #3: Keep practicing.
If you think you're ready for your certification exam, think again. Most new welders have confidence in their abilities until an industry expert evaluates their work. Keep practicing until you feel like you could weld on autopilot and still produce outstanding work. This step requires 3-6 months of frequent practice (and sometimes more) before you'll be ready to move on. Be persistent.
Step #4: Schedule your certification testing.
Once you feel that you're ready, it is time to take your test. Schedule a time with your local certification provider, then make sure that you show up early. Most exams will not permit you to begin if you show up late. You'll be asked to attend the next exam, and you'll likely forfeit your exam fee if you were asked to pay in advance. Costs vary depending on who is providing the certification. Most fees are in the $30 range.
Step #5: Take the next step.
AWS and most other welding certification providers will inform you on the same day of your exam if you passed or failed the test. If you passed the exam, you'll be awarded your certification in some form (certificate, wallet card, etc.) at that moment. This certification immediately gives you the opportunity to pursue professional welding work. If you fail, you can schedule a retest at that moment, then go back home to practice some more. Every test and retest have an exam fee which you must pay.
Step #6: Keep your certification current.
What gets first-time welders in trouble is that most welding certifications must be recertified 2-4 times per year. Other industries require certification every 1-3 years instead. Using the American Welding Society as an example, you must submit maintenance certification paperwork, and a renewal fee, every 6 months to maintain your certification. If you miss a final deadline for this recertification, then you must retest. AWS requires your certification maintenance paperwork to be signed by your current employer.
Skills Needed to Pass Your Welding Certification
Although every welding certification exam is a little different, there are specific hands-on skills that will be evaluated at every test site.
To earn your certification, you must be able to prove that you've got these 5 skills:
You can lay out a welding project. – The instructor or exam provider will ask you to lay out a project by reading and interpreting welding blueprints, sketches, and drawings that show angles, measurements, and weld types.
You can cut metal parts. – You'll be asked to cut out metal parts to specific shapes, then fit those parts together based on the current best practices, welding blueprint instructions, and verbal instructions offered by the exam provider.
You can weld. – As part of the exam, you will be asked to weld metals given to you in specific positions. This process is part of the overall exam and certification. Specific certifications, such as 2-G or 4-G, are often listed in job descriptions for open career opportunities. You must prove that you can properly weld in these positions, with the correct joint, and do so consistently.
Your weld can pass a quality test. – You may be asked to cut out metal sections from your weld to test its overall quality. A bend test may be applied to your weld to determine if your work was adequate.
You can pass additional tests. – A knowledge test is often included with a skills-based test when pursuing a welding certification. Online courses may allow you to take the written portion at home, but you will be asked to have your welds inspected in-person, if not performed before the exam provider, before you'll be awarded a certificate. Your work may also go through a visual inspection test, an x-ray test, and other specific tests to that type of welding you're doing.
Each industry may have its own welding tests that are required as part of the certification process.
When you receive your certificates, every weld and weld position where you passed will be listed.
You must be certified under specific welding codes to qualify for professional positions that include welding responsibilities.
You will be asked to certify in specific welding processes, such as MIG, TIG, and Stick. Different types of welding, such as boilers or pipes, are part of the certification process.
You must also certify your skills on different metal types and thicknesses.
Each certification code provides its own set of standards, skills, and rules which must be met. There are hundreds of different codes available, so a complete list of them is impractical. A list of the common codes and how they're used from AWS, ASME, API, and the U.S. Department of Defense is available here for reference.
Earning a welding certification will open new career pathways to explore. Find what options are available locally, check online for affordable resources, then begin your pursuit of fun and meaningful career.
For product recommendations, you can visit our homepage.