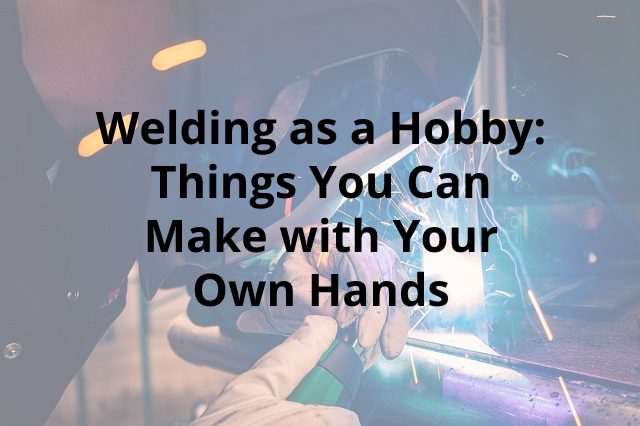 Like any other activity, welding can become a wonderful hobby that involves a lot of fun.
Many things depend on your perception and attitude, so it is up to you to decide how to spend your free time.
If you devote enough time to improving your skills, you will benefit from this activity.
Students can reach out to the write my essay for me cheap service to clear up their schedule and make more room for things they like.
Besides, one should say that welding can be as relaxing as drawing, for example, and you will not have to hire a professional every time you need to repair something connected with this area of expertise.
On the contrary, you will be able to decorate your apartment and even make some cash if you turn this hobby into an aside job over time.
It may be hard to come up with interesting welding project ideas when you are a rookie, but we are here to have your back.
1. Welding Table
If you open Pinterest and search for trendy furniture, you will see that most options involve welding.
You can create any table with the help of shape tubes.
Thus, whether you need a kitchen table or want to create a comfy and Instagram-worthy workplace, you can do it yourself, welding together straight metal pieces of the required size into a frame.
Even a rookie can cope with this task if they have enough patience.
Such tables can cost a pretty penny on the market if you paint a ready-made workpiece and find a worthy tabletop (a wooden one is preferable).
You can change the design to your liking, so it can be an interesting idea to get started.
2. TV Tray Table
Another quite simple yet interesting option for a rookie can become a tray table that you can also utilize as a side table or a stand for your laptop.
You may come across this option on Instagram since it is in vogue nowadays.
It has a C-table design in most cases, so you will spend neither much time nor effort to weld it.
Besides, its size suggests that you don't need a lot of stuff to create such a useful piece of furniture.
The more you will practice, the better result you will get in the end.
3. Firewood Rack
If you live in a private house and use firewood quite often, it is worth thinking about creating a rack for fire-starting materials.
You should grab several U-shaped metal pieces and weld bracing to them to make supports.
Thus, you will get a convenient place to store your firewood inside or outside the house.
4. Horseshoe Bookends
If you are a bookworm, the chances are high that you have many books at home that create a mess.
You can cope with the issue, making interesting bookends with your hands.
It is necessary to grab several horseshoes and weld them together at the right angle.
You can run into a detailed guideline on the web to do everything perfectly.
5. Metal Trellis
It is also a suitable welding project for people who live in a private house and have a backyard to grow some vegetables or climbing flowers.
Besides, if you have always dreamed of having a house surrounded by some greenery like vines or ivy, you can weld metal trellis to make your dreams come true.
Of course, it can be a time-consuming project, but you will surely like the result.
6. Jewelry Holder
If you want to please your girlfriend with a DIY gift, you can consider this idea if she wears jewelry, of course.
You will have to weld small steel pieces together to get the shape of a tree in the end.
When this part of the work is over, weld a tree construction to a square piece of steel so that the owner can place it everywhere.
Besides, you can turn on your fantasy and somehow decorate the ready-made workpiece to make it look more appealing and suitable for the required interior.
7. Barbecue
Many people store various old stuff for years, so it may happen that you have an engine block that occupies space in your garage.
If you like to hang out with friends in your backyard, you can utilize this old unnecessary thing for creating a barbecue.
Of course, this project is quite time-consuming and requires some modification and fabrication on your part, but the result may exceed your expectations.
Thus, you will be able to please your friends with delicious dishes.
8. Picture Frames
If you want to decorate your walls with unusual picture frames, you can do them with your own hands.
It is necessary to grab metal tubes and cut them at a 45-degree angle so that you can connect the tubes with a clean weld.
If you have no idea how to decorate them, search for additional options on the internet.
9. Chandeliers
Nowadays, many people go crazy about high-tech and loft interior design, so they decorate their apartments according to them.
Such interior suggests utilizing rough yet interesting chandeliers that require welding for their creation.
You might have come across such options on many websites and stores that sell such interior items.
Thus, you can get the best out of modern trends and create such chandeliers with your hands.
Bear in mind that websites like Pinterest can become a wonderful inspiration source.