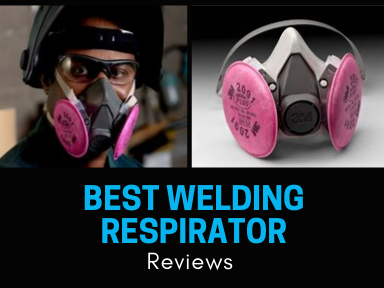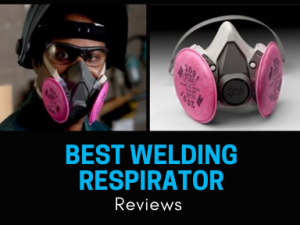 Everyone needs to be educated about the potential health effects of welding fumes and gases. When exposed to these fumes and gases, it can have short-term effects such as temporary irritation to the skin and eyes and feelings of dizziness and nausea.
When you are exposed to these fumes and gases for a prolonged period of time, you can become susceptible to more serious health issues such as heart disease and even cancer, particularly lung cancer.
One way to protect yourself from these harmful health effects is by using the best welding respirator. A respirator is designed to filter out harmful fumes and gases, so the person using it is only breathing clean air.
There are plenty of good welding respirators today. We found the ones that boast of efficacy in filtering out harmful fumes as well as in providing comfort and superior protection. Make sure you keep on reading to find out which products we highly recommend.
Best Welding Respirator for 2019 Reviews
Product
Details

1. 3M Rugged Comfort Quick Latch Half Facepiece Reusable Respirator

Inexpensive but Packed with Features

Star Rating: 4.7
Highlight: Low Profile
Price: $

Check Price

2. Breath Buddy Respirator Mask

Versatile & Lightweight

Star Rating: 4.6
Highlight: Stays Cool
Price: $$

Check Price

3. Miller Electric Half Mask Respirator

Reliable Respirator

Star Rating: 4.5
Highlight: Wear Under Welding Helmet
Price: $$

Check Price

4. 3M Half Facepiece Reusable Respirator

Good Product but Only for Light Use

Star Rating: 3.7
Highlight: More Compact
Price: $$

Check Price
1. 3M Rugged Comfort Quick
Here is an option from 3M you would want to consider. It makes use of resilient silicone material that ensures a firm grip on your skin but without the fatigue and discomforts. You can get a good seal with this kind of material. It also features a Quick Latch mechanism to make this easier to remove and pull back without you completely removing its head straps. It even has a 3M Cool Flow valve that ensures comfort while breathing. This feature allows heat and moisture trapped inside to get exhausted out.
This unit has a low-profile half face design, so you should be able to find a welding helmet that will fit properly under it. Its exhalation valve cover also prevents the welding helmet and glasses from fogging up.
Pros:
This is one of the most inexpensive units out there.
It truly gets rid of harmful fumes in the air you are breathing.
The shape makes this comfortable to wear even during extended periods of time.
Heat and excess moisture do not get trapped inside.
It features and adjustable harness, so you can easily find a good fit.
The quick release function is convenient to use. If you want to rest or drink water, you can easily pull the mask off.
Cons:
Some side they prefer the upper straps to ride a little lower.
2. Breath Buddy Respirator Mask
This welding respirator promises up to 99.95% of filter efficiency. It makes use of P3 Filters, which are superior filters that have gone under stringent testing by CE Standards. You can reuse this mask. It features a cool air valve that allows air to flow right in, so you can say goodbye to discomforts such as excessive sweating. The straps are adjustable as well, allowing for a better fit.
This mask respirator has plenty of uses in the household as well, and boasts of being lightweight. It also looks stylish.
Pros:
They are very comfortable to use according to customers. They were able to use it for a prolonged period of time and did not have issues with discomforts.
Many say this did not cause their glasses to fog up.
You can easily put them on and keep them off without removing the neck strap.
This works seamlessly in filtering the air.
Many commend the customer service response of this product. When they had issues with the strap falling off, the company sent them a new one.
It is a stylish respirator to use.
Cons:
It is one of the priciest mask respirators around.
3. Miller Electric Half Mask Respirator
Breathe easily with the help of this half mask respirator that is compact and thin enough to fit under most welding helmets. If you wear welding helmets but the other respirators out there tend to be clunky and obtrusive, try this one. It features a non-return exhaust valve that will filter out harmful fumes, so you can breathe easily minus the fatigue that often comes with wearing a welding respirator. It makes use of Ellipse HEPA air filter, which is a reliable air filter that can get rid of harmful fumes.
Pros:
A lot of people can truly feel the difference when using this one. It provides a high level of protection against all airborne chemicals and contaminants such as Cadmium, Manganese, Aluminum and Lead. You can breathe easily knowing that you are not taking in all of those chemicals in your body.
If you use a welding hood, this won't be a problem to fit. It can fit with ease.
Many have also used their glasses with this and did not have issues. It also did not cause fogging in their glasses.
The filter can be replaced easily.
Cons:
Some people said the price of the filter replacement is too steep for them.
4. 3M Half Facepiece Reusable Respirator
Protect yourself from welding fumes with the help of this well-designed respirator that features particulate filter 2091 P102. This kind of filter can truly get rid of particulate matters in the air, so you won't worry about breathing harmful chemicals. It features a half face-piece design, which prevents the mask from covering most of your face. This can help in promoting comfort. It prevents wearer's fatigue as well. It also feels soft to the face and has adjustable head straps.
Pros:
This is not just good for welding, it can also be good for environments where there are usually non-oil and oil-based particles. If you do a lot of painting or woodwork in your home, this can be a good welding respirator to get.
It is convenient to use because it can be fitted and adjusted easily. Additionally, the mask feels soft and light.
Many wore this for hours and did not feel tired from it.
Many also commented on its seal. It truly keeps harmful air out.
This lightweight mask is so easy to put on and take off.
It is inexpensive as well.
Cons:
Some said this respirator caused their glasses to fog up.
There were also some issues about getting a good seal.
Types of Welding Respirators You Can Find Today
There is a variety of respirators you can find today but they can be categorized into the following types:
1. Disposable
These types of respirators are often used by people who wear welding helmets. Because they are disposable, they are usually made from lightweight and thin materials, so they can be comfortably worn under a helmet. There is no cleaning or maintenance needed for this kind of respirator. You can simply discard it when it is not being used. It also does not get in the way of your movements.
The downside to this is that it may not have the best protection. Since most disposable ones have a generic sizing, improper sizing can still cause fumes and gas particles to seep in. Also, when using it the entire day and you deal with heavier welding fumes, it can get loaded pretty quickly.
2. Reusable
Just like what the name suggests, this is a kind of respirator you can use over and over again. The outside is made from more durable textile material. There is a filter inside that you can replace once it becomes dirty. Just like the disposable ones, these reusable respirators are easy to use because they are lightweight, and they don't restrict movements. What is even better is that these respirators tend to have more coverage and a better fit compared to their disposable counterparts.
On the other hand, you need to inspect the filters regularly and see if they need to be replaced. Also make sure it doesn't become loaded quickly, so as to provide the best protection against harmful fumes and gases.
3. Powered Air Purifying Welding Respirators
These types of welding respirators are usually connected to your welding helmet via a hose. A blower inside it forces good quality air into the purifier or filter that is in the respirator. This is the best when it comes to the level of coverage as it can protect not just the lower part of your face but also your eyes or the entire face.
This kind of welding respirator also provides maximum protection against welding fumes. It can be fitted easily, and it feels more comfortable because you are able to breathe better. The air being blown into it also has a cooling effect on the face.
Although initially, it will cost more to buy this welding respirator, you will actually save more money in the long run. The downside is that you need to replace the batteries often. You also need to have it inspected and maintained.
Which One Is the Best For You?
All these products are ideal but let us help you out a bit further to choose the best one for your needs.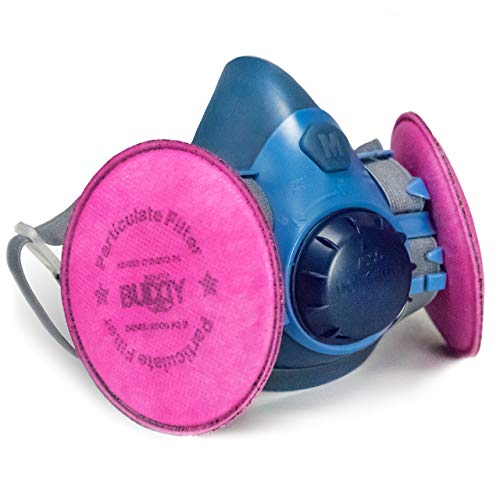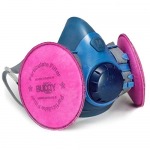 Perfect Comfort: Breath Buddy Respirator Mask. This unit is one of the most comfortable respirators out there. Many users have tried using this and did not have issues with how comfortable it is. If you like something that you can easily put in and take off, this should be a sterling choice.
Can Fit Under Welding Helmets: Miller Electric Half Mask Respirator. This one is an ideal choice if you use welding helmets. It is small enough to work under most standard welding helmets but is still capable enough to truly purify the air you are breathing. Over-all, this is a reliable respirator that you will be able to use a lot.
Lightweight and Comfortable: 3M Half Facepiece Reusable Respirator. This one is smaller in design than other respirators out there. If you are looking for something a bit more compact and does not get in the way of doing what you are supposed to do, this should be an ideal choice.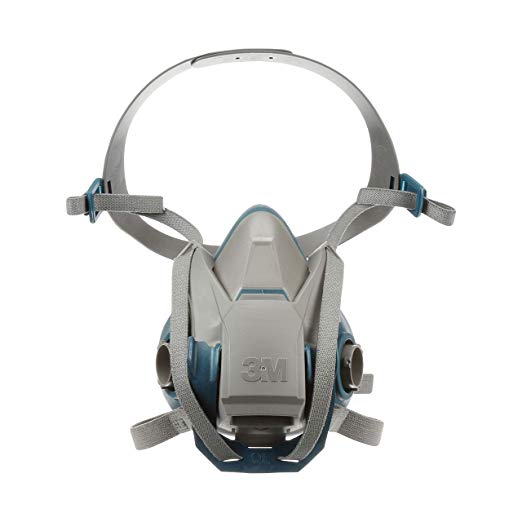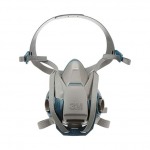 Inexpensive But Packed with Features: 3M Rugged Comfort Quick. Although this is the least expensive in this list, it doesn't compromise when it comes to quality and advanced features. It still can deliver what the others can offer.
Tips in Buying the Best Welding Respirator
Take buying the best welding respirator more seriously for your own safety. We suggest keeping the following buying tips in mind if you want to find the best welding respirator:
1. Take the welding environment into consideration.
Do you often deal with heavy fumes on your job site? If so, you might be more comfortable using powered air purifying respirators. If you only deal with welding fumes and gases occasionally and you don't weld for hours at a time, the disposable ones or the ones where the filters can be replaced should suffice.
2. Think about your comfort.
Wearing a respirator for a prolonged time can be uncomfortable. You would want to make sure that you can still move and breathe comfortably. Otherwise, it will be more difficult to breathe in and out. And when you are already doing a lot of heavy work, wearing the respirator can be cumbersome. You can also look for those with adjustable comfort, so you can easily find the set-up that will work for you.
3. Check its ability to filter out fumes.
How well does it purify the air you breathe? What kind of filtration system does it use? Check if it is capable of eliminating harmful fumes and gases in the air you breathe, so you know that it truly is working to keep you safe.
4. It should be durable enough to last for a long time.
Durability can be an issue with cheaper respirators. If you do welding jobs a lot, it is better to look for respirators made from materials that can withstand some abuse.
Make sure you keep these things in mind if you are looking for a way to enhance your safety and comfort while doing your welding work.
What's Next?
Here are the welding respirators we recommend getting:
Welding, sure is hard work. Make sure you keep yourself protected by using the right gear and choosing the best welding accessories. Read more product reviews and buying tips on our homepage, so you can build the best welding arsenal.