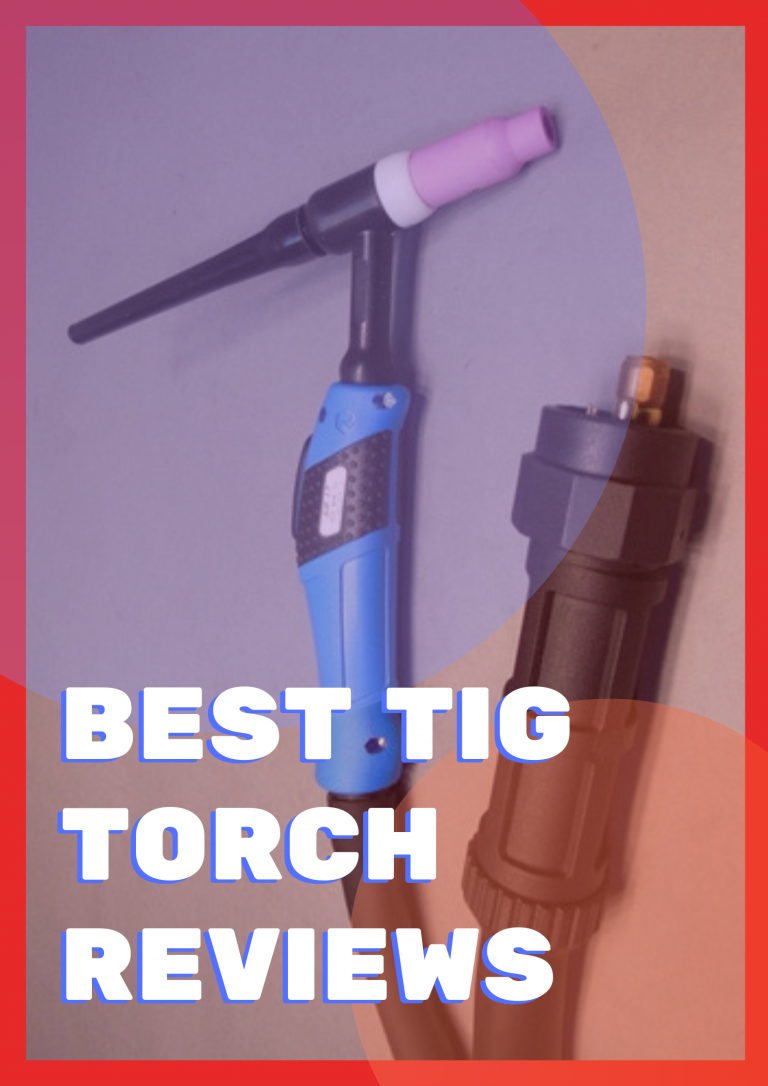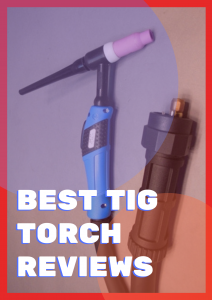 TIG Welding is one of the welding methods that have garnered popularity because of its many benefits. One way to make TIG welding a lot easier is to get yourself all the paraphernalia and equipment you need. A TIG torch should be one of them.
This article will highlight the benefits of TIG welding as well as help you find the best TIG torches today based on their performance, efficacy, and durability. If you are on the lookout for a good TIG torch to buy, you came to the right place. Make sure you keep on reading to know which products we highly recommend.
Best TIG Torch Reviews
1. Blue Demon 150 Amp Air-Cooled TIG Torch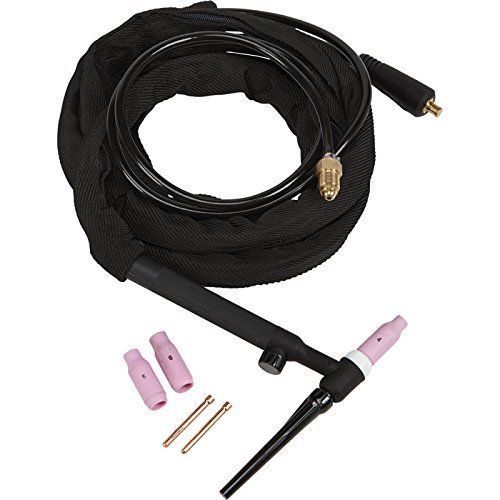 This TIG torch has a power capacity of up to 150 amps. It is powerful enough to weld thicker metals but flexible enough that you can control it easily. This kit comes with 3 nozzles and collet sizes for your various projects. It is an air-cooled type of TIG torch with a twist lock connection system, so you can easily connect it to your welding machine. One of its key features is its V style torch. Since the on and off valve is directly mounted on it, you can easily and conveniently control it. This set also comes with a fabric cover with a zip closure to keep the cables and hoses of your torch set protected from the elements.
Pros:
For its quality and functionality, this is an inexpensive TIG torch to get. Many even said that you get the same quality with most machines but this one has a lower price tag.
It comes complete with the nozzles you need for welding.
It is easier to control the shielding gas because the valve is mounted on the torch itself.
You can connect it easily, thanks to its twist lock connection function.
This is made by a reputable brand.
Cons:
Some said they needed to replace the gas hose after some use.
2. Masterweld WP20-25R TIG Torch Tigmaster
This is a water-cooled type of TIG torch. Whether you are an avid DIY-er or a professional, you will still find this TIG torch a value for your money. The rubber hoses are made from high-quality materials that will not get damaged easily. The unit comes with 3-piece cable. The cables also come with covers for added protection against the elements.
Pros:
This product gives you additional accessories such as 1 collet, a back cap, 1/16-inch tungsten, alumina cap and collet body.
You can rely on this TIG torch for higher tungsten electrodes of up to 1/8-inch.
Many people said this "no name" TIG torch can easily match the features and functionality of expensive and more popular TIG torch brands.
The fittings are the same as those from popular brand names.
The protective cover comes handy. It can fit easily on your set's leads.
The torch handle is easy to hold and grip. It is comfortable as well, so you can avoid hand fatigue.
All the things you need to get started are already in here.
You can easily connect it to a welder.
The hose has a nice length as well.
Cons:
There aren't a lot of negative reviews about it except that not many are familiar with the brand.
3. HitBox TIG Welding Torch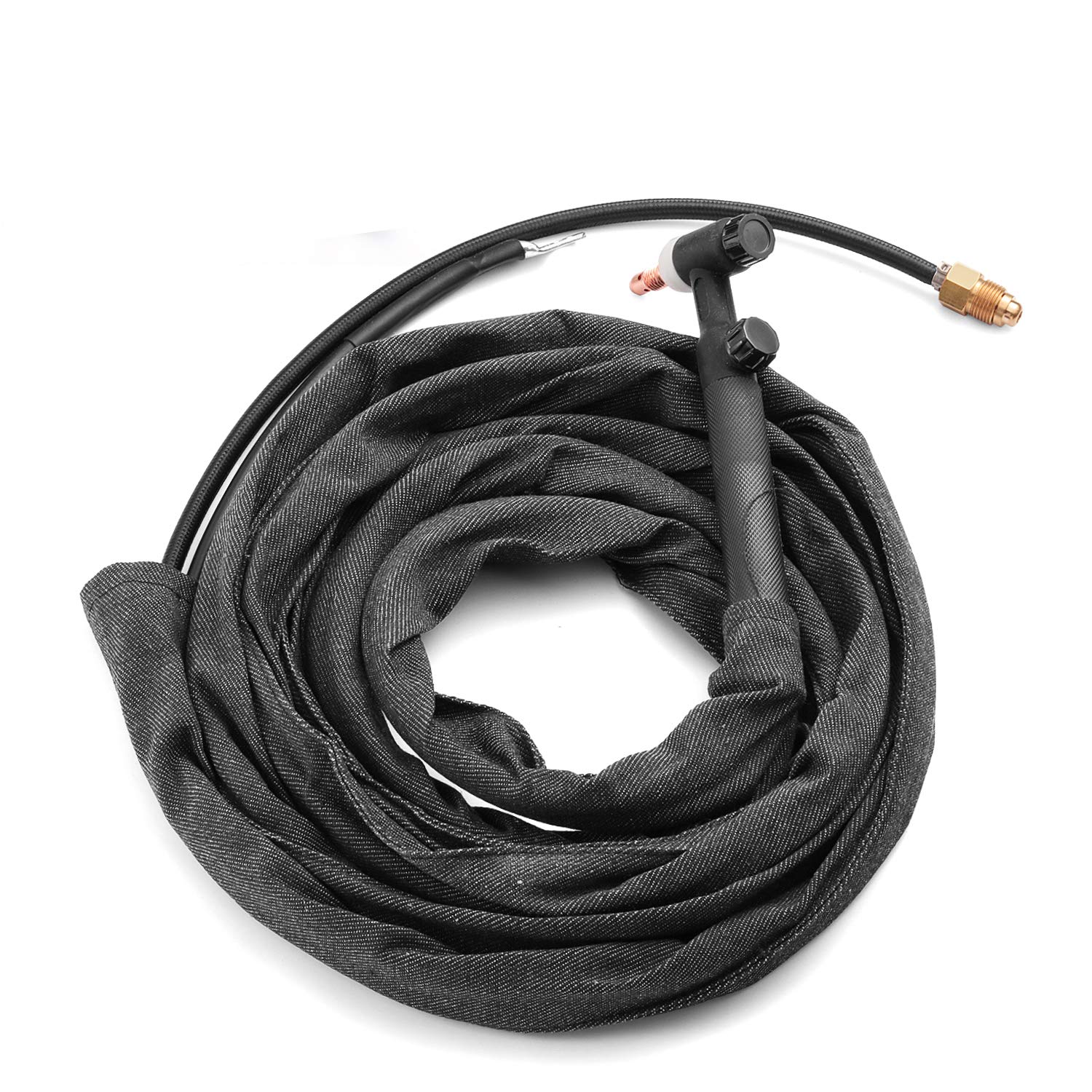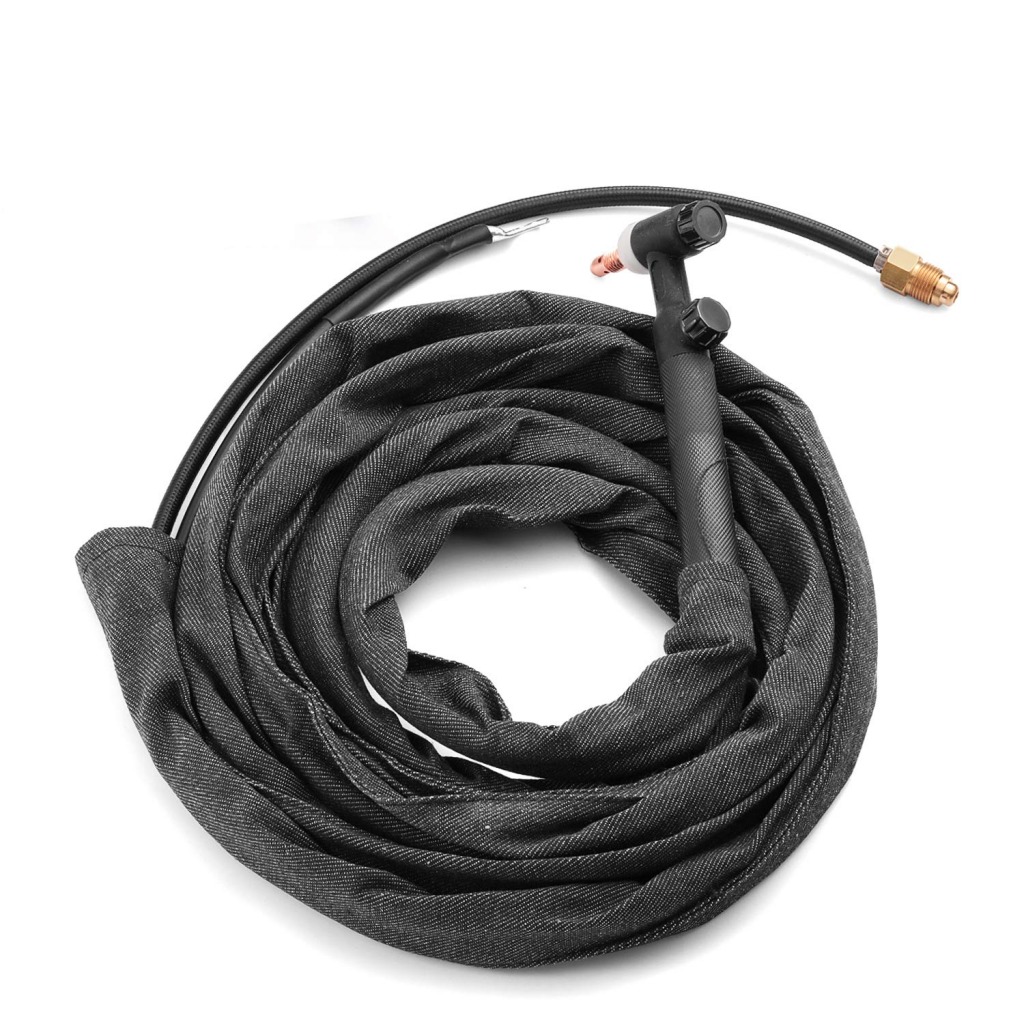 This gas-cooled TIG torch boast of long 13-foot cord. You can maneuver it with ease and not worry about the cord being too short. The electrode size is at 05 to 2.4mm, great for getting the best results. It features a lift TIG lift arc function as well. And with a weight of 4 lbs. or 1.8 kg, you shouldn't have trouble using it or carrying it with you.
Pros:
This is a good choice for welding flux cored wire but if you plan on using gas, this should be a good TIG torch to use as well.
Beginners won't have a hard time using this. Many said they did not have issues using this although they are beginners.
It produces excellent results. There is no unnecessary clean-up needed after.
It is well-made, and the parts seem to have a good quality.
A lot of people liked how lightweight it is.
The wire drive is good quality.
It comes with twist lock connectors that are large enough for easy access.
Cons:
The finish and fit need a bit of work.
4. WeldingCity TIG Welding Torch WP-26V-25R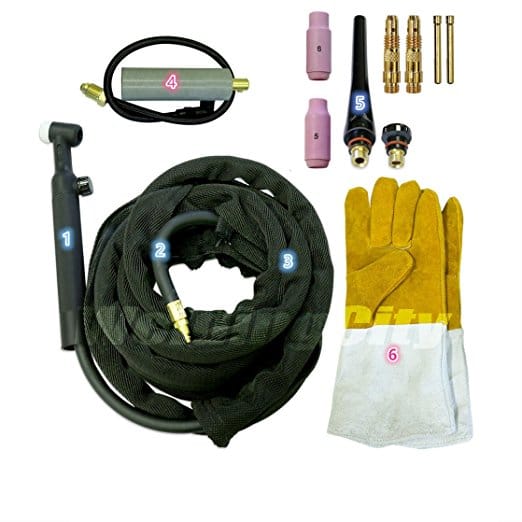 Everything you might need in a TIG torch set is already included in this. It features a 200 amp of air-cooled TIG welding torch. This has a 26V of gas valve head body. It is compatible with most welders including Miller ones. The set also comes with a power cable hose, cable cover made from nylon, an adapter for the power cable and accessory kit.
Pros:
For the accessories and items you get in the package, it is a great deal already. It is less expensive than others out there.
Everything seems to be well-made and durable.
The hose comes with a cover.
It also comes with a pair of gloves.
It has more power than other TIG torches out there.
Cons:
Some said this is a bit stiffer than they preferred.
Benefits of TIG Welding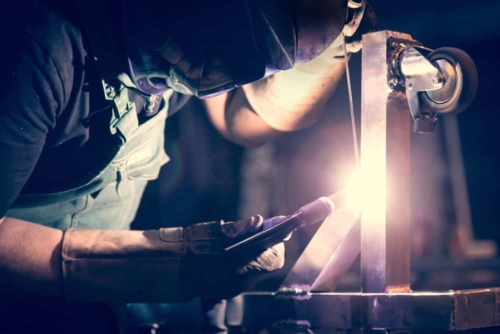 What exactly draws many people to the TIG method of welding? Here are the advantages that one can get from this type of welding process:
1. This type of welding uses less amps.
Less amperage can be advantageous to welders. If you are working with thinner metal bars, low amperage is better because you can get more control over your work output. You can get your desired results instead of overworking the metal material. Because it uses a low amperage, this type of welding method is more versatile. It allows you to work on various small projects.
2. You always get clean results.
Other methods for welding do not produce clean results all the time. In many cases, slags are left behind as a result of contamination or poor welding techniques. Usually, the slags need to be cleaned and removed to get more attractive results. But in the case of TIG welding, that problem can be eliminated.
3. It gives you better control to create more intricate designs.
Because it uses less amperage, you have full control over your project. The TIG torches you can find today are small and thin and even have a pen-like quality to it. This gives users a lot of opportunities to control their output. If you are working with more curves or more intricate designs, you can definitely benefit from TIG welding.
Some Tips When Buying the Right TIG Torch
There are plenty of good TIG torches out there. But at the end of the day, it's about finding the one that is good for you.
Assess Your Welding Needs
Do you often deal with thinner metals? Do you aim to get more precise control to get smoother curves? Do you plan on doing more intricate designs? Your specific needs will determine which TIG torches will work best for you.
Compare Amperage
Although these torches make use of low amperage, they are not all equal in the amps they use. You should compare amperage and determine which of those torches can deliver the performance you are looking for. Generally, if you are working on welding projects that require only less than 200 amps, an air-cooled torch should be just right for your needs. If you need something more powerful than that, you should look for water-cooled ones.
Materials Used
Also check what materials are used with the torch. Tellurium copper is very common and inexpensive. However, this isn't the most durable. If you want something that can last for a long time, look for leaded nickel copper instead. Additionally, this material is a more effective conductor of heat, so you can utilize the amperage you bought.
Also check the body of the torch. It should be insulated for enhanced safety. That means you should look for one with silicone rubber body rather than just one made from phenolic materials. If possible, look for TIG torches that have a body made from high-dielectric rubber silicone as this is the material that can withstand high level voltage. Also, this material can withstand some impact. It will not crack easily.
Which One Should You Get?
All these products are great but make sure you are getting the best one for your specific needs.
Allow us to make a few more recommendations:
Here are some of the best TIG torches you can buy today: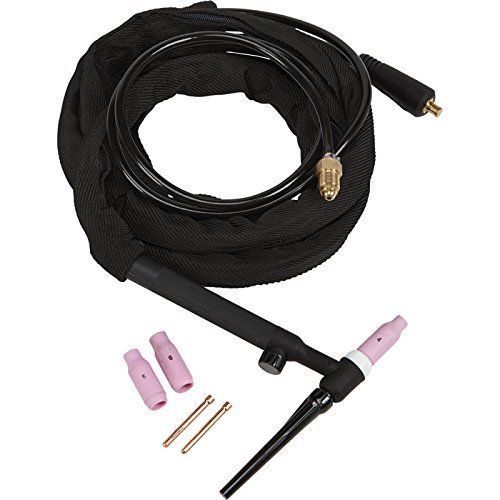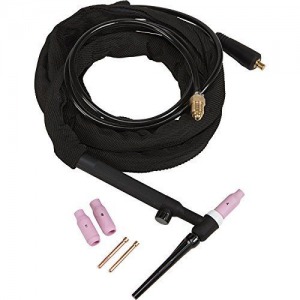 Good Price with a Good Quality: Blue Demon 150 Amp Air Cooled TIG Torch. This one may not be the most expensive around, but it is one of the most reliable. It can still be relied on when it comes to welding. For its price tag, you will want to get more of this.
At Par with More Famous Brands: Masterweld WP20-25R TIG Torch Tigmaster. Although this might be a TIG torch from an unpopular brand, it has features and functionality that can easily outshine those of more expensive brands. If you are looking for one that isn't too expensive but can get the job done, this is a good choice.
Lightweight Choice: HitBox TIG Welding Torch. This is the TIG torch to get if you prefer something lighter in weight. It also has a long cord, so you can easily maneuver this unit and not have to worry about not reaching your workstation enough.
Complete Package: WeldingCity TIG Welding Torch WP-26V-25R. If you are starting out with tigging and you are in need of a complete set that you can use to get started with your welding, this should be a good set to use. It is also comparatively inexpensive considering how many accessories and freebies you get.
How to Take Good Care of Your TIG Torch
No matter what TIG torch you are using, proper care and maintenance are still paramount in order to make it last for a long time. Here are some of the things you can do to maintain your TIG torch:
1. Regularly inspect your TIG torch for damages.
Do a visual inspection such as O-ring. Watch out for signs of deterioration such as rips. Also look for signs of dryness or cracking. Once the O-ring is damaged, it will draw more air into the body of your torch. This can then contaminate the weld.
2. Replace handle cracks.
Cracks in the handle body could make you susceptible to electrical shocks. Don't use it if you can see visible cracks. Buy a replacement instead. It shouldn't cost too much.
3. Check the nozzle.
If you can see blackening or cracking in the nozzle, you should have it replaced right away. TIG shield gas coverage can be affected by these problems.
4. Also check the insulation of the body of the torch.
If you can see damages such as cracks and splits, it is time to change the insulation.
5. Use a cable cover.
The cables and hoses of your TIG torches are important as they are the ones that direct heat. If they get clogged up, your TIG torch will be unsafe to use. Better use a cable cover to keep these hoses protected from damages.
6. Always keep the threads clean.
These are the threads that connect the torch body to the back cap. If dirt and grime collect in them, your TIG torch can malfunction. Make sure you keep these areas clean all the time.
What's Next?
Do you already have everything you need to get started in welding? Aside from tools and equipment e.g. best welder for beginners preferred by many, also make sure you have safety gear with you. Check out our homepage for more information on which welding products and gear to get.