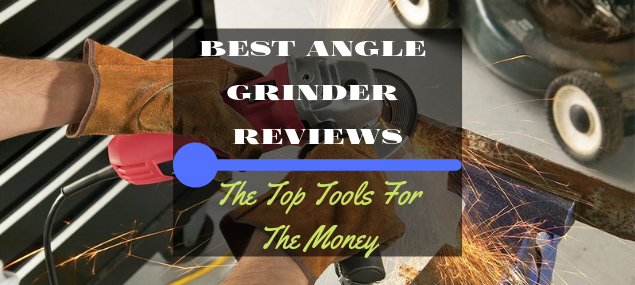 Are you searching for the best angle grinder to add to your metal work tools and equipment? You came to the right place. With so many angle grinders in the market today, you might have a hard time finding one that will truly suit your needs. Don't worry because we did all the work for you and check out what products are out there. We scrutinized all the options out there and singled out the ones that have the best features, performance, price and quality.
Best Angle Grinder Reviews
Here are the angle grinders you would want to check out:
Find out why we chose these angle grinders:
1. Makita 9557PBX1 4-1/2-Inch Angle Grinder with Aluminum Case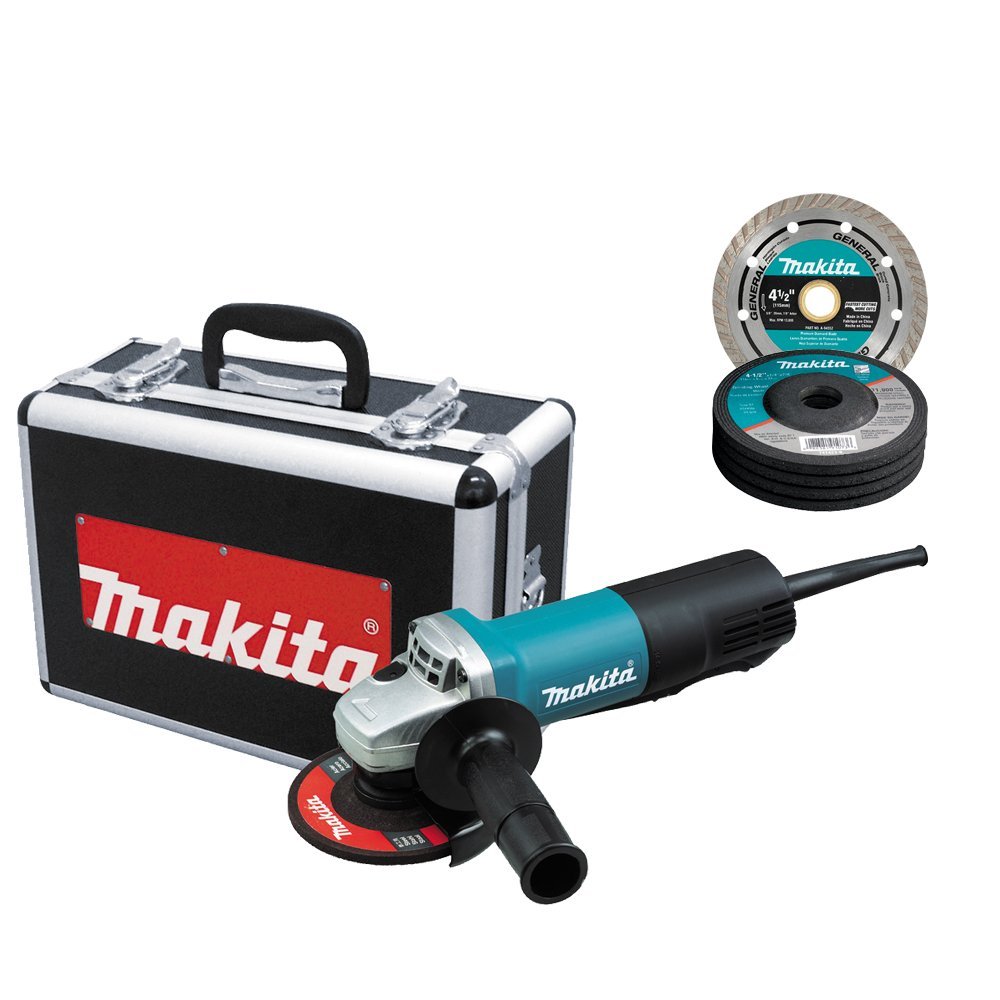 This powerful 7.5 AMP grinder does more than just accomplish grinding jobs, it also does that with its motor-protection benefits for superb and long-lasting performance. Every startup is smooth and soft, thanks to its 11,000 RPM that always delivers seamless motions. One of the reasons why this unit is durable is because of its labyrinth construction. This protects the internal motor and bearing from being invaded by debris and dust. As a result, you get a tool that will remain as good as new even after years of usage.
The gear housing of this angle grinder can rotate 90 degrees to the left and the right. It is a tool of convenience that operators will find ideal to use. Fully equipped with dual ball bearings, you can expect only smooth power transfer so that the internal gears do not get jarred loose.
Pros:
This is very lightweight and easy to work with. With only 1 pound of weight, this compact and lightweight angle grinder should be a fitting choice for those looking for an easy grinder to use.
The barrel is very slim. It has 2.5 inches of size, so it is ideal for continuous grinding. This also makes this grinder a lot more comfortable to use.
The labyrinth construction of this angle grinder protects this from various debris and dust that can collect inside and damage its internal functions. There is even an added zig-zag varnish seal that will serve as additional protection against dust and dirt.
The paddle switch is large. This makes it comfortable to use even when working for a long time.
The paddle switch prevents the unit from accidentally turning on.
Many people said assembly is easy and fail-proof. It's not that difficult to learn if you are a newbie.
This unit comes with a 1-year warranty.
It holds up well against a good level of abuse. A lot of people have had this angle grinder for years and never experienced any issues.
Cons:
There were those who said changing the blade of this unit is a bit challenging.
2. Bosch 1375A 4-1/2 inch Angle Grinder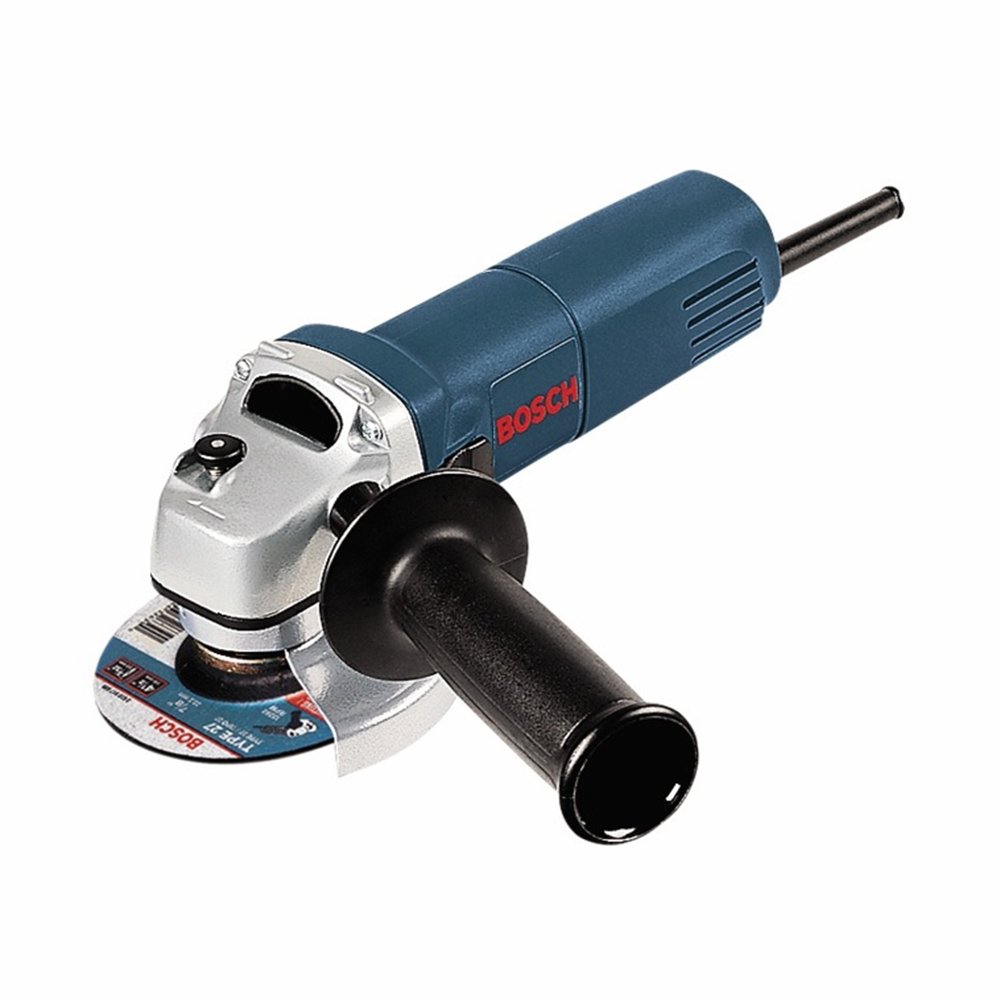 Compact and lightweight, these are the properties that you can use to describe this angle grinder from Bosch. Whether you need a grinder for vehicle work, metal projects and plumbing jobs, this should be a good option because it is easy to carry around. Professionals and novice workers alike will be able to use this with ease. It only has 3.75 lbs. of weight and has 6.0 amp of motor power, so you can derive more from this unit.
One of the remarkable features of this angle grinder is its two-position side auxiliary handle. That means you can angle it to whatever suits your preferences better. It caters to the individual needs of contractors. The handle at the top also has an ergonomic feel.
Pros:
This is a mid-range angle grinder that is a suitable choice even for professional workers. It is the best because of its compact and lightweight properties. You can go from one work site to another with this in tow and not worry that it is too heavy for you.
It is designed to provide superior comfort. Because of the two-position side auxiliary handle where you can find the best angle position that caters to your personal needs, you won't have to struggle to use this angle grinder.
Even with its compact size, it packs a lot of power. Its operating speed of 11,000 rpm is suitable for ay kind of grinding work. You can grind and cut without exerting too much effort. Since it has a smaller motor, this unit is also more efficient.
It boasts of the Service Minder Brush System. What this does is shut off the grinder if there is a need for preventative maintenance. That way, less wear and tear are inflicted on this angle grinder, so it can last longer.
The exterior is made from epoxy-coated field windings. This prevents the tool from getting damaged by metal debris. Also, the switch is sealed to prevent debris from getting in the switch.
This comes with a one-year limited warranty.

Cons:
It only comes with one-speed setting, which can put off some people.
3. Black + Decker BDEG400 6 Amp Angle Grinder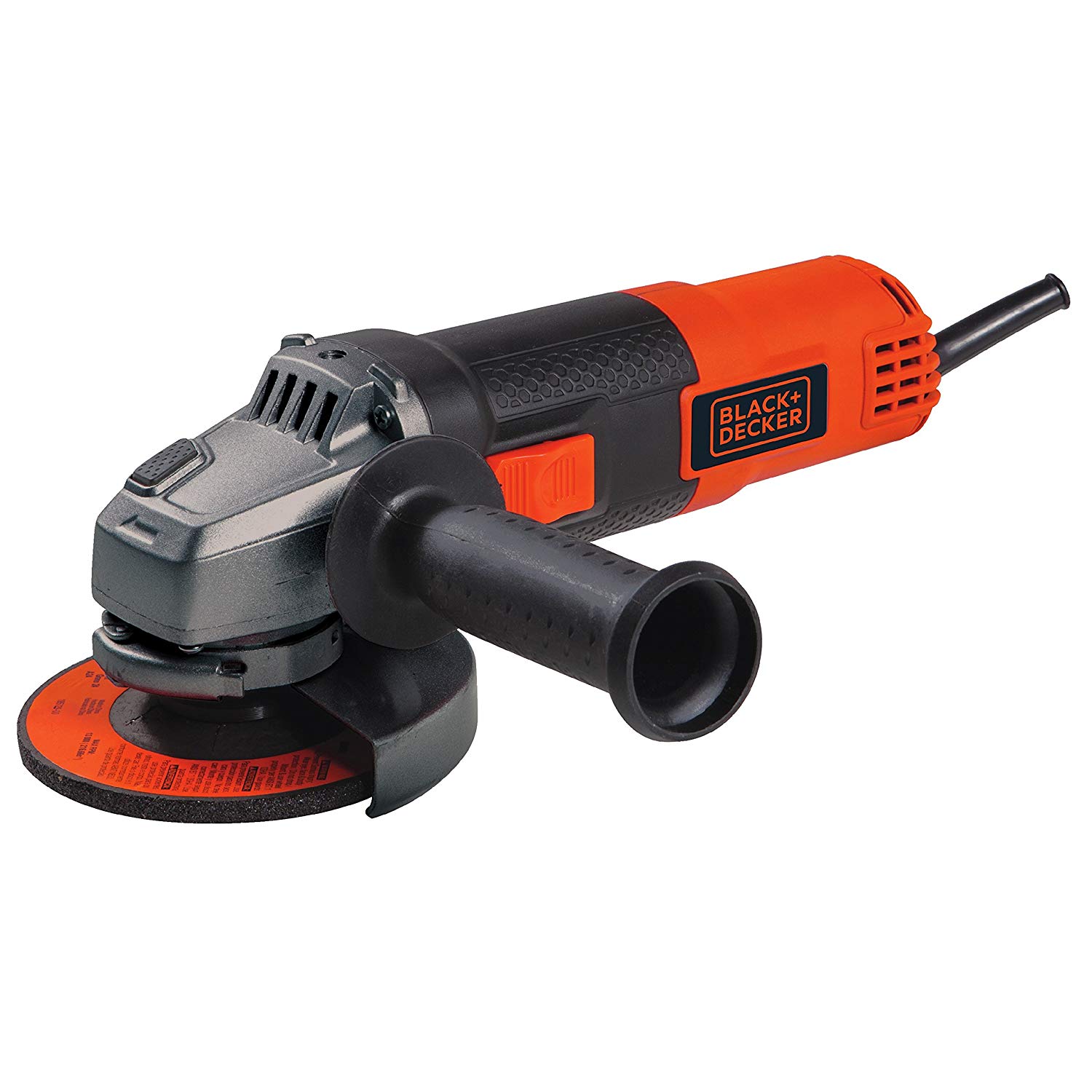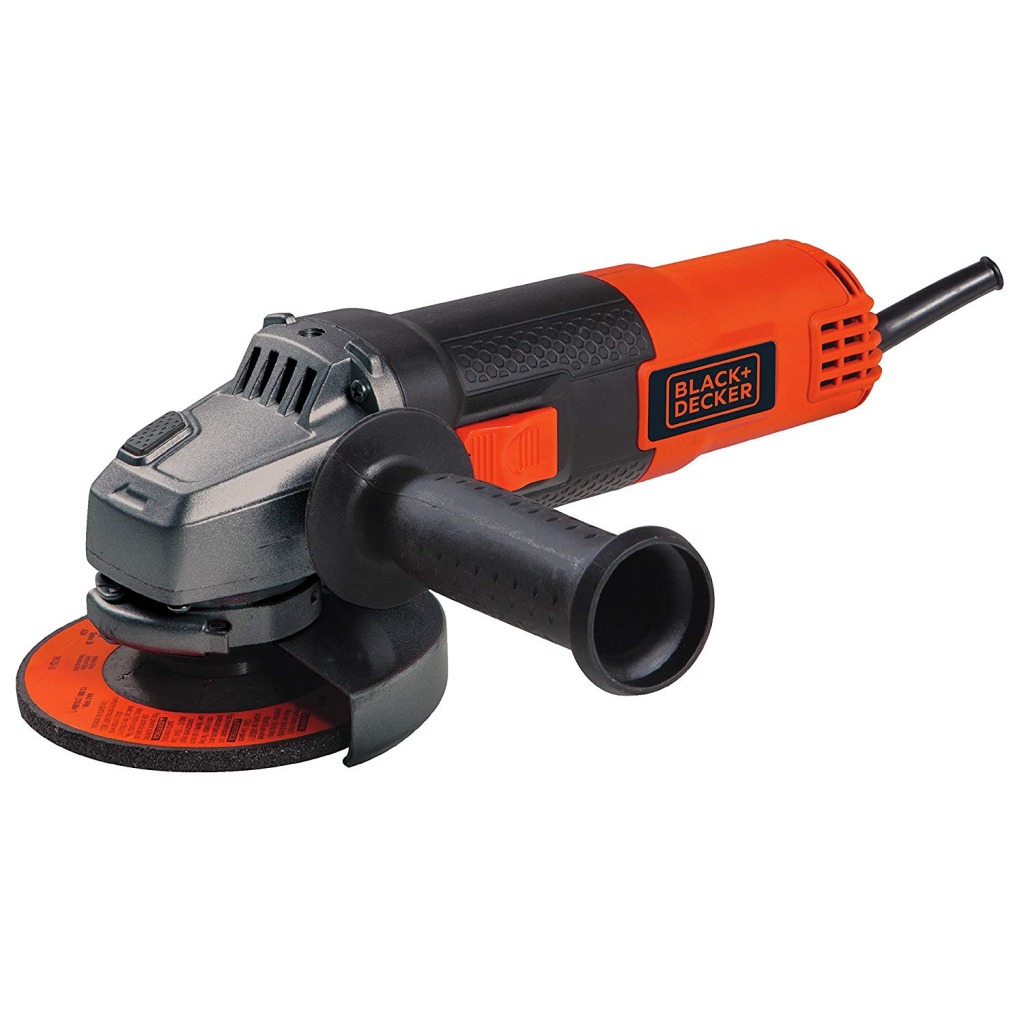 Whether you need a reliable tool for grinding, cutting, sharpening or polishing, this is a good angle grinder to get. It comes in a metal gear case to protect your tool from bumps and scratches. What makes this different from all others is its 3-position side handle. You can choose whatever position you want in order to get the best grinding results.
Changing accessories is a cinch, thanks to its spindle lock system. With 10,000 rpm, you get a fast grinding speed to hasten the process and allow you to get results faster.
Pros:
You will like the 3 position handle. Because of that, it is easy to use. You can find your preferred handle position with ease.
It is comfortable to use. You won't suffer from needless fatigue when using it.
The grinding speed is good. It is not too fast that you might have trouble using it as a beginner, but it isn't too slow either. This makes this an ideal choice for both newbies and professional users.
Changing accessories is easy. The spindle lock design makes accessory changes easier.
This unit has a longer warranty of 2 years. Your purchase is also backed by good customer support.
It won't break the bank. For its many ideal features, it is surprisingly affordable.
Cons:
The manual isn't very helpful. If you are a novice learning how to use this, the manual can be frustrating to use.
4. SKIL 9295-01 Angle Grinder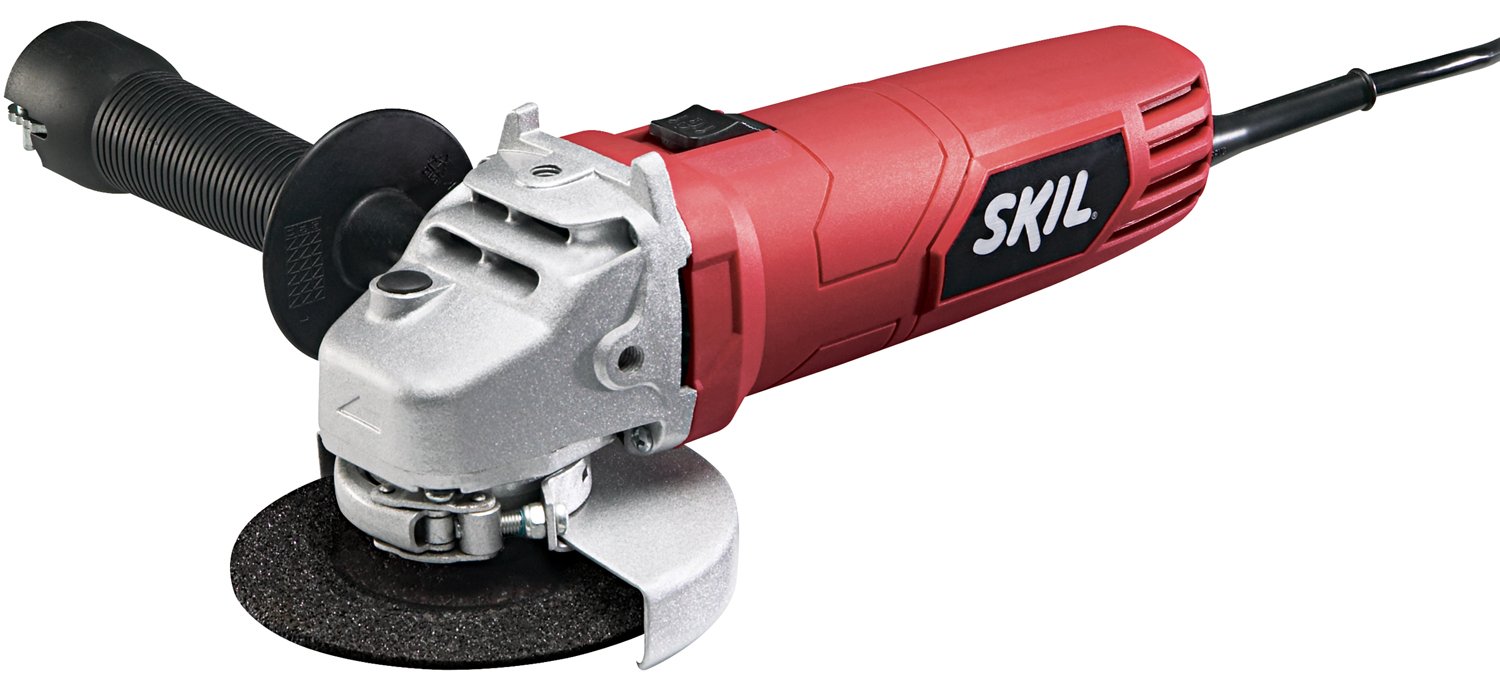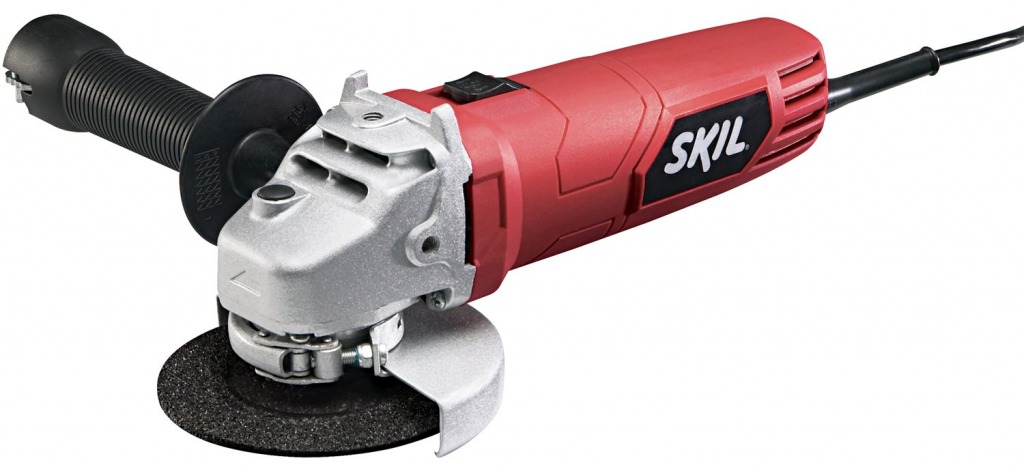 This angle grinder will never lack in power with its 6.0 Amp of motor that is capable of delivering a speed of 11,000 RPM. Making adjustments is a cinch with this tool-less guard. You can adjust it to your preferred settings without worrying about using a lot of tools.
This angle grinder is definitely built to last with its heavy duty housing. You can subject it to a lot of rugged usage and not worry that it will get damaged easily. It is comfortable to use as well. The grip is comfortable and offers a lot of control.
Pros:
This angle grinder really delivers when it comes to speed and power. Whatever you are working on, whether you are grinding, cutting or polishing, you can accomplish the tasks you have set for yourself with this grinder.
Adjustments are easy. No additional tools are needed to make those adjustments, so you don't have to worry about bringing more things when working.
This angle grinder is designed to last for a long time. Many have used this for a long time without issues. It has a metal gear housing that is resistant to common damages.
This one boasts of comfort as well. It doesn't wear you out because the handles have vibration-reducing properties. The grip is quite ergonomic as well.
It comes with an internal wrench storage, saving you so much time.
This is one of the most affordable angle grinders out there.
This unit is backed by a 30-day money back guarantee as well as 1-year warranty.
Cons:
Some said the switch is a little bit stiff. You might have trouble switching it on if you are wearing gloves.
Which One Should You Get?
Can Last for a Long Time: Makita 9557PBX1 4-1/2-Inch Angle Grinder with Aluminum Case. This is an angle grinder that is built to last. Aside from its durable and rigid construction, it also has a labyrinth interior that prevents dirt and debris from easily getting in the mechanisms of the grinder and causing damage to the bearings and motor. You are getting more bang from your buck with this reliable grinder.
Very Lightweight and Compact: Bosch 1375A 4-1/2 inch Angle Grinder. This is the angle grinder to look for if you want something that is lightweight and compact. It is easy to transport because of how compact it is. Although it is more compact, it actually has a lot of power. It can give you the grinding speed and efficiency you are looking for.
User-Friendly Functions: Black + Decker BDEG400 6 Amp Angle Grinder. The manufacturing company gave its design a lot of thought. As a result, it is an angle grinder that brings a lot of user-friendly features to the table. Even those just learning how to use a grinder will find this very easy to use.
Most Affordable Options: SKIL 9295-01 Angle Grinder. Get this if you are concerned about the cost. It will not break the bank, but it will also not compromise on quality. It is still durable and has features that will make work a lot easier.
Factors to Consider When Buying a Good Angle Grinder
Power. Compare the power of the angle grinders you are thinking of buying. Which one delivers more on power without being too inefficient? You would want to look for those with a higher amperage because they are the ones that can do more heavy-duty jobs.
Buying a good angle grinder entails taking the following factors into consideration:
Speed. The speed can also be reliant on its power. With a lower power, it might not provide a good level of speed. If you want to cut down the amount of time you need to accomplish your tasks, you should look for those that have the speed suitable for your project.
Weight. It is hard to work for a long time if you are using a heavy and clunky angle grinder. Go for those with lightweight features as they are easier to glide and won't tax your wrists and arms. Lightweight angle grinders are also easier to carry with you no matter where you go.
Size. A more portable angle grinder is a better choice as you are able to maneuver it with ease. Choose something that has a more compact design that is easy to use and glide on surfaces you need to polish or cut.
Ergonomics. Make sure the handles have rubber grips that are comfortable and won't chafe the hand. The bigger the grip barrel, the easier it is to handle. There are also those with a multi-position handle that actually helps you personalize the unit to your preferred settings.
Price. Set a budget for the angle grinder. While they are comparatively affordable compared to other tools, you still would want to buy one that is not too cheap but not too expensive either. With cheaper angle grinders, you usually get what you pay for when it comes to quality. If you have a bit more money to spare, go for something with a mid-range price but has excellent quality, so you can truly benefit more from it.
Conclusion
We have more reviews and tips for you if you are looking for the best tools for your projects. Read our product recommendations so you can be guided on which products offer great value for your money.