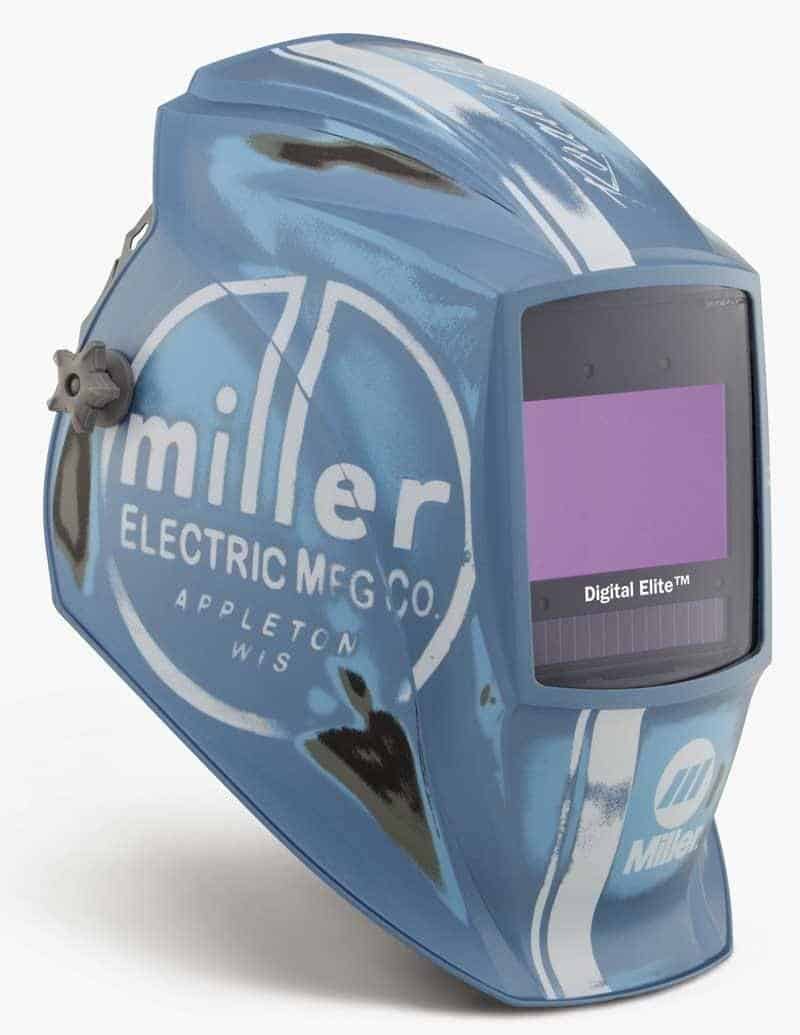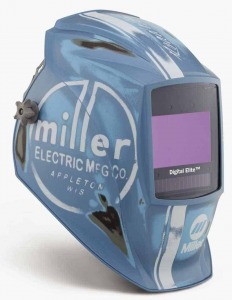 Miller prides itself on creating things that matter within the welding industry. Their products, including their elite line of welding helmets, are focused on providing users with solutions that are needed to meet their most crucial of needs. You'll find in the reviews of Miller welding helmets that there is a passion for the work that needs to be done and the relationships that are formed between the welder and the manufacturer.
Here Are the Best Miller Welding Helmets in One Chart

Headquartered in Appleton, WI and owned by Illinois Tool Works, Miller has from its inception in 1929 produced high-quality products at reasonable prices. Today this brand is the world's largest manufacturer of arc welding products. You can see that quality in welding helmets like these.
What Are the Features of the Best Miller Welding Helmets?

You'll find that Miller welding helmets offer users several different quality features that can help produce a consistent bead more often. It all begins with what is included with most of their elite helmets, which includes 5 outside cover lenses, 2 inside cover lenses, and a helmet bag so that you can quickly adapt to splatter and debris to keep working.
There are improved digital controls with most Miller welding helmets today as well. The design is quite intuitive, providing larger buttons that are easier to push or adjust while wearing welding gloves.
Here are the other features you can expect to find when you choose Miller as your welding helmet manufacturer of choice.
X-Mode. Miller welding helmets are able to electromagnetically sense a weld so that sunlight interference can be minimized. This allows the helmet to continuously detect the arc, even if the sensors happen to be blocked.
Four Arc Sensors. These independent arc sensors offer users a superior level of lens response, especially for obstructed welding or low-amp welding.
Additional Versatility. In addition to the X-Mode, Miller welding helmets also come equipped with a standard weld operating mode, a cutting mode, and a grinding mode so users can wear their helmet at all times.
There is also a unique quick-release design for the cover lens on each helmet, making it a lot easier to replace them when needed.
Pricing Options for the Best Miller Elite Welding Helmets

Many of the Elite welding helmets from Miller are priced in the $300 range. The helmets that have more of a customized outer shell tend to be priced about 20% more than those with a basic shell in the Elite series. In return, you'll receive a helmet with a reaction time of 1/20,000 of a second and access to Miller's "True Blue" warranty.
You can access the terms and conditions of their current limited warranty through this link: https://www.millerwelds.com/support/warranty
Real Life Reviews of the Miller Elite Welding Helmets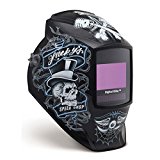 There are 4 arc sensors included with the helmet.This provides operators with a superior level of response from the lens, even when working in obstructed areas or are performing low-amp welding. It features a response time of 1/20,000 of a second when light changes occur. The viewing window is 3 4/5 inches by 2 2/5 inches, so your peripheral vision can actually support your work.  Its clear optics provide an obstructed view of your work area. And, like other Miller welding helmets, this model weighs just 1.13 pounds. It doesn't matter if you're a novice, a hobbyist, or a professional: this will allow you to see your work better. Because of that, you can also become a better welder.
This complete Miller Digital Elite ADF Review is a must read to help you make a buying decision.
Click here to view the price on Amazon and get the best deal.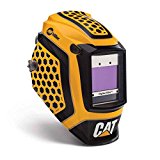 The X-Mode is supported by a welding mode, which offers operators a shade variation of 8-13, depending on the amount of radiant energy that is being produced. There is also a wider range of cutting shades included with this helmet, giving you variation options from 5-7 instead of only providing Shade #5 like most other helmets at this price point. You also receive a Shade #3 for grinding. There is a quick release cover lens as well. This makes it really easy to replace your cover lens should the need arise. There is nothing disappointing with its durability as well as most users said it held up quite well against a good amount of abuse. Daily usage won't wear it out quickly. However, cleaning it might be a bit challenging because of its matte finish.
Visit CAT Edition by Miller Electric Review for more details about this welding helmet.
Click here to view the price on Amazon and get the best deal.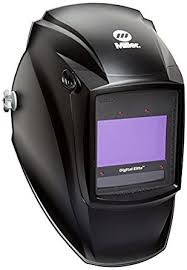 For welding purposes, you have options that range from Shade #8 to Shade #13. Then, when you're ready to begin grinding, you have lens-shading options of #3 or #5 as well. That way your new welding helmet can reduce eyestrain quickly and effectively in almost any task that you may need to take on. It has a wide viewing angle and clarity that other welding helmets can offer. Many testimonials also say it is one of the most comfortable helmets they have tried. The weight of the helmet does tend to sit down on your neck just a bit, creating a small ache at the joint where your neck and back meet. Stretching out the neck helps, but doesn't eliminate, the fatigue that occurs from longer spells of welding. It does have a good price range. Compared to the previous models, this one is more affordable without compromising on the quality and features, making it ideal for cash-strapped buyers.
Interested? Get more information about this product here: the Miller Electric Black ADF Review.
Click here to view the price on Amazon and get the best deal.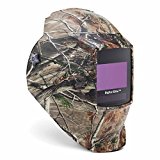 This is one of those welding helmets that knows how to make a positive first impression. Everything on the helmet worked quite well for us, though the grinding mode needed a battery replacement during our trial period. There is a solar charging backup system, but you actually need to have the helmet outdoors for it to really collect some energy for you. The satin finish on this helmet makes it look great and gives it some durability as well. If consistency is your primary point of focus, then you'll want to give this Miller Elite helmet a closer look for sure. There were just a few issues about battery life. Even with a back up solar charging system, there were those who said the battery life doesn't last as long as expected.
Click here to view the price on Amazon and get the best deal.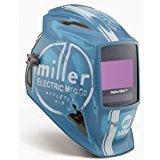 We liked the narrower profile that comes with this particular welding helmet. It doesn't give your face a lot of interior room, but that's not a bad thing. In fact, countless reviews say this is a comfortable welding helmet that users can wear for extended periods of time without straining their neck. Reaction time for the variable lens is 1/20,000 of a second and you receive shade assistance in 3, 5-8, and 8-13 so there is a complete level of protection. There are 4 arc sensors that perform exceptionally well with this helmet, a view area that totals 9-square inches, and a battery life that is rated to last 3,000 hours. It's a bit of an investment, but one we'd definitely make, especially since it also has durability to bring to the table.
Click here to view the price on Amazon and get the best deal.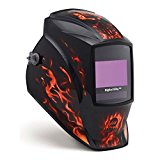 The headgear is what stood out for us on this particular model from Miller Electric. It's a ratchet-style headgear that gives you a tight, but still comfortable, wearing experience. It is on the lightweight side as well, so if you are looking for something that is easy to lug around and easy to wear, this should be a sterling choice. Even if you get a bit sweaty, there isn't a problem with shifting or movement when you're welding with this helmet. Constructed from nylon and coming with a cheater lens holder, you'll receive a total of 5 outside and 2 inside cover lenses out of the box with this product. If you want a wider viewing area and a comfortable helmet suitable for all-day wear, this is it.
Click here to view the price on Amazon and get the best deal.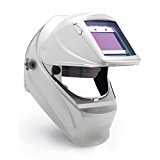 If you won't settle for anything but the best, then this is a welding helmet you're going to want to have around. Built more like a motorcycle helmet than a nod-down design, you can still pop your lid to take a non-darkened look at a project if need be. The design adds more protection for around the throat and back of the head than most helmets as well. The trade-off here is the weight of the helmet, which is more than 3 pounds. Your whole head helps to support the weight, but you can still feel it in your neck after an hour or two of welding. From a total protection perspective, however, there isn't a better option.
Click here to view the price on Amazon and get the best deal.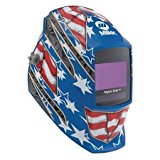 This welding helmet is, let's be fair, slightly overpriced. If you can afford the investment, you will find that it is an excellent helmet that will support full-time welding work. You can adjust the sensitivity of the lens, the darkness levels that you receive, and other personal options that you may need as well. There are 4 modes of operation with this helmet, but in practical situations, you can just leave it in welding mode and do most of your work that way. It's comfortable, has a large viewing area, and is easy to adjust. We highly recommend you check this Miller Elite US Flag ADF Review to learn why we're recommending this to welders despite its price.
Click here to view the price on Amazon and get the best deal.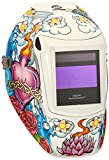 If you want to look as great as the welds you make, then consider grabbing this welding helmet today. It offers an ADF experience in Shades #8-13 and offers a viewing area that is just over 7-square inches. The ratchet-style headgear is standard for this manufacturer, but the wearing experience is about as comfortable as it gets. Its nylon construction is nice and solid without sitting really heavy on your head. Perfect for the student, but durable enough to handle what a full-time welder could throw its way, this is one of those helmets that will do exactly what you expect it to do.
Click here to view the price on Amazon and get the best deal.
Created from a nylon construction and powered by the included lithium batteries, this helmet offers 2 inside and 5 outside cover lenses in addition to the helmet bag. There is a magnifying lens holder for those who need it, as well as intuitive controls that allow you to push buttons instead of turn knobs so you can tailor your helmet to your current welding project. It features a lens reaction time of 1/20,000 of a second and includes sensitivity controls and is rated for low-TIG welding. It's a great looking welding helmet at an even better price.
Click here to view the price on Amazon and get the best deal.
The best Miller Elite welding helmets will help you be able to take charge of your next welding project. Pick up your favorite one today and enjoy the thrills of welding, cutting, and grinding as you make something new