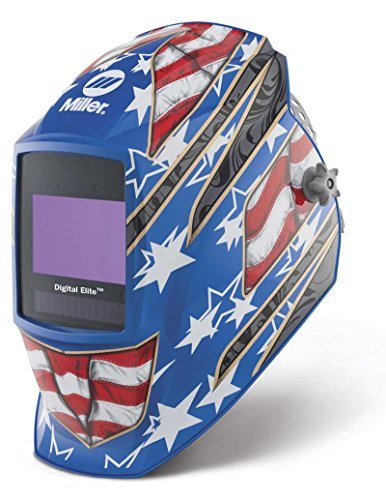 With 9 square inches of viewing area, operators will have plenty of optical space to complete their work. The redesigned headgear that is included will provide a comfortable wearing experience that can be 8-12 hours long, thanks to the 1.13-pound weight. That's just the beginning of what the Miller Electric US Flag Digital Elite ADF Welding Helmet is able to provide.
Created from a nylon construction and powered by the included lithium batteries, this helmet offers 2 inside and 5 outside cover lenses in addition to the helmet bag. There is a magnifying lens holder for those who need it, as well as intuitive controls that allow you to push buttons instead of turn knobs so you can tailor your helmet to your current welding project.
And let's not forget the fact that this helmet will let you show off your patriotic pride in a unique and affordable way.
What Stands Out About the Miller Electric Welding Helmet?

In many ways, this is an industrial-grade welding helmet, but without the high price tag. You can see that in the general specifications of this particular helmet. Here are some examples.
It features a lens reaction time of 1/20,000 of a second and includes sensitivity controls.
It is a helmet that is low-amp TIG rated.
There is a low-battery indicator incorporated so you know when it is time to swap out the lithium batteries.
The shade range included is 5-8 for cutting and grinding and 8-13 for general welding purposes.
There are delay controls, a grind mode, and an X-Mode to use as well. This allows operators to work in direct sunlight, clean out a weld, and delay the transition from dark to light based on their unique needs and project requirements.
The viewing field on this Miller Electric welding helmet is one of the best that you'll find in this pricing category. It is also backed by the company's True Blue Warranty.
If anything, the only weakness that stands out in this design is that the only available magnifying lens for this helmet is a 2x magnifier – and that's an additional feature that not every operator is even going to want to use.
When using the helmet, the adjustment levels and the clarity of the lens for optic support are most impressive. It's a helmet that will support your preferred welding discipline or help you learn a new one without complaint.
Our Grade: A+
The Miller Electric US Flag Digital Elite ADF Welding Helmet offers operators an opportunity to express their personality. The helmet is strong, but still lightweight, so it supports longer working times with ease. There are multiple modes available so that indoor or outdoor welding can be completed without difficulty. There are very few welding helmets in the industry that can provide the value that this helmet offers at this price point. If it works with your budget, our advice would be to grab this helmet for your work.
Click here to view the price on Amazon and get the best deal.
View the Best Miller Elite Welding Helmets on the market to learn about other helmet models manufactured by Miller.