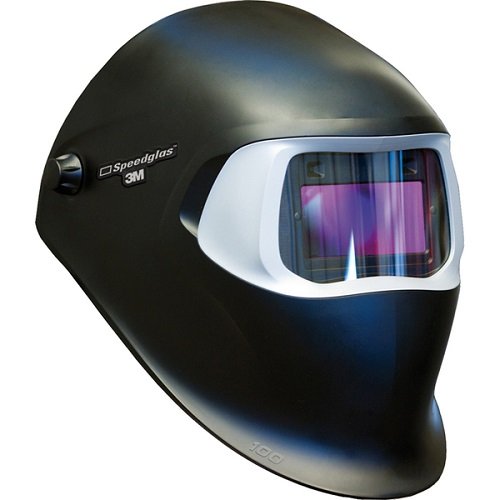 If you like the idea of having an ADF welding helmet, but you're not sure about spending the money to get one, then you can find yourself between a rock and a hard place. Do you purchase an off-brand and hope for the best… or purchase from a proven winner and limit the features that you receive? The 3M Speedglas 100 Black Welding Helmet proves you don't have to compromise much to have a great welding experience.
You're offered user-selectable dark shades of 8-12 with this Speedglas welding helmet. The viewing area is a little small at 6 square inches, but the sensitivity in the lens is good so that arc detection is accurate and reliable. You can also operate this welding helmet in the light state of Shade #3.
The headgear configuration is traditional in its configuration and takes on a no-frills approach. It gets the job done. In return, you receive the eye and face protection you need to get your job done.
What You Can Expect with the 3M Speedglass 100
It works for MIG and TIG welding quite effectively. The ratings are also good for working with most arc welding applications, though it does struggle a little bit if you are working in an enclosed location. Despite the sensor issue, we never experienced a flash while working with this helmet.
The solar charger on this helmet is responsive and fast. About 1 hour of charging will give you 4-6 hours of continuous use.
We had no issues when using this helmet for overhead welding applications. There were no concerns over multiple testing periods in this regard. You can see what you're welding, though having the extra lens covers is something that you'll want to invest into if you plan on extensive overhead use with this helmet.
As for the headband on this helmet, it is somewhat basic. You're going to want to set it once and then leave it on that setting. Adjust it on the occasions where you need to tighten or loosen it for your personal needs. If you have multiple people using the same helmet and each person adjusts the headband, it will break prematurely on you.
There is a bit of a fogging issue that may come into play for some users. Although it isn't overly bothersome, you can sometimes see your breath appear on the inside of the window momentarily. It didn't interrupt our weld at all, but this is an issue that can bother some users and should be noted for those who may have concerns in this area.
Our Grade: A+
This welding helmet might not outperform other products in terms of features, but the 3M Speedglas 100 Black Welding Helmet over-performs with its consistency in performance. It is suitable for most types of welding, both indoors and outdoors, and includes a setting for when other welders might be working nearby. It's an excellent starter helmet, a solid backup, or a good primary welding helmet for the DIY specialist.
Here's the best Speedglas welding helmet reviews for you to check to ensure you'll get a helmet that'll meet your needs.

Click here to view the price on Amazon and get the best deal.