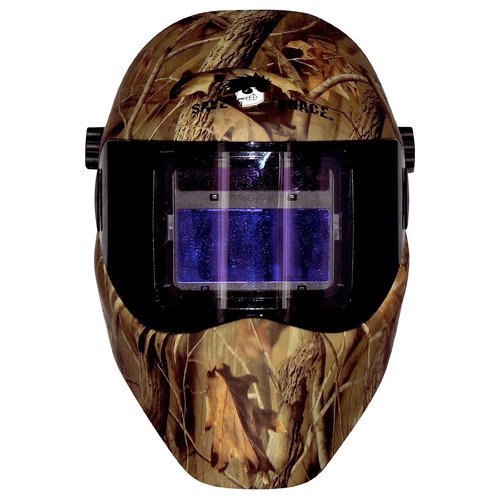 There's a lot to love at first glance with this wonderful welding helmet. For starters, it has one of the largest viewing areas, at over 40 square inches, then any other helmet at this price. Yet the Save Phace Warpig 40-Vizl4 Series welding helmet has a lot more to offer operators.
It features one of the fastest protective lens change systems that is on the market today. Powered off an included solar cell, switching time at 23C happens in just 0.08 milliseconds. It is fully automatic, but you do also have shade control. The ADF technology with this helmet provides variable shading from 9-13 with a lens that has been classified as 1/1/1/2.
The light shade is definitely a #4.
The lenses are not interchangeable with this specific helmet, but it is one of the few options that does allow for 5-amp welding from Save Phace. It also offers a grinding function, a warning flash, and a low battery warning indicator so that you can service this helmet quickly and effectively.
What to Expect with the Save Phace Warpig

We found that this helmet was great for operators who may be concerned about receiving a total protection experience. The narrow design helps the helmet fit close around the face, but still providing a superior level of comfort. The headgear design offers numerous adjustment points so that virtually anyone can experience a fit that almost feels customized to their specific needs.
That design also helps operators get into tight spots. When incorporating the wider view that is also built into this design from Save Phace, you're able to see your project in full without needing to shift or move based on what your current task happens to be. This makes it suitable for the student, the DIY specialist, or the professional.
Here are some of our key observations.
The airflow with this particular helmet is one of the best that is available in our industry today.
The actual viewing size on this helmet is 3.82 x 1.85 inches, which is comparable to other helmets with these features in the industry right now.
There are four sensors that are included on this helmet to give users an accurate shade response. It's the only Save Phace series that currently offers that many sensors.
Power controls are fully automatic.
Our Grade: A
If you love the looks of a Save Phace welding helmet, then the Warpig is the model that you'll want to purchase today. It offers a superior level of comfort, more accuracy in terms of sensing an arc, and one of the fastest shading responses that is available right now. Eyestrain and fatigue are not an issue when using this particular welding helmet. And here's the best part – to receive the same features from other manufacturers, you might have to spend $100 more on your helmet. That's why this is a solid choice for any welder today.
Click here to view the price on Amazon and get the best deal.
Check: best Save Phace welding helmet reviews online for more models to consider when buying a welding helmet.