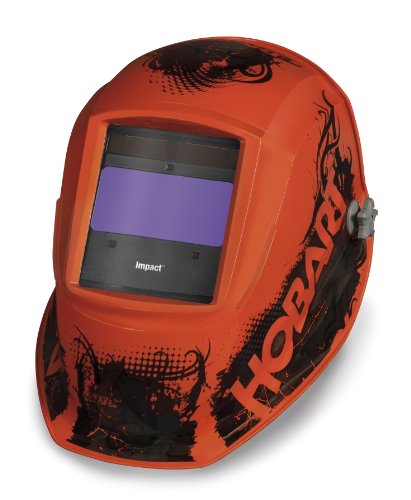 Are you tired of welding helmets that offer more gimmicks than meaningful features? Do you need an affordable helmet that gives you effective protection on a consistent basis? Then you're going to want to take a look at the Hobart 770754 Impact Agent Orange Variable ADF Helmet.
Priced as more of an entry-level helmet, it is one of the few in its class that offers a completely variable lens shading experience. You can use it for grinding in its light state of Shade #3. It also offers users a variable shade of 8-13 based on the arc that it senses from your welding project. Combined with the 7 square inches of viewing space that operators receive and you'll have a tool that will be effective and protective all day long.
Why Choose the Hobart Impact Orange Helmet?

It offers an industrial-grade reaction time of 1/25,000 of a second that is backed by a 2-year limited warranty.
The sensitivity controls on the helmet offer operators an infinite level of adjustment so any level of ambient light can receive proper compensation.
Dark to light delay controls offer up to 1 second of time after welding to prevent eyestrain.
There are 3 independent arc sensors included on the helmet instead of just 2, which is found on most helmets in our industry at this pricing level.
It has been constructed of a durable polyamide, giving it a superior level of lightness. This welding helmet weighs just 20.3 ounces.
This helmet does not come with a bag for storage and is limited on additional features or consumables, but it does give you the meaningful features you need by getting the basics right. You have regular dials to use so you can get your project right.
Our Key Observations of the Hobart Impact Orange Helmet

We found the plastic of the helmet to be a little thin compared to other models at this price range. This helps to keep the helmet lighter and more comfortable, but it also lessens the amount of impact protection that it can provide. If you are working on a heavy duty welding project, there is a chance that this helmet isn't going to be able to withstand the demands an operator place son it.
When you flip the hood up, the headband does keep this helmet in place. There is definitely less downtime with this helmet in terms of adjustments and placement.
Because of the variability of the shading in the lens, power consumption levels are higher than in comparable models. We had to change out the batteries in less than a week.
Our Grade: A-
This is a solid entry-level helmet that has some industrial capabilities. It isn't going to serve a welder who works full time, but the Hobart 770754 Impact Agent Orange welding helmet is suitable for students and for home use. The green tint is a little darker than we'd like, but on the whole, it is a solid, lightweight helmet that offers a lot of potential.
Click here to view the price on Amazon and get the best deal.
These are the best Hobart welding helmets to buy.