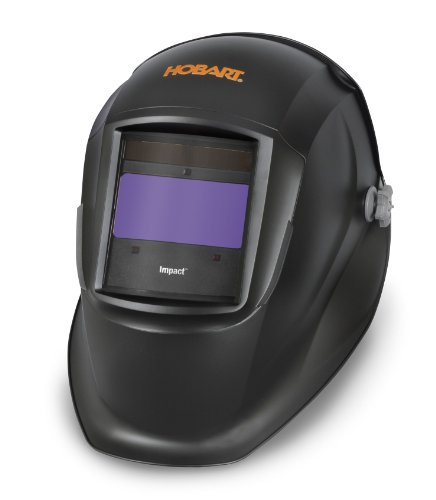 If you're looking to step up from an entry-level helmet, then there are plenty of features available in our industry to consider. Should you pursue ADF technologies, look for lightweight options, or a large viewing area? Thanks to the Hobart 770756 Impact Variable Auto-Dark Helmet, you don't have to look at helmets that only solve one-third of that equation. You can purchase an affordable helmet that has everything right now.
Here are the features that you'll find come with the Hobart 770756.
It features a lens switching reaction time of 1/25,000 of a second, which is one of the best in the industry at this price point.
There is a full variable shade offered with the automatic switching, giving you protection in Shades #8-13.
Operators are also given a grinding mode which operates in Shade #3. You're given the option of shutting off the shading feature for grinding if you prefer.
The total viewing area measures 7.05 square inches.
The outer shell is composed of a durable and lightweight polyamide.
Our Observations from Using the Hobart 770756

Even though this helmet is often priced at $150 or less, there are still 3 arc sensors included with the design of the product instead of the standard 2 sensors. This gives operators a more accurate shading experience when working in enclosed areas. We did encounter a triggering issue while operating in sunlight, but the arc sensors were still responsive to the flash.
The power supply of this Hobart helmet comes from a CR2450 lithium battery. It's included with the helmet, but the variability and consistent switching does tend to wear it out rather quickly. We had to change the battery out in less than a week of part-time welding.
We really like the ratcheting headgear that comes with this helmet, though there is a certain learning process to it so you can get the right fit. The gel pad is comfortable on the headgear, but it does seem to promote some extra sweat.
TIG welding is also possible with this helmet. We could weld in the 5- to 10-amp range without difficulty. There was no flash issue with the low-amp welding either.
It does have an automatic on feature that can be triggered when the helmet is exposed to light. You'll want to store it in a dark location to prevent the battery from draining out on you whenever you turn on the shop or garage light and it's sitting exposed on a shelf.
Our Grade: A
As with other Hobart helmets, there is a certain "top-heaviness" that is experienced when you have it flipped up. To keep it in place, you've got to overly tighten the hinges and that isn't very comfortable. You're almost better off taking the helmet off all the way and then putting it back on if you're at a stopping point. You'll also need to adjust the sensitivity levels to a very fine level so you can reach a level that is comfortable with you. Over time, however, it tends to be an excellent helmet that you'll enjoy having.
Click here to view the price on Amazon and get the best deal.
Find out about the best Hobart ADF welding helmets today and take one of the first steps to having a safe and successful welding experience.