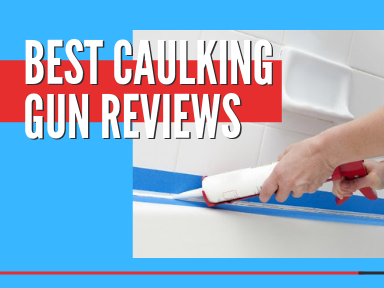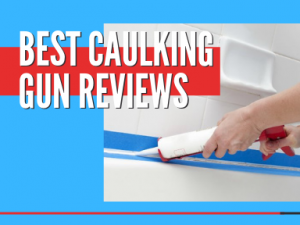 Overtime, your home develops cracks and gaps that will need to be sealed in order to prevent pests from getting in your home and avoid inefficiency in your heat and cooling systems.
Lucky for us, there is a wide range of caulking guns out there that can do that job.
You can sit back and relax as we help you find the best caulking guns that you can use for your home:
Best Caulking Gun 2019 Reviews
Product
Details

#1 Newborn Brothers 250 Super Smooth Rod Revolving Frame Caulking Gun

Most Durable

Star Rating: 4.6
Highlight: Durable Steel Structure
Price: $$

Check Price

#2 Albion Engineering B26 B-Like Manual Cartridge Caulking Gun

Easiest to Use

Star Rating: 4.6
Highlight: No Strain on Hands
Price: $$$

Check Price

#3 OX Tools Pro Caulking Gun

Effortless Caulk Dispensing

Star Rating: 4.3
Highlight: Ergonomic
Price: $$

Check Price

#4 Dripless SI300 Contractor Grade Heavy Duty Caulking Gun

Flexibility of Use

Star Rating: 4.0
Highlgiht: Drip and Non-drip Use
Price: $$

Check Price

#5 Newborn Brothers 930-GTD Drip-Free Smooth Hex Rod Cradle Caulking Gun

Dispenses Effortlessly

Star Rating: 4.6
Highlight: Spout Cutter
Price: $

Check Price
Newborn Brothers company is a front runner when it comes to making adhesive dispensers. They also make their own brand of sealants, so you can be assured that they know what they are doing when it comes to manufacturing caulking guns. This is one of the toughest caulking guns you can find in the market today as it boasts of a steel revolving frame and zinc alloy handle and trigger. These components make this resistant not just to dings and bumps but also to corrosion.
You can fit 1/10-gal of cartridge in this unit. The tool has a built-in seal puncture as well as a spout cutter found in one of its sides, so you can open the cartridge without having to use a separate knife. With its 18:1 thrust ratio, you can use all sorts of adhesive with this. You can use not just acrylic but also asphalt, cement and butyl. The revolving frame dispenses in a stable way in order to have consistent bead orientation.
Pros:
This caulking gun is built like a tank. You can use it for heavy duty jobs as well, not just for minor home repair projects. It can accommodate even thicker types of adhesives and sealants.

The pressure rod works smoothly. You don't need to put in too much force to dispense the amount of adhesive or sealant you want.

It operates quietly – better than many other pressure rods out there such as the ratchet-style pressure rod.

It has a striking red color. You can easily spot it amongst your other tools.

It is quite easy to use. Even those people who are not as handy with tools will be able to use this with ease.

You will like how consistently it pushes out product. The revolving barrel allows that to happen. It also handles more viscose sealants and caulk.

The thumb release and the ladder hook make this easier to use. Many people also find that they are able to use this much faster than other caulking guns out there.
Cons:
This is not drip-free. You can manually release the pressure through your hands in order to slow down.
For the most efficient dispensing of caulking material, get this one from Albion. Like the previous brand, Albion is also an authority when it comes to hand-held dispensing tools. It accommodates 300 ml cartridges or 1/10 gallons. It has a smooth rod manual drive cartridge secured tightly by a metal half barrel carriage. This setup ensures you get smooth and consistent dispensing of material. It has a pressure of 300 psi and a maximum thrust capacity of 900 lbf.
The handles are full-sized for easier usage, great for people who might have trouble with their hands. It also boasts of the innovative double-gripping plate technology, which helps adjust how much wear and tear the device accepts. You can use even the most viscose adhesives with the help of this tool.
Pros:
This caulking gun has a design that accommodates viscous/thicker materials. It also works in dispensing materials even in cold weather, when sealants and adhesives tend to be thicker.

It is something you can use for a long time. Aside from its durable structure, it has also been designed with a double-gripping plate technology that allows the device to compensate for wear and tear. This product also has a trigger made from steel. Even if you drop it, it won't easily break.

It also has a built-in cartridge puncture wire to peel cartridges.

This product also features an adjustment screw technology. This eliminates unnecessary motion, which can help prolong its internal parts.

The size and shape of this caulking gun enable it to reach tighter and farther spaces.

You can also mix 2 different products. It is capable of holding large volumes of caulk and adhesive in one go, so it eliminates having to stop every now and then to replace a cartridge when doing heavy duty work.
Cons:
Some said it is a bit heavier than the others they have used.
Designed with the utmost quality and standards in mind, this caulking gun will not disappoint. From the eave-duty steel barrel to the steep push rod, you can get quality and consistent beading with this one. It has a 12:1 thrust ratio, which will allow users to work with thicker and highly viscous materials. It has a silent squeeze mechanism that ensures product will flow out without the annoying squeaking sounds.
If you are looking for a dripless design, this is a good choice. The dripless mechanism allows you to pull it back so that the material will not continue to flow out. The dripless function is also completely adjustable, so you can set it to your preferences.
Pros:
They designed this with comfort and convenience in mind. It has a rubber-overmolded ergonomic grip that allows you to use this for hours without the hand fatigue.

The thrust ratio ensures you can dispense thicker caulk or sealants.

It doesn't produce annoying squeaking sound when dispensing material. But even without this feature, it still provides a good level of pressure to dispense adhesive effortlessly.

This will last you for a long time. The heavy-duty steel barrel can withstand wear and tear. it also has a revolving feature, so can maintain the correct orientation, especially when working in tight corners.

It loads up easily as well. There is a built-in poker that lets you open the cartridge with ease.

It has a nice heft to it. It doesn't feel flimsy, but it isn't too heavy that you will have trouble using it the entire day.
Cons:
There were those who said they had trouble controlling how much caulk it dispenses.
We like the flexibility of this caulking gun. Unlike others with drip only or non-drip only settings, this one lets you choose from either a drip or a non-drip setting. Some people like the drip setting because it allows them to get the best bead orientation while there are those who might prefer the non-drip setting. This one can accommodate both needs.
You can fit 10 oz of cartridges in its revolving frame and has a thrust ratio of 16: 1. You can work even with thicker materials such as latex and adhesives for sub-floor. It has a seal puncture tool as well as a spout cutter built in the unit.
Pros:
Since this is both a drip and a non-drip caulking gun, it allows you to use it easily for a variety of purposes. It offers flexibility for users.

It comes complete with everything you might need in a caulking gun such as a built-in spout cutter and a seal puncture. It also has a ladder hook.

This tool can accommodate more viscous materials like latex and silicone.

It has a good design that makes way for effortless sealing. The build also seems to be good. It doesn't feel flimsy or cheap.

It is comfortable to use even on extended period of time.
Cons:
There were those who said you need to tilt it to allow it to drip more.
If you don't want to spend too much, get this one. It is the cheapest one you can find but still has a good durability and capacity, this being from Newborn Brothers. It has a steel half barrel style that accommodates 1/10 gal of cartridges and a thrust ratio of 10:1, so it can only be used with low viscosity materials.
It doesn't require too much hand pressure to use and has quiet functions that most people will like. The padded handles and trigger are great for those with hand arthritis. This product also has a non-drip function.
Pros:
This is the most affordable caulking gun you can find today. But even though it is more affordable, it still offers the same benefits as that of the more expensive models.

It has a solid build. It doesn't feel like it is going to come apart.

The dripless feature may come as an advantage for those looking for this function. Best of all, it really does not drip. Other dripless caulking guns are not completely drip-free but this one really does what it promises to do.

The trigger and the handle have been padded in order to increase comfort. If you have difficulty gripping objects because of hand issues like arthritis, you will like how comfortable this is to use.

It also doesn't require too much force to dispense material out.

Compared to others, this is quieter.

The cartridge stays in place, thanks to a welded plate found at the back of the unit.
Cons:
It doesn't come with instructions so if you are new to using a caulking gun, you might have to figure out how to use it on your own.
Which Caulking Gun is the Best Choice?
These caulking guns have the best features and the most durable functions:
Can't decide which is the most fitting choice for you?
Newborn Brothers 250 Super Smooth Rod Revolving Frame Caulking Gun – If you hate the flimsy and cheap plastic caulking guns out there, get this one instead. It has a durable steel structure that ensures you can get more out of it than your regular cheap plastic caulking gun. It isn't completely drip-free, but it does what it is supposed to do and makes quick work of sealing those gaps.
Albion Engineering B26 B-Like Manual Cartridge Caulking Gun – Not only does it dispense caulk and other types of adhesives seamlessly, it is also easy to use. It releases products with ease, which is great for people with hand arthritis or those who need to use this around the house for hours.
OX Tools Pro Caulking Gun – Comfort is what this product can offer you. This ensures you can do major sealing or caulking jobs without inflicting damage to your hands and causing hand strain. It also dispenses caulk effortlessly and effectively, even when working with thicker materials.
Dripless SI300 Contractor Grade Heavy Duty Caulking Gun – The flexibility of this caulking gun is what makes this an ideal choice. You can use it as a non-drip or a drip gun. It is also ergonomic and has a decent price tag that will not break the bank. Over-all, this is a good product with durability to match.
Newborn Brothers 930-GTD Drip-Free Smooth Hex Rod Cradle Caulking Gun – This might be a more affordable choice, but it definitely does not disappoint when it comes to all the nifty features incorporated in it. It has good dripless caulking functionality and dispenses sealants effortlessly. The build and durability are also excellent.
Conclusion
For avid DIY-ers out there, check out our best tools to own page to discover more tools that can make home projects a lot easier. We have a lot of recommendations when it comes to tools, products and equipment that will serve you well.