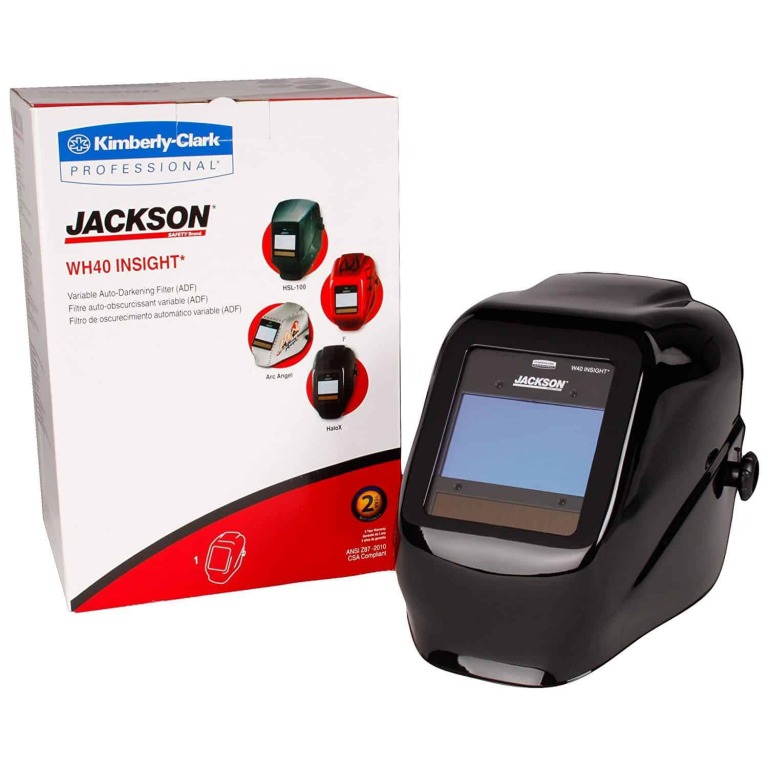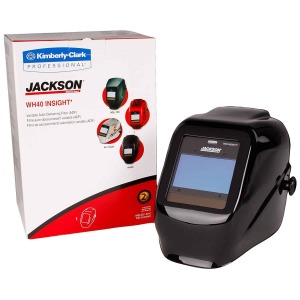 Jackson Safety is a division of Kimberly-Clark Professional, offering trusted welding helmets in a wide variety of styles and options. From passive helmets to auto darkening helmets to replacement parts that give those helmets a new life, the best Jackson welding helmet reviews can help you become more productive with every project you take on.
Here Are the Best Jackson Welding Helmets in One Chart

With 75+ years of experience in the welding industry, Jackson welding helmets provide some of today's top features for a highly competitive price. You'll find that these helmets are comfortable, durable, and suitable for most welding applications.
What Is Balder Technology and Why Does It Help?

One of the best reasons to choose a Jackson welding helmet is because of its incorporation of Balder technology. Balder, which produces optoelectronic elements from its headquarters in Slovenia, helps to create an auto darkening welding filter that is fast and effective. Not only is there the top optical quality of 1/1/1/1 vision, but the glasses are also polarized in some models so that 3D projections are possible for the user experience.
This allows Jackson welding helmets to have one of the largest viewing areas in the industry today. Combined with ADC+ technology, which is Class 1 for angular dependence, according to EN 379, and you'll have a well-rounded welding experience with your helmet of choice.
Thin film optical filters make the helmet be responsive when necessary, while the clarity offered remains consistent – even in difficult welding situations. Liquid crystal light shutters combined with the potential for respiratory systems so that the helmet can provide a complete 360 degrees of protection.
Is a Passive Welding Helmet a Better Choice?

For some welders, a passive welding helmet is a better solution. Not only do these helmets by Jackson still provide a clear and unobstructed view for the welder, they come equipped with a #10 shade polycarbonate filter. For those who are hobbyists, students, or instructions/inspectors, it is a highly affordable solution that can still prevent common health issues which come with a prolonged arc exposure.
As an added benefit, many of the passive welding helmets by Jackson are purchased by the case, giving you multiple helmets to use.
Whatever the case may be, Kimberly-Clark Professional offers all users an exclusive guarantee. If you are not satisfied with the quality or condition of you welding helmet, then you can be reimbursed for your internal purchase through a free product, up to $1,000. Not every seller is an authorized retailer for this guarantee, however, so verify the availability of this guarantee before purchase.
Pricing Options for the Best Jackson Welding Helmets

Jackson welding helmets are competitively priced, with the passive helmets retailing for about $75 each. Keep in mind that many passive helmets are sold as a case of 2 or more, so there may be a minimum cost of $150 or more if this type of helmet satisfies your need.
The auto darkening helmets sold by Jackson are typically priced in the $250-$350 range, depending on the number of features and customization that is desired.
Real Life Reviews of Jackson Welding Helmets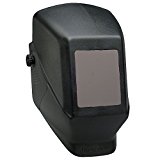 This welding helmet offers a standard shade #10 as part of the filter and the cover plates are installed at the factory. You just unpack this helmet, adjust it to your head, and then you're ready to weld. In the future, if you feel like you're ready to upgrade to an ADF product, you can swap out the filters with the Insight, NextGen, or TrueSight II so you can take advantage of the modern shading technologies that are available in our industry.

Visit this page to find out more about this good quality fixed shade helmet: Jackson Fixed Shade HSL-100 Review.
Click here to view the price on Amazon and get the best deal.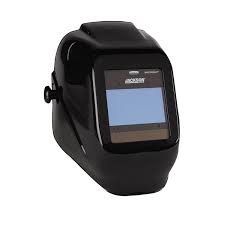 This welding helmet brings safety and efficiency to the table with its smart filters that protect the eyes from intense welding glare. Like all the other welding helmets from Jackson, this one also has sensitivity setting adjustment as well as delay settings. It has responsive features, thanks to the four responsive sensors integrated in it.
Its large viewing area makes it easier to see all sides. Switch from grind to weld mode with ease, so you can use this welding helmet for various welding applications. Best of all, the price isn't too bad for a helmet with its quality and features, making this a great option for hobbyists and professionals alike.
Click here to view the price on Amazon and get the best deal.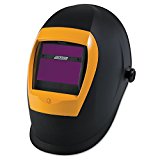 The 1/1/1/1 rating is spot-on. There is no optical interference experienced with this helmet, even if you need to shift positions or weld in a difficult area. As for the variable shading, you're offered a range of 9-13. This helmet effectively stops spatter, slag, and sparks. The protection received around the neck, face, and forehead is more than adequate for virtually any welding or cutting job that is happening. The only issue we had was during grinding, as some sparks do tend to go over the head and settle near the back, where coverage is somewhat limited.
Check this page if you want a more in depth Jackson Safety BH3 auto darkening welding helmet review.
Click here to view the price on Amazon and get the best deal.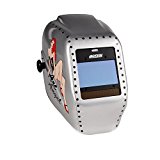 We really appreciated the design of this welding helmet. It still offers full facial protection, but with a narrow design that gives you more stability. The digital controls for the helmet are easy to use, coordinating with the 3.93 x 2.36" viewing area that is suitable for virtually any welding, grinding, or cutting process. There are 4 arc sensors on this helmet as well, a rarity at this price point, and you have sensitivity and delay adjustments that offer different durations that can be used. Easily a solid value buy.
Click here to view the price on Amazon and get the best deal.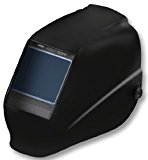 If you do plenty of arc welding every day, then this is the helmet from this manufacturer that you're going to want. Specifically made for full-time arc exposure, it offers a large viewing area of 3.25 x 4 inches. The auto-dimming shade offers variables for grinding in shades 5-7, while welding shades of 8-13 are also available and apply automatically. The digital controls are easy to access, even with gloves on, so you can stay focused on your work. If you want the best helmet at this price point, you'll want to grab this one today.
Click here to view the price on Amazon and get the best deal.

This budget-friendly choice might be cheaper than most of the helmets in this list but it does not lag behind when it comes to protection. The front extends all the way to the throat to provide more barrier against slags and spatters. This is a lift-front-style helmet that is easy to use.
Made from a black thermoplastic material, this helmet can withstand intense heat. It also has a narrow profile, which makes this such a great option for those who need to work in tighter spaces. The downside is that it doesn't have a big viewing window.
Click here to view the price on Amazon and get the best deal.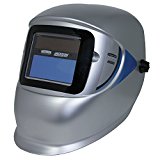 If you're welding projects don't require numerous shades of flash protection, then it makes no sense to invest in a multiple shade ADF lens. It does make sense to purchase a fixed-shade helmet that gives you a grinding mode so that you get the fast darkening optics you may need for your project. Powered by solar and featuring 2 independent sensors, the helmet is a little sensitive to obstructions and sunlight. If you weld out in the open in a shop, however, this is a strong value purchase to consider.
Click here to view the price on Amazon and get the best deal.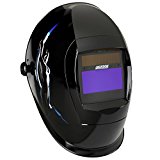 If TIG welding is your discipline of choice, then this should be your helmet of choice. It works well for MIG and arc welding too, but the high-density plastic shell and protective capabilities are perfect for the TIG discipline. We really like the curved front of the helmet especially as it helps to dissipate the heat from your project that can build up around the face and neck. Fogging and reflections are minimal with this helmet and it withstands spatter and slag very well. It definitely earned our recommendation.
Click here to view the price on Amazon and get the best deal.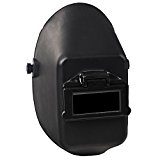 If you're just starting to learn how to weld, there are two schools of thought that are presented for your personal protection. Some say that you should buy the best equipment possible so you can learn without concern. Others say you should look for affordable options that won't break your budget as you buildup your skills. This helmet follows the latter school of thought. It's a passive 10-filter welding helmet with a lift front. It gets the job done without any bells or whistles and stays fairly comfortable while doing so.
Click here to view the price on Amazon and get the best deal.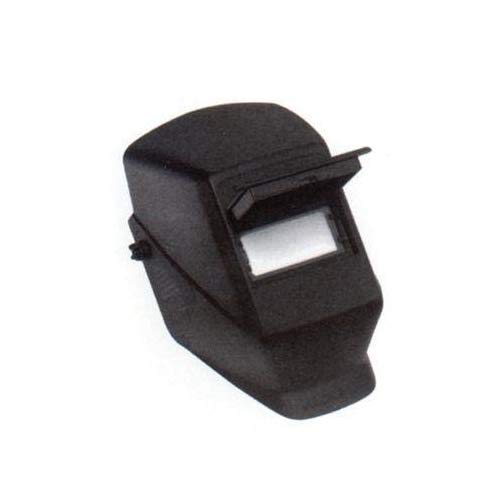 This is another lift front design that is presented by Jackson Safety, but in red and slightly heavier at 2.05 pounds. It has full neck protection, which is a definite bonus, but the weight of the helmet does tend to settle around the neck in just a few minutes. We liked it because it works well in tight areas, functions as it should, and the construction of the helmet is of a high quality. If you're looking for a back-up or student helmet, this is it.
Click here to view the price on Amazon and get the best deal.
The best Jackson welding helmet reviews will help you find the personal protective equipment you need to have a safe and fun experience. Plan out your next project, include one of these helmets, and it will be a great time.
Other Jackson Welding Helmets found below: