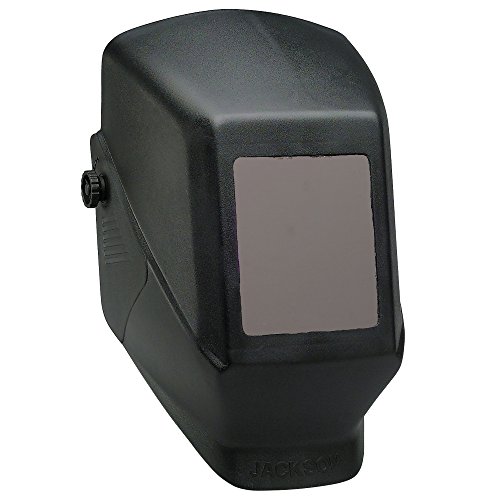 Are you tired of trying to find a basic welding helmet in a world of changing technologies and innovations? Do you want a product that gets the basics right and nothing else because you're an occasional welder instead of a weekend warrior or a professional? Then the Jackson Safety Fixed Shade HSL-100 Welding Helmet is a product that you'll want to consider.
Sure – it has its faults. It won't provide a comparable experience to helmets that offer ADF lenses and other automatic features. What it does well is provide users with basic protection while reducing eye fatigue.
Why Choose the Jackson Safety HSL-100?

For starters, this is one of the few basic welding helmets that provides a real protection benefit around the throat. Because of the extended front on this product, users are able to protect themselves from fumes, sparks, slag, and the other physical hazards that tend to creep up from time to time when welding.
It offers a standard shade #10 as part of the filter and the cover plates are installed at the factory. You just unpack this helmet, adjust it to your head, and then you're ready to weld. In the future, if you feel like you're ready to upgrade to an ADF product, you can swap out the filters with the Insight, NextGen, or TrueSight II so you can take advantage of the modern shading technologies that are available in our industry.
It meets ANSI standards and is CSA compliant.
What to Watch for When Using the HSL-100

This helmet is hard-hat compatible. You can wear it for long periods of time because it is rather lightweight and fairly comfortable. The shell is somewhat narrow as well, which makes it useful for working in tight or enclosed spaces.
With the wider viewing area, you also have better optics when working with your weld pool. It is a traditional passive that can meet some specialty applications, but it won't be the all-around helmet that can be used for everything. Even so, grinding, cutting, and welding are all possible with the factory-equipped lens.
The outer shell is made from polycarbonate, which helps to keep the weight of the product under 2 pounds. There is a bit of light pollution that does come through the lens, especially when working outdoors or under bright indoor lights, but that is really the only negative we encountered with this entry-level product.
Our Grade: A
The Jackson Safety Fixed Shade HSL-100 Welding Helmet is not going to be the first option for a professional welder or someone who has serious DIY skills. It is, however, a good option for a backup or for specialty work that might need to be finished. If you've just started to think about welding or you've enrolled in your first classes, then this is an affordable option that will provide you with the protection you need so you can decide if welding is going to be right for you.
Click here to view the price on Amazon and get the best deal.
Visit this page now for other welding helmets manufactured by Jackson.