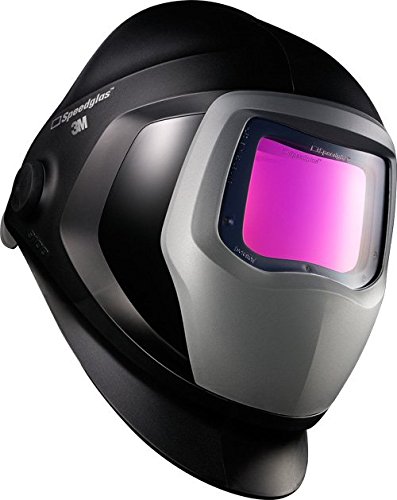 If you want the best, then you typically go to the brand or individual who invented the technology you need in the first place. That way you know that you're getting something from the experts. You'll receive exactly that when you look to the 3M Speedglas 9100 Welding Helmet to meet your needs.
This welding helmet has one of the best reaction times in the industry today when it comes to lens switching at just .10 milliseconds. Operators can receive high-quality optics instantly, allowing for a precise, crisp view of the working area.
There is also an added emphasis on the ergonomics of this helmet in its design compared to similar models. The fit is surprisingly tight, though still comfortable, which provides the head suspension with a good balance. You can wear this helmet for a long period of time and not feel overly fatigued, even though it weighs just a little over 2 pounds.
What We Liked About the 3M Speedglas 9100

The feature which really stands out on this welding helmet are the side windows that have been built into the viewing area. They've been given a dark shade with 5 filters to increase the peripheral field of view for the operator.
The side panels are nice on this helmet because it lets you keep an eye on the surrounding environment as you are working. There isn't the feeling like you're working in a tunnel when you're wearing this helmet.
The clarity of the viewing window when the shading is not available is quite good. You have a very good capacity to see your project, especially with the suspension that helps to keep the helmet in place.
What Could Be Improved with the 3M Speedglas 9100

This welding helmet is a one-size-fits-most design. Although we didn't have an issue with the product, there are going to be some operators that will find this product to be uncomfortable. Adjustments make it possible to improve comfort, but if you know that you have an unusual head size, this is probably not the helmet for you. It is rated to fit heads sizes from 6.25-8.
There is also an issue with the amount of light that gets let in for high capacity or heavy-duty welding. You may wish to install side flaps on the helmet to avoid burning issues. That's because the side panels are a Shade #5, so you can still get a bit of a flash with them.
Our Grade: A-/B+
This is a helmet which requires a specific environment in which to work. It's responsive and comfortable, but the side panels are either going to make or break your experience with the 3M Speedglas 9100 Welding Helmet. If you work on high-amp projects, the flash you can get from the side panels can be difficult. It's easy to see why some would see this as a design flaw. If you like the added environmental clarity, then you'll love what this helmet is able to do.
Click here to view the price on Amazon and get the best deal.
Curious about other welding helmets offered by Speedglas? Click this link.