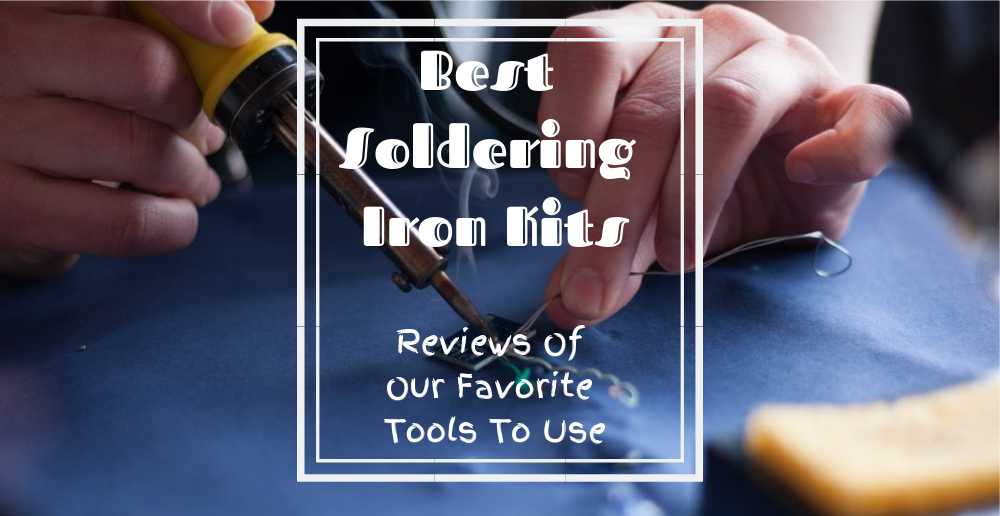 When doing metal and electrical work, one of the tools you should never go without is a soldering iron. These tools come in different sizes and sets. You can find complete kits of soldering irons encased in a portable kit that you can take anywhere you want.
Finding the best soldering iron shouldn't be difficult with the many choices you have today. It is easy to find one that does the work well but can provide ergonomic and efficient functions. We searched for the ones out there today and chose those with the best features you can rely on. Read until the end of this article to learn what we recommend.
Here are the soldering irons you should consider getting:
Best Soldering Iron Reviews
Product
Details

1. Anbes Soldering Iron Kit

Durable, User-friendly

Price: $$
Highlight: Everything You Need

Check Price

2. X-Tronic Model #3020-XTS Digital Display Soldering Iron Station

Consistent Temperature

Price: $$$$
Highlight: Magic Temp Technology

Check Price

3. Weller WLC100 40-Watt Soldering Station

Simple Features

Price: $$$$
Highlight: Easy Operation

Check Price

4. Vastar Soldering Iron Kit

Budget Friendly

Price$
Highlight: Fast Soldering Process

Check Price

5. Tabiger Soldering Iron Kit

Complete Kit But Lacks Many Features

Price: $
Highlight: Heats Up Easily

Check Price
This is a soldering iron kit that also comes with an iron holder and stand. The kit also comes with 5 different replacement tips. It is made from materials that can withstand too much heat and some impact. You can adjust the temperature of up to 450 degrees Celsius. The body is constructed with metal materials for added durability.
Pros:
This has everything you need to get started in soldering.
Everything feels durable. The soldering iron is made from durable materials as well.
Adjust the temperature setting with an easy-to-use controller.
Many like how easily they can replace the tips. You don't need to use extra tools.
It comes with a 12-month warranty. You can also get a lifetime technical support.
Cons:
Some said this can get extremely hot. You need to set it down to its stand in order to protect your work table from damages.
This is a soldering iron connected to a soldering stand for convenience. It has 75 watts of power, ensuring a quick heat-up process. The temperature can go as high as 480 degrees Celsius. You will like the ergonomic grip that allows this soldering iron to be maneuvered with ease. It doesn't feel heavy or cumbersome to use. The whole set also comes with a cleaning flux, a brass sponge cleaner and a roll holder.
One of the unique features of this unit is its Magic Temp Technology. This technology allows the unit to go on sleep timer mode for 10 minutes. It also features temperature stability.
Pros:
This has a lot of safety features including the temperature stability and Magic Temp Technology. The Magic Temp Technology allows the unit to keep on cycling every 20 milliseconds. This allows the soldering iron to check its temperature and if there are abnormalities, these are corrected. You can get more consistent heat results.
The kit includes a lot of accessories.
It features an auto cool down function.
For all of its safety features, it is an affordable choice.
The power cord is long enough for you to use the iron with ease.
It comes with a sleep timer.
You can easily grip this soldering iron.
This soldering iron comes with a 30-day unconditional money back warranty as well as 3 years of repair warranty that includes labor and parts.
Cons:
There was a customer who said the unit has trouble waking up when it is on sleep mode.
Looking for an analog type of soldering station? Consider getting this one. It is capable of going up as high as 900 degrees Fahrenheit. Its high power will allow this to heat up quickly. It has variable power control as well in order to get your desired level of temperature.
The pencil iron has a cushioned grip for better comfort and reduced hand fatigue. It also feels light, so you can maneuver your pencil iron with ease. If you tend to solder for long hours, you might find this a good option as it enables you to work without feeling tired.
Pros:
It can get to a high temperature for improved heating efficacy. You can get a variety of soldering tasks done.
The soldering irons are well-made. The tips are made from ST3 iron materials that ensure longer life and consistency in performance.
Simple features and operations. You can change the power setting through its adjustable knob that can get from 5 watts to up to 40 watts.
It is lightweight. You should have no issues lifting it and controlling it for more efficient operations.
It meets safety standards.
The kit comes with a 7-year warranty.
Cons:
Some wished it came with a temperature controller.
You can save a lot of money if you opt for this inexpensive soldering kit that offers effective heat dissipation. That is all thanks to its steel-pipe design that allows heat to dissipate better. Unlike others, this unit has been equipped with a chip fixed resistor rather than a color ring resistance. This will keep the soldering efficacy consistent. And although it is not a soldering station, it comes complete with everything you need. It is ready to be used right out of the box.
Pros:
This kit comes complete with everything you might need for soldering.
It can be used right away.
This kit heats up quickly, so you can get started on your soldering work right away.
It is one of the most affordable soldering kits out there.
It features an adjustable temperature controller. Use the thermostat circuit to control how much heat it will generate.
Cons:
The instructions are difficult to understand because they are no written in English.
What makes this soldering iron kit different from the others is that it can heat up quickly and has good efficiency when it comes to heat dissipation. The thermostat is completely adjustable, so you can get a temperature of up to 450 degrees Celsius. It comes complete with a soldering iron, a desoldering pump, some soldering tips and a soldering iron stand. All the accessories can be kept in its plastic carry case.
Pros:
This unit heats up easily. You also get more consistent heat with its heat dissipation and thermostat controller.
The thread is not susceptible to damage due to high temperature.
There are ventilation holes on the iron rod to allow it to cool down.
It comes complete with everything you need in a kit.
This unit is inexpensive.
Cons:
Some said they had issues with it getting to their desired temperature.
The Benefits of Soldering
Soldering is similar to welding in such a way that metals are heated in order to form a bond. Unlike other methods, there are a lot of benefits to soldering including the following:
1. It usually generates lower heat – While welding generally requires higher levels of heat, soldering operates at a lower heat level. Temperatures usually get up to 400 degrees Fahrenheit. With a lower heat, you typically can work on smaller projects and thinner wires and metals without worrying that you are going to melt them off completely.
2. There is no fear of warping – When working on metals, there is a chance of warping when you are operating your tool with a higher temperature level. With soldering, you can minimize such a problem. This gives you plenty of chance to retain the original shape or size of the material you are working on. It is a more forgiving method as you can make mistakes and then rectify that mistake easily.
3. It is good for conducting electricity – Because the soldering process allows for good conduction of heat, you can bond metals or wires and enable to electricity to flow effortlessly.
4. You can learn to solder with ease – You don't really need to be an experienced handyman to learn how to solder. You can solder for various small projects such as plumbing work or making jewelry. Also, if you want to learn how to weld but find it too intimidating at first, you can start off with soldering devices.
Which One Should You Get?
Have you decided which one to get? Here are some things to consider…
Has Durable Functions:Anbes Soldering Iron Kit – This is one of the best soldering kits out there mainly because of how durable it is. It can withstand some harsh treatment and can last for a long time. Even the additional tips and accessories are durable.
Consistent Temperature:X-Tronic Model #3020-XTS Digital Display Soldering Iron Station – Not all soldering irons boast of consistency in temperature. But this one has the features that enable it to retain its temperature consistently.
Entry-Level Soldering Iron: Weller WLC100 40-Watt Soldering Station – If you are looking for something with basic functions but will get the job done, this should be an ideal choice. It doesn't have a temperature controller, but you can control the power with ease.
Affordable Choice: Vastar Soldering Iron Kit – You can get a soldering kit even when you don't have to spend too much money. This is the right choice for those trying to save money. But although it is affordable, it can still be relied on for fast soldering process.
Basic Features:Tabiger Soldering Iron Kit– For occasional soldering needs, this should have just the right features for your needs. It is inexpensive, but it can get the job done. It is lacking in many features though but if you are after an entry-level set, get this one.
How to Buy the Best Soldering Iron
Don't let the vast number of soldering irons out there intimidate you. You can still find a good soldering iron based on your needs and preferences. Here are some of the buying tips that can help you out:
1. Check the wattage: You would want to go for a soldering iron with wattage somewhere in between 20 watts and 50 watts. The wattage determines how fast it can heat up. That said, one with a lower wattage might heat up slower than one with a higher wattage. Keep in mind that soldering irons tend to transfer their heat to the joints they solder. Once they transfer that heat, the tool again produces heat, so you can solder some more.
2. It is better to buy a soldering iron with a replaceable tip: Some kits already come with replacement tips but if you work with a soldering iron all the time, it is better to get a few more extra tips. That way, if you ever need a replacement tip, you have one on hand.
3. Get a soldering station instead of just the iron: A soldering station comes complete with a soldering rod and a stand. The stand is integrated in the whole set-up. When you need to take a break or set the soldering iron down, you can put it on the integrated stand. Also, a stand protects your workbench from the burns that will inevitably be inflicted by the soldering iron.
4. Consider getting a three-prong power plug: While it is not necessary to get this, you might want to have one for your safety. This power plug helps in grounding. This means it can prevent static from being discharged. If you are soldering electronic parts, you would want to have this kind of power plug as it prevents the electrical components from getting damaged.
5. You might want to spring for temperature control that is built in the system: These soldering irons might be more expensive, but they are definitely worth it. The temperature control you get is nice, so you can work on various projects without accidentally inflicting too much heat. This allows you to get the best soldering results.
Check out the features that these products can offer:
What's Next?
You should already have an idea which soldering iron to get. Now make sure to visit other pages on our site to learn more about different welding products that can come handy for your DIY projects.