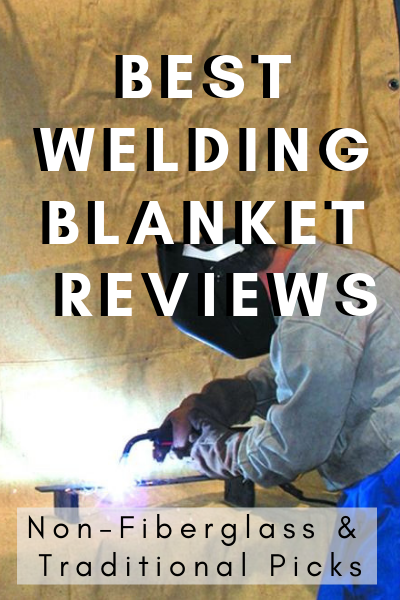 Protecting yourself and your surrounding area is important when doing welding work. A molten splatter or a spark can damage furniture around the welding area.
A good welding blanket can be relied on for such a purpose. You need to look for a welding blanket that has excellent flame retardant properties. We did all the work for you and found the ones that you can truly rely on.
We chose welding blankets with high resistance to heat and has flame retardant properties you can rely on.
Best Welding Blanket Reviews
Product
Details

1. Hansway High Temp Felt Carbon Fiber Welding Blanket

Versatile Use

Price: $
Material: Felt Carbon Fiber

Check Price

2. Neiko 10908A Heavy Duty Fiberglass Welding Blanket

For Occasional & Light Use

Price: $
Material: Heavy-duty Fiberglass

Check Price

3. Tillman Heavy Duty Welding Blanket

Sturdy & Strong

Price: $$$
Material: Fiberglass & Leather

Check Price

4. Waylander Welding Blanket

Heavy-duty But Expensive

Price: $$$
Material: Vermiculite Impregnated Fiberglass

Check Price
You can choose from 3 different sizes for this one. The smallest size has measurements of 18×24 inches while the biggest one is 3×3 feet. With different size options, you can choose the one that suits your project site size better.
Unlike other welding blankets made with fiberglass material, this one has carbon fiber material that is not just resistant to temperatures of up to 1800 degrees Fahrenheit, it is also resistant to tears. In addition to its heating efficiency, it can also be relied on for its cooling abilities.
Pros:
This is a versatile blanket. You can drape it on equipment that you need to protect, put it in floor surfaces or use it as a cover or shield.
It can protect you from not just splatter and sparks but also from slags. Other welding blankets can only protect work areas from small sparks or splatters but this one has a good amount of protection from slags as well.
It is not harsh on the hands. It doesn't chafe the hands since it is made from felt carbon fiber material. You can use it even when not wearing gloves.
It folds down to a small size.
It has good thermal properties. There were those who used it to cover their smokers and were able to peel it off as the blanket did not get too hot.
It has a higher temperature protection. Its maximum temperature protection can go as high as 1800 Fahrenheit.
Cons:
There aren't a lot of negative reviews about it. There were just isolated cases of sparks burning holes through the blanket.
Never have to worry about splatter or spark damaging your property or causing fire again with the help of this woven welding blanket made from heavy-duty fiberglass material. The 19.8 oz per square yard of fiberglass material truly makes this resistant to the heat from the welding machine. You can rely on this for multiple uses because of its durable and reinforced material.
The hems are resistant to fraying due to its unique 3/8 inch ID Hem. That also ensures that your welding blanket won't shed off fibers that can catch fire. The brass grommets strategically placed every 11 inches of the border allows for easier set-up. With a maximum working temperature of 1000 degrees Fahrenheit, this is truly a welding blanket you can rely on.
Pros:
It does its job well in preventing sparks and splatters from getting everywhere. Just make sure you don't use it for heavier uses such as cutting using a plasma.
It is lightweight. With a weight of only 3.5 pounds, you shouldn't have issues bringing it with you anywhere you want.
Some people also said it does not shed off fibers. That makes this easier to maintain and won't be susceptible to fraying.
This is a nice and inexpensive alternative to the more expensive welding blankets out there if you only do occasionally and light welding work.
It has a substantial size that covers more work area.
Cons:
Some said since it isn't square-shaped, folding it might be a challenge. There were those who have issues with fraying.
If you have a bit more money to spare, we suggest getting this welding blanket. It might be a little more expensive than its competitors in the market, but it has the durability that will keep your work area safe. It is sewn together with fiberglass thread that has a melt temperature of up to 1000 degrees Fahrenheit. The leather materials are Kevlar and the borders have been hemmed for added durability.
This welding blanket weighs just 1.6 ounces, so it is portable, easy to carry around and set up. It is so versatile that you can use it for other purposes as well such as protect outdoor cooking areas from the wind.
Pros:
This is a useful welding blanket. Aside from using it as a welding blanket, it can also double as a cover to protect various work areas. There was a customer who used this to cover a smoker and it did well under and windy and cold conditions.
It is very sturdy and strong. The material is heavily resistant to flame, perfect for those heavy-duty welding jobs. Whether you are a home welder or you do professional work, this will definitely serve you well.
It folds up neatly into a small size. You can pack it up easily when you need to move it to another work area. Storage is also easier.
It holds up well against a good level of abuse. It doesn't fray or come loose easily. Some even said they beat it up, but it did not budge or got significant damages.
It has a nice heft to it.
Cons:
The material is quite coarse. Some people find a need to use leather gloves when they are folding or handling it as the coarse material can be abrasive to the skin.
The excellent and heavy duty heat protection that can be provided by this blanket is truly the best among the rest. That is made possible with its vermiculite impregnated fiberglass material that can resist the damages brought about by splatter and sparks from grinding or welding. Backed up with 3 ply Kevlar hemming, this is one of the sturdiest welding blankets you will have.
This welding blanket has a heat resistance of up to 1400 degrees Fahrenheit and a thickness of 0.75mm. With a weight capacity of 2.5 kg, this shouldn't be too difficult to bring with you when changing your work location.
Pros:
This really holds up well against high heat and sparks. Even when they used it as a cover for a fire pit or a smoker, this still holds up really well. It really offers top-notch protection with its ability to withstand the heat of up to 1400 degrees Fahrenheit.
It won't chafe your skin like many other fiberglass materials out there. The vermiculite impregnated fiberglass material is not harsh on the skin. It does not inflict injuries, so you can use it even when you don't wear a pair of loves.
It is lightweight. You can carry it around easily. It is not that thick as well, so you can fold it down to a small size with ease.
Cons:
This is a bit more expensive than other welding blankets.
Which One Should You Get?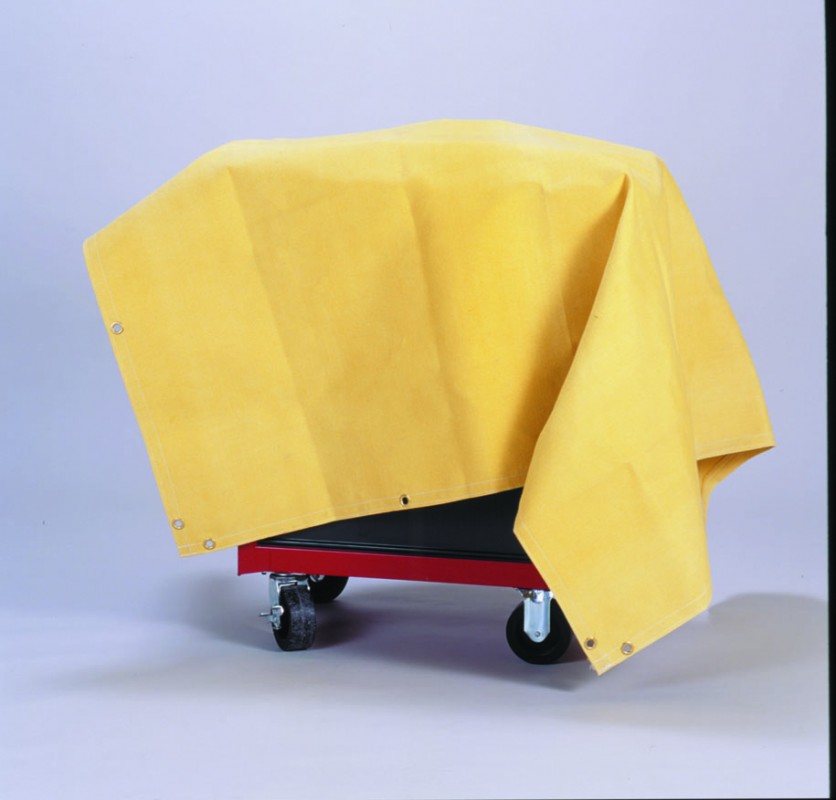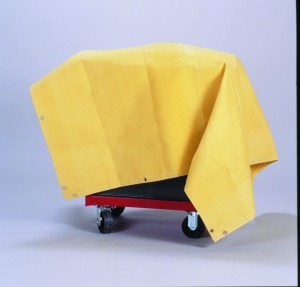 Best Resistance to Heat: Hansway High Temp Felt Carbon Fiber Welding Blanket – If you want the best protection against slags and sparks, this is your best option. It has excellent protection against heat, which makes this an ideal choice for contractors or people who frequently work with hot materials.
Good for Light Use: Neiko 10908A Heavy Duty Fiberglass Welding Blanket – This is an excellent and inexpensive choice for people who only do light welding work. It holds up well against a moderate level of abuse and has a nice construction resistant to most damages.
Perfect Heavy-Duty Blanket: Tillman Heavy Duty Welding Blanket – One of the best welding blankets you can get is this one from Tillman. It is so well-built and heavy-duty that it is resistant not just to welding sparks and embers but also to other things such as heat from a smoker. A lot of people used this to cover their smokers and did not have issues with it. This will definitely last you for a long time.
Will Not Chafe the Skin: Waylander Welding Blanket – This welding blanket, although is equipped with fiberglass materials, does not damage the skin. It is ideal for those with sensitive skin or those who do not want to use gloves when using their welding blankets.
What to Take Into Consideration When Buying a Welding Blanket
Buying a welding blanket need not be difficult. Here are a few things you should put into consideration:
1. Flame-retardant properties
Now, all of the welding blankets out there will promise heat protection and flame-retardant benefits. But not all of them will fulfill their promises. There are those that are not heat resistant and might develop char marks or even have holes from burns. You would want to check the materials used and make sure it is really resistant to damages.
Fiberglass is a good material, but carbon fibers can give it a run for its money. Fiberglass has isolating benefits. It keeps a higher temperature at bay.
2. Check out its composition
Make sure it does not contain harmful chemical components such as asbestos. The composition will also determine if it can be used for vertical or horizontal positions. Check out if it contains other compositions such as polyurethane, vermiculite, silicate, clay or graphite.
3. Temperature resistance
How high is the temperature it can resist? The working temperature will determine how heavy-duty the welding blanket and if you can use it for more rigorous welding projects.
4. Size
The size is also a good factor to consider. It should be big enough to cover your working area. But at the end of the day, it still depends on what your preference is. If you need a bigger one, look for those that offer bigger sizes such as 3×3 feet.
5. Comfort
Materials such as fiberglass tend to be harsher to the touch because it hardens up. Even if it is soft enough to be used as a fabric, it can still feel coarse to the touch. If you have skin sensitivity, you can always go for a softer material. Stiffer materials are also more difficult to roll.
Common Types of Welding Blanket Materials
Black Slag
This is a good fabric material for tougher welding jobs. It can resist even molten splatters with temperatures of up to 3000 degrees Fahrenheit. This material can also easily resist abrasions.
Vermiculite
The benefits of vermiculite run the gamut. They are able to withstand temperatures of 1500 degrees Fahrenheit to up to 2000 degrees Fahrenheit continuously for short periods of time. These are best for vertical applications because they provide the most protection from heat, sparks and up to medium levels of sand blasting and grinding.
Aluminum Fiberglass
This material is reflective and has the ability to withstand abrasions and temperatures of up to 1000 degrees Fahrenheit. There are those welding blankets with aluminum foil side and used for welding jobs when there is a need to reflect heat.
Silica
Silica is better capable of protecting your work space from slags and even molten splatters. Thanks to its molten point as high as 2300 degrees Fahrenheit, this can be relied on for more heavy duty jobs.
Acrylic
This is not as heavy duty as others but for light welding materials, this can be a good choice. When used vertically, this material has fire retardant properties that can effectively be used as a barrier when welding.
Keep your work area protected with the help of the following welding blankets:
Conclusion
Have you found the right welding blanket to get? Read through our site to learn about more products that will be helpful when doing welding work. We will also help you make a better buying decision through our buying guides.