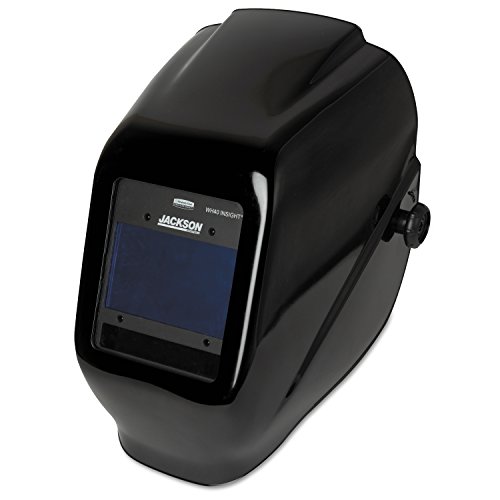 At first glimpse, there isn't much of a positive first impression. It looks like a basic black welding helmet, even if the description of "HaloX" offers visions of video game goodness instead of headgear comfort. Once you put on the Jackson Safety W40 Insight Variable ADF Welding Helmet, however, your perspective is going to change.
Although the exterior is a basic black, the viewing window supports a highly quality lens. You receive a variable shade experience of 9-13 with a viewing area that is 3.93 x 2.36 inches. There are also sensitivity and delay adjustments that are easy to use for the operator, as well as 4 independent dimming sensors and digital controls that help to personalize the experience.
You can also choose between the welding modes or choose the grinding mode. It is suitable for MIG, TIG, and arc welding.
Here Are the Features of the Jackson Safety W40 Welding Helmet

The Jackson Safety W40 helmet may be one of the older welding helmets on the market today, but it is still very effective at what it can do. It begins with the weight of the helmet, which is just 1 pound. For a full welding helmet, it is one of the lightest options available in any pricing category that you'll find available.
It also offers these features that are worth considering.
The outer shell is made from a thermal plastic, giving the operator an effective level of protection while welding. It won't handle heavy slag, but then again, only heavy-duty helmets really have that capability.
There are sensitivity and delay controls that work with the digital and multifunctional controls, as well as the ADF technology, so that every welding project can be given a fully customized level of protection.
Each sensor that is equipped to this welding helmet works independently of each other, allowing operators to weld in enclosed areas with confidence.
You're able to receive a high level of protection from ultraviolet and infrared rays thanks to the design of this lens and helmet without high levels of user fatigue. That in itself is an accomplishment that is worth considering.
The lens reverts back to the grinding protection shade once it stops sensing the arc. This could be problematic for operators who may experience interference with all 4 sensors simultaneously, but the chances of that are remote. We tried to artificially create that interference to test the capabilities of this welding helmet and couldn't do it successfully. Even then, the adjustments are user-accessible so that a quick change can still protect the eyes.
Our Grade: A-
The Jackson Safety W40 Insight Variable ADF Welding Helmet is a product that is aging extremely well. The price is highly competitive, especially for the industrial-grade features that are included. Each control is easy to adjust, with advanced options that just aren't available from other brands in this pricing category. Pound for pound, this welding helmet might just be the best value option you have today.
These are the Best Jackson Welding Helmets to buy — do check them out!
Click here to view the price on Amazon and get the best deal.