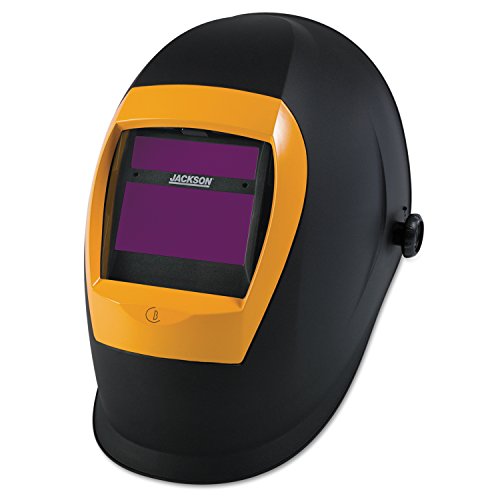 You're looking for a welding helmet that has the best EN379 ratings that are possible for clarity, diffusion, transmittance, and angular dependence. You're also looking for a product that incorporates ADF technologies so you can reduce eyestrain. With the Jackson Safety BH3 auto darkening welding helmet, you'll find an affordable product that is able to meet those needs effectively and do a whole lot more for you as well.
This welding helmet meets ANSI/ISEA standards for high mass impact protection and welding use, as well as DIN Plus requirements for production quality. It is a heavy-duty helmet that will make sure that you're able to get your work done every day.
Our Key Thoughts About the Jackson Safety BH3

#1. This welding helmet is made from a high-density plastic instead of nylon or a hybrid material. It makes for a lighter overall helmet, but one that might feel a little flimsy with a user's first impression.
#2. It is an improvement from other Jackson Safety welding helmets in terms of fogging protection, but it hasn't been completely eliminated. You do have reduced heat build-ups with the BH3 and reflections are greatly improved.
#3. This helmet effectively stops spatter, slag, and sparks. The protection received around the neck, face, and forehead is more than adequate for virtually any welding or cutting job that is happening. The only issue we had was during grinding, as some sparks do tend to go over the head and settle near the back, where coverage is somewhat limited.
#4. The 1/1/1/1 rating is spot-on. There is no optical interference experienced with this helmet, even if you need to shift positions or weld in a difficult area. As for the variable shading, you're offered a range of 9-13.
#5. The sensitivity and delay settings are adaptable enough to change quickly during environmental changes, though the automatic settings do struggle somewhat when it comes to arc detection in bright light or sunlight conditions.
#6. There are only 3 headgear adjustments that are available on the BH3, which could easily be described as smaller, small, and medium. Welders with larger head sizes are going to find themselves hard-pressed to enjoy the comforts and features that Jackson Safety has incorporated into this welding helmet.
#7. Magnification filters are simple and easy to use with this welding helmet.
#8. The weight of this helmet is about 2 pounds, but if the headgear sits properly, you don't notice the weight of the protective equipment much.
Our Grade: B+
There is a lot of potential with the Jackson Safety BH3 auto darkening welding helmet. It's affordable, offers variable shading, and gives you the durability needed for most welding projects that need to be completed. Its weaknesses are the limited headgear adjustments, lack of a Shade #8 for serious welders, and a poor grinding mode. Its strengths are a fast switching speed, good durability, and superior clarity. We see this as being a good entry-level, student, or DIY helmet.
Learn more about the best Jackson auto darkening welding helmets online.
Click here to view the price on Amazon and get the best deal.