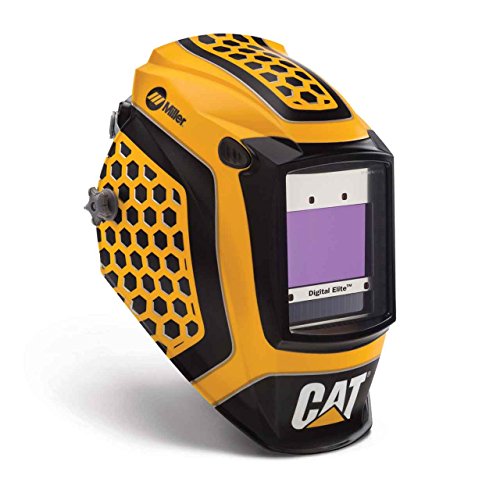 As part of the Digital Elite Series, this helmet is poised to provide a lot of good things to any operator. There are multiple modes built into this helmet, allowing users to have a high level of digital versatility to support their welding work. With the Miller Electric CAT Edition Welding Helmet, you'll also be given the opportunity to support one of your favorite brands as you work around the house or take care of your professional responsibilities.
The strength of the Digital Elite Series by Miller Electric is the X-Mode. This digital mode works to prevent sunlight interference when working outdoors, reducing the amount of back light that comes through the lens while working. It also supports hidden welds, cavity welds, and working in enclosed areas that might obstruct the arc sensors in some way.
The X-Mode is supported by a welding mode, which offers operators a shade variation of 8-13, depending on the amount of radiant energy that is being produced. There is also a wider range of cutting shades included with this helmet, giving you variation options from 5-7 instead of only providing Shade #5 like most other helmets at this price point. You also receive a Shade #3 for grinding.
Here Are the Additional Features of the Miller Electric CAT Helmet

All the controls are inside the helmet. You won't need to worry about bumping the exterior controls like you do with other helmets. Your shade control is located inside the helmet so you're able to provide yourself with a more consistent welding experience.
Batteries are included. As has been noted by other reviewers, our helmet did come with the low-battery light already on. We had to replace the batteries before trying out the helmet. They were easy to replace and were not overused by the helmet while welding, cutting, or grinding.
It is very lightweight. You can handle low-amp welding with ease, even over long periods of time, thanks to the fact that this helmet weights just 1.13 pounds. This includes the weight of the batteries and the 4 arc sensors that have been incorporated into the helmet's design.
There is a quick release cover lens as well. This makes it really easy to replace your cover lens should the need arise.
Compared to previous Miller Electric welding helmets and similar current models from other manufacturers, one of the stand-out features is the redesigned headgear found on this CAT helmet. There are more adjustability settings, allowing every operator to have an enhanced level of support, a better fit, and added comfort while welding.
Our Grade: A
The only issue that really keeps the Miller Electric CAT Edition Welding Helmet from a top rating is the quality of the paint that is on the exterior of the helmet. When exposed to high heat conditions, above 50C, we found that the paint could begin to chip off on you in flakes. With care, this negative can be minimized and operators can take full advantage of the upper-end features that are included. It's a fantastic helmet that is worth the investment.
Click here to view the price on Amazon and get the best deal.
More Miller welding helmets for you to choose from when you click here.