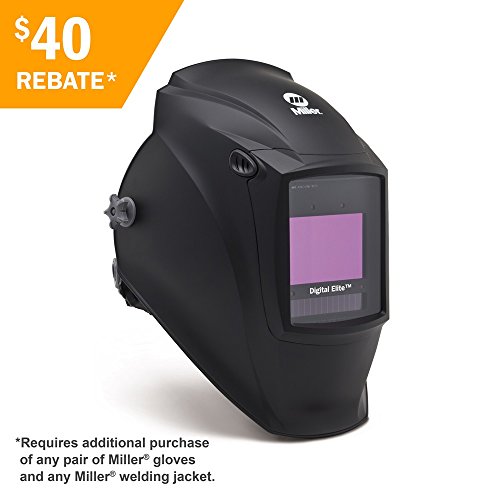 It's nice to have a wide-area ADF lens that will let you weld effectively in virtually any conditions. What happens when you've got the joint done and it's time to clean up your work? With the Miller Electric Black Auto Darkening Welding Helmet, you'll still have nothing to worry about. That's because it offers more lens shading options that most competitive helmets on the market today.
For welding purposes, you have options that range from Shade #8 to Shade #13. Then, when you're ready to begin grinding, you have lens shading options of #3 or #5 as well. That way your new welding helmet can reduce eye strain quickly and effectively in almost any task that you may need to take on.
Key Notes About the Features of the Miller Electric Welding Helmet

The weight of this helmet is 2.8 pounds. The weight does tend to sit down on your neck just a bit, creating a small ache at the joint where your neck and back meet. Stretching out the neck helps, but doesn't eliminate, the fatigue that occurs from longer spells of welding.
Two lithium ion batteries power the ADF feature. The length of run time was reasonable for the batteries. We could get through a full day of welding without noticing a difference in the ADF technology response. If you're a full-time professional welder, however, you might want to keep some spares around.
There is a magnifying lens holder. This feature makes it a lot easier to complete the detail work that you might need to do. The helmet will also fit nicely on a hard hat if you prefer.
The outer shell is made from nylon. It is a fairly durable shell, able to withstand some light slag with relative ease. The ratchet-style head gear does seem to work well, though if you have an unusual head size, the standard sizing of the design might make wearing the helmet a little awkward.
We felt like the durability of this Miller Electric welding helmet is likely its greatest strength. It can withstand difficult environments and long welding sessions with relative ease. The design also allows for transitions between different tasks, reducing the amount of downtime that is experienced by the operator. It is one of the better all-in-one solutions we had the opportunity to take a look at.
This means the benefits depend on personal preferences. If you prefer a really light helmet or mask because you don't want your neck getting kinked up after a long day of welding, then you might not rate this helmet as high as someone who doesn't mind a heavier helmet.
Our Grade: A-
There are lighter welding helmets out on the market today, but there are also heavier helmets that provide fewer features. The Miller Electric Black Auto Darkening Welding Helmet is a solid option for those who have frequent welding and grinding activities that are 2-4 hours in length at a time. Any more than that and the weight can create an uncomfortable soreness. The viewing area is a little smaller than other manufacturers, but the clarity is spot-on.
Check the Best Miller Electric Auto Darkening Welding Helmets online for other suggested models.
Click here to view the price on Amazon and get the best deal.