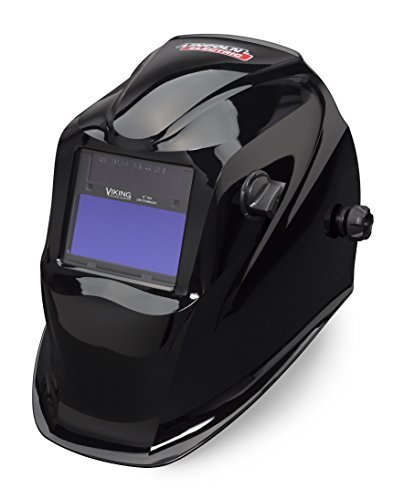 Entry-level welding helmets and masks sometimes don't have the functionality that you need when trying to finish a project. Your budget might not be able to afford an upper-end helmet either. Thankfully, there is a third option: the Lincoln Electric Viking 1840 Black Welding Helmet.
Like many of the upper-end helmets that feature ADF technology, you'll receive the 4C lens technology so that eye strain is reduced and visibility is improved when wearing this helmet. It also incorporates a pivot-style headgear so that the weight of the helmet is distributed evenly. The external controls offer an easy way to get the shade changes that you need.
It is an effective mid-range welding helmet that can meet a wide variety of needs.
What Are the Features of the Lincoln Electric 1840 Black?

We felt that the optical clarity which is provided by this helmet was one of the best experiences we were given out of any helmet from any brand or manufacturer. It is responsive, comfortable, and offers an optimal fit.
Here are the key features of this welding helmet.
It offers 4C Lens Technology like the 3350 series of helmets from Lincoln Electric.
It has been given a perfect optical clarity rating with its EN379 certification.
The viewing area on the 1840 is 16% larger than other brands at this price point.
Lens switching speeds are rated at 1/25,000 of a second.
Delay controls for going from dark to light are variable, between 0.1-1.0 second.
It features a TIG amp rating of DC > 3 amps or AC > 5 amps.
The viewing size of this particular model is 3.78 inches by 1.85 inches. You'll be receiving the helmet bag, bandana, lenses, and a decal sheet so that you can design your own helmet with the Viking 1840 Black.
Our Impressions of the Lincoln Electric 1840 Black

We felt that this helmet was lightweight and comfortable from the start. The arc sensors, of which there are 2, do an excellent job of providing an accurate shade of darkness for the operator. Although there is a small issue with shadows creating a window that is darker than necessary, there isn't a default grinding shade incorporated with this model. You're going to have at least a shade #9, so eye strain is reduced.
This isn't an all-in-one helmet, so grinding out a bead is a little cumbersome with this helmet. Throw on a pair of cheap safety glasses and you'll save some cash over the helmets which do have a grinding shade to use.
Here's a list of the Best Lincoln Welding Helmets on the market that you should check out.
Our Grade: A+
There isn't a better combination of value for the features included with this Lincoln Electric 1840 helmet in our industry today. You don't have to pay extra for the added artwork designs, but you can still create something that looks fantastic with the included decals. It features ADF technology that accompanies a best-in-class optical clarity (in our opinion) and it is all packed into a lightweight and comfortable helmet. It really doesn't get any better than that.
Click here to view the price on Amazon and get the best deal.