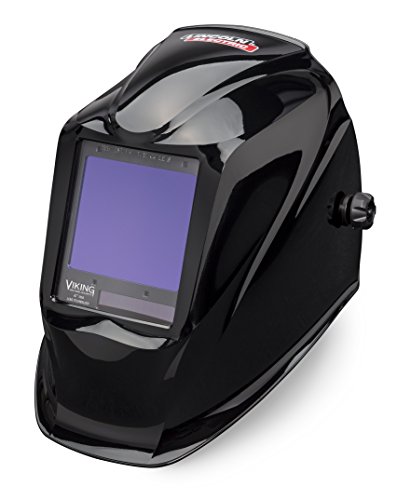 A good welding helmet should be comfortable to wear. A better welding helmet will also maximize the viewing window for the operator so that a joint or pool can be managed effectively. With the Lincoln Electric Viking 3350 Black Welding Helmet, you're going to receive both benefits for a highly affordable price.
Weighing just 3.4 pounds, this welding helmet provides comfort by not putting as much pressure on your neck and shoulders. You can weld all day with this helmet on and feel less fatigued than if you were wearing an entry-level mask or helmet.
You'll also discover these benefits come with this Lincoln Electric welding helmet.
It will come with a couple of extra lenses in the box, while also including the bag and the bandana that you need.
There is a grind-mode setting that has been included so that you can have an appropriate shade for whatever light may be available.
Dust stays out from underneath the outer lens cover while welding thanks to a tightly mounted manufacturing process – the AD module stays clean.
If you've been used to cheap welding helmets in the past, then this affordable upgrade is going to be one of your best investments this year. We found it to be a solid helmet, responsive with its auto-darkening feature, and the headgear is highly adjustable.
Our Observations of the Lincoln Electric Viking 3350

Our one primary concern with this particular helmet is the location of the light sensors. If you happen to be welding in an enclosed setting and one of those sensors happens to become blocked in some way, then the auto-darkening feature doesn't always work properly.
We also found that during some outdoor welding situations, it could become difficult to see the margins when coining or weaving. This tended to happen in times of bright sunlight with high levels of exposure.
In our opinion, the helmet itself felt rather light – though some may also feel that 3+ pounds is too heavy. On this, it all depends on what you prefer to have. The plastic within the helmet has enough give to make it settle in and work with you. At first, however, the helmet was a bit stiff until we worked into it. The Viking 3350 grew more comfortable with use.
It also offers the benefit of removing the green tinge from the viewing window that tends to occur on the entry-level helmets that offer some level of automatic shading. That in itself almost makes it worth the investment.
Our Grade: A-
It would be helpful to have more exterior features with this helmet so that its overall functionality could be improved. It could also be a little lighter and a little more comfortable for some, but it also gets all the basics right. If you're looking for a strong helmet that will reduce your fatigue levels while welding in virtually any discipline, then we recommend the Lincoln Electric Viking 3350 Black Welding Helmet.
Interested in finding more Lincoln Welding Helmet reviews? Check this page.
Click here to view the price on Amazon and get the best deal.